Configuring WinSSHD
IMPORTANT NOTE: Before downloading and installing WinSSHD, you'll need a specific user created on your local machine. In most cases, one of the computing staff will need to do this for you (those who run as administrator, see win2000adduser.php for directions on how to create a user). Also, you'll need to contact Alex Stuy ( astuy@bio.fsu.edu ) to change Biology's firewall rules accordingly. This is something that has to be done seperately for every individual who wishes to use WinSSHD.
1. Obtain file from: http://www.bio.fsu.edu/complabs/pub/WinSSHD-Inst.exe OR from www.download.com (search for 'win SSH').
2. Double click the install file to begin installation. Follow through the prompts accepting all default settings.
3. Launch WinSSHD. The WinSSHD Control Panel window will appear. Click the Settings tab, and then click on Edit/View Settings...
4. Highlight the Template option.
5. Set Permit Remote Administration, Map Remote Home Directory, Permit S2C Port Forwarding and Permit Terminal Shell all to NO.
6. Change the Initial Directory and SFTP Root Directory to the desired directory (WARNING: Not C:\ - Use the D drive, or some folder/group of folders within the D drive).
7. Click the Add button to create the account. Change the username to the one created on the local machine. Change the status to allow.
8. Click and highlight Hosts. If you use FSU's dialup service (850-644-2700) to connect, add the entries listed below. Make sure and change 0.0.0.0 to deny. Click Save and Close.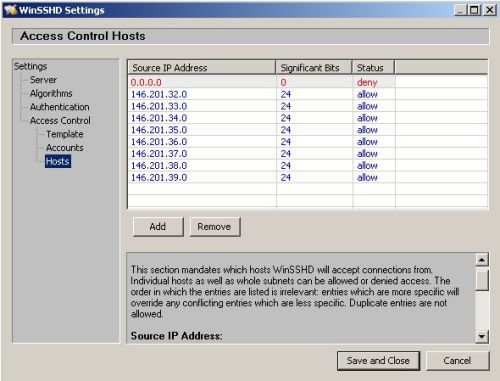 9. However, if you have Comcast high speed internet service, add these entries. Make sure and change 0.0.0.0 to deny. Click Save and Close.
10. Finally, select the Server tab, and click the Start WinSSHD button. This will start the program as a service. Click the Close button.