Newsletter of the Department of Biological Science, Florida State University
Number 10, Winter 2011
Budget Difficulties
As has been the case since 2009, as a result of cuts to the university's budget, we are unable to produce a printed version of this newsletter for mailing.
Funding generously provided by the Frank and Yolande Fowler Endowment in Modern Molecular Biology will permit the Department of Biological Science to fill an endowed chair, the Fowler Chair in Biological Science. As a first step toward choosing the right candidate, the department will host a series of symposia featuring eminent investigators in important areas of modern biological science with relevance to cancer research. These events are envisioned as an opportunity to introduce the university community to the excitement of the field and to assess how building this area of research would complement and enhance current strengths in life-science research at FSU. Each symposium took place on a Friday and Saturday, in the College of Medicine auditorium and/or the Biological Science auditorium, and each included talks by both local speakers and eminent scientists invited to Tallahassee for the purpose. In the lobby of the auditorium and nearby hallway were displayed scientific posters showcasing the research of a large number of FSU graduate students and postdoctoral associates.
The inaugural Fowler Symposium in Frontiers in Molecular Biology, "Host-Microbe Interactions," organized by Biological Science faculty members Fanxiu Zhu, Kathryn M. Jones, and Hengli Tang, took place, 17-18 December 2010. Its cross-cutting topic plays an integral role in the advancement of modern molecular biology. The symposium began with a gala holiday party on the evening of Thursday, 16 December, for the entire department, as well as the featured speakers from around the United States and from FSU. The complete schedule of speakers is posted at http://www.bio.fsu.edu/Fowler/.
The second Fowler Symposium, "Evolutionary Medicine: Contributions to the Study of Disease and Immunity," was sponsored jointly by the Fowler endowment and the Department of Philosophy's William H. and Lucyle T. Werkmeister Endowment. It was held 25-26 February 2011 and was organized by faculty members David Houle, of the Department of Biological Science; Joseph Gabriel, of the FSU College of Medicine; and Michael Ruse and Sarah Whylly, of the FSU Department of Philosophy. The complete schedule is posted at http://www.bio.fsu.edu/FowlerII/.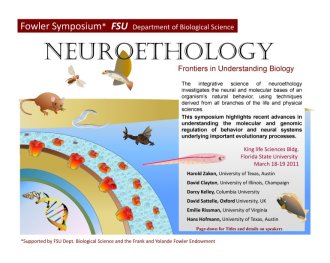 The topic of the third Fowler Symposium, which took place 18-19 March 2011, was "Neuroethology." It was organized by Biological Science faculty members Kimberly A. Hughes, Michael Meredith, Lisa C. Lyons, Emily H. Duval, James M. Fadool, and Emily C. Lemmon, and its full schedule is posted at http://bio.fsu.edu/FowlerIII/.
The fourth and final Fowler Symposium, jointly sponsored by the Rushton Lecture Series of the Neuroscience program, was "It's About Time: Biological Clocks and Neural Function. It took place 8-9 April 2011 and was organized by faculty members James Olcese and Choogon Lee of the FSU College of Medicine and Lisa C. Lyons of Biological Science.
No, still no word on the final fate of Conradi Building, which remains boarded up and out of use.
This summer, faculty members from the College of Arts and Sciences have workED with middle- and high-school teachers from northern Florida to improve their science knowledge and teaching methods. The project, Biology Institute and Online Support: Collaborative Opportunities to Promote Excellence in Science (BIOSCOPES), is led by Dean of Arts and Sciences (and Biological Science faculty member) Joseph Travis and is part of a $3.64 million program funded by the Florida Department of Educations Math and Science Partnership. Danielle Sherdan of the Learning Systems Institute, one of four principal investigators on the project received her Ph.D. in 2007 from the FSU Department of Biological Science.
Only one faculty member left the department this year (retiree Dr. Marc E. Freeman), but three long-time staff members retired. Grants Specialist Linda Sims, Coordinator of Nonmajors Biology Ann Lumsden, and Hybridoma/Molecular Research Specialist Pushparani ("Rani") Dhanarajan all embarked on well-deserved retirements. All their successors were already Biological Science staff members, so disruption was held to a minimum. Linda has been replaced by Virginia Hellman, Ann by Carolyn Schultz, and Rani by Brian K. Washburn. Carolyn has been replaced as coordinator of courses for majors by Geoff Brown, a former employee of the department.