Biological Science Faculty Member
Dr. Trisha Terebelski
Office: 3021 King Life Sciences
Office: (850) 644-1847
Lab: King Life Sciences
Fax: (850) 645-8447
Mail code: 4295
E-mail: terebelski@bio.fsu.edu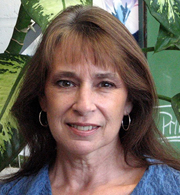 Teaching Faculty
Ph.D., Florida State University
Graduate Teaching Status


Lecturer; Director of 2000-level lecture courses for Biological Science majors
Research and Professional Interests:
Crustacean sytematics.
Selected Publications:
Abele, L. G., T. Spears, W. Kim, and M. Applegate. 1992. Phylogeny of selected maxillopodan and other crustacean taxa based on 18S ribosomal nucleotide sequences. Acta Zoologica 73:373-382.
Spears, T., L. G. Abele, and M. A. Applegate. 1994. Phylogenetic study of cirripedes and selected relatives (Thecostraca) based on 18S rDNA sequence analysis. Journal of Crustacean Biology 14:641-656.
Spears, T., and L. G. Abele. 1999. The phylogenetic relationships of crustaceans with foliaceous limbs: an 18S rDNA study of Branchiopoda, Cephalocarida, and Phyllocarida. Journal of Crustacean Biology 19:825-843.
Spears, T., R. W. DeBry, L. G. Abele, and K. Chodyla. 2005. Peracarid monophyly and interordinal phylogeny inferred from nuclear small-subunit ribosomal DNA sequences (Crustacea: Malacostraca: Peracarida). Proceedings of the Biological Society of Washington 118:117-157.
Easton, E. E., D. Thistle, and T. Spears. 2010. Species boundaries in Zausodes-complex species (Copepoda: Harpacticoida: Harpacticidae) from the north-eastern Gulf of Mexico. Invertebrate Systematics 24:258–270.