Biological Science Faculty Member
Dr. David Thoms
Office: Biology Unit I
Lab: Biology Unit I
Mail code: 4370
E-mail: dthoms@fsu.edu

Assistant Professor
Ph.D., Indiana University

Graduate Faculty Status


Anyone
interested in joining the Thoms lab should fill out the following form:
Join the Thoms Lab!
Directed Independent Study (DIS) opportunities available for Fall 2023 and Spring 2024.
UROP (Undergraduate Research Opportunity Program) projects available for Fall 2023.
Dr. David Thoms is currently recruiting new graduate students for Spring 2024.
Dr. David Thoms is currently recruiting new postdoctoral investigators for Summer 2024.
Research and Professional Interests:
Hosts rely on a healthy microbiome for optimal growth and development. While the microbiome is crucial for functional immune system development, immunity has also been shown to influence microbiome composition in a manner that prevents dysbiosis.
Plant roots are analogous to the animal gut as both are important sites of nutrient acquisition and microbial activity. We use the plant model system, Arabidopsis thaliana, to study the role of innate immunity in establishing a healthy root microbiome. We use a combination of NextGen sequencing, microscopy, and genetics to study the mechanisms required for distinguishing between beneficial and pathogenic bacteria in a manner that modulates bacterial growth.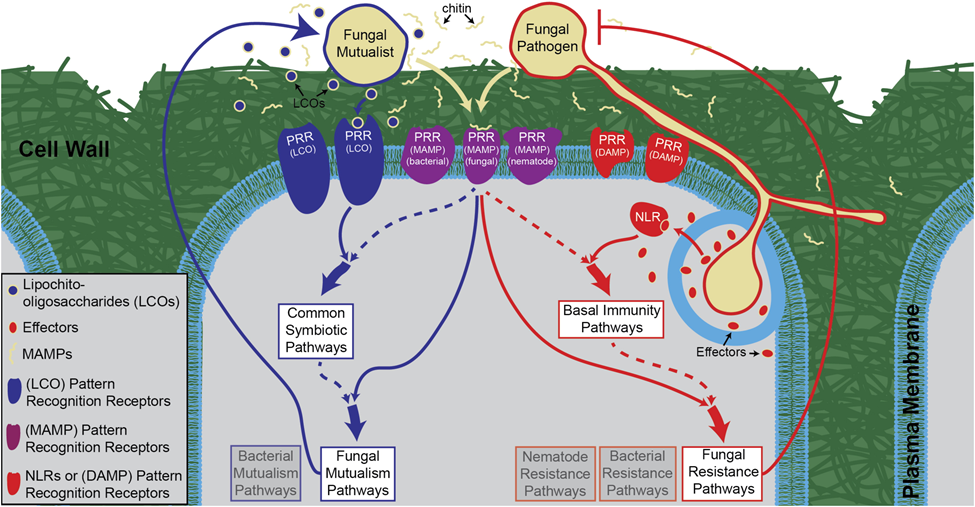 The Dual Input Model of how innate immunity incorporates microbe- and damage- associated molecular patterns (MAMPs & DAMPs) and effectors to induce immunity. For more info, check out the #1 Question of the Top 10 Unanswered Questions in MPMI: How do plants engage with beneficial microorganisms while at the same time restricting pathogens?