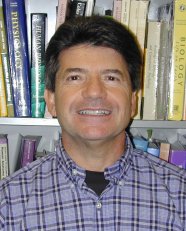 BIOLOGICAL SCIENCE
FACULTY MEMBER EMERITUS
Dr. David M. Quadagno
Professor;
Ph.D., University of Illinois, 1969

Research and Professional Interests:
Neuroendocrinology and human sexuality. Intervention strategies for the prevention of HIV infection. Determinants of violent behavior in humans.
Selected Publications:
Quadagno, D., D. Sly, D. Harrison, I. Eberstein, and H. Soler. 1998. Ethnic differences in sexual decisions and sexual behaviors. Arch. Sex. Behav. 27: 57-75.
Riehman, K., D. Sly, H. Soler, I. Eberstein, D. Quadagno, and D. Harrison. 1998. Dual method use among an ethnically diverse group of women at risk of HIV infection. Family Planning Perspectives 30: 212-217.
Quadagno, D. 1998. Age, gender, and sexual motivation inventory. Pages 537-540 in Handbook of Sexuality-Related Measures. C. M. Davis, W. L. Yarber, R. Bauserman, G. Schreer, and S. L. Davis, eds. Sage, Thousand Oaks, CA.
Quadagno, D. 2000. Exercise and the female reproductive system: the effect of hormonal status on performance. Pages 321-334 in Sports Endocrinology. M. Warren and N. Constantini, eds. Humana Press, New York.
Soler, H., D. Quadagno, D. Sly, K. Riehman, I. Eberstein, and D. Harrison. 2000. Relationship dynamics, ethnicity and condom use among low-income women. Family Planning Perspectives 32: 60-65.
Soler, H., P. Vinayak, and D. Quadagno. 2000. Biosocial aspects of domestic violence. Psychoneuroendocrinology 25: 721-739.
Rosenblitt, J. C., H. Soler, S. Johnson, and D. Quadagno. 2001. Sensation seeking and hormones in men and women: exploring the link. Hormones and Behavior 40: 396-402.