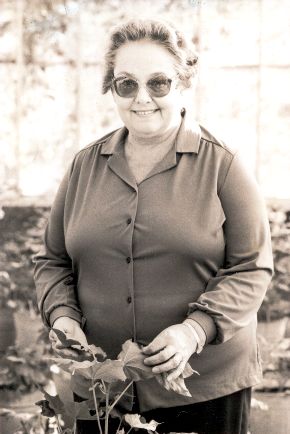 In Memoriam
Dr. Margaret Y. Menzel, Professor Emerita, 1924-1987

Obituary, ASB Bulletin




Ph.D., University of Virginia, 1949

Research and Professional Interests:

Chromosome structure, meiosis, and the evolution of genome nonhomology.
Selected Publications:

Short, R. B., and M. Y. Menzel. 1960. Chromosomes of 9 species of schistosomes. Journal of Parasitology 46:273-287.
Short, R. B., M. Y. Menzel, and S. Pathak. 1979. Somatic chromosomes of Schistosoma mansoni. J. Parasitol. 65:471-473.
Menzel, M. Y., and M. S. Brown. 1978. Genetic lengths and break points in 12 chromosomes of Gossypium hirsutum involved in 10 reciprocal translocations. Genetics 88:541-558.
Menzel, M. Y., M. S. Brown, and S. Naqi. 1978. Incipient genome differentiation in Gossypium. 1. Chromosomes 14, 15, 16, 19 and 20 assessed in G. hirsutum, G. gossypium raimondii and G. gossypium lobatum by means of 7 A-D translocations. Genetics 90:133-149.