How to access bio-lab4 via SSH
To access your bio-lab4 U: via epsilon you will need the SSH Secure File Transfer Client. The SSH installer can be downloaded from https://www.bio.fsu.edu/complabs/files. Please send an email to astuy@bio.fsu.edu if you need a copy and can't download it.
For installation instructions please see "Installing SSH Secure Shell Client" page at https://www.bio.fsu.edu/complabs/ssh.php
Launch SSH Secure File Transfer Client
1. Launch SSH Secure File Transfer Client. If Biology computer-support setup your computer look under Start->Network. Else look under Start->Programs->SSH Secure Shell. The SSH Control Panel window will appear.
Connect to Epsilon
2. Click on the "Quick Connect" button. The "Connect to Remote Host" dialog appears. (If you previously saved epsilon as a profile, choose Epsilon from Profiles instead)

3. Fill in "Host name" with "epsilon.bio.fsu.edu". Fill in "User name" with your bio-lab userid.

4. So if your bio-lab userid is "jsmith", that is your "User Name". Click the "Connect" button.
5. Type your password when prompted. Click the "Ok" button.
6. SSH will probably now ask you to save the profile for easy connects later. Type "Epsilon" for your profile name. Click the "Add to Profiles" button.


7. If this is your first time connecting to Epsilon you will be prompted to to save the host key to the local database, you should Click "Yes".
Change Remote Computer window to your bio-lab4 folder
8. In the remote path box type in "/bio-lab4/faculty", "/bio-lab4/staff" or "/bio-lab4/grads" (depending on your status) and press the "Enter" button. The remote path box is in the top right of the SSH Secure File Transfer Window.
9. In the Remote Computer (right side) window a list of folders appears. Browse for your folder and double click it. The Remote Computer window should now show the contents of your bio-lab4 U:. Click the "Add" button and you can use the dropdown in the future.
Transfer files
10. You can drag and drop files from your computer directly into the Remote Computer window and vice versa. You can also use the Local Computer (left side) window to as source or destination for drags and drops.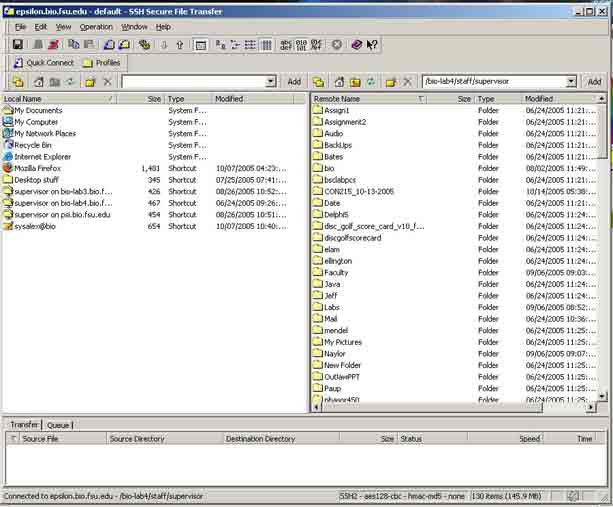 11. To exit the SSH Secure File Transfer Client, choose File->Exit from the menu.