Friday, 21 June, Serendipitous impressionists and David Toutain
Written 19 July 2019
I didn't schedule anything for Friday (except our restaurant reservation, of course), because we always discover something interesting to do that we didn't foresee. In this case, it came in the form of an ad plastered across the side of a city bus—Paris Romantique, joint exhibitions at the Petit Palais (the City of Paris fine-arts museum) and the Musée de la Vie Romantique (a small, free museum in the house once owned by Dutch-born artist Ary Scheffer and largely dedicated to the life of George Sand and her contemporaries). The ad made clear that it was about the historical period called the Romantic and not just about, e.g., romantic spots in Paris. The part at Vie Romantique would cover the literary salons of the day (a major one of which actually met there) and the Petit Palais all the other aspects. Of the two, the Petit Palais sounded more interesting, so we set off along the ever-useful #1 Metro line to Champs-Elysée-Clemenceau.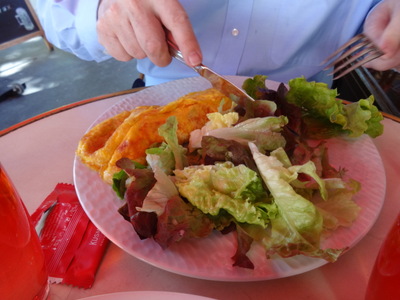 First order of business was lunch, so we started at Brasserie du Grand Palais, the restaurant behind the actual Grand Palais, where we had a couple of very good lunches last year. David had the omelet with ham and cheese.
I had the Greek salad, which was as good as ever. The GP's rendition includes tomatoes, besides salad greens, and fresh tomatoes and cucumber, grilled eggplant and zucchini slices, big cubes of feta, and black olives. Strangely, in such an otherwise good salad, they still use those watery, tasteless, canned and pitted black olives.
We were delighted that the crême brulée flavor of the week was pistachio, the same one we enjoyed so much last year, and when I remarked that we'd been here just a year ago and had pistachio as well, the waiter admitted that they only have three flavors—vanilla, pistachio, and some third that didn't sound terrific—which they rotate weekly.
As you can see, we were seated in a different location on the terrace this year, so the photos of our food were not turned uniformly red as they were last year by the reflection off the bright-red awning.
After lunch, we strolled over to the Petit Palais, headed for Romantic Paris, but were distracted by a banner by the front door announcing that the Musée de Montauban was under renovation and that its works by Ingres were therefore temporarily on display at the Petit Palais. Immediate detour to the basement to look at those! (Ingres was, of course, famous for being a painter, but for relaxation when he wasn't painting, he played the violin; hence the term the French use for a secondary occupation, le Violon d'Ingres, for which one of our favorite Paris restaurants is named. Christian Constant apparently doesn't regard it as his flagship establishment.)
On the way by, I snagged a few shots of favorite works from the permanent collection, like this magnificent dancer by S. Yourievitch and this mosaic of a personification of hope (esperence) from the Guilbert-Martin studio, a study for one of four intended for Pasteur's tomb.
The Ingres section wasn't very large, and it included only a few of his finished paintings. The two shown here are "Roger rescuing Angélique" and "Portrait of Carline Gonse." Most of the exhibition consisted of preliminary sketches and drawings and a great deal of information about his techniques and development as an artist.
Montauban is about 50 km north of Toulouse. We must have driven right by it, if not through it, on our way from Villefranche to Brest in 2005. Next time we're in the region, we'll have to visit the museum there, which is dedicated to Ingres and also to Antoine Bourdelle (another native of the city). I had noticed that there's a Bourdelle museum in Paris, housed in the artist's old studio, but we've never visited it, as the name rang no bell. On Googling Bourdelle, though, I find we've seen and liked a good deal of his work (just Google "Hercules the archer" for some examples). Next time, we'll have to check that museum out as well.
On to Paris Romantique. Pathos and melodrama were big in that period. On the left here we have "The Barrier of Clichy: Defense of Paris, 30 March 1814" by Horace Vernet: wounded soldiers, cowering civilians, generals on horseback, gunfire and smoke. On the right, the sleeping Don Juan discovered by the pirate's daughter, by Marcel Saunier, from a popular romantic novel of the time.
At the left here, Joan of Arc weeps for a fallen English soldier (melodrama and pathod), and at the right is "An Amazon and Her Greyhound." Both are by Marie d'Orléans. I don't actually see the greyhound, and the horse apparently gets no billing. Marie was in fact a daughter of the King of France; in the family portrait below, she's one of the two white-clad princesses. She studied painting with Ary Scheffer (mentioned above as the occupant of the building that now houses the Musée de la Vie Romantique), who pointed out that her real talent lay in sculpture.
On the left here is Louis-Philippe I and his family, just attributed to "French school," and on the right a portrait bust of Marie-Amélie, Queen of the French (she's second from the left, seated, in the group portrait), by Antonin Moine, but as the curator points out in his commentary, Moine seemed more interested in the queen's fashionable 1830 outfit and hair than in her personality.
Which brings us to fashion, which apparently reached great heights of elaboration in the romantic era and led in turn to a great deal of caricature. These two colored lithographs are from the Bulletin of Ridiculous Fashions by Gérard Fontallard and lampoon the extremes of skirt length, hairdo, sleeve size, wasp-waistedness (for men!), and hat expanse (for women).
The caricature wasn't confined to fashions. At the left here is a portrait of composer Hector Berlioz by François-Xavier Dupré, and at the right a caricature bust of him by Jean-Pierre Danton.
Nearby was a plaster figurine of Franz Liszt at the piano. All you can see of him is a huge mop of hair from which protrude his two hands at extremes of the keyboard and one foot.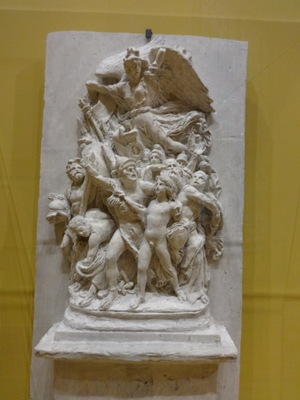 The little plaster caricature figurines must have been quite popular. Here's a whole row of them, all by Honoré Daumier, depicting prominent men of the time.

Finally, at the right here, is a somewhat damaged plaster sketch by François Rude for the famous "Departure of the Volunteers," aka "La Marseillaise," that decorates one side of the Arc de Triomphe.

When our feet gave out we hopped the Metro back to the apartment to rest up for the evening's dinner.

Our reservations were at the restaurant of David Toutain, once again just off the Rue Saint-Dominique, so we once again caught the #92 bus and got there without incident (except the now routine delay getting over the bridge).

This place carries the blind-tasting menu a step farther. There is no à la carte menu, and they want you to choose your menu (by price level alone) when you make the reservations. We accordingly chose the most elaborate, the "Lière terrestre" ("ground ivy," Glechoma hederacea, an aromatic plant in the mint family) with wine pairings for David but not for me, then meticulously listed our allergies and intolerances. I think it was billed as eight or ten courses, but we soon lost count, and it just kept coming . . .
I think we ate the first amuse-bouche before I took a photo. My notes say "little crispy 'pea leaves' with dots of lovage puree; tarts of roasted little green peas and hazelnuts; spoonfuls of pea purée with something he said was in the same family as Salicornia ("christe marine," Crithmum maritimum, rock samphire or sea fennel). The "pea leaves" is in quotes because they were not in fact the leaves of a pea plant but little leaf-shaped crisps made by painting some sort of pea mixture onto small leaves of something else, drying it, and peeling off the leaves. The roasted peas were not crispy—they were fresh green peas that had been toasted on one side in a hot skillet. All delicious.

The second amuse-bouche came balanced on top of this plate of pine cones. The printed menu they gave us at the end called it beets stuffed with beets and strawberries, red onion, and pine nuts, smoked over pine cones. At the right is part of one that I've already bitten off half of—a thin, semidried slice of beet wrapped around the filling.
The third (not shown) was something I've never encountered in a restaurant and have ever eaten only once, under supervision of my mushroom guru—Amanita caesaria, Caesar's amanita. It came as a little tart filled with infinitessimally thin shavings of the raw mushroom and a little pickled red onion. We were told it ordinarly had some buckwheat in it, but they'd made us special ones without because David can't eat buckwheat.
The fourth amuse-bouche was tubes of crispy cracker of some kind filled with oyster cream and served balanced on a heap of oyster shells.
Only at this point were we presented with actual utensils: these odd but graceful instruments with which to eat our first actual course.
At this point we were smiling and humming to ourselves. So many of the very elaborate dinners we'd been served this year and last seemed to have put such emphasis on beautiful, elaborate, even labored presentation that flavor had been lost in the shuffle, but all of these strange little tidbits had been outstandingly delicious! This is one of those chefs I would follow anywhere.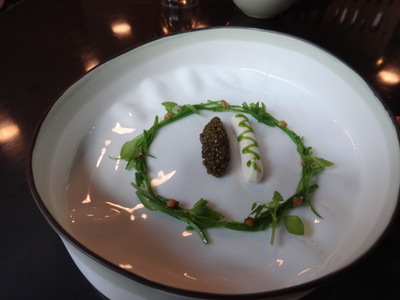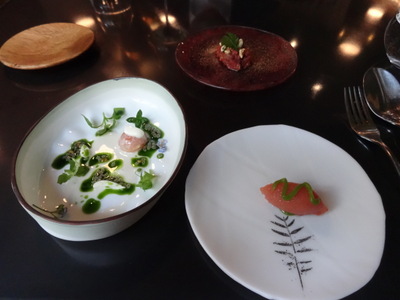 Next up was caviar ("From Petrossian, just down the street there") with raw sour cream, figuier, spelt, and finely slivered green beans (great!). I don't know where the "figuier" figured in (maybe the green drizzle on the sour cream was made from fig leaves?). It was garnished with chickweed; infinitessimally thin toast was served standing upright in a dish of toasted grain, but David was warned off it because it contained buckwheat.
Then a trio of dishes containing, clockwise from 5 o'clock, tomato sorbet, tomato jelly with basil and tiny seeds (tomato seeds?), and "beef tartare," which they implied had been made with "coeur de boeuf" ("beef heart") tomatoes. If it wasn't real beef, it was a darned good immitation and really good! Other garnishes on plates are forget-me-not flowers, and "berce" (cow parsley), and marjoram.
Next came an egg yolk served in its shell, topped with egg-cumin foam and cumin caramel. "Be sure to scoop to the bottom." Served with small, hot brioches.
At this point, we were issued folding steak knives from a large wooden box
Written 20 July 2019
After the egg we were served foie gras disguised as a cherry. The nearer of the two is a real cherry, with a slice cut off the side to reveal the pit. The other one is in fact a sphere of solid foie gras coated with a thin red layer that made it look just like another cherry. It was convincing enough that I expected it to be a real cherry stuffed with foie gras until I cut into it.
Toutain is the only chef so far this year who still garnished with a variety of tiny sprigs of different plant species—everyone else has gone back to ho-hum sprigs of lemon balm and basil sprouts. Here we have salad burnet and a few geranium petals.
I've lost track of what this dish was. Tiny vegetables to accompany the foie gras, maybe? Yummy, anyway.

This fuzzy green lump is our butter, which was thickly coated with dried leaves of lemon balm and verbena.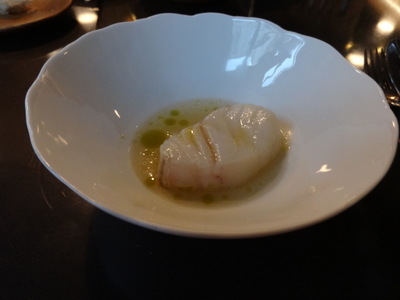 To go with the green butter, we were brought freshly baked herb focaccia. It arrived on a cushion of "sapin" twigs, usually translated "fir," but it was definitely prickly enough to be spruce. Anyway, the focaccia and some oil they brought with it were supposedly infused with sapin.

The next course was poached fresh cod in broth of lemon leaves and I thought he said "gach&eacute" (dashi, maybe?)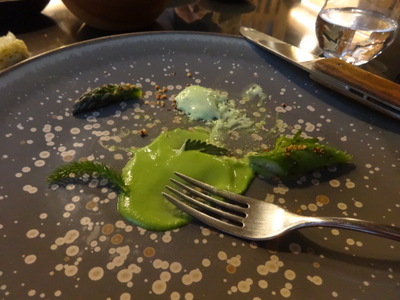 To accompany white asparagus, potatoes, langoustine tails, and coffee sabayon (a sort of foamy coffee sauce), they brought a separate dish with the heads and claws of the langoutines. I forgot to photograph the asparagus, but here's the wreckage of the heads and claws.

I also ate most of the grilled green asparagus and its emulsion of "sapin" needlesm but you can see one the bite left and its sauce. Also the folding knife, on the edge of the plate.
I really didn't do so well on the photos for this meal. I ate the lobster grilled over conifer twigs, but I did get a shot of the rich lobster bisque that came with it, flavored with juniper.
But they took away the remains of the duck breast and chanterelles before I got a photo. It came with a ginger-mint-anchovy "condiment" that was okay but I didn't think added much to the duck. The photo you see is actually of the next course, which I accidentally used twice on this page.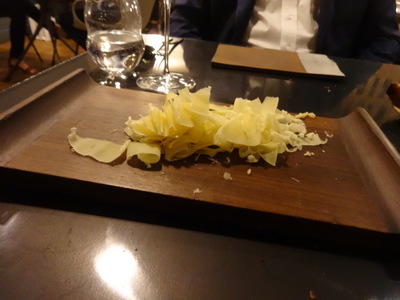 The last course before the cheese was smoked eel with apple and black sesame (yum!).
The cheese was Comté, which is good but is usually more up David's alley than mine. Surprisingly, though, this Comté was served not as the usual chunk but as "snowflakes," shaved from the block with a vegetable peeler, and it was terrific. That's how I'm serving and eating Comté from now on. We can get it at Costco in season, but they don't have it right now.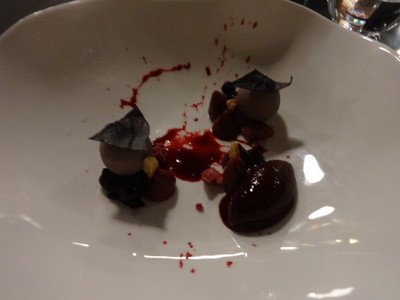 Then the desserts started coming. First a poached peach (not shown) with smoked ice cream (!) and duck juice (!!). Actually an excellent combination. I think they smoked the ice cream with one of those little kitchen smokers we've encountered before. It's like a little blowtorch, but instead of flame it shoots smoke, so chefs can wave it over just about anything and claim it's been smoked.
Then the first strawberries from the garden with verbena, macadamia nus, and basil sorbet.
Then a composition of black-currant stuff—sorbet, ice cream, purée, and (added at the table after I took the photo) a little warm cake with black currants baked into it.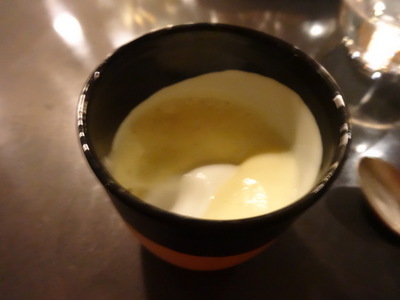 Finally, a sort of mousse/soup of cauliflower, coconut, and white chocolate. Really; and it was delicious.

With it came two little warm cakes with bitter almond, which were crispy outside and moist inside. They were served, as you can see, in a wooden bowl on a bed of whole almonds in the shell.

Toward the end, the chef himself started bringing out some of the courses himself. We had seen his name on the list of recommended establishments that Stephan Jégo of l'Ami Jean includes in his menu, and it seemed odd to me, because several on the list are the same sort of laid-back, peasant-food, inexpensive places as l'Ami Jean, but once I met the chef, it was clear why the two would be friends. The restaurant might be hyper-formal, avant-garde, and ungodly expensive, but the chef seemed downright bohemian! And boy can both of them cook! Previous entry List of Entries Next entry