Saturday, 22 June, Rendez-vous with Viking and the Drouot Auction Rooms, then Passage 53
Written 20 July 2019
Saturday was the first day of our Viking cruise! Accordingly, we got up at a reasonable hour to pack and vacate the apartment. Official check-out time was 11 a.m., but the apartment manager asked if we could possibly be out by 10 a.m., because other tenants were moving in that very day, and she needed time to clean.
I ate the last of my Rocadamour cheeses, used up the last of the milk making café au lait with some instant decaf I'd brought along, packed up my griotte jam to take with me, and left the rest of the butter for the manager or the new tenants. I wasn't sure of the protocol, so I emptied the trash and stripped the beds, but the manager seemed surprised that I did, so maybe I need not have.
The Viking hotel, the Hyatt Regency Paris Étoile, the only high-rise hotel in central Paris, was only a few blocks away, but we didn't feel like dragging our luggage that far, so we just walked out to the end of our little dead-end street and called up an Uber ride.
As I expected we would, we found the Viking desk up and running in the lobby. We were greeted by our program director (not just for Paris but for the whole cruie) and his assistant, and one look at his nametag, "Devin Kennedy," made clear there was no point speaking French—he was from California. His assistant was from New Zealand. They equipped us with hand-outs detailing when we had to show up where (including the all-important instructions for getting ourselves and our luggage aboard the buses leaving for the ship on Monday morning) and suggested we go ahead and check into the hotel. Surprisingly, even at 11:00 a.m., both our rooms were ready, so we didn't have to go through the usual routine of leaving our luggage with reception and waiting for check-in time.
Theoretically we would be on a Viking cruise for the next two days in Paris. Viking provided all sorts of sightseeing tours, a visit to the Louvre, drive by the Eiffel Tower, walking tour of the neighborhood, etc. But we've been there and done that. Several times and more thoroughly. Viking provided breakfast at the hotel, then we would be on our own for lunch and dinner anyway, so we just made plans of our own for those two days.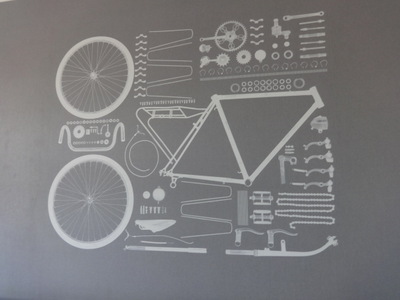 Over the bed in David's room was this wonderful graphic of an "exploded" bicycle, with all its component parts laid out. The one in my room wasn't as obvious. I think maybe it was a camera.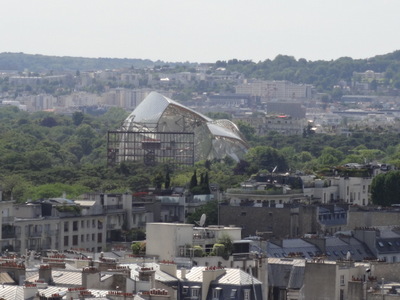 Here are two views from my 9th-floor window. At the left is a normal-sized shot of the La Défense neighborhood. When I blow it up really big on my computer, I think I can see a corner of the Grand Arche de la Défense, but it's jumbled in with all those other high-rises surrounded it. The major highway passing beneath my window is the "Périphérique," the ring road around Paris that follows the footprint of the old city wall.
At the right is a telephoto shot of the top of the Fondation Louis Vuitton, sticking up out of the trees in the Bois de Boulogne. I never did figure out what that black grid-like thing in front of it is.
Once we were checked in and I had unpacked, I left David to his own devices (a nap probably, since he'd had to get up early) and went out front to catch the #43 bus a couple of stops out into the suburb of Neuilly to the nearest Orange Boutique to top up my phone for another couple of weeks. As usual, the place was busy, so I took a number and waited. I'm told I could have bought a top-up card in any shop and done it myself on line. In fact, I tried doing it myself directly on line with a credit card, but I was stymied by this dratted new thing where merchants can choose to make you call Visa and authenticate yourself before the accept your card. Since the phone number to call flashed on the screen and disappeared before I could copy it down, I gave up and went in person.
Unfortunately, something in my purse kept setting off the shop-lifting alarm on the door, so I had to go sit on the Group W bench in the back. Finally, one of the techs got around to me, and I got the phone taken care of.
Next up was lunch. We looked at several menus outside nearby restaurants before settling at the Ballon des Ternes, right across the Boulevard Gouvion-Saint-Cyr from the hotel.
David ordered the special of the day—grilled daurade (Sparus aurata, gilt-head seabream, a favorite of his) with a tembale of delicious olive-oil stewed zucchini, a couple of grilled cherry tomatoes, and a big plate of crispy fried potato cubes.
I ordered two starters, the first of which is shown here: a big slice of country style pork terrine with cornichon pickles.
My other starter, from the assortment of cold seafood, was a plate of "boulots" (18 in this case), small whelks, boiled in the shell and served cold with mayo. Even though it was about the smallest seafood plate they offered, the waiter went through the whole rigamarole of setting up the wire plate stand and wide platter of ice, adding the plate with mayo, pumpernikel, and butter below, and finally balancing my little plate of whelks and a slice of lemon on top. They were great.
We struck up a conversation with the folks at the next table, who had just arrived for their two days in Paris at the end of a Viking cruise (not the same one we were just starting). She kindly let me photograph her lunch, the "Marmite du Pêcheur à la Marseillaise," Marseille-style Fisherman's Kettle, sort of a rice-free paella or thick bouillabaisse. The tomato topping concealed a whole assortment of fish and shellfish, with a few mussels sticking out around the edges. Smelled delicious.
The day's planned activity was to visit the Drouot (say "drew oh") auction rooms. They're right around the corner from the Zephyr, the MUsée Grévin, and the Passage Jouffroy, where we used to stay at the Hotel Chopin, and they happened also be to right around the corner from the Passage des Panoramas, where our Saturday restaurant was located. I'd often heard and read that they were open to the public and that anyone could walk in and check out the stuff about to be auctioned, so I did a little research. The establishment is a collection of rooms in which a variety of auction houses can stage their auctions. If you are, for example, an impoverished noble who needs to sell off a bunch of heirlooms to keep up the ancestral castle or a rich collector who has lost interest in some part of his collection and wants to clear it out to make room for more, or an heir with no interest in keeping your ancestors' stuff, you approach one of those auction houses to catalogue your stuff, set an auction date, and publicize its availability, which they do for a cut of the proceeds. They then book one of the rooms at the Drouot for a period culminating in the date of the auction. On the Drouot website, you can pull up a list of upcoming auctions, descriptions of the sorts of thing each lot includes, and a date or two on which those items will be available for advance viewing.
When I did that, I found a lot that purported to include some impressionists, and the viewing date was 22 June 2019, so I chose that date on which to book the restaurant in the nearby Passage des Panoramas. It turned out to be particularly convenient because the restaurant makes reservations only for 7:00 p.m. and 9:30 p.m., whereas the Drouot is open 11 a.m. to 6 p.m. Perfect.
We accordingly set out by Metro for the Drouot to be there between 4 and 5 p.m. We found it without any difficulty, and yes, we were allowed to walk right in and follow the signs to "Salle 5," the room where our target lot was on display. In the room, two reps from the auction house were available to answer questions, and catalogs were available for visitors to use (not all the items on the walls were labeled). Sure enough, we found impressionists—as you would expect, mainly minor works by major artists and major works by minor artists, but worth a look. Needless to say, all the reserve prices were well out of our range. The same lot also included some pop art, for example, an extremely realistic 0-dollar bill bearing a portrait of Uncle Sam, as well as a couple of daliesque things (thought not actually by Dali).
Still not quite able to believe that we belonged there, I didn't take photos, as I didn't know whether it was allowed (no one else was). Of course, I should have just asked the nice auction-house ladies.
When we'd looked at everything in Salle 5, we continued on to some other rooms, where we found, variously, 1970's furniture, estate jewelry, and some other nice art. We actually stayed past 6 p.m., as lots of other people were, but we began to see the increasing flow toward the back of the building and joined in ourselves. They had already locked the front doors and were ushering us late folks out the back. We seemed to mostly among the auction-house reps and a few other obvious tourists.
From there, we walked around the corner to head for the restaurant but noticed some sort of disturbance in the street a block or two away. It was in our direction, so we went to check it out. At the intersection of the Boulevard Montmartre and the Rue Vivienne, there's a traffic light with a particularly broad crosswalk set back a little from the intersection. Every time the light stopped traffic on the boulevard, a group of dancers in white flapper dresses and black tuxedos would dash out into the street, occupy the crosswalk and its adjacent space, and engage in a vigorous and joyful 2-minute 1930's dance routine. Music was provided by a guy with a small boombox wired to huge speaker worn on the chest of a tall bearded and burly guy clearly brought along for the purpose. When the music stopped and the light turned green, the dancers dashed for the sidewalk, clearing the traffic lanes. The intersection is a T, so Vivienne traffic turning left onto the boulevard could do so on its green light, behind the dancers, and that turning right could do it on red.
The dancers were accompanied not just by the boombox and speaker but by extras carrying banners advertising the final week of a 1930's musical comedy playing at the Théâtre des Variétés, also located in the Passage des Panoramas. Ingenious marketing, I thought. You can see from the photos that the dancers had been joined by a some passers by who had watched a few times and picked up the steps. Hapless pedestrians who had meant to use the crosswalk, some coming and going from hotels with luggage, just had to fend for themselves.
I've always wondered why the Passage des Panoramas is called that, since it's a "passage," by definition entirely enclosed and having no panoramas whatever. This time, though, I read the historical marker at the entrance, which revealed that it used to feature two large paintings of panoramas, hanging in the two towers that extend upward above its intersections with other passages.
We were headed for a restaurant that called itself Passage 53 when we made our reservation but had changed to La Table du 53 by the time we arrived. It wasn't open yet, so we strolled the length of the passage, admiring window displays, then sat down at a little table for two just outside the restaurant's door and waited for them to unlock.
After we were seated and had ordered, I went upstairs to visit the facilities and found myself with a fine view of the kitchen. At the right here is an array of little amuse-bouches that the chef was just putting the final touches on. Strangely, we were never served one of them, nor was any other table we could see, and this array includes enough to put several on every table in the place, so I hope the chef had a catering job on the side and was going to send them out.
I asked permission to get a shot of the kitchen and was told to help myself, but alas, the chef scurried for cover when I did, so I didn't get to include him in the shot.
The stairs up and down were a narrow, treacherous spiral that I had to be very, very careful on, but apparently the wait staff ran every dish up and down them all evening. Amazing.
The amuse-bouche was this tsty little pizza of tomato, basil, and shallot cream on puff pastry. Yummy.
The first actual course was white asparagus grilled in a light crispy panko crust with crabmeat sauce and scallions. Unfortunately, the sauce took the crispy out of most of the panko. Delicious nonetheless.
The country-style bread came in this rustic "bowl" made of felt laced together with leather thongs.
The second course (not shown), was "barbu" (brill, Scophthalmus rhombusa, a flatfish) with lobster sauce on a bed of (I think) tarragon leaves, with potatoes and wild asparagus.
The third course was "poulet jaune des Landes" (yellow chicken from the marshy area south of Bordeaux), onion sauce, grilled scallion, poultry jus, lots of chervil, tarragon, and dill.
My dessert was Pavlova with exotic fruits, banana ice cream, and mango coulis. The meringue in a Pavlova is usually crisp, but this one included little cylinders of toasted soft meringue. Very tasty. On the side (right) was a dish of sweet green herb jelly.
David chose the "Gavottes, Chocolat, Fêve de Tonka et Crème de sirop d'érable," that is the gavottes (crispy chocolate cookies), chocolate, Tonka bean, and cream of maple syrup. I think the thatch on top was spun sugar. He didn't leave anything behind.
The mignardises were little brownie bites with pecans baked into the top surface and black current fruit paste. I tried the latter (very good), but I didn't fly to France to waste appetite on brownies.
Previous entry
List of Entries
Next entry