Thursday, 20 June, The two halves of the Musée d'Arts Décoratifs and Au Trou Gascon
Written 18 July 2019
The plan for Thursday was to visit the Musée des Arts Decoratifs, whose obvious nickname would be "Art Deco," but since that term has already been coopted by a style of art from the 1920's, it's taken to calling itself MAD. The museum is in two parts. The main branch is in the same building as the Louvre, in northwest wing; the other is the Musée Nissim de Camondo, a house museum near the Parc Monceau, and so far as I could tell, the twinned tickets we had were only good for seeing the two on the same date. The two are too far apart to walk, but public transport between them is not simple. I toyed with the idea of seeing one, then walking toward the other, stopping halfway for lunch, then continuing, but I couldn't find much in the way of interesting lunch places in the right area. Besides David balked at the idea of getting up early enough to try it. So we settled on going only to the main branch.
We did get an early enough start that the Franc Tireur was still serving breakfast, so we both ordered what they call "English breakfast." They tried hard, and the result was very good, but they couldn't quite go the whole English way. They provided the requisite plate of buttered toast (left) with mixed-fruit jelly, but being French, they couldn't help also giving us a basket of baguette chunks. The main plate (right) included fried eggs, fried potatoes, fried Canadian bacon, and fried tomatoes (they didn't go so far as to include the fried kidneys, fried bread, and baked beans we might have gotten in England, or the oatmeal), but being French they couldn't help adding green salad.

We like that place and would go back in a minute.

The MAD is once again right on the very convenient #1 Metro line, so we hopped aboard and headed over there, only to be turned away! Some sort of celebrity visit was underway, so a large part of the sidewalk was roped off and labled "Press and Photography Holding Area," and many very thin and stylish people in outlandishly fashionable clothing were standing around waiting. The museum would reopen at 1 p.m., we were told. Drat.

Of course, if I had had my wits about me, we would have whistled up an Uber ride to the Camondo and done that first, but I didn't, so we stood on the sidewalk nonplused, tried to search on my phone for something nearby and interesting to do for a couple of hours, and didn't succeed. We'd already explored the Palais Royal on many occasions, and David didn't want to go to W. H. Smith for fear of being tempted to buy books and movies. So we strolled around for a little while, smiled at the sight of "Cap'n Crêpe" in a blousy white shirt and three-cornered hat selling crêpes from a pushcart, then looked for a place to sit and have a drink. We spotted the Brasserie du Louvre, in the Place André Malraux, and to my great surprise, David very uncharacteristically suggested we go in and order dessert! Okay, it's still too early to spoil our dinner, so why not.
To our greater surprise, when we went in, we found Paul Bocuse's signature and logo all over the doormat, menu, napkins, plates, etc. All the better! We had no idea he had a Paris establishment.
David ordered a baba au rhum, which arrived whole. The waiter asked if he would like to prepare it himself, but David had him do it. The waiter accordingly split the baba with a fork, then poured an impressive quantity of rum into it. At the right is the rum bottle he then left on the table in case David wanted more.
I jumped at the chance to order the special dessert of the day—strawberries and whipped cream. The black object is not a slice of olive but a little chocolate pastille with Paul Bocuse's picture and signature on it. I can never get over how much better French strawberries are than American ones. They come in named varieties (my favorites are Mara des Bois and Gariguette) that change with the seasons, they're smaller than American ones (not tiny like wild strawberries but about 2/3 the size), and they are soft, sweet, and juicy. In the US, we're lucky if they're sweet; soft and juicy are out of the question—they're bred for durability.
While David had a decaf, I ordered a "verveine" (verbena) tea, which came in this heavy cast iron pot.
While we ate, the lunch crowd began to arrive, and we saw many tempting plates of Lyon and Bocuse specialties go by. Definitely a place to book for dinner they next time we're in town. On the covered terrace outside, a decorator and his assistant were unpacking big cardboard boxes, stripping off plastic wrap, and placing bright coral-colored cushions on the wrought iron chairs and benches. I assumed at the time that they had been sent away for cleaning or were perhaps a new, replacement set, but on looking up the restaurant later, I found that they were actually the first and original ones, just arrived from the factory—the restaurant had only opened the week before! No wonder we'd never heard of it.
At last the celebrities cleared out of the museum, so we went back. We didn't get to the permanent collection at all (except a small display of jewelry, which we happened to pass on the way out, interesting mainly for its excellent series of information panels on the various materials used in jewelry making). I was there primarily for the temporary exhibition on the work of Antoon Krings, an author and illustrator of children's books about his "drôle de petites bêtes," his "funny little creatures." I thought it was really interesting, but David was much less enthusiastic.
Krings invented a whole world of characters based on real species and gave them catchy rhyming names. He started out with insects but gradually broadened his scope into other small animals, birds, small mammals, then larger ones and even one human infant. The larger mammals' names don't necessarily rhyme, like that of Luna le Petit Ours (Luna the bear cub). They figure in dozens of colorful childrens' books about their day-to-day adventures. I didn't have time to read all the signage (though I took photos to read later), so I'm not sure I recognize all the characters correctly, but I present a few of my best photos here. At the left is (I think) Mireille l'Abeille (Mireille the bee), in the image that served as the introduction and logo of the exhibition. It's part of an adventure in which she runs away from home; note the stick and sack of her bindle. Note also the loving care with which the Queen Anne's Lace she's lying on is portrayed.
At the right is Camille le Chenille (Camille the caterpillar) climbing the stalk of a beautifully detailed tulip.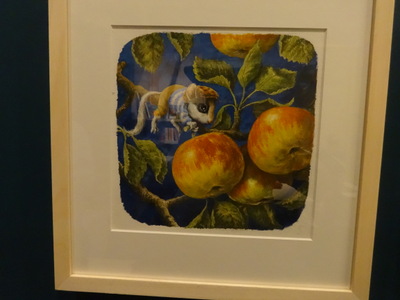 Here are two photos of Léo le Lérot (Leo the garden dormouse), one of him discovering with delight the fruit of an apple tree, and the other of him devouring the last strawberry in the garden.
One thing that made the exhibition so interesting is that it devoted a lot of text and space to identifying and showing the work of the many artists who influenced Krings. Some were the ones you might think of, like La Fontaine the fable guy), John Tenniel (illustrator of Through the Looking Glass), Ernest Howard Shepard (illustrator of Winnie the Pooh), the illustrator of Wind in the Willows, the work of Beatrix Potter, and even Edward Lear.
But the exhibition covered many, many more, from the ancient to the modern, including, e.g., Elsa Schiaparelli and Jean-Antoine Watteau. A partial list includes Laure Tixien, Girolamo Pini, Lionel Estève, Perre-Victor Galland, Albert Renger-Patzsch, Dominique Vivant Denon (former director of the Louvre, for whom a whole wing of it is named), Jean Ignace Isidore Gerard dit Grondville, Jacques-Charles Oudry, Rob and Nick Carter, Humphrey Repton, Pierre Bonnard, Auguste Léon, and Arthur Rockham. These folks cover everything from childrens' books to caricature to classical portraiture to landscape painting to botanical and zoological illustration.
Not sure who the little guy at the left is. His body looks like that of Belle la Coccinelle (Belle the ladybug), but his snout looks more like that of a weevil.
The image at the right here is probably my favorite of the exhibition—two little guys sitting together watching a sunfower as though it were the sunset. Gorgeous.
Here are some of the other names of Krings characters:
Juliette la Rainette (treefrog)
Apollon le Grillon (cricket)
Benjamin le Lutin (leprechaun-like gnome)
Amélie la Souris (mouse)
Marion et Simon les Chatons (kittens)
Éduouard le Loir (edible dormouse)
Blaise et Therese les Punaises (bedbugs)
Pat le Mille-pattes (millipede
Maud la Taupe (mole)
Victor le Castor (beaver)
Violette la Discrete (never figured this one out; small lavender winged insect)
Henri le Canari (canary)
Patouche la Mouche (fly)
Léonard le Tétard (tadpole)
Léon le Bourdon (bumblebee)
Pascale la Cigale (cicada)
Margot l'Escargot (snail)
Frédéric la Moustique (mosquito)
Barnabé le Scarabé (scarab beetle)
Muguette la Guèpe (wasp)
Luce la Puce (flea)
César le Lézard (lizard)
Merlin le Merle (European blackbird)
Caspar le Cafard (roach)
Carole la Luciole (firefly)
Solange la Mésange (blue tit)
Loulou le Pou (louse)
Proper le Hamster (yes, hamster)
Ursule la Libelulle (dragonfly)
Lulu la Tortue (turtle)
Georges le Rouge-gorge (European robin)
Grace la Limace (slug)
Adrien le Lapin (rabbit)
Then it was back to the apartment to rest our feet before the long trek to our dinner at Au Trou Gascon.
Au Trou Gascon is way out in the 12th arrondissement, oon rue Taine, a block or two from the Place Félix Éboué, which is graced by this magnificent fountain, dry the day we were there, but whose lions normally spout water into its pool.
At the right is the amuse-bouche: a sort of gazpacho with mussels and grilled red pepper. The little pink pointy things are a pair of slices of pink pickled onion, criss-crossed on top and held down by a crisp bit of cracker.
We've been fans of the restaurant for decades now, but my examination of its website in preparation for this trip gave me misgivings. I couldn't even tell if it was still part of Alain Dutournier's group. Apparently, it is, but it has really changed.
We were disappointed last year to find that the traditional cold foie gras, long the best you could find anywhere, had disappeared from the menu. This year it was back, and David ordered it, but it was really different, laced with green stuff and bread crumbs, and nowhere near as good.
I tried the salmon quenelle, new on the menu, and it was okay, but nothing like the terrific, fluffy, piping hot quenelles you can get in Lyon (and now probably at Brasserie du Louvre). The "eggplant caviar" that came with it was (a) a smooth purée and (b), on the other side of the plate, whole slices of eggplant. Nothing approaching the texture of caviare.
I looked forward to ordering the roasted quarter of baby lamb and was delighted to find it still on the menu. Again, it was good, but didn't look a lot like the ones I remember from last year and certainly wasn't a knock-your-socks-off dish. It came with an assortment of the usual June baby vegetables—artichoke hearts and purée, new potatoes, little peeled baby fava beans, and half a baby zucchini. The fuzzy-looking green object is a slice of lamb boiled under a crust of what looked like the same green bread-crumb mixture used in the foie gras.
Happily, the cheese course hadn't changed. Last year we made the mistake of ordering the newfangled variant on fromage blanc that had been added, but this year we reverted to their old standby: a flat disk of goat cheese and a slice of Basque sheep's cheese. They were both great.
I think we both ordered the "fine tourtière," and it was just like the one I had last year. A quite good (but never quite crispy) thin apple tart served with salted caramel ice cream and a marinated prune. The tube on top is a crispy rolled cookie. As it was last year, the prune was rolled up into a cylinder of something.
The mignardises were miniature "cannelés" (the tall things), sugar-glazed lemon minimadeleines, and little disks of chocolate with nuts in them. All excellent.
I feel very sentimental about the place—we've had many, many terrific meals there—but it has become something of a disappointment to go there. The old classics are gone. We may not go back.
Previous entry
List of Entries
Next entry