Tuesday, 3 June 2008, Reims to Provins
(Written 6 June 2008)
I went out to breakfast at Le Lion (terrific croissants) while David slept in again. Once he'd gotten up and eaten the sugar bioche from l'Assiette Champenoise, we killed a little time by strolling the long way round to the luggage store, so as to arrive there just as it opened at 10 a.m. David promptly picked out a new suitcase (this time with a zippered closure that we hope will resist ATF handling a little better), bought it, and rolled it home to the hotel. Because we had only one night in Provins and wanted to be back at CDG to turn in the car by noon the next day, we immediately packed up, checked out, sprung the car from the garage across the street, and headed for Provins by the scenic route, traveling other segments of the Route Touristique de la Champagne. We'd have left earlier if we hadn't waited for the luggage store to open.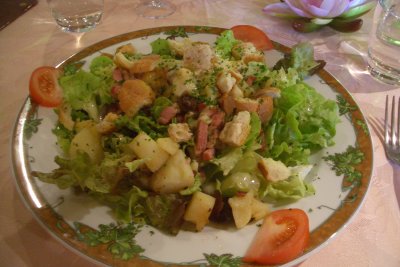 At lunch time, we found ourselves in Moussy, just south of Épernay, and pulled in at l'Auberge Champenoise, a "country inn" of the sort that might be considered the French equivalent of the old-fashioned, nonchain truck stop. On entering, we could tell at a glance that the large main room of the restaurant worked on a model we've seen before in hotel restaurants in small towns. At lunch time, local working men (and presumably women) come in, go straight to the buffet of hors d'oeuvres to fill a plate, sit down and start eating. The waitress then automatically brings them the plat du jour and pours them the house wine. When they finish that, they go to the dessert buffet—this one fairly elaborate but some just consisting of a freezer full of popsicles. They pay the fixed lunch price when they leave. We could live with that system, so we were looking around for some indication of what the plat du jour was when the manager came bustling over, ushered us through the big dining room into a smaller one beyond, sat us down at a table for two (rather than the long communal tables in the big room) and handed us menus. We weren't the only ones there, and none of the others were tourists, so apparently they just run two separate operations at lunch time—the plat du jour regulars and the menu folks (though I'm sure they'd have had no objection if we wanted to go back to the plan for regulars). Two tables over was one of the guys with fat portfolios that we'd seen at lunch a few days earlier at the Thibault IV in Vertus (we think he recognized us, too). At the table next to us was a 79-year-old champagne maker who heard us speaking English and struck up a conversation—he had lived and worked at wineries in California for a while in his youth.
We both ordered the usual large salad, this one with warm potatoes, lardons, and melted Langres cheese. For dessert, we both had fromage blanc with red fruit coulis—excellent.
After lunch, still on the way to Provins, David pulled into the parking lot of the train station in some small town, just to stretch his legs, and we were astonished to find camels, goats, and llamas grazing on the adjoining lawn! The Fratellini Brothers circus was in town. Many of their motor homes were parked at the train station (which happened to be adjacent to the field where the big top was pitched), and they had staked out some of their livestock nearby. Outside one of the motor homes, a pet raven was standing on top of his open crate (the sort of pet carrier you might transport a cat in) and yelling at us. At the other end of the parking lot was a large truck labeled "transport de lions," and sure enough, it was full of lions.
By the time we got to Provins, we didn't have a lot of time left to see the town, as we were there for only one night and wanted to turn the car in at CDG before noon the next day. We therefore didn't do it justice—the whole town is a UNESCO World Heritage site, and small as it is, it boasts 58 national historic monuments—but we walked around the whole upper town in a light rain, past the church and the famous tower and along the outside of the most intact section of the medieval wall, reading historical markers. As we approached the massive tower at the angle of the wall, we spotted a guy in Medieval dress standing on top. As we watched, an enormous, long-necked, white-headed vulture (Gyps fulvus, the "vautour fauve" or gryffon vulture) flew in and landed on his wrist! We had arrived just in time for the finale (viewed from the back side) of the "Eagles on the Ramparts" birds-of-prey show, which involved at least six such vultures that we saw. The actual eagles must have been earlier in the show.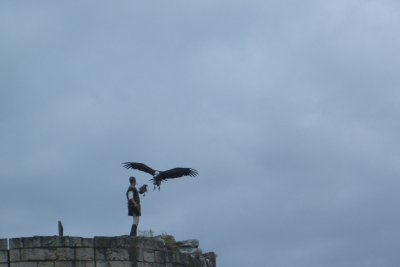 The route around the ramparts presented the opportunity to get photos of the two kinds of grain we saw most often this trip. They also clearly grow a lot of corn in this area, but it was still only a couple of inches high.
The one with nodding ears and long awns is almost certainly wheat, and my current hypothesis is that the awnless one with the upright ears and the blueish cast to the stems is barley. Any readers out there know barley when they see it? Or could it be rye or oats? A few hundred yards up the lane from the corner of the ramparts we could see a U-pick strawberry stand, and people were out there gathering dessert, but we resisted the temptation.
(Written 7 June 2008)
Dinner, conveniently, was right there in the hotel. The restaurant is only a 12/20, but we were quite favorably impressed.
Amuse-bouche, both: A small bowl of red tomato gaspacho, very sweet and spicy.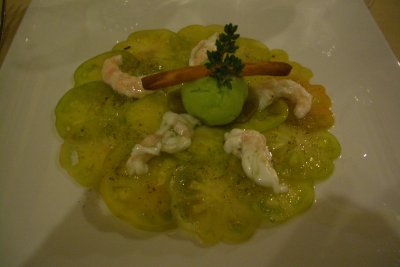 First course, both: Raw langoustine tails marinated in thyme and lime juice and arranged on top of a "carpaccio of Italian tomatoes" and accompanied by cactus sorbet. The "Italian tomatoes" were green and sliced very, very thin and dressed with lime juice, olive oil, and pepper. I don't know whether they were unripe or perhaps a special variety that stay green when they ripen. The irregular outlines of the slices made me think they're deeply furrowed, like the "ugly-ripe" tomatoes we get in Tallahassee. The cactus sorbet could easily be mistaken for lime. The brown object on top of the sorbet is a breadstick. A delicious dish, very different from any other we've been served.
Second course, both: Sautéed sea scallops and grilled "eryngii," drizzled with truffle oil and surrounded by a streak of poultry drippings. The eryngii turned out to be odd mushrooms with thick, meaty stems and virtually no cap (Pleurotus eryngii). The eryngii, about 4 inches long and pear-shaped, had been split lengthwise, scored on the cut side, and grilled along with the scallops. They were very mild flavored, but their texture has been compared to cooked abalone.
Cheese course, both: Our usual assortment of three local cheeses each.
Predessert, both: A small strawberry "milkshake" topped with a tiny puff of whipped cream.
Dessert, me: A room-temperature roasted banana, skewered lengthwise on a split vanilla bean and resting on a brownie-like rectangle of chocolate cake, accompanied by a bar of chocolate mousse, a stripe of vanilla syrup, a churros (a sort of Latin American cruller), and a bamboo cup of "Planters" sorbet (which I took to mean sorbet of planter's punch; pink and mostly grapefruit flavored) topped with a chocolate pastille bearing the chef's name in gold.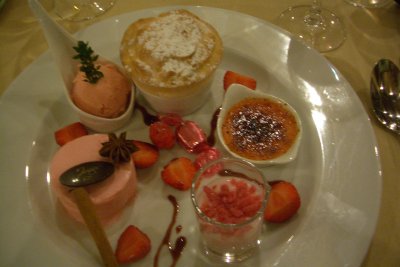 Dessert, David: Another "declension," this time on the theme of the rose. Back in the 12th century, Thibault IV of Provins, count of Champagne (although, strictly speaking, Provins is outside the Champagne region), who was known as "le chansonnier" ("the troubadour") because he was into music and wrote songs that are considered among the best surviving from that period, went off to the crusades and brought back with him red roses from Syria, hitherto unknown in France. Provins has been famous for its roses ever since and produces myriad rose-based products, many of them edible—rose-flavored candies of several kinds, rose-petal jam, rose petals preserved in honey, etc. The chef therefore produced a dessert consisting of many mini-desserts, all rose-flavored: a hot rose soufflé (white throughout but tasting strongly of roses), a cold rose-petal mousse (in the glass, topped with crumbled crystalized rose petals), a rose sorbet (in the ceramic spoon, garnished with a thyme sprig), a rose bavarian cream (topped with a whole star anise and a chocolate pastille), and a rose-flavored creme brulée. Scattered around the plate among them were two kinds of rose-flavored candies, a few strawberries, and a cinnamon stick. Wow.
Our usual after-dinner stroll was cut a little short, because it was still raining lightly, but a lovely evening nonetheless.
previous entry List of Entries next entry