Wednesday, 4 June 2008, Provins to Paris, take 2
(Written 8 June 2008)
We got up and walked around the nearby square looking for a cheaper, simpler breakfast than the hotel offered, but nothing was open (we suspect at least some of the businesses are owned by the hotel), so we reverted to the hotel option—the usual delicious hot chocolate for me, decaf for David, and excellent pastries.
Then we packed up promptly and headed out, allowing plenty of time to get to CDG before noon, when Europcar would start charging us for another day. The first two-thirds of the trip went easily and quickly, on two-lane blacktop through agricultural fields much like those we've seen throughout the trip—changing, every few hundred yards, to a different crop from the pool currently in season: wheat, barley, "colza" (oil-seed rape, currently in seed but unripe), broad beans, very young corn, very young sugar beets, a small-leaved legume of some kind (lespedeza? vetch? luzerne?) for hay (and to restore nitrogen to the soil), and (where the soil was right) grapes. In the hillier areas, we saw fruit trees, but mostly small orchards of just a dozen or so trees—only a few looked large enough to be commercial. Those areas had a few cows (both dairy and beef) and sheep as well. We saw no potatoes or sunflowers, so I assume those are out of season (or maybe it's a regional thing, since potatoes were in bloom all over Picardy in June of last year). We also, strangely, saw few strawberries, only one set of what might have been poultry houses, no rhubarb, and no asparagus., though we saw hand hand-lettered signs pointing off down lanes and side roads toward "local asparagus"). We're told that asparagus, at least the white kind, is grown in greenhouses, and we glimpsed greenhouses from the road only a couple of times. That at least explains why white asparagus is actually less expensive than green asparagus, even though the former is traditionally much more labor-intensive, because producing it used to entail banking soil up around it to keep it in the dark. Now, they just black out the greenhouse windows or cover the beds with plastic or something. Of course, later in the season, they must let the light in, at least to let the plants do their photosynthesizing for the year if not to grow green asparagus for harvest. (We noticed the same "down side roads only" distribution of foie gras producers further south in previous years. I suspect that France has laws about putting less-sightly agriculture, like poultry operations and greenhouses, within sight of major roads.)
Soon after we reached the A4, the superhighway leading westward into Paris, we were brought to a halt by a huge traffic jam, and our progress slowed to a crawl. We racked our brains but couldn't come up with any reason why truck traffic should be so heavy and all of it so slow at 11 a.m. on a Wednesday morning—maybe it was always like this. Light planes circled overhead, presumably turning in traffic reports. One of the illuminated signs provided for the purpose seemed to give a very high estimate of the time it would take to reach the airport and to direct airport traffic to skip the usual airport exit and to continue toward Paris, but I could see only a few words of it in a gap between trucks and couldn't be sure. We studied the map and concluded that we really, really didn't want to try to take an alternative route that involved making our way that far into the city (better to pay for an extra day on the rental car), so we took the usual airport exit anyway and were rather surprised that most of the trucks did, too. Drat, seven exits to go, and we were moving at walking pace. We decided the trucks must be better informed than we were and must know that the other route was also backed up; why else would professional drivers for whom time was money (especially if the goods they were carrying had flights to catch) take a route the signs warned against?
We were in the left-most lane, which seemed to be moving a trifle faster, when a large red tanker truck a quarter mile ahead pulled to the right out of our lane, and abruptly we were speeding up. We zipped past all those trucks, and suddenly all became clear! The slow parade of trucks was being led by a squadron of police cars and motorcycle cops with flashing lights, and an even larger squadron of taxicabs, plus a helicopter and news photographers on motorscooters. We were in the middle of the "go-slow" threatened by truckers and other professional drivers in protest of high gas prices! The police had finally managed to force that last truck out of the left-hand lane, letting those of us actually trying to go somewhere get past the blockage. All the way to the airport, all the overpasses were full of police cars and news photographers, waiting for the convoy to inch its way to them. Meanwhile, we zoomed easily along, on a mostly empty road, since most of the traffic was still stuck behind the trucks. We whizzed through the maze of roads leading into and through the airport (it can take 20 minutes to get into or out of CDG's "campus"); David parked the car while I dashed into the terminal and slapped the contract onto the counter on the stroke of noon. "Oh, no rush," said the agent, checking his watch, "I show two minutes still to go." Once I was on record as having showed up on time, I went back out to help David with the luggage, we returned the key, and set off to find a taxi, sincerely hoping they weren't all out there trying to block freeways.
We needn't have worried. A little sign informed drivers that the wait for taxis picking up fares was over an hour—there were plenty. This time, we encountered no traffic delays getting into the city, and our driver knew just where our hotel was, but the fare was still significantly higher than last year. Prices have just gone up.
Once we were checked into the Grand Hotel Leveque on rue Cler, we strolled out in search of lunch and found what we were looking for in La Terrace du Septième (Terrace of the Seventh), a brasserie near the École Militaire, called that because it's in the seventh arrondissement of Paris. (If you're going to spend any time in Paris, the first thing you should do is get yourself a map of the city, which is generally round in shape and is divided by a big bend of the Seine into two segments—the left bank, which is the the middle southern third of the city, and the right bank, which is the the other two thirds—and memorize the arrangement of the 20 arrondissements. The arrangement seems a little odd at first, because it starts in the middle with 1 and spirals outward to 20, but being able immediately to visualize which segment of the city is meant when someone mentions an arrondissement is hugely helpful.)
I ordered a cheese omelet with salad, and David had the "assiette printanière" (the spring plate), which included a slice of rabbit terrine, a glob of fresh mozzarella topped with a peeled tomato half and a leaf of basil, a heap of cold green beans dressed with vinaigrette and topped with a Parmesan crisp, and a portion of diced raw salmon dressed with a different vinaigrette and topped with chopped parlsey. The terrine was great with that fierce mustard that brasseries serve with every meal.
From there, we set off on foot for the nearby Rodin Museum. We've stayed in this area before, visited the Army Museum several times, and always meant to get to the Rodin Museum, which is just next door, but never managed it. We had to stand in line for about 15 minutes, but it was definitely worth the wait. The museum is housed in the Hotel Biron, a house built by a well-to-do Parisian and set in a lovely walled garden that occupies a couple of acres right in the middle of Paris. The house subsequently went through several occupants, including a very strict girls' school whose management stripped it of all ornamentation and let the garden run wild, before it became quite run down and was subdivided into appartments and rented out. Rodin was one of the renters and adored it. As he became successful, he rented more and more of the house, and when the house was acquired by the city he was allowed to stay on. Years after his death, the house and gardens were refurbished and became the Rodin museum. It houses his personal collection of his own work, some works by others that he owned, and many of his original studies and models for larger works. The photo shows part of the facade of the house, with the gilded dome of the Invalides (which houses Napoleon's tomb and the Army Museum) in the background.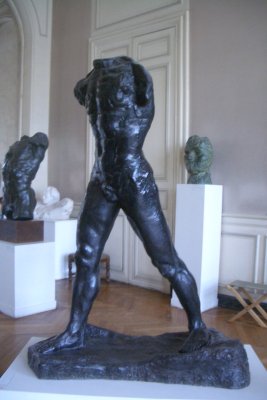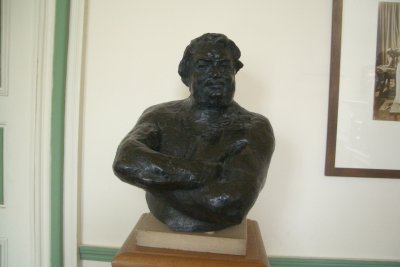 Two of my favorite pieces were "The Walking Man," of which another exemplar is on display at Smith College, and this magnificent bust of Balzac. Interestingly, when Rodin produced a portrait of someone in clay or plaster, he usually modeled them first in the nude, to get them anatomically correct, then added cothing or drapery (sometimes, by dipping actual cloth in plaster and draping it onto the nude statue. As a result, although his final full-length portrait of Balzac is cloaked to the neck, the same room that displays this bust also contains a life-size nude portrayal of Balzac in all his big-bellied splendor.
Many of his works simply protrayed the nude body, of course. One of his early successes, a full-size nude of a young man, caused great scandal when it was first displayed publicly, not because it was a nude but because it was so accurate that Rodin was accused of actually taking a mold of the young man's body—apparently, sculptors consider this cheating.
We walked back to our hotel in time for David to practice his talk while I sat downstairs in the lobby, typing and waiting for our friend Françoise, with whom we had a dinner date. While we waited for David to join us, I showed her photos of the trip so far, including dinners, with the result that the receptionist complained we were making her hungry!
For dinner, we had reservations at Chez l'Ami Jean, the same little Basque restaurant we took CJ to last year. Its fixed-price menu had gone up from 30 to 32 euros but is still a heck of a bargain.
Amuse-bouche, all: We got the same amuse-bouche as last year: dark bread with a dish of garlicky mashed white beans. Last year, everything was garnished with thinly sliced, lightly cooked vegetables and wild asparagus. This year, it was wisps of chewy deep-fried carrot shreds and the currently fashionable thin slices of bacon.
First course, Françoise: Creamy crabmeat risotto with zucchini slices.
First course, David: A strange (but delicious) dish of "raviolis," in which the "pasta" was actually sheets of gelled meat juice and the filling a purée of bright green vegetables!
First course, me: "Chiperons" (usually baby octopuses, but this time, chunks of larger squid) with eggplant, pimentos, and basil.
Second course, Françoise: Roasted "fletan" (halibut, Hippoglossus sp.) on a bed of spring vegetables.
Second course, David: Braised veal shank with peas and salt pork.
Second course, me: Whole sea bass ("bar," Dicentrarchus labrax; actually, minus the head and tail) roasted with garlic and thyme.
We all shared two bowls of almost liquid mashed potato. Yummy.
Dessert, Françoise: An apricot roasted with honey and served with house-made soft caramel.
Dessert, David: Petit Suisse (a tangy soft fresh dessert cheese) with fresh fruit and sugar.
Dessert, me: Rice pudding, of course. I'd been looking forward to having it again ever since this time last year! It is still sublime! They brought me about a quart of it to start with, and assured me that I could have as much as I wanted. I couldn't finish it, and David joked to the waitress that I'd like a doggy bag for the rest. Certainly, she said, nothing easier. We were really only kidding, I said. I wasn't, she said. And she brought me a square plastic container full of rice pudding (more, I'm sure, than I had left in the bowl). It was just as good for breakfast the next morning.
previous entry List of Entries next entry