Friday, 30 May 2008, The decorative arts in Paris
(Written 2 June 2008)
Foregoing the hotel's elaborate and expensive breakfast, we walked around he corner to the Café les Ministères (the Ministries Cafe, because this neighbordhood is full of government ministries) for excellent hot chocolate and croissants, where two jolly barmen were keeping up a constant banter with the regulars and with construction workers who took a break from setting up their barricades in the street outside to come in for coffee. We sat at a table, but most most of the customers stood at the bar, and I was surprised to see that, even in this clean and presentable establishment, the custom among all of them was to throw empty sugar packets on the floor. I guess, after the rush, somebody must just come out from behind the bar and sweep them all up.
Rather than use Ségur, the nearest Metro station, we walked a little further to the École Militaire station, which provided an easier route to the Louvre. In the back yard of the École Militaire, riders were exercising horses they had brought there in a truck labeled "Gendarmerie" (police). Our route to the station also took us past the antique fair, poised to open but still dark and quite at that hour of the morning. We caught the Metro, changed at Concorde, got off at Palais Royale, and presented ourselves at the door of the Musée d'Arts Decoratives, newly reopened after a 10-year closure for renovation. It's located in the northwest wing of the Palais du Louvre but is actually separate from the Musée du Louvre. Newly reopened, yes, but unlike most museums in the area, it wouldn't actually open that day until 11 a.m.
So we spent an hour and a quarter window shopping in the Carousel du Louvre mall and the arcade around the Palais Royale courtyard (shops dealing in stamps, coins, silver working, collectible toy soldiers, and medals of all nationalities—it's very sad that so many medals are available for purchase; did their owners have to sell them? have their descendents forgotten or lost interest in what they represent?) and sitting on a park bench in the Palais Royale garden (city pigeons, wood pigeons, sparrows, and the ubiquitous merles). In the courtyard, we encountered this lovely fountain, one of a pair that separate the notorious "colonnes de Buren" art installation in the south half from the lovely and tranquil garden in the northern half. In the arcades, we passed a window displaying these wonderful jellyfish Japanese lanterns.
Back at the museum, we picked up our free audioguides and set off to see what was to be seen. Our tickets included both the permanent collection (starting in the middle ages and working forward to the 2000's) and the temporary exhibit on trends in the decorative arts during the Empire period, both by Napoleon and by others at the same time. I was disappointed to learn that the toy collection won't be open until 5 June, but we'll be in Paris that day, so maybe we'll be able to see it.
Getting from one section of the museum to another (we didn't always do the sections in order, and we came and went for lunch), required passing through the teaching gallery (and through several different groups of students being lectured by docents and through a film crew taping an interview with the curator). The collection being featured in that gallery was called "Aussi rouge que possible" ("As red as possible"), which explored the various uses of the color red in the decorative arts, to express, e.g., power, sensuality, and political radicalism. My favorite was this undeniably red sofa.
After an hour or so in the museum, we had lunch at Le Saut de Loup (The Wolf's Leap), the museum's restaurant, very sleek and chic. David had a spinach salad topped with cooked chicken, curry sauce, confit tomatoes, and croutons. I ordered the steak tartare. It came already mixed with chopped onion, capers, and whatnot, and topped with raw egg yolk, and they brought me bottles of ketchup, mustard, Worcestershire, and Tabasco in case I wanted to doctor it further, but all it really needed was salt (also provided, fortunately). They even brought me mayo, on request, to go with the fries. For dessert, I had a splendid hazelnut sundae, with hazelnut ice cream, dark caramel syrup, and caramel-dipped whole hazelnuts. Yum
The Napoleon exhibit was interesting, but photography was not allowed. It explained and demonstrated at length how Napoleon used decoration to emphasize his power, and it pointed out a number of trends in decoration of the period (e.g., "empire-line" dresses, lions, sphinxes, swans, and butterflies).
The Art Nouveau (all about plants and animals) and Art Deco (all about straight lines) sections were also interesting but much less extensive than, e.g. the Daum glass or (we understand) the Museum of the École de Nancy. I thought the Art Deco was much better illustrated than the Art Nouveau, but because I prefer the latter, I took more pictures of it. (Unfortunately, the obvious "shorthand" name for the newly opened museum is "Arts Deco," but it's an unfortunate homonym of this well established "Art Deco" movement, so they'll have to come up with something else.) A couple of nice examples of Art Nouveau were the thistle vase and life-size glass bat shown below. The leaded-glass screen showing work in a factory illustrates the Art Deco.
A separate gallery was set aside for the work a British designer named Jack Cooper,whose work is considered unclassifiable but all of which is beautiful. Among many other familiar objects, he designed the TGV logo, train cars, and seats and the familiar set of icons used everywhere to indicate telephones, train platform numbers, restrooms, elevators, escalators, emergency exits, luggage racks, bus stops, taxi stands, and much much more. He may also have designed the leaping glass fish (below), but I'm not sure.
Perhaps most interesting of all was the chronological trip from the 1940's through the 2000's, starting on the 9th floor and descending decade by decade through a series of smallish galleries to the ground floor. I was afraid I might have to run screaming from the room when we came to the 50's and 60's, but no, it was okay—they did not feature the tubular-steel dinettes and amoeba-patterned formica of my youth.
The 1940's were typified by the guy studded with nails (below), one of a pair that also included a rather forbidding female figure. It was fun to be reminded that the 60's and 70's were the golden age of "designer chairs," of which I show (below) only a portion of the museum's collection. We passed a great half hour watching a montage of film clips they had assembled from movies in which such "futuristic" chairs appeared (complete with credits at the end identifying the chairs and the movies). The original, David Niven Casino Royale was in there, and Peter Sellers and Woody Allen seemed to show up alot.
When our feet gave out, we took the Metro back to École Militaire and walked back to the hotel through the now-open antique fair. Fortunately, I guess, we didn't see anything we felt obliged to buy.
For dinner we went to Brasserie Flo, the original one that started the whole chain, in the 10th arrondissement, near the Gare de l'Est. (It got that name in 1914, a period of particularly anti-German sentiment in France, when the then proprietor, a Mr. Floederer, thought it the better part of valor to shorten it's name from "Brasserie Floederer" to something less germanic-sounding.) It's not obviously either Art Nouveau or Art Deco (it dates from a little before either one), but our book describes myriad details of the decor that recall Alsace and Alsatian folklore). It is certainly a page out of history, furnished in dark wood and brass. Oh, and the name of the guy who owns the Brasserie Flo chain is Jean-Paul Bucher, trained as both a chef and a businessman.
While we waited for our food, we watched five guys at a table near us plough through three huge platters of cold seafood—lobster, crab, langoustines, oysters, other raw bivalves—only to find that that was just the first course, before their steaks showed up!
Amuse-bouch: A little plate of marinated green olives.
First course, David: Terrine of duck with cold rhubarb compote.
First course, me: Six excellent raw oysters. As usual, I tried the red-wine-vinegar-and-raw-shallot mignonette sauce they always supply with oysters in France, but as usual, I immediately went back to my old standby, a squeeze of lemon and a sprinkle of pepper.
Main course, David (inpired by my lunch): Steak tartare (which he pronounced excellent) with salad and fries.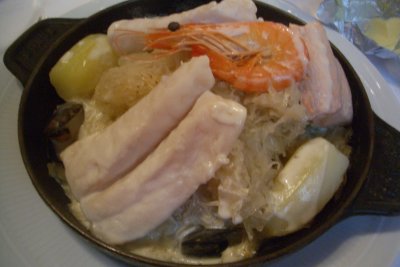 Main course, me: "Choucroute de la mer"—seafood choucroute garnie—which I'd always wanted to try. It consisted of about a pound of sauerkraut topped with three pieces of fish (two white and one salmon), five small but tasty mussels in the shell, a large shrimp, two boiled potatoes, and a generous drizzle of "nantais" sauce (another lemon-butter concoction). Very good, and nothing was overcooked, but it won't tempt me away from the standard pork-based choucroute garnie.
Dessert, David: Profiteroles, i.e., cream puffs filled with ice cream and topped with hot chocolate sauce. The Scandinavian guy at the next table leaned over to ask David where they were on the menu.
Dessert, me: Strawberry bavarian pie laid on a criss-cross pattern of strawberry and passionfruit sauces. Tasty, but nothing particularly special.
previous entry List of Entries next entry