Thursday, 29 May 2008, Châlons to Paris, take 1
(Written 1 June 2008)
Thursday morning, we were actually up and out, breakfasted and all (the delice au chocolat was replaced with a little pastry stuffed with crême patissière), in time to pack and move the car before 9 a.m., when we would have had to start paying for parking again.
We were headed for the Roissy-Charles De Gaulle airport, where we planned to leave the car in long-term parking while we spent two nights in Paris, but we had all day to get there, so we decided to stop in and look at Meaux (where the Brie comes from) on the way. Near Montmirail, just as we crossed the boundary from one "département" to another, we encountered these two monuments, right across the road from each other. The tall one with the eagle on top dates from the Napoleonic wars. The other, only six or seven feet tall, reads "To the glorious memory of the 233 graduates of Saint Cyr [the French national military academy] from the Montmirail classes of 1912-1914 who died for France between 1914 and 1955." I think 1955 was the war in Algeria.
All the way to Meaux, it drizzled on and off. Oddly, the countryside was sparsely dotted with oil wells. In Meaux, the tourism office was well and accurately signposted and provided free parking. The nice people there gave us a town map, directed us to interesting things to do with an hour or two, and traced onto our map easy and accurate instructions for getting back out of town and off to the airport. We walked around the pedestrian town center for a while, admired the famous market bridge (which did not atually have a market on it that day), and ventured into the cathedral, but a mass was in progress, attended by the small order of monks who still live there and by two "civilians"; a small sign said please not to walk around during services, so we were mousy quiet and confined ourselves to a back corner of the nave, out of their sight. A handsome statue there (and numerous other statues, business names, and commemorative plaques around the area) reminded us that Meaux was the birthplace and home of Bossuet. (I've heard of him, but I'm afraid I've forgotten who he was or what he did. David thinks he's a philosopher. Meaux is not within the jurisdiction of our Michelin green guide, so we couldn't readily look him up.)
[Note added 6/14/08: Françoise says Bossuet (1627-1704) was a famous bishop of Meaux, considered one of the greatest orators in history, whose elegant and eloquent sermons (often complete with his political views) have been published and are read for their literary as well as their historical value. ]
Behind the cathedral is a little walled public garden named for Bossuet that included a tiny fountain mounted on top of an eight-foot craggy boulder planted all over with little flowering rock-garden plants.
At lunch time, we sought refuge from the rain in a little Provençale restaurant for lunch. David had a salad topped with slices of duck magret (properly dry ones, this time), slices of cold foie gras, cold cooked chestnuts, and toast. I had one covered with slices of raw ham and a large slice of bread topped with three round slices of goat cheese, then a generous layer of gruyère, then run under the broiler until the cheese had melted, spread beyond the bread, and gotten toasted at the edges. Both tasty but a little short on vinaigrette. Dessert was great—a big bowl of fromage blanc drizzled with orange-blossom honey and sprinkled with cinnamon. Yum!
On our way back to the car, we encountered a signpost indicating that the high brick-and-stone wall we were walking the length of was actually part of the original Roman city wall. The romans were well established in this area for several hundred years. If you look at a road map of the area, you'll see that long stretches of road through it are arrow-straight. That's because they are simply tarmacked-over stretches of the old stone-paved Roman roads, famous for their geometric rectitude—the Romans were a straight-ahead sort of people. For part of the way (e.g., the D994 approaching Châlons), we were driving the "Via Agrippa," the Roman road from Milan (yes, the one in Italy) to Boulogne (yes, the one on the English Channel).
Back on the road to CDG, all was going swimmingly until a stretch of route N2, about 10 minutes from the airport, when the check-engine light came on, and David says the car started acting really sluggish. He had grumbled from the start that it had very poor acceleration response, especially for a such a small, light car, so maybe it had something wrong from the start, but now it had come to a head. Wondering whether we would make it to the airport at all, we hastily revised our plans and drove it not to the long-term parking lot but back to the Europcar rental return. David then sat down with his novel to guard the luggage, and I set off to talk to the Europcar people. Unfortunately, I guessed wrong as to which direction to look first and wound up walking for about 45 minutes from Europcar desk to parking-lot kiosk to (after spending a ridiculous interval trying to find the door back into the building)Europcar desk until I finally found the right one, about 300 meters from where David sat. At the first Europcar desk (the one where I had originally rented the car but that turned out to be the wrong one at which to do anything about our problem), the clerk had been downright suspicious—"We'll have to go look at the car; what kind of fuel did you put in it, anyway?"—whereas, when I found the right desk (the one handling returns), I was tired of going through the whole explanation. I just plunked the key on the desk and said, "There's something wrong with this car; I'd like a different one please," and they said, "Right away, ma'am." The only difficulty was finding a car to give us; they finally intercepted one just being returned with half a tank of gas in it (about what we had left in the other one), cleaned it out hastily, and issued it to us. I suggested we just turn in the one we had and check out another two days later, when we left Paris, but they would have had to close out our contract and open another, and we would have lost our special long-term rate for foreigners. Once they found us a car, though, they said we could leave it where it was in their lot for two days, free of charge, and pick it up when we left, so that's what we did.
(Written 2 June 2008)
By that time, it was rush hour in Paris, but the taxi finally got us to our hotel, the Tryp de Saxe (one of the two we stayed in last year), behind the École Militaire and almost across from Unesco headquarters. We were unsure whether to be delighted or dismayed by the large banners announcing that the annual École Militaire Antiques and Arts Street Show (the one where we bought two paintings last year) was set to open the next morning! On the way, we passed this "building under construction," actually the headquarters of Loxam, which rents out construction equipment. All the red machinery, and in fact the hollow spaces it appears to occupy, are painted on a scrim hung on the side of the building, designed to resemble the scrim that usually covers the scaffolding on which such machinery usually works. (The odd reflection of a car in the middle is there because I took the photo through a moving taxi window.)
We had a nicer room this time, but it was actually a floor below reception, with windows right onto the tiny Villa de Saxe side street. Because the elevator only went up, not down, we had to wrestle our luggage down three-fourths of a turn of spiral staircase, around a corner, a few steps forward, down four more steps, along a short corridor, and up four steps to reach our door.
Our dinner reservations were at Auguste, a couple of blocks east of the esplanade of Les Invalides.
Amuse-bouche: A single hot gougère (soft cheese puff) each, while we looked at the menus.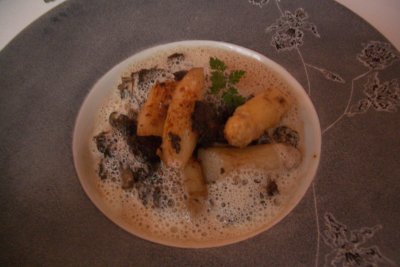 First course, David: White asparagus stewed with snails and morels in foamy cream sauce.
First course, me: Large langoustine tails, each wrapped (together with a leaf of some sort; sage?) in a sheet of thin pastry (like that used for briks) and fried until crisp, served with a bowl of jellied watercress consommé topped with a bright-green watercress puré and a dab of mild caviar and a borage blossom. Excellent!
Second course, David: Lobster stewed with green onions and "couteaux" (bivalves called "knives"; razor clams, maybe?) in a different cream sauce, drizzled with a rich lobster reduction sauce.
Second course, me: Pigeon, the boneless breast and semiboneless legs, roasted rare and served with large, tender carrots and baby onions in a carrot sauce spiced with galanga. In fact, in many of the dishes, we detected notes of Indian and middle-eastern spices, which we suspect are a manifestation of the influence of Olivier Roellinger of Cancale, in Brittany.
Dessert, David: "Lait pris" ("set," i.e., gelled, milk) flavored with lemon verbena, topped with lemon custard and then with a thick layer of fresh raspberries dusted with powdered sugar. It was so good he hummed quietly to himself while eating it.
Dessert, me: Tarte tatin de banane (hot upside-down banana tart), accompanied by an out-of-this-world coconut ice cream.
Mignardises: Two superb cellophane-wrapped salted-butter caramels.
Throughout dinner, we puzzled over the table ornament, a large, odorless dried seed the size of three golf balls, which we've lifted out of its pod for the picture. We asked the waiter, who could tell us only that it was a dried seed in its pod. We couldn't identify it. Any suggestions from you readers out there? Either of you?
Note added in March of 2012: The odd three-lobed seed is that of Manicaria saccifera (sometimes called "sea coconut"), the fruit of a Central and South American palm. Read more about it at http://www.backyardnature.net/yucatan/manicaria.htm. Apparently, the pod it was resting in on the table was something entirely unrelated.
previous entry
List of Entries
next entry