Saturday, 31 May 2008, Paris to Reims
(Written 2 June 2008)
Yes, we went to Reims on 31 May, but first I went to the market! The night before, David said he wanted to sleep in on Saturday morning and that I should go out to breakfast without him, but Saturday is market day on the Avenue de Saxe, and when I got to the end of our little side street (passing, on the way, a dignified matron in a flowered dress with a full shopping basket on her arm coasting back down into the side street on a two-wheeled scooter, one foot poised delicately on the rear-wheel break), I looked at the café up the block, then at the market spread before me, and it was a no-brainer—I commenced grazing.
First, of course, I had to look at everything. To see the photos, go to 31 May 2008, "Paris market extra edition." After carefully surveying the whole thing (a t-shirt vendor called out, in English, "Nice hat, ma'am! Very nice hat!" every time I walked by in my Tilley), I selected and ate a pain au chocolat, a Rocadamour (a little 3-inch goat cheese I'm very fond of; I specified I wanted a creamy one and was not disappointed), an assortment of five savory fried pastries filled with various curry mixtures (a north African lady was frying up dozens of them), and—I couldn't help it; they were just coming hot off the spit—an exceptionally tender and juicy roasted quail. When I had walked the whole market three times, I took David a chausson aux pommes (apple turnover), and we packed up and caught a cab to the airport to pick up our new rental car, a VW Polo. Not only does it have better pick-up than the Toyota, it's got more room in the wayback for our luggage. Only one suitcase has to go in the back seat.
(Written 3 June 2008)
By lunchtime, we were back in Meaux, where we found a little place called "Le Panier a Salad" (the salad basket) next to the Saturday market (which by that time was breaking up but which did, in fact, extend over the Market Bridge) and ordered our usual salads—hot goat cheese on toast for David; walnuts, poached egg, and roquefort for me. Both came with a great heap of little fried potato cubes topped with a sprinkling of lardons. David had a decaf, so I ordered an herbal tea, whatever kind they had—I got lemon verbena, properly made with real boiling water (increasingly rare these days), and it came in a large ceramic mug with a lidded, perforated ceramic liner that you lifted out, teabag and all, when the tea was strong enough. Clever.
From there we pressed on past Chateau Thierry (right past the auberge where we stayed for a couple of days last year, with CJ) to to Reims, in the rain. We found the hotel easily (despite all the street construction), parked in a garage just across the street, and settled in.
The room was palatial: large, comfortable, and (for some reason) decorated with paintings of bears. The bathroom was especially large and offered both a tub with a hand-held sprayer on a good long hose and a separate shower cabin with two shower-heads: one eight inches in diameter, mounted high on the wall, and aimed not quite straight down and the other a hand-held sprayer on a long host resting in a wall bracket mounted at waist height. Best of all, the slate floor of the shower cabin, although it sloped slightly to a large and highly effective drain in the center, was otherwise smooth and flush with the slate floor of the rest of the bathroom! The cabin was about 40 inches square (huge) and was walled by floor-to-ceiling tile on three sides and double glass doors with squeegee bottoms and center gasket on the fourth. Capacious, convenient, and elegantly designed—I'd like one like that at home!
The room also had a wooden-deck balcony, which it shared with other rooms in the row, wide enough to hold canvas lounge chairs. The view included the hotel's lovely Japanese-garden courtyard and, from the far end, a view back toward a reconstructed gothic building (an old chapel perhaps) that has been incorporated into the hotel's structure—they use it as part of their conference center. The view from our window even included the top half of the celebrated cathedral, misty-looking in the rain.
Much of the architecture of Reims has been reconstructed, because 80% of the city was flattened during WWI, so it's a mixture of salvaged and reconstructed (very) old buildings, Art Deco (the style that was the latest thing when it was rebuilt in the 1920's), and excavated and stabilized gallo-roman buildings. It has layers and layers of history—it was a good-sized town before the Roman's showed up, then was a major Gallo-Roman city for a long time. The Reims cathedral was the site where Clovis (first official king of France) was crowned and—of crucial importance—anointed by St. Remi with special holy oil from a vial miraculously brought to Remi by a dove. The vial was preserved, and oil from it was used to anoint kings of France all the way to the 18th century. (During the revolution, the statue of Louis XV in the Place Royal was pulled down, and on its pedestal, revolutionaries ceremoniously smashed the vial, officially ending the French monarchy.) In the 16th century, Joan of Arc's mission was to go and fetch the heir to the French throne and to bring him (despite anything the British could do) to Reims and get him crowned and anointed, which she did, right there in that cathedral. The town put up a plaque (Art Deco, of course) in 1929 commemorating the 500th anniversary of that event. The cathedral burned down at least once, but was rebuilt (you couldn't crown a king without it), and a major renovation and refurbishment of it was finished in the spring of 1914, just in time for it to be shelled to smithereens during WWI, which started a few months later. They rebuilt it again, using a mixture of reconstructed stained glass (copied from old photos and memory), modern stained glass (e.g., by Chagal), and newly designed stained glass in the traditional style (e.g., a wonderful trio of lancets funded by the champagne-growers' association that depicts all the steps in the wine-making process and incorporates the names of all the villages whose growers contributed). The cathedral was spared the bombing during WWI, but Eisenhower had his headquarters there, and the German surrender was conducted there.
We were surprised to find a Brasserie Flo just around the corner from our hotel—it's not one of those written up in our coffee-table book. We hoped to have lunch there one day, but it never worked out, so we'll have to check that one off some other time.
We had dinner just around another corner (the one behond Brasserie Flo) at "Le Foch," and a playful and surprising dinner it was. Besides the surprises of the food, I was constantly entertained by the matre d', a middle-aged woman, clearly in charge, who, in the movie version, will be played by Prunella Scales in her Mapp persona. All the other wait staff were young men in extremely formal black and white who were clearly professionally trained, moved silently and smoothly, and never so much as clinked one dish against another. The woman, however, wore a flowery jacket and could only be described as brusque. When they arrived with hands full of plates, and the wheeled service table was in the way, the young men nudged it discreetly into position with one toe. She just kicked it out of the way. She said all the right things, like "we hope you enjoy this dish," but she said them in a tone that left us little choice in the matter. She clearly had no intention to be impolite—she just had a lot on her mind.
The table was set with ordinary butter but also with algae butter, popular during last year's trip but hitherto absent this year.
Amuse-bouche, in four parts: First, not shown, little cube-shaped popsicles of savory celery-root ice cream with poppy seeds in them and china spoons, each containing a dab of eggplant purée topped with a cube of raw salmon, in turn topped with a curry-flavored rice crisp. Then (actually simultaneously), the items shown in the photo—a cold thick creamy soup of celery root with four things stuck into it (a long skinny radish, a carrot stick, a baby spear of raw white asparagus, and what turned out to be a disposable plastic bulb syringe full of puréed scallion. You squeezed the syringe into the white dip (or, as the kid at the next table did, dripped it carefully onto each bite of vegetable) and ate the veggies with the dip. On the side a miniature toasted ham and cheese sandwich.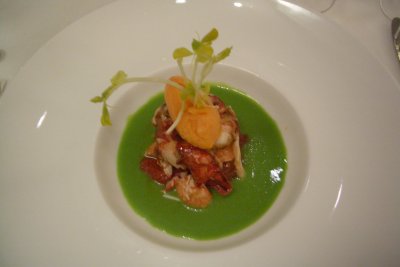 First course, David: A timbale of cold lobster and confit tomatoes, topped with tomato sorbet and pea sprouts and surrounded by a raw-green-pea gaspacho.
First course, me: Cold, smooth, cream of corn soup with warm pieces of foie gras in it and drizzled with balsamic vinegar and, on the side, a tangle of cooked wild asparagus dressed with vinaigrette and topped with more warm foie gras. The plate was garnished with, yes, three kernels of caramel-coated popcorn, strongly vanilla flavored. The whole thing was delicious!
Palate cleanser: A shot glass of Canada Dry ginger-ale topped with a puff of vanilla foam (very reminiscent of a ginger-ale float!). The waiter described it specifically as "Canada Dry," which is what the French call ginger ale. If you try to order ginger ale by translating or even describing it, they look at you like you're from Mars—a fizzy drink flavored with ginger? Never heard of it! But if you ask for "Canada Dry" you get ginger ale. We're not sure whether this chef has spent too much time in the U.S. or not enough.
Second course, David: Lotte (monkfish) glazed with algae, special carrots, and Provençal basil-infused olive oil, garnished with asparagus and a cluster of chive blossoms. It was accompanied (as was my second course) by a small, individual copper saucepan full of silky olive-oil mashed potatoes.
Second course, me: Rare breast of grain-fed pigeon, topped with the leg meat deboned and made into a crisp triangular samosa, in turn topped with a cromesqui of foie gras, all nailed together into a stack with one of those knotted bamboo skewers and additionally stabbed with a spray of sage flowers. Excellent. We haven't encountered a cromesqui (I'm not sure how a cromesqui differs from a croquette) since a lovely chocolate one I had at Table d'Anvers, years ago in Paris, but suddenly they're everywhere this year.
Cheese course: At this place, for a small supplement (built into the cost of the menu we ordered), each cheese came with a dab of jam "from Mr. Grall." Mr. Grall makes complex and interesting jams that start with fruit (or fruit combinations) and are flavored with herbs, spices, vanilla, ginger, and other tasty things. The waiter chooses for you the best jam for each cheese, from a set of eight or nine, and they are superb foils. For example, with my chaource, I got a jam of tiny cubes of pear flavored with honey, mint, and ginger. Another flavor was mirabelle (tiny yellow plum) with vanilla-scented honey and gewurztraminer. Yummy.
Dessert: Pistachio cake/cookie with raspberries and sheep's-milk-curd sorbet (which actually tasted more like goat-cheese ice cream). The slices of pistachio cake were stacked with a filling of some sort (chocolate, I think), topped with fresh raspberries, and stabbed with another syringe, this time full of raspberry sauce. The sorbet was served on the side with a drizzle of raspberry coulis. Towering over the whole thing was a head-sized puff of bright pink cotton candy on a stick!
Postdessert: We were served a glass dish of mignardises (physalis berries, almond financières, caramels, other candy, chocolates, and green lollipops—what is it with the lollipops this year?!) and, for each of us, a drinkable lemon chiffon pie in a tiny glass milk bottle with an old-fashioned porcelain stopper with a wire bale. It was accompanied by a little porcelain tray bearing a single white tablet, like a thick tum. The brusque woman pointed to the tablet and said, "Don't eat that. We'll show you how it works in a moment, but above all don't eat it!" and zoomed away again. We recognized the tablet from a similar experience a few years ago (where it was presented with rather more flair), but we did not let on. Sure enough, after we drank our lemon pies, she returned with a standard-issue nalgene wash bottle (discreetly wrapped in a linen napkin, but recognizable none the less) full of hot water, which she squirted onto each of our tablets in turn, causing them to swell, first upward into towers then laterally into thicker cylinders, and transform themselves into tightly rolled disposable hot moist towels, with which we were invited to wipe our fingers and faces. The last time we encountered these compressed tablets, the water was poured on from a silver pitcher, which I think gave a better effect. The tablets were on sale at the exit, in case you wanted to take some home to amaze your guests.
previous entry List of Entries next entry