Wednesday, 6 June 2012: London to Southampton
Written 7 June 2012
Got up only a little early and had breakfast at the hotel as usual. We called a taxi with considerable time to spare, as we needed to get to Waterloo station in time to find a kiosk that would print our electronic train tickets, go down in to the underground station to turn in the oyster cards, and acquire some lunch to eat on the train. Good thing we allowed time, because traffic was gridlocked in the middle of town, and getting across the river to Waterloo too about three times as long as we expected. Don't know whether that was jubilee hold-over or just normal traffic congestion. As it happened, all went smoothly. The first kiosk we encountered presented the tickets without a fuss. A nice French bakery was right there next to it, where I purchased a croissant split from the top, filled with mushrooms and cream cheese, topped with gruyère, and baked, as well as a puff-pastry sausage roll and a creamy chocolate-chip pastry to split for dessert. The stairs down to the underground were nearby, but once down there I had to hike about half a mile and down three staircases to find the ticket window. The nice guy there read the oyster cards with his special machine, concluded that each still had 3 pounds on it, and refunded me 16 pounds in cash on the spot. Back up all the stairs and along all the corridors, and we still had to wait 20 minutes or so for our train's platform to be announced.
The 90-minute trip to Southampton went smoothly, though every seat was filled, so we had no room to spread out. We polished off our picnic en route, found a taxi easily at the station, were whisked to the Dolphin Hotel in the high street, and—as planned—found our friend Jim Barry waiting for us. He had rented a car and made a tee-time at the Southampton City Golf Course, so we changed our clothes and headed up there. Here are David and Jim on the veranda of the club house. Most of the signage and rules were pretty standard, but I was struck by the particularly British tone of the rule that said, "Call the group behind through if you have lost a clear hole from the match in front."
The folks in the pro shop rented us three sets of clubs and a golf cart (Jim preferred to walk, so he just rented a pull-cart) and sold us tees and cheap golf balls. We just played in our street shoes, as golf shoes were too bulky to pack, and nobody rents them. Our tee time was for 2:30, but we were able to get off somewhat earlier. Rain had been predicted, but aside from a light spattering as we drove from the 7th green to the 8th tee, it never materialized, and in fact the sun came out for the last couple of holes. I was perfectly comfortable in the light wind shirt I had brought along for the purpose.
The "woods" in my rather unusual set of golf clubs (actually made of metal, these days, of course) have flat faces, whereas most conventional woods (including the ones we rented at Southampton) have convex faces, much less forgiving—unless you hit the ball with the exact center of the club, it goes sailing off at an angle. I therefore knew I wouldn't be able to do much with those woods, but fortunately, my clubs are also very steeply pitched. My driver is 18 degrees, not that different from the smallest wood or largest iron in a standard set. So I just drove with the largest iron in the bag for the whole round, and it worked surprisingly well! It was a XX10 "claw under-cut" Srixon 4-iron, and I may just have to acquire one to use at home! The sand wedge had about the same pitch as my "short iron," and for intermediate shots, I just played "by guess or by golly," and aside from one disastrous hole on which I got a 12, I played only a few strokes worse than at home.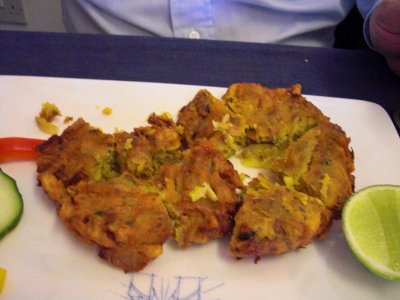 We finished about 6 p.m., just about time to head back to the hotel, shower and change, and go in search of dinner, which we found at P.O.S.H., the Indian restaurant that hosted the "survivors' dinner" after the 2006 meetings. They started by bringing up a plate of exceptionally tender, tasty, and crisp papadums and a trio of chutneys: sweet yogurt with mint, sweet and spicy mango, and diced raw onion with tomato and cucumber bits. That last looked fierce, but the onions were so mild and sweet that I could eat them by the spoonful. We ordered three starters and three main courses and shared everthing around. One starter was the onion bhaji (which David remembered fondly from 2006).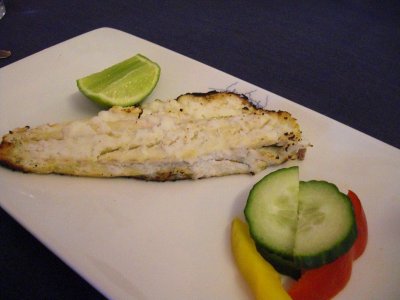 The other two were hot, crispy vegetable samosas (left) and sea bass marinated in coconut and lime juice, then grilled. It was served with a little ramekin of small curried chick peas.
As far as we could tell, we were the only diners in the entire large restaurant the whole time we were there, and we wound up having a long talk with the proprietor, who was fascinated with marine biology and was very impressed that David and Jim had gone down in Alvin and other deep-sea submersibles.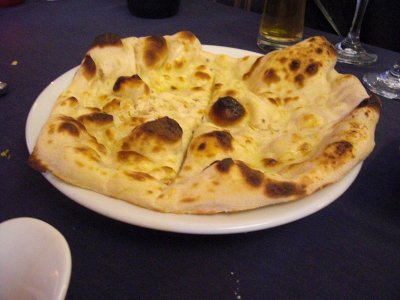 The three main courses were lamb biryani (which came with mixed-vegetable curry and yogurt), duck Bhuna (in the background, behind the biryani platter), and salmon "patia," which was described on the menu as grilled but which came in a thick, sweet tomato sauce with pineapple chunks. To go with those, we got side orders of pulau rice (not shown) and naan (right). It was all delicious, but we agreed that curry spicing is not ideal for salmon.
Good restaurant. We'd go back there in a minute.