Tuesday, 5 June 2012: Noises Off
Written 7 June 2012
Tuesday, 5 June, was the Queen's Diamond Jubilee, so we knew it was pointless to try to go anywhere near the center of London before the day's jubilee events were over. In late morning, the queen, all the other royals, a zillion invited guests, and half the population of England would be gathering for the church service near the houses of Parliament. Then would come a celebratory state dinner in Westminster Hall (I think). Then, after that, the grand procession back to Buckingham Palace, via Trafalgar Square and the Mall. All those police we had seen the previous evening were presumably there to work crowd control for the fireworks (and the many street parties we're told were scheduled) and for people queuing up overnight for the Tuesday festivities.
So what to do with a day in London that (a) we hadn't already done and (b) wasn't anywhere near the jubilee festivities? I looked in our Michelin Green Guide and spotted the Toy and Model Museum, just three blocks away! Definitely a fun place to spend an afternoon.
Accordingly, David spent the morning doing hand laundry and rewriting and practicing his talk while I wrote and triaged photos, and come lunchtime, we headed out in the direction of the museum. On the way out, we took advantage of the light to get the photo of our hotel that I put on the previous day's page. Our room, besides being number 30, is labeled Temple Newsam. All the other rooms have names as well, but I haven't figure out what they are the names of.
The next stop was to read the plaque on the building across from the hotel, which flew a flag we didn't recognize. It turned out to be the headquarters of the Malaysian High Commissioner for Education for United Kingdom and Eire.
At corner of Bayswater Road and Leinster Terrace, we found a placque saying that James Barrie (author of Peter Pan) lived there. I wanted to write him a fan letter when I was a kid and was very disappointed to learn that he died a couple of years before I was born.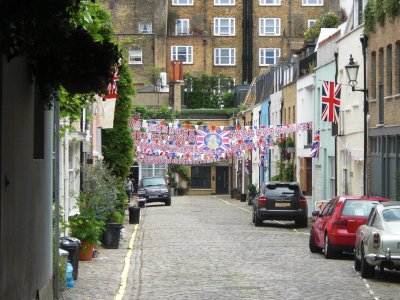 We found a nice looking pub, the Leinster Arms, a block or two from the museum, but it wouldn't open for a few more minutes, so we passed the time by scouting out the museum's location. We shortly arrived there only to find . . . nothing. Drat. Okay, lunch first, then we'll try again to find it.
Right next to the pub was this handsome mews thickly festooned with flags and portraits of the queen, in honor of the jubilee.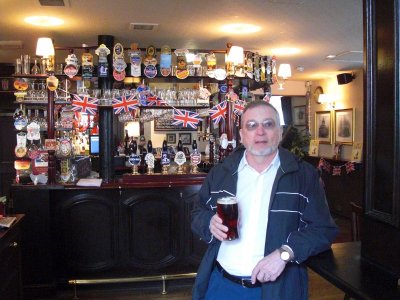 Once the pub opened, David was able to get a pint of bitter, and we had a couple of excellent sausage butties. David started to order traditional Cumberland sausage, but I said, "Oh, no you don't. The last time we had Cumberland sausages [at Truckles in Pied Bull Yard; outstanding, and served with a wonderful sweet mustard sauce], your digestion didn't get back to normal for two days!" So I ordered the Cumberland sausages (my stomach has never met a sausage it couldn't cope with), and David had the wild boar and apple ones, which he said gave him no trouble at all. Both were served on buttered ciabatta with crunchy whole-grain mustard and delicious onion marmalade.
The waitress we asked about the toy museum didn't know, but she said she'd ask the lady in the kithen, who grew up in the area and who shortly gave us the sad news that the museum "hasn't been there for years." Drat. Our habit of keeping our old Michelin guides for decades at a time backfires again.
We walked back to the hotel via a detour through Kensington Gardens, across Bayswater Road. We hadn't been able to come up with a better idea for the afternoon, so David announced that he'd like to spend it taking a nap. On the off chance that the museum might just have moved, I had the guy at the desk Google it, but the word seems to be that it simply closed down in 2005, so I worked on the computer for a while, then woke David in time to start early for the theater district.
This time, we went to will-call first and acquired our tickets, so as to have more time for dinner, but both the travel and the ticketing process went so smoothly that we wound up with an hour in hand, so we strolled over to window shop in the Covent Garden market (also heavily flag-festooned). We were pleased to find a Pain Quotidien there, and there was a Starbuck's of course. I saw a "Brasserie Blanc," but I don't think it's a branch of the same small chain of Blanc restaurants we encountered north of Lyon. The most amusing shop was called "the Icecreamists." It's logo is a skull (sporting wings and a crown) and cross-spoons. In the window was a poster of an ethereal nun bowing her head over a "Holy Water Pistol, the vice lolly"—"a pale-green absinthe-flavored popsicle in the shape of a hand gun!
Best of all, though, when we looked over the railing into the lower level of shops we spotted a string sextet setting up to play! They were called "The String Ensemble"—four violins, a viola, and a cello. They were selling their CD (10 pounds each) but busking for charity, and they were really good! They were also really fun. The photo shows them dancing the cancan (here, hopping on one foot while swiveling the other at the knee) while playing Offenbach at breakneck speed. While they played "Entry of the Gladiators," they marched around the food-court tables. Yes, even the cellist, who marched and played—she didn't seem to be supporting the weight of the instrument by its neck, so I assume it must have been suspended from some some sort of harness worn under her sweater. The played a long set of standards (not to say chestnuts)—Pachelbel's canon, a Vivaldi season, Eine Kleine Nachtmusik, Hungarian rhapsody, a czardas, etc. we were just beginning to wonder whether we could hit their collection basket with thrown coins when a young woman came around collecting up on our level. Their program ended just at the right time for us to stroll down to Simpson's.
Another lovely dinner.
First course, David: Lobster soup. The waiter brought a soup plate with a heap of lobster chunks in the middle, then, at the table, poured over it this incredibly thick and intense lobster soup. Perhaps a little too intense for my taste; I would have added about half a cup of cream.
First course, me: Roasted breast of wood pigeon, with part of a wing bone attached. It was served on a bed of smoked lardons, small crisp green beans, and slices of creamy new potato. Delicious.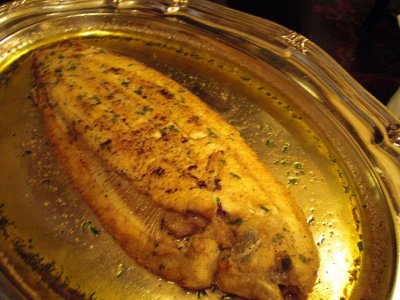 Main course, David: Dover sole meunière. It came sizzling, whole, on the platter, and the waiter boned it at table side (doing a much better job than the average; he hardly mangled it at all and didn't ruin the slightly crispy surface finish).
My main course came with "buttered Jersey Royals" (the new potatoes shown here) and David ordered creamed spinach to go with his sole, which was otherwise unaccompanied). The spinach was a very British rendition, consisting solely of (a) blanched spinach and (b) cream—no garlic, no thickening, no overcooking, no salt. Delicious anyway.
Main course, me: Salt-baked sea bass (i.e., bar, loup de mer). It was wrapped in a salt crust (a flour-and-water dough about 50 salt by weight) and baked. I let the waiter open it and peel off the skin, but I fought him off when he wanted to bone it and remove the stuffing (not intended to be eaten) and made him give it to me whole. The stuffing consisted of a slice of lemon (mostly raw and rather bitter), some slices of fennel (still crisp and very tasty, and lots of thyme leaves. On the side was a sauce boat of caper-and-gherkin sauce (sort of like tartare sauce with the mayo left out), which, with the lemon, was excellent on the fish. I never figured out what the tiny white shreds in the sauce were. Probably not coconut; I'm guessing horseradish.
For dessert, we split a summer pudding—mixed berries layered in a mold with slices of white bread and pressed overnight. On the side, that scoop of white stuff, barely sagging out of shape, is genuine clotted cream; yum!
Our theatre for Noises Off was only about a block and a half away, so we had plenty of time to get there. The production was great, though a little more frenetic than others we've seen. The first act was brilliant! One of the cast members was Jonathan Coy, whom we've seen before in London (in Donkey's Years, in 2006) and many, many times in various Masterpiece Theaters. Unfortunately, I don't know who any of the others were. These days, you can't even get a cast list without spending 4 pounds for the (cheap version of) the program. You can spend a lot more on a thicker book if you want. At this show, we were not offered, e.g., souvenire stuffed warthogs or dragons.
The show got out a little earlier than the others in the area, so we got into the subway and home easily. The oyster cards were a really good deal. A normal single ticket is 4.25 pounds, but if you buy tickets in the form of an oyster card, they're only 2 pounds each. You pay a 5-pound deposit on the card, and I chose to put 15 pounds on each one to start with (you can either add more manually later or opt to have it top itself up from your credit card, by 20 or 40 pounds, as you choose, when it runs low). When you return the card, you get your deposit back, together with a refund of any money still on it. Best of all, no oyster card is ever charged more in one day than what you would pay for a "day pass" for unlimited travel, so if you take that many trips, the later ones are free!