Monday, 24 June, Into the buses and off to Germany with Viking
Written 23 July 2019
When we checked in with Devin on arriving at the hotel on Saturday morning, we were told the schedule for Monday morning and issued color-coded paper luggage tags on which we were to write our names, our ship's name, and our stateroom numbers. I think ours were red, as we were scheduled to leave on the "red" bus. Accordingly, on Monday morning, we set our luggage, packed and properly red-tagged, outside our hotel-room doors at 6:15 a.m. Breakfast opened at 6:30 a.m., and our bus was to leave at 7:45 a.m. David's reaction when he looked at the schedule was, "I'll set my luggage outside the night before and sleep an extra hour." When I pointed out that he could also get his luggage stolen, he revised it to, "I'll set my luggage out at 6 a.m. and go back to bed for an hour."
Downstairs in the lobby, squads of gray-shirted Viking roustabouts were coming and going with luggage trolleys loaded with color-coded Viking luggage and grouping the pieces on the sidewalk outside for loading on the buses. As a security measure, as we boarded the buses, each of us had to identify our own bags, which were then loaded on the same bus.
Our bus hit the road only a little behind schedule, driven by Sasha (the German who was the "lead driver" for the rest of the cruise). We were accompanied by red-shirted Viking tour guide Marco (from Sardinia, but a Paris resident for 30 years).
Rather than circling the Périphérique to the freeway, the bus took the scenic route out of town. At the left here is a good view of the Grand Palais. We didn't get there this year (the exhibitions weren't must-sees), but we visited the Petit Palais, which faces it across the street and is out of sight behind the trees at the left-hand edge of the photo.
At the right is the only shot I was able to get of Notre Dame, partially hidden behind other buildings. From this angle it looks relatively normal except for the missing spire.
We also drove by the Alexander III bridge (while crossing the river on the one next to it, the Pont de la Concorde), the Place de la Concorde (which, Marco said, was the Place Louis XIV; until Louios-Phillipe changed it), the Louvre (which Marco said became a museum in 1798), and the 1865 Hôtel de Ville (town hall).
According to Marco, the population of Paris is about 3 million, and that of the Ile de France (Paris's province, a region nearly surrounded by rivers) about 11 million. the Isle de France is second only to Ukraine in production of wheat and has the highest production of oil-seed rape (now called "colza" in French and "canola" in English) in Europe. As we drove through the countryside (at one point passing a gaily striped hot-air balloon drifting across the fields), I spotted some sunflowers (for oil, but still very young in June), corn, wheat, some other grain that wasn't wheat, a few potatoes, a few sugar beets, a few vines, and one orchard, maybe apples. Marco mentioned some of these crops and purported to point them outsometimes, but it was clear that he had simply been told where on the road to say "and here's a field of colza," because he would often say it seconds after we passed the field or seconds before we arrived at it.
When we signed up for the cruise, the plan for the first day was to stop for a walking tour of Luxembourg city on our way to the ship, but Devin explained that first day at the hotel that recent guest feedback had not favored the Luxembourg tour, so we were going to stop for a walking tour of Reims instead. We'd already done both on other occasions, so it made no difference to us, but I immediately double-checked that I correctly remembered the location of the Brasserie Excelsior, since we would be on our own for lunch.
As we drove into Reims, I managed to get shots of these two posters, in adjacent windows of an insurance company. The first says, "Make insurance great again"; the second (which I didn't get framed quite right because the bus moved) says "I will fight to insure you well."
Much of Reims was flattened during WWI. An architect was brought in to replan the city in the 20's and 30's (I think Marco said "George Bradford," but I haven't been able to confirm that). It was replanned to accommodate a population of 300,000, but since the city to this day has never gotten that big, they have plenty of space, so streets are wider, there are lots of parks, etc.
The architecture in favor at the time of all the rebuilding was Art Deco, so the city includes many gems of that style. At the left here is the Carnegie Library (photographed through the windshield as we approached). Carnegie spread his money around and littered the landscape with libraries as a way of encouraging recovery from the war. The architect was Max Sainsaulieu.
At the right is a department store, I think—another example of Art Deco. The lettering reads "Galeries Remoises" and, below in smaller letters, "Lorin et Tricot."
At the left here is the chevet end of the cathedral, where the buses dropped us off and picked us up again. At the right is the façade. This cathedral is the third on this site. It was built in 1211, after the second one burned down in 1210.
It's 87 m tall at the top of the highest spire and is the site where all French kings since Clovis I (in the 5th century) have been crowned. There's a whole story about Clovis, his Catholic wife Clothilde, St. Remi, and a dove that arrived from heaven bearing an ampule of sacred oil (for annointing kings with).
In the place outside the cathedral is a statue commemorating Joan of Arc, who, in July of 1247 here in Reims, correctly picked the disguised Charles VII out of a crowd and got him crowned king of France.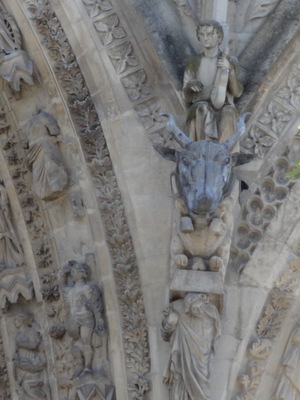 Here, left and right, are a couple of details from the main façade. We didn't have time on this visit to go inside. For the full account, and much more about the cathedral, including the interior, as well as Art Deco in Reims, see my 2008 travel diary: 31 May through 2 June. On this tour we also got to see the restored Roman forum (currently occupied by a temporary stage for an upcoming concert), which is appears in the 2008 diary in the process of restoration, with guys clearing out brush from it.

Just one glitch with this stop at Reims, which Viking needs to find a solution to. When we were dropped off by the cathedral, after a long bus ride, the only restroom facilities available were the city's tiny, narrow, and damp subterranean public toilets whose two stalls were totally inadequate to handle three busloads of passengers.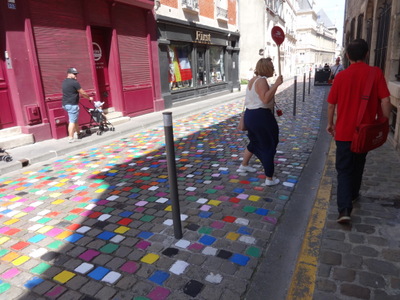 From the cathedral, the tour continued through the little pedestrian rue de Tambour, whose merchants decided they needed more foot traffic. Their solution was to have the paving stones of the street painted in a variety of colors. I'm told the place is now all over Facebook and other social media, featuring in countless vacation photos and selfies. While we were there, one section was cordoned off and being repainted. You can also see our local city guide (carrying the red Viking "lollypop") and Marco, in his red shirt.
Another stop was the Place Royal (the last Place Royal built in France) with its statue of Louis XV (le bien aimé, i.e., the well liked). The statue has been destroyed and replaced, but the two sculptures on the base (Good Government, with her lion, on this side; on the other, the wool industry and grapes) are original Pigalles.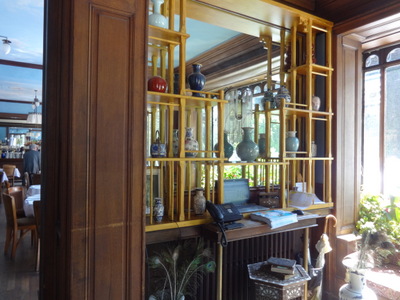 The last stop before they turned us loose for lunch was this prominent landmark, the Fontaine Subé (familiarly called l'ange doré, the gilded angel), from which we were given directions to get back to the cathedral, where the buses would be waiting.
The nude women on the four sides of her base represent the four rivers that cross the city. Local people joke how strange it is for a city that was founded and prospered on the textile trade to put up a monument on which none of the woman is wearing a stitch.
At lunch time, we made a bee line the two long blocks to the Brasserie Excesior. In 2008, it was part of the Brasserie Flo group, but it has since been sold and gone independent again. In fact, the whole Brasserie Flo group seems to be breaking up, as we've encountered other members that have also broken away. Too bad, as we liked them very much and always made a point to eat at every one we encountered. (They were a chain of old-fashioned brasseries of Art Deco and Art Nouveau style that had folded or fallen on hard times. A Paris restaurateur, Jean-Paul Bucher, who loved those architectural styles and the classic brasserie fare they served, went around buying them up and restoring them as a labor of love. Too bad if the group is breaking up, but we'll always be grateful to Bucher for saving so many of them from oblivion.)
Here's the entrance lobby of the restaurant, definitely still Art Deco. We passed on through the lobby and ate in the walled garden beyond.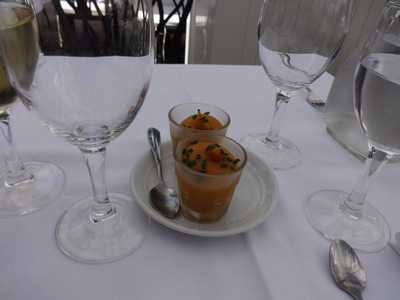 The menu has changed—definitely not Brasserie Flo style any more. No salmon to speak of and only one sauerkraut dish (choucroute de la mer, sauerkraut cooked with assorted fish). They still have the cold seafood platters, but we had no time for that. We ordered the lunchtime "formule"—plat du jour and dessert.
The amuse-bouche was a delicious cold carrot purée served in glasses. I had to ask what it was; my guess was sweet potato.
The plat du jour was grilled fresh cod with steamed vegetables in a beurre blanc sauce. You can't see much of the vegetables because they cod is balance on top of them.
For dessert, David chose profiteroles and got these three small ones (much more reasonable than that gargantuan one he got in Paris).
I chose strawberries melba again—last chance before leaving France, and I had no idea whether German and Swiss strawberries would be as good.
Finally, in Reims, I got photos that allowed me to straighten out in my mind the hornbeam species. Hornbeams ("charmes" in French) are all over France both wild and as street trees. The "ordinary" ones are Carpinus betulus (European hornbeam), shown at the left. But I'd also seen these others, shown at the right, which turn out to be Japanese hornbeam, Carpinus japonica. In the U.S., we have the American hornbeam (also called ironwood), Carpinus caroliniana.

Back on the bus, we once again headed toward Luxembourg, this time to visit the American WWII cemetery there, which David and I had never seen.

Just before we crossed into the Meuse region of France, we were suddenly among conifers and bracken ferns. Farther along, we ran back into hardwoods, but we periodically passed through other patches of conifers.

Marco made the claim that the American GIs brought seeds of bluegrass to France during WWII and that now, there are whole fields that look all blue from the grass. I found the story unlikely. Kentucky bluegrass might well have become established in the region, but I couldn't imagine any fields of pure grass—everything that was cleared was in one crop or another, except for some pature land. I wonder whether what he's seen is fields of flax in bloom. A good deal of flax is grown in the region, probably more for seed these days than for linen fiber.

In Lorraine, we passed the first Holsteins, and I spotted one herd that was a mixture of breeds: some Holsteins and others in various shades of solid brown. In that same area, we passed signs pointing off toward the Maginot line. In the distance, we passed one of the largest nuclear power plants in France, its four huge cooling towers steaming away. Windmills also dotted many of the hills.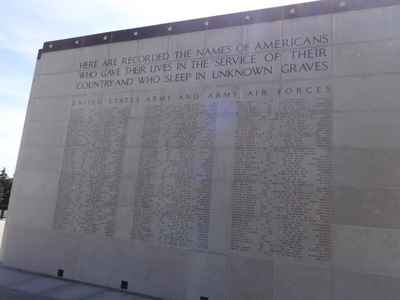 According to Marco, Luxembourg became independent in 1821. It's the second richest country in the world (Monaco is probably first), being big in the steel industry, insurance, and banking. For our earlier visit to Luxembourg, see my 2010 travel diary: 23, 24, 25 July entries.
At the left here is the chapel in the American cemetery. Each such cemetery has one, but they're all different. At the right is a wall listing all those who "sleep in unknown graves.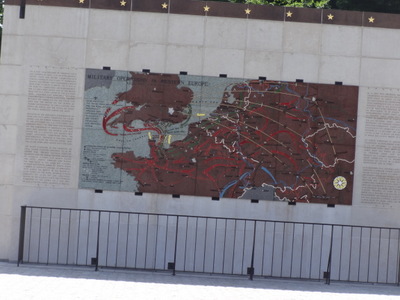 Here are the two giant battle maps, given details of the battles where those in these graves met their fate. Again every American military cemetery in Europe has them, and they're often works of art in their own right, made of inlaid colored marble or metal, etc.
For many years after the war, this cemetery was a temporary one, and it included about 8000 graves. When its status was changed to permanent, families were given the option to bring their members' remains back to the U.S. Some 3000 did, to only 5,076 remain now. Of those, 118 are marked with stars of David and the rest with crosses, all of white marble. They include 101 unknown soldiers (of which one was recently exhumed and flown to Hawaii for testing and possible identification) and 2 medal-of-honor winners. Twenty-two sets of brothers rest side by side in adjacent graves.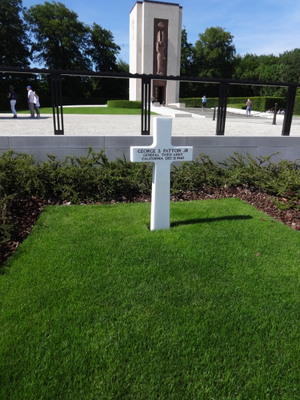 The rule in such cemetery is that the dead are buried "as they come"—all ranks, officers and enlisted men, are mingled without discrimination. General George Patton expressed his wish to be buried among his men. Unfortunately, he wife insisted he be buried in front of his men. She was refused all the way up to the level of the POTUS, but persisted and even enlisted the help of the then Duchess of Luxembourg, who blackmailed the U.S. government with threats of removing his grave altogether and putting it elsewhere. As a result, he is buried, as shown at the left, separately, in front of everyone else. I think she should have been smacked upside the head.
At the right is one of the two Medal of Honor recipients, William D. McGee of Indiana. He gets the engraving on his cross accented with gold leaf, a star above his name, and "Medal of Honor" engraved on the upright. Our guide pointed out that since 1866, when the award was instituted, only 3400 medals have been awarded and that it's therefore very unusual to have two in one cemetery of 5000 graves.
Children of Medal of Honor winners are automatically admitted to U.S. military academies, and by tradition (though not regulation) officers salute medals of honor when they are being worn, even by enlisted men.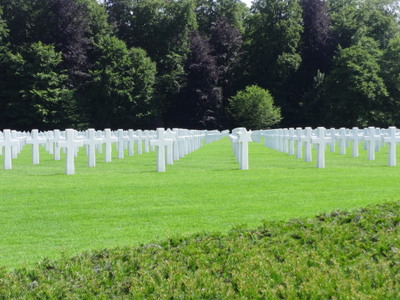 At the left here is a view of a few of the crosses, which stretch away radially from the chapel in perfectly aligned rows. I was anxious to visit the chapel because we'd learned from touring other American military cemeteries in Europe that every chapel houses a major unique and beautiful work of art. We'd arrive for our tour later than planned and had already been granted a special dispensation to stay on for a few minutes after taps sounded at 5 p.m., signalling the cemetery's closure for the day. I therefore broke away from the group and scurried up to the chapel to take photos.
At the right here are the beautiful bronze reliefs on one of the chapel's two doors. I took photos of the altar and other walls, but saw nothing that I thought rose to the level of the other art we've seen in these chapels. On the way to the bus, I darted aside long enough to grab a set of the place's brochures, and was the last one back on the bus.
As we pulled away, headed for our Viking ship, I opened one of the brochures only to be greeted with the news that the chapel's major work of art was a mosaic ceiling! Drat! I never looked up!
The bus ride from Luxembourg to Trier, where our ship, the Viking Kvasir was waiting for us, was relatively short. As we passed through Luxembourg, Marco pointed out two large wooden overpasses, actually planted with trees and shrubs, that serve to allow wildlife to cross the highway safely.
Once we arrived at the Moselle River, mother ducks followed by lines of babies dabbled in the river as we crossed the gangway onto the ship, to be greeted by a Viking host dispensing hot washcloths with which to refresh ourselves as we checked in and were issued our stateroom keys (electronic cards, like those hotels use now).
We were then ushered upstairs to the lounge (about 1/6 of the area of which is shown at the right) to have drinks and live music (every Viking ship has a shipboard musicial; ours was Ivan, who played the piano and sang). At 6:30 p.m., senior members of the staff introduced themselves, we were given a briefing about what to expect on the cruise, and we were warned that the next morning we would need to do the compulsory life-jacket drill.
Throughout the cruise, whenever we had cocktails or other drinks, the wait staff brought around these little three-sided dishes of the same munchies we had on the Russian cruise: small pretzels, peanuts with a mild reddish coating, and peanuts with quite a zesty wasabi coating. Pretty good.
At 7:10 p.m., we were called to the dining room for dinner. At the right is the typical table setting. Butter pats with a sprig of rosemary, bread plates, napkins in silver filigree rings, salt and pepper mills that were identical to each other and unmarked. The staff couldn't tell them apart either; sometimes we found ourselves with two peppers and no salt. Partway through the cruise, we all complained, and the next day most of them were marked with "S" or "P" on the little knob on top. We don't know whether they brought marked ones out of storage or whether some hapless waiter stayed up all night applying rub-on letters.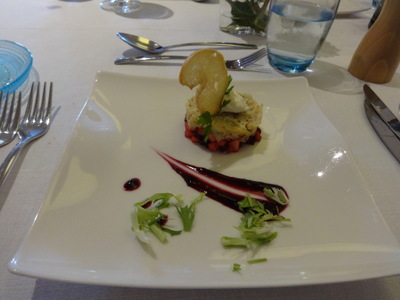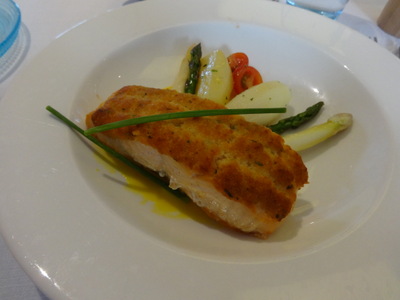 Each night, the menu started with "regional specialties": a starter, main course, and dessert. Then came the "regular" choices, typically two starters, two or three main courses (one always vegetarian), and a couple of desserts. In addition, on the facing page was the "always available" menu for those who didn't like any of the evening's offerings. It included Caesar salad, a rib eye steak, poached salmon, roasted chicken breast, crème brulée, a cheese plate, seasonal fresh fruit plate, and ice cream and sorbet of the day. Fond as I am of Caesar salad, I did not fly to Europe to eat food invented in Las Vegas! Unfortunately, cultural imperialism cannot be stopped; Caesar salad was all over Paris, too, this year.
One red and one white wine were poured ad lib, or you could order a better bottle from the bar at extra cost.
This evening, I had the "reginonal" starter (left): smoked trout bits on a bed of beets, apple, sour cream, and horseradish. Pretty good, but I smoke a better trout myself. Then a "regular" main course: Norwegian salmon and lump crab gratin with "turned" potato, green and white asparagus, and white wine saffron sauce. A "turned" potato is a piece of potato trimmed into a sort of torpedo shape with no edges or corners, so that it cooks evenly. As you can see, the salmon was topped with a layer of lump crab gratin. The crab may have been in lumps when the chef started, but it wasn't in the finished dish. Since I didn't take photos, I assume David had the same things.
For dessert, David had the "regional" tarte tatin—upside down caramelized apple tart—topped with vanilla ice cream. Stretching a regional point, since it was invented in France, south of Paris.
I had the one "regular" choice, layered wine gâteau with red wine butter ice cream. The skinny brown and bright yellow layers were cake. The two thick layers were a fluffy Bavarian cream. The bottom one was, yes, red wine flavored, as was the ice cream. Better than straight red wine, certainly; butter and sugar work wonders.
The other menu choices were the "regional" main course (Braised Riesling wine chicken with herb mashed potatoes), a salad starter (spinach, radicchio, and artichoke salad with baby greens, fresh artichoke, and forest mushroom vinaigrette), a soup starter (roasted tomato with basil foam), and the vegetarian main (sautéed Chinese egg noodles with shiitakes, vegetables, and spicy sesame-soy sauce).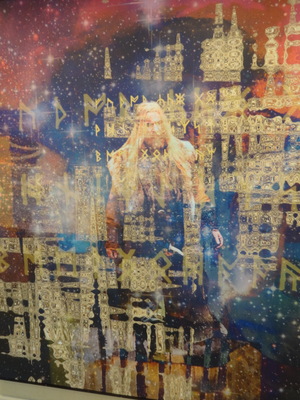 At the top of the ship's central stairway was this life-size portrayal of Kvasir, the Norse god for whom the ship is named. (And yes, it really looks like that, all misty and star-scattered. Kvasir is the keeper of knowledge, able to answer any question. In the first issue of the Viking Daily (the invaluable leaflet we were issued each day that listed the day's schedule and provided useful and interesting information about the the areas we were passing through), Kvasir's life story is given, and I quote: "When the warring factions of the Aesir and Vanir agree to a truce, each god spits into a bowl and stirs the saliva. From this, Kvasir, god of knowledge, is created. When two dwarves, Fjalar and Galar, invite him to feast with them, Kvasir accepts their invitation but is murdered. The dwarves drain his blood and mix it with honey to make a potent mead. This is known as 'Kvas, the Mead of Poetry,' which imparts wisdom and inspiration." Yuck. Squared. Previous entry List of Entries Next entry