Tuesday, 18 June, Chez Marianne, Cognacq-Jaye, Chez l'Ami Jean
Written 23 June 2019
The plan for the day was to visit the Cognacq-Jay museum, a house museum in the Marais, near the Musée Carnavalet, which is, alas, still closed for renovation. And any time we're going to the Marais, we try to eat at Chez Marianne. Fran&ccedil:oise first took me there decades ago, and she made clear that if you want a seat, you've got to get there early. Later, every seat will be filled and people will be standing in doorways and leaning on walls for blocks around eating Marianne's take-out.
The way it works is you compose your meal of 4, 5, or 6 "elements" ("zakouski") from a list of 26.
David chose hummus, tahini, falafel, brik of beef, and pastrami (left). The brik is the crispy triangular pastry.
I had chopped liver, creamed herring, falafel, and eggplant fried with tomato (right). The creamed herring, which I had hoped would be herring in cream sauce, turned out not to be much to my taste. It was finely minced herring and a bunch of other stuff (like too many pickles) in a creamy matrix. The falafel and the brik were hot (fried to order); everything else was cold. A large peperoncino and a mild dill pickle wre automatically added to each plate, and we ordered hot pita to share.
Here's the full list of choices.
Hummus
Sesame tahini
Sesame eggplant caviar
garlic eggplnt caviar
Pickel (breast of beef)
Pastrami
Turkish salad (tomato, peppers, celery, fennel)
Méchouia (grilled peppers and tomatoes)
Peppers dressed with oil
Fried eggplant with tomato
Stuffed vine leaves
Tuna with lemon, mayo, and harissa
Kefta (herb beef meatballs)
Cod roe salad
Zaziki (cucumber, fromage blanc, garlic)
Chopped chicken liver with egg and onion
Tabouli
Feta cheese
Fromage blanc with paprika
Olive tapenade
Herring cream
Artichoke and fennel salad
Brik of beef
Brik of tuna
Falafel
Mushrooms à la grecque
Everything was delicious (except the herring) but very rich. The liver was good but not as good as Rachel Sinnett's—they used about two eggs where Rachel uses a dozen, and they didn't add enough onion. The falafel and the eggplant were terrific.
The restaurant is what you might call agressively friendly. All over the windows, images of the Manneken Pis above things that should be pissed on, like "Injustice, and all who profit from it." On the door is a stern prohibition on political and religious disagreements in anything but a civil tone, and an admonition to "push my door open any time, come in, and let's try to be friends."
Next up was the Musée Cognacq-Jay. It's a house museum, but not in the usual sense, as the founders never lived there. Théodore-Ernest Cognacq (left) was the founder of the Samaritaine department store, one of the major ones right up there with Printemps and Galleries Lafayette, so he and his wife Marie-Louise (Jaÿ) Cognacq (right) could afford to collect art. Starting around 1900, they amassed things that suited their taste.
Initially, once his collection started to gain a reputation, Ernest displayed parts of it to the public in his store, but eventually he looked around for a permanent place where it could be displayed. In the end, the couple chose a house in the Marais. Part of their collection was the ornate wood panelling from older houses, so that used that to repanel the new museum.
A nice feature of the museum was the care it took to make its collection available to the blind. I appreciated the lesson in terminology of cup, saucer, and teapot shape, but doubly so because they used halves of real ceramics to demonstrate them in three dimensions and labeled them in braille as well as French.
One viewer apparently got a little too enthusiastic, as one of the cups is broken.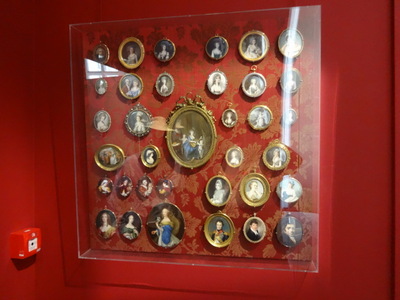 This elaborate canopied bed was only one of many pieces of ornate antique furniture that decorated the rooms, but a major focus of the collection is miniatures and small decorative objects, like snuffboxes and étuis. The latter are small boxes that ladies carried to contain kits—sewing kits, tiny glasses, and the like. They might initially be taken for bejeweled and enameled cigar cases, but that was apparently the shape that fit conveniently in the pockets and sleeves of ladies' garments.
The case shown here at the right is full of miniature paintings, almost all portraits but a few scenes of courtly love or family life.
Written 16 July 2019
Over a fireplace was a nice portrait (not shown) of Robert Henley, 2nd Earl of Northington by Sir Joshua Reynolds.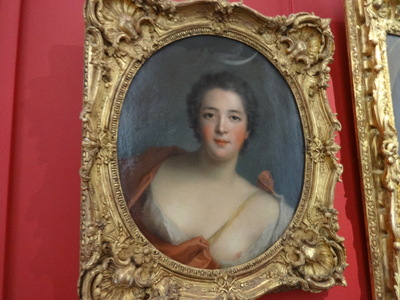 At the left here is a portrait de Marie-Louise-Adélaide-Jacquette de Robien (1750-1814), vicomtess de Mirabeau, by Marie-Louis Élizabeth VigÉe-Lebrun, whose namesake salad I have often eaten at the Jacquemart-Andrée café.

At the right a portrait of La marquise de Flavacourt, as an allegory of Silence, a copy of one by Jean-Marc Nattier, although the label didn't say who made the copy, just someone from Nattier's studio.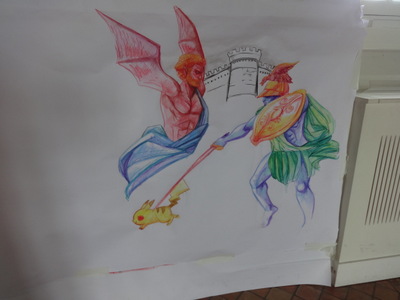 Last, we mounted to the "combles," the space under the roof. At the left is a photo of its impressive rafters. It is apparently the meeting place of a group of experimental artists, and the various works tacked up around the walls ranged widely in style and subject matter.
An example is the image at the right of an armored and visored knight below the walls of a castle, watched by a red-faced figure whose arms form bat wings, spearing, yes, a pokemon—pikachu, I think.
On the way back to the metro, I spotted this great passionflower in bloom on a an iron fence. Not the same species that grows wild in Tallahassee, but the resemblence is unmistakable.
Dinner on Tuesday night was at my old favorite Chez l'Ami Jean, located just a block or two off the Rue St. Dominique and several blocks from Violon d'Ingres. So we took the #92 bus again. This time I studied a little map taped to the bus's wall near the exit that seemed to show detours caused by construction, but I couldn't make sense of it—several different routes were highlighted in different colors, but the arrows on all of them pointed in the same direction! Anyway, if it took it's "normal" route, the one we had expected the night before, we'd have about a six-block walk, but if it took the previous night's route, the walk would only be about two blocks, so I was rooting for the latter. Of course, this was the day the bus went back to its "normal" route over the Pont de l'Alma (again spending more than 15 minutes on a bridge you could walk over in 3) and proceeded up the Ave. Bosquet. Six-block walk, it was. But well worth it.
We decided to order a prestarter in addition to our usual three courses—we split a portion of the country terrine "du Père Jégo," that is of Father Jégo. The chef is Stephan Jégo, so I don't know whether it's his recipe or his father's. Anyway, as soon as we ordered it, the waiter plunked this large crock of pickles on the table, complete with wooden pickle tongs.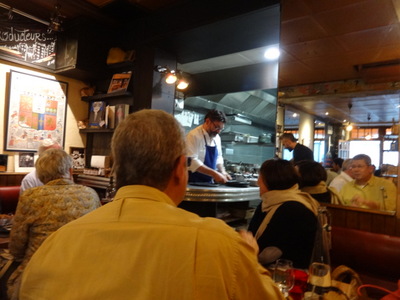 We expected a portion of terrine to be one slice, but it was two, and it was so good we couldn't stop eating it, despite the imminent prospect of three more courses. It was tender, moist, flavorful, and full of hazelnuts. Yum.

At the right here is my view of the kitchen (and the chef, hard at work).
As I write now, I realize that I made a serious mistake—I failed to photograph the menu before they took it away, and Jégo's food has this in common with Paul Prudhomme's—it tastes like magic, but it's basically brown. They don't post the menu on the website, and it changes all the time anyway, so copies others have posted are all out of date, so I had a good deal of trouble reconstructing what we ate.
For example, David's first course: What is that? I think maybe smoked trout? At any rate, he pronounced it delicious and ate every crumb.
It took me a while, but I remember that my first course (right) was a soft-boiled egg and a ragout of wild mushrooms. The egg was brownish from being stewed with the rich mushroom sauce. It must take great skill to boil an egg, shell it to leave it perfectly smooth, and then stew it with mushrooms long enough that it soaks up some of the sauce, all without overcooking it. It was a very good egg to start with, and the dish was wonderful. I think the little white dots were buckwheat grains.
David says he doesn't remember what he had for his main course, but I'm pretty sure it was rare roast duck. I remember wondering how they found duck breasts large enough to cut cross sections that size.
My main course I remember vividly: outstanding roasted sweetbreads! I love sweetbreads and I hadn't had any this trip because we'd been ordering tasting menus, and the never (well, hardly ever) put sweetbreads on the tasting menu. at the right, note the great "runcible spoons" they provide; I hate the term "spork."
We agree that David's dessert was salted caramel, but salted caramel what? He's not fond of ice cream, so he's unlikely to have ordered it. Maybe bread pudding? Salted caramel nut brittle crumbled on top.
The menu listed a "strawberry martini" dessert with ice cream, strawberries, and crisp meringue. I asked whether it was actually alcoholic, and they said it was but could be made without alcohol. So I ordered that, and instead of putting it in the big martini glass, they piled it into this little metal tankard. Delicious.
And the 92-bus took us home again.
Previous entry
List of Entries
Next entry