Sunday, 18 July 2010: Ghent to Ypres, via France
Written 21 July 2010
Saturday night, walking home, we detoured around the grain harbor, because the noise there (mostly a rock concert) was a solid wall, so we expected to be kept up all night by music and revelry, but the hotel does a really good job of soundproofing, so we weren't bothered at all.
Sunday morning, we were in no hurry, so we could wait for the 9 a.m. opening of Julie's bakery and T' Stropke for breakfast. On the way there, David pointed out this wonderful relief, one of half a dozen, all different but all protraying seafood in the live state, on the wall of what could only have been part of the old fish market. We also encountered a few young persons who had clearly been up all night, but most people on the street were of our age—those who, like us, had turned in early. We examined the gutters, but so far they showed no signs of having run with beer, and the street-sweeper truck had already covered about half the streets (and was still busily at it). Even where it hadn't cleaned yet, the debris wasn't bad. We tried Julie's bakery first, and although it was empty were told that every table was reserved. At T' Stropke, they asked for reservations, too, but they had a few tables left over (again, is this normal, to need reservations for Sunday breakfast? Or is it a festival phenomenon?).
We ordered the second-lightest breakfast, of which two peoples' worth is shown here. The description said that the bread came with "boterkoeken" (butter cakes), and we weren't sure whether that meant cakes made with butter or simply little cakes of butter—it turns out to mean what the French call "Viennoiseries," i.e. variations on the croissant (but we also got little cakes of butter, in addition to the cheeses, coldcuts, and salad). Excellent.
Back at the hotel, we called for a taxi at 11 a.m., packed up all our stuff, and went back down to the lobby to wait. As we sat there, a middle-aged lady in a sequined and bespangled magenta (or perhaps fuschia?) dress with hoop skirt and matching feather boa came down the stairs carrying a baritone horn. Drat. The things you see when you don't have your camera at the ready. When the second and third came down (carrying, respectively, a clarinet and a saxophone, I got out the camera. Women in outfits of matching color and elaboration, but widely varying cut and style, continued to pass through the lobby, including one in a magenta wheel-chair with magent net and lace canopy (with its back to the camera in the right-hand photo)! When 20 or 30 of them had assembled, they marched off to whatever streetcorner they planned to busk on (or perhaps they had a stage booked; we never got to hear them play). They seemed to call themselves "BZV," or perhaps "BZY," but we couldn't parse the initials.
The taxi, wonder of wonders, came early, and we managed, despite something of a language barrier, to direct her back to the university, where the car was right where we left it. Being already well south of the middle of town, and on the Kortrijk road, we just headed for Kortrijk. We got there at lunch time and pulled over next to a likely-looking restaurant called Grill de Open Haard, which turned out to mean "The Open Hearth." The place was entirely empty except for us and stayed that way, but the central brick grill was fired up and ferociously hot. It didn't seem to be fitted for a spit, but a horizontal grill in front of the fire could be adjusted to two heights. Nothing happened for a while after we ordered except that the chef's wife came out of the kitchen to put more wood on the fire, so I was afraid the grill there was only decorative, but presently the chef poked the fire, ranked a pile of coals out under the horizontal grill, and slapped our food on it.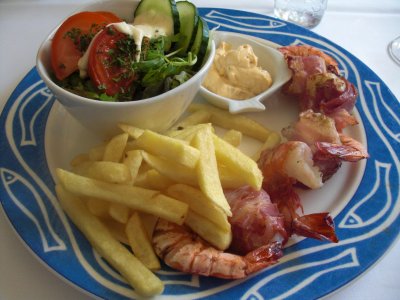 I ordered the brochette (skewer) of fish, scallops, and prawns, which turned out to consist only of bacon-wrapped scallops and prawns. It's shown here with the bowl of salad each of us got, a little pot of mustard sauce for the seafood, and a small portion of the huge heap of fries we were brought to share.
David order the grilled salmon, which came with the same salad and a sauceboat of not-very-vinegary bearnaise sauce.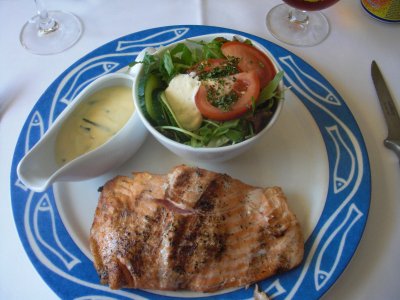 Thep roblems started when we tried to get out of Kortrijk. The route on which we cameinto town crossed Kortrijk from north to south, and the N8, which we wanted to follow to Ypres, crossed Kortrijk from east to west; we couldn't fail to intersect it, right? Good theory, but we tried three times, and the best we could do was wind up on the N8 going the wrong direction! Twice. Each time, we made a U-turn and tried to leave town on the same road but in the right direction, only be to shunted willy-nilly off in some other direction! The problem was compounded by the promixity of the borders with both France and French-speaking Belgium—every town had different names in the two language zones, you never new which name would be used on any given sign, and we didn't know all the Dutch-French equivalents. And many of the roads were under construction, so we got sent off on several detours. Finally, despite our best efforts, we overshot and wound up in France for about half an hour. Then, when we finally got back over the border (despite the construction detours that kept turning us back), we still couldn't find the N8! We did finally find signposts to Ypres, though, and eventually came into the area covered by by Google map of the city. From that point, we found the Novotel without difficulty.
We entered Ypres proper in the recommended way, through the Menin (if we'd ever found the N8 we would have arrived by the Menin Road, from Menin) and a block later emerged into the Grande Place, which is dominated by the magnificent medieval "cloth hall" (the largest nonchurch gothic structure in the world. Here are two views of it, though the sun was not ideally place for either one.
In the middle ages, it was a cloth market—Ypres was a major site for trade and manufacture of cloth based on English wool. Now it houses the tourist information office and excellent the "In Franders Fields" museum. The present building is new; it was largely flattened during WWI and was rebuilt exactly to the original plans with German reparation money. Hitler visited Ypres several times (he fought there during WWI) and greatly admired its reconstruction. He planned to model Germany's postwar reconstruction on it, so he ordered his WWII troops not to enter the town or bombard it. In the place in front of the cloth hall is a detailed bronze model of it, labeled in braille.
The Novotel (part of the Accor chain) provides plain "vegetable soap," which doesn't smell of anything in particular. That's a nice change—the hotel in Brussels supplied only lemon-grass-scented "aroma therapy" products, including an aroma-therapy shower cap and aroma-therapy emery board, whereas all the products in the Ghent hotel were olive-oil-and-invigorating-sage flavored.
David wasn't feeling well (play with a baby on Monday, get a sore throat on Sunday; we know this, yet it happens repeatedly) and was pretty tired from the drive, so he took a nap while I went shopping—book a tour, get cash from an ATM, buy bottled water for the car, find out about laundry. Only that last was problematic. The hotel's laundry service couldn't get clothes back to us before Wednesday morning, when we would have left Ypres for Tournai, but the reception desk directed me to a 24-hour 7-day laundry service a few blocks beyond the Grande Place that could do it quicker. It had been so hot in Brussels and Ghent that all my clothes were filthy—actually had salt rings—and the thick cotton takes forever to dry if washed by hand. When I scoped it out, though, I found that it's only 24-7 as a laundromat; the fluff-and-fold service is open weekdays 8 a.m. to 6 p.m.
Written 22 July 2010
Our dinner reservations were at "Pacific Eiland," about 1 km across town, so we strolled over there for our 8 p.m. reservations. The restaurant is actually on an island, in a park. We entered through this little gate and across the tiny bridge and were placed at a table on the terrace, surrounded by greenery. On a flat spot at the top of a little post supporting a porch roof beside our table, two half-grown fledgling waited patiently and silently, next to the remains of their untidy nest, for their parents, who visited occasionally throughout the meal. A charming little golden hoverfly spent a lot of time over our table, examining the single rose in our vase, inspecting our water glasses each time they were filled. Cute.
The amuse-bouche was consisted of a cold green sour-cream-topped cucumber soup so delicious that even David, loather of all things cucumber, ate it with relish. Despite its bright green color, it was the best gazpacho of the trip (like most things here, it had a few little grey shrimp in the bottom). With it came a little crême brulée that the waitress said was cheese, but if she'd said it was foie gras, I'd have believed it. At any rate, it was outstanding.
We had ordered the set menu, so we ate all the same things. Next came seared red tuna with "shi-sho" vinaigrette atop quiona tabouleh. It was described on the menu as coming with a salad of green beans, but instead was surrounded by a scattering of cubes of delicious smoked white fish (halibut?). The tuna itself, in particular was excellent.
Next came what the menu called a "misérable" of king crab with southern gazpacho and fine pearl tomatoes. It was a timbale of creamy crab salad (rather mild flavored) in a pool of smooth sweet gazpacho accompanied by a slice of orange-tinted (sun-dried tomato?) toast and surrounded by eensy tiny whole fresh fresh tomatoes. Very good.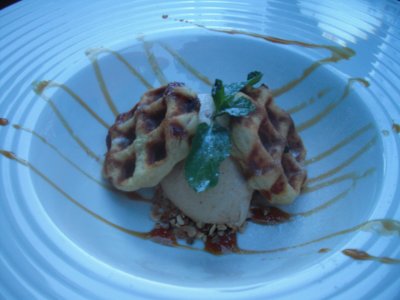 The next course was rare roasted veal tenderloin with parmesan risotto and a "lumpia" (sort of a spring roll) of shiitaki mushrooms on a bed of samphire. Excellent.
Dessert was a pair of miniature brown-sugar Belgian waffles with "speculoos" (spice cookie) ice cream and caramel. I think "speculoos" is David's new favorite ice cream flavor!
Throughout the meal, we had been entertained by the lively conversations at the other two tables on the terrace. Much of the conversation at the far table (for eight) was in Dutch, but right behind me, six British men had been bantering constantly about the problems of the world and particularly about systems of higher education.
Just as our mignardises came (note the miniature candy bars, multicolored sugar-frosted gummi bears in the background, and flying-saucer-shaped rice crackers with sweet-and-sour fruit-flavored powder inside), the headwaiter emerged from the building with a lighted sparkler, and a lady at the far table announced loudly that it was her friend's birthday today and that all the men had to come give her a kiss. The Brits all applauded, as did we, and they took turns delivering birthday kisses. The Dutch lady then came over and insisted that David give her friend a kiss, also, which he did and wished her a happy birthday and many happy returns, in French. She, apparently a francophone herself, was absolutely delighted to meet an American who spoke her language, and we wound up in general conversation with everyone, and then with the Brits in particular. When they learned we were Americans, they realized we wouldn't have any idea of the huge event that had brought them to the area. It seems that in Fromelle (I think that's how it's spelled; it's about half an hour's drive from Ypres, just over the border in France) a group of over 250 previously undiscovered WWI graves was recently found, and thanks to modern technology, the bodies were actually identified. On Monday, a new British WWI cemetery, the first since 1938, specially constituted to accommodate them, was being dedicated. The vast majority of the bodies were Australians, but nine of them were from the same small village in England, and the Brits we met were their relatives and descendents, come by special invitation to attend the ceremonies. That explained why our hotel was full of Australians! (The world headquarters of the Commonwealth War Graves Commission is located in Ypres, because it is the focal point of by far the densest aggregation of Commonwealth war cemeteries in the world.) We talked with them for quite a while, and one of them, a neurobiologist, turned out to know an acquaintance of ours in the Psycology Department at FSU! Another had just completed his doctorate (the previous week) on WWI history—after retiring from some other career entirely. A really interesting group.
The next morning, while I ate breakfast at the hotel, all the attendees assembled in the lobby (one man was wearing a whole row of medals on his civilian suit coat—probably his grandfather's) and were loaded onto buses to be taken to the cemetery.
We had asked the Britis whether anyone who wanted to could attend the ceremony, but they said that, no, it was by invitation only, and security would be very tight because heads of state would be there! Sure enough, the next day, we saw a clip on the news of Prince Charles and Camilla laying a wreath, and apparently the Governor General of Australia was there as well. I don't know who France sent. We met the Brits again at our hotel the morning after, and they said the ceremony was beautiful and went without a hitch.