Saturday, 17 July 2010: Ghent, molecular methods and Glass Street
Written 20 July 2010
Boy were my feet sore! David had been invited to participate in a post-FourtIMCo workshop on molecular methods for use with meiofauna (for about 20 people) that was to meet 9 a.m. to 5:30 p.m. on Saturday at the marine biology buildings of Ghent University. Unfortunately, we had to pick up our rental car at 9 a.m. at the Avis office, which was the heck and gone south, several blocks beyond the train station. To our surprise, though, when directions to the university were issued, we found that the workshop location was only a five-minute walk from the Avis office—okay, one break in our favor. So David had explained that he would be late (we both had to show up at Avis if we both wanted to drive the car), and we began the day with a taxi ride to Avis. (The tram normally runs right from our hotel to within a block of it, and of the university, but because of street work and the festival, you couldn't get there from here that week.) The taxi was late, but we made good time and arrived just after 9 a.m. at Avis, where we were apparently the only customers of the day.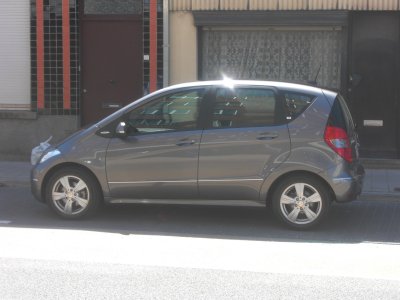 With minimal hassle, we were issued this grey Mercedes A180 CDI diesel with only about 75 km on the clock. It has a strange new style of ignition key—just a blunt plastic stub that fits into a socket on the dash and talks to the car, through a tiny round window, by infrared. David says it continuously records milage data and engine codes, so if you take the car in for service, the first thing the mechanic does is stick the key in a special reader to get the car's side of the story! It's comfortable and capacious (all our luggage will fit in the back, under the hatch). Nice car.
So there we were with a car that we didn't really need until the next day (when the Avis office would be closed), so we consulted the Avis clerk, who directed us to a quiet street near the university, where (it being Saturday) we could park free all day. We accordingly parked it there and followed the walking directions from the nearest tram stop to find the right university building. The workshop had already started, but David found a seat and joined in, while I passed notes with the organizer to find out what time I should return to rendez-vous for dinner—5 p.m.
I then tiptoed out again and sat on the stairs to study my map and list of tourist attractions—what had I not yet seen? One prominently marked one was "Glass Street," designated a National Historical Monument. That sounded like fun—I love watching glassblowers—but the write-up said, "because it's historical, you have an excuse to visit, and the girls behind their windows will always give you a friendly smile." Ah; perhaps not. So far we had spent most of our time in the "historic city center," north of the Palace of Justice, so I took the tram as far north as it went during the festival and started walking around the "arts quarter," south of the Palace of Justice. I started by walking east, away from the river and the tram line (both of which run north-south), through the flower market. It wasn't market day, but two good-sized stalls were set up anyway, one selling great masses of cut flowers and the other potted (particularly orchids) and garden plants. I was particularly taken by the grapevines, as big around as my wrist, planted in large pots (half barrels) and trained upward as small trees, about four feet high, and sprouting from the top a tuft of leaves and tendrils and bearing a half-dozen clusters each of green grapes. They must be overage wine grapes (perhaps Chardonnay, which are trained taller than other varieties), transplanted to pots, shorn of their side branches and encouraged to sprout upward; it would take years to grow trunks that thick from scratch. (At another flower shop, I saw potted, fruiting blueberry and currant bushes.) I also loved this red spot, stencilled on the paving stones in the middle of the market and labeled in Dutch "u bevindt zich hier" ("You are here").
Next, I came to King Albert Park, a rectangle of several city blocks that includes a monumental statue of Albert on horseback (he was a military man and actually led the Belgian army during WWI—for the army's size, it was surprisingly successful), a WWI memorial in the form of a semicircle of columns, and now (in preparation for the festival), many tents and temporary pavilions. I also saw a multicolored castle, perhaps 15 by 15 feet and 6 feet high, that seemed to be made of Duplos (i.e., oversize Legos); I don't know whether it's a permanent feature or part of the festival. At one end of the park was a large indoor shopping mall, with a food court and a large supermarket that took up most of one floor.
In the particularly busy streets around the park, bicycles had their own little streets (between the car traffic and the sidewalks), crosswalks, and stoplights, recognizable by their red paving bricks and red and green lights that lit up in the shapes of bicycles (instead of say, turn arrows).
A couple of blocks beyond the park was the "Klein Begijnhof," the "small beguinage" (the "large beguinage" is somewhere outside the city center). In 1983 in Bruges, we were introduced to the concept of the beguinage—a sort of medieval and renaissance retirement community for single and widowed ladies, usually run by a convent. This one, although it looked similar—a quiet, peaceful group of brick row houses with walled gardens grouped around a central tree-studded lawn and church, all surrounded by a 20-foot brick wall—I saw no evidence that retired widows were involved. The wooden gate in front of each house bore a label giving its name ("Huis St. Rosa," "Huis Heilige Sabine"; they were all named for saints or "heiliges"—holy persons, I think), and some had littler labels telling who lived there—sometime three or four individuals of different last names and different genders. One garden gate was open, and inside I could see a beautifully landscaped perennial border and a huge Harley hog! Along the top of one wall was a little gutter in which strawberries had been planted! Small, discreet signs reminded visitors that the lawn was not a picnic ground, but nothing was said about silence, though the few children playing on the grass were being pretty quiet about it. Perhaps the convent (the labels on the gates indicated that some of the buildings still house a convent) simply rents out the houses to support itself.
I then turned northward, in the direction of the historic district, and as I strolled I encountered a beautiful marble-floored "gallery" between two streets that reminded me strongly of the little old shopping galleries of Paris, so I turned to walk through it, and sure enough, there they were, wearing friendly smiles and rather little else, in elaborately draped and decorated harem-like closets behind their glass windows. It was 11 a.m., and business was not brisk—some were applying their morning make-up. I didn't take any pictures, as I wasn't sure of the etiquette—should one tip, as one would a street musician? At the far end, the placard said, yes, "Glass Street." Okay, been there, seen that.
I continued up into the historic city center, encountering more and more activity leading up to the festival. At lunch time, I found myself near the Aula, so before going back to Gwenola for another cheese and egg crêpe, I finally got this photo, which I'd been meaning to take all week. Around the circular window, the courses of brick actually tilt downward, around, and back to level. No one I've asked can tell me when it was built. When I passed it again, later in the day, a 12-piece brass band (10 middle-aged guys and 1 middle-aged gal playing brass and a 12th guy on drums) was busking in front of it. Their name, "C'est Ça" ("That's It") was painted on the bell of the bright red sousaphone. Each had a glass of beer at his feet, and they stopped to swig between numbers (a clarinetist had to help the sousaphone player, who could not readily bend over to pick his up); they played "California Dreamin'" while I was there. David and I encountered them later that evening, in a different location, playing Dixieland, but by then the crowd was so thick we couldn't get close.
From Gwenola, I continued vaguely northward, prospecting for dessert on the street. I was thinking of a waffle, but among the profusion of food stalls, I found one selling "Zoete ovenkoeken," baked in a mobile wood-fired oven similar to the one that used to make "panisses" in the market at Beaulieu. Dad was baking the cakes, and junior was selling them from an adjoining mobile counter. I tried one of the little sample bites they were offering and was immediately sold. The cakes looked like 8 or 9" flapjacks, but were puffier and a little chewier (perhaps made with a yeast batter?), and you could taste the wood smoke. At my order, the kid took a hot, freshly baked one, brushed it with melted butter, sprinkled it with coarse light-brown sugar, folded it into three, wrapped it in a napkin, and handed it to me. Delicious! For an extra 50 eurocents, you could get one spread with chocolate. I didn't see another stall selling anything like them anywhere else in the festival (though of course we didn't see even half of it).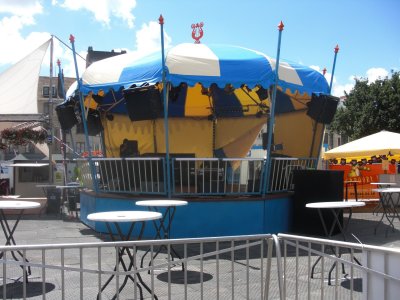 While munching my ovencake, I heard a band, so I wandered in that direction and discovered that a parade was in progress. The crowd along the route was so thick that I couldn't see most of it, but it was moving so slowly that I could easily walk ahead of it to try again. I managed to see the top half of some sort of ship with a red-clad sea witch poledancing on the prow and a darth-vader-like helmsman; two giant caricature heads (politicians?) being carried on tall poles; a glimpse of some sort of float decorated with magenta features; and a giant figure of someone in uniform (a policeman?).
Every square and place had a temporary stage or bandstand set up, and this blue-and-yellow one was more attractive than most. It wasn't in use yet, but the people already seated in the temporary bleachers facing it were being entertained by passing buskers.
The profusion of food stalls was amazing. I saw a couple of them selling churros, and a scattering of booths with various kinds of Asian food (mostly attached to local restaurants, I think), any number of different kinds of cold sandwiches, and beer, beer, and more beer. The most common kind of street food was bratwurst (each one about an inch and a half in diameter and a foot long; available in both pork and lamb flavors), served on a bun with grilled onions. Those stalls also sold a variety of burger-shaped patties, some breaded and some not. Another popular theme was plastic bowls of take-out pasta with any of a variety of tomato, cream, and cheese sauces. Others booths sold "stoofedvlees" (meat stew, apparently very traditional) and, of course, everywhere, french fries. I'm told that the thing to do during the festival is to order fries and to have them topped with sauce from the meat stew, mixed with mayo.
At this point, I was quite near our hotel, so I strolled in that direction, thinking to rest my feet for an hour. On the way, I walked through the old meat market building, which I had not previous been able to catch open. Its vast nave is intact, with all its giant beams and rafters far overhead (hung with hams for atmosphere, though I'm pretty sure they're fake), but for modern use, a large glass box has been installed inside that houses a restaurant and the tourist information office. In a square near our hotel, a huge restaurant tent had been set up; a hole had been cut in its roof so that it could fit over the central market cross, which protruded up through the top.
I even took a minute to look inside the nearby Marriott. On the outside, even from second- or third-floor vantage points, the facade is entirely in keeping with the medival look of the grain harbor (you can see it just above and to the right of the square orange tent in a photo on the 16 July page; you can just make out the pair of gilded swans on its front), but I had been told that inside it opened into a spectacular glass-topped atrium, as, indeed, I found that it does. I was able to see part of the glass roof from the top of the castle during the city walking tour on Tuesday.
The things to see were endless. Once the festival was officially in progress, the streets were filled with people, as I crossed one footbridge on my way to the hotel, I could see below a small open boat furnished with tables and chairs. As I watched, a young woman removed the pastic wrap from large plates of hors d'oeuvres, carried aboard pitchers of orange juice and many bottles of champagne, and then ushered aboard a party of about 10, before taking the tiller and setting off down the river. At another footbridge, a large party of canoers passed below me, on their way to the center of town (I had seen a sign advertising "canoe polo" at some later time during the week). A large stone vault under a more substantial bridge had been partitioned off, and a policeman was on duty, issueing claim checks—you could check your bicycle there for the duration, while you wandered the streets. Recycle bins were everywhere, labeled for different kinds of recyclables—the ones for plastic cups were marked "Beker in de beker bak!" (cups in the cub bin). Across the street from our hotel, a gift shop had dressed a life-size female mannekin in a red felt lobster suit. I had hoped to get a photo of the unofficial festival motto someone had stenciled on the pavement in several places: "Ni neute, ni pluije!" (which we took to mean "neither night nor rain will stop the party!"). Unfortunately, the previous night's rain had blurred the letters.
Buskers were everywhere, and the standards were quite high. In the one-block street outside our hotel alone, I found a 10-year-old doing a magic show on one corner, a 10-year-old accordianist playing standards on the other, and in between a pair of young women playing classical cello duets!
I went up to our room, intending to write and to rest my feet for an hour (I'd walked a long way, and my feet hurt), but soon after I settled in, the cellos (just under my window) were replaced by female vocalists accompanied by a cello and a brass instrument, singing American standards, and when they burst into "Lollipop, lollipop" I couldn't stand it anymore. I put my shoes back on and went downstairs to listen. They were great! When I had to move on, I got one of their business cards—they call themselves Belcirque (http://www.belcirque.be/), and I'd hire them to sing at my party anytime! (I never did figure out whether the Belcirque playing the cello was one of the earlier duo.)
In passing through the street outside our hotel, which was shoulder-to-shoulder with people, and looking into the hotel's courtyard parking lots, which, together hold about 10 cars and one of which had been cleared and replaced with tables and chairs outside the bar, I began to have serious doubts about our plan to drive the car back to the hotel before meeting the others at the dinner restaurant—maybe we could leave it where it was overnight?
The walk back to the tram stop took me back through the flower market, where I found that a second shift of stalls had replaced the two flower sellers I'd seen earlier and that those in turn were being dismantled and replaced with festival stuff. One booth was selling all kinds of small pies (apple, custard, etc.), another was selling brightly painted plaster animals (dogs, cats, elephants, turtles, leopards; the turtles were larger than life size, the elephants and leopards smaller). A third was mostly cold take-out food, but it one case it offered shriveled and twisted dried "witvis" (whitefish) for 5 to 9, euros depending on size. When someone bought one, the proprietress carefully trimmed off the dorsal fin with a paring knife, then wrapped it in white paper. My favorite was a booth selling, among other things, snails. For 3 euros, the proprietor would you ladle out a dozen snails from a large simmering pot, together with a big dollop of the soup they were cooking, and provide you with a tiny plastic spoon to eat them with as you walked.
The tram got me back to the university well before 5 p.m., so I sat down on the steps to read until the meeting broke up. About 5 p.m., David emerged to say that the group would be proceeding to the African Queen restaurant at 5:30 p.m. by public transport, and that he had been reliably assured that we'd be crazy to try to park anywhere near our hotel during the festival. The consensus suggestion was that we instead move the car to a parking lot at the university, then, during the early morning lull in festivities, take a cab to it, with our luggage. A colleague had drawn him a little map of the route from our present parking space to the only large university gate open on weekends. David went back to the meeting, while I looked at my watch (18 minutes!), grabbed the car key, and set off at the quick march (across the parking lot, out the little pedestrian gate, turn right, walk to the Shell station, then two blocks beyond, cross the major street, turn up our side street and around the corner to the car, drive to the end of the street, take a left onto the major street—fortunately traffic was light—follow it to the far end of the university, take a sharp right, almost a U-turn, in through the main university gate, then follow the fence back the other way to the marine biology building and park, whew, just at 5:30p.m.). I don't know whether the university is always that quiet on a Saturday or whether it was because of the festival, but the place was utterly deserted, and parking is apparently not controlled anyway. Other driving gates are closed on weekends, but the main one through which I entered always stands open, so we'd have no trouble getting out on Sunday.
My feet still hurt, so I was a little disappointed when the organizer (an enthusiastic walker who had been sitting down all day and wasn't carrying anything) suggested we just walk to the train station ("it's only two tram stops, and it will be quicker anyway"—actually it wasn't; two trams passed us as we walked), so I just reshouldered my bag (complete with camera, purse, binoculars, guidebook, umbrella, and water bottle) and raincoat and kept going. At the train station, she bought us all tickets to the next stop, which was simply Ghent's other train station, about 1/3 of the way around the periphery, a five-minute ride. From there, we walked along the canal for another few blocks to the African Queen restaurant, which is in a remodeled cargo barge. We sat downstairs in its surprisingly capacious cargo hold.
The restaurant bills itself as "world cuisine," but it's slanted heavily toward Belgian and north African. David started with prawns, split lengthwise and grilled, on a bed of couscous tabouleh. Again, he said, they would have benefitted from a squeeze of lemon. I had grilled skewered chicken in a reddish-brown, slightly spicy peanut sauce. Good but not spectacular.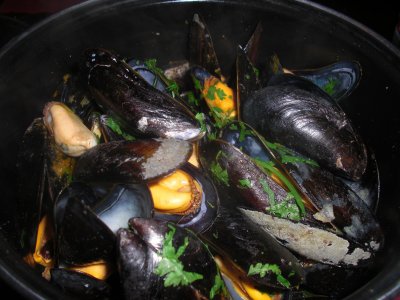 David's main course was a steak with peppercorn sauce, which he said was wonderful. I had the mussels "African Queen," i.e., with curry, coconut milk, and cilantro. They were very good mussels, but the other ingredients were pretty subtle.
It was getting late, and we were tired, so we skipped dessert and walked home through the festival chaos, stopping for a couple of chocolates each at a shop staying open late for the festivities (I couldn't talk David into splitting an ovenkoeke. Among other things, we passed a mural of a life-size pig with cut-away view of its internal organs. The 12-man brass ensemble I'd seen earlier, but so mobbed we couldn't get close, several stages with shows going on, and a six-foot sculpture of a stork made entirely of old flatware welded together.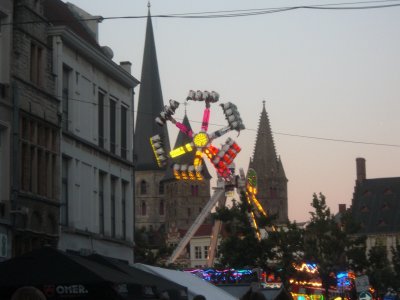 In the Friday Market, we spotted this horrifying carnival ride—its huge pendulum swings up past horizontal on each side while the rosette of gondolas rotates independently—and the crescent moon next to the town bell tower (and I managed to keep the tram wires, the traffic sign, and the festival banner out of the photo).