Thursday, 15 July 2010: Ghent: the conference dinner
Written July 2010
Thursday morning, we set off for the breakfast baker I had discovered, and it was truly a wonderful find! It's called "Le Pain Quotidien" ("Daily Bread") and turns out to be a chain ("started here" according to the server, though I don't know whether he meant Ghent or just Belgium) with branches in, e.g., New York and other major cities. For just 12.50 euros, less than half the price at the hotel, we got a far superior breakfast. The café au lait was superb and was served in the traditional round bowl without a handle. I got a pain au chocolat and a "hazelnut flûte," which turned out to be a long skinny bread stick that included just enough dough to hold together a mass of whole toasted hazelnuts and raisins. David chose the "bread board," an assortment of the bakery's country-style breads. Both came with butter, and the tables were furnished with large jars of house-made jams as well as of "noir," "brunette," and "blondie" chocolate spreads (the "brunette," a chocolate-caramel mixture, was my favorite). Rather than plates, we were each given a small, rectangular cutting board. Champion of breakfasts so far.
After the morning sessions, we had thought to look for a lunch of mussels, but as so often happens at these meetings (in fact, as is the point of these meetings), David was deep in conversation at the time with a group of colleagues, so we just joined them at Amphora, a small lunch place around the corner from the Aula.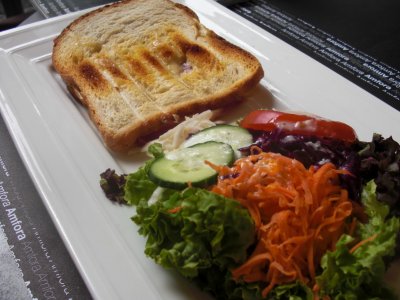 David ordered a "croque monsieur" (a French-style toasted ham and cheese sandwich) in commemoration, he said, of our 1983 visit to Ghent with the meiobenthologists. He claimed to have eaten one for lunch every day, then, because it was all he could decipher of the menu. I, on the other hand, jumped at the chance to order a "toast cannibal," which, back in 1983, the waitress had translated only as "meat sandwich," leading me to pass it up as sounding uninteresting. The croque monsieur was just a toasted ham and cheese sandwich, without the cheese and cream that the French typically melt over the top, but the "cannibal" was great—a generous portion of raw ground lean beef mixed with capers and other seasons spread on toasts and topped with a generous sprinkling of pickle slices and little pickled onions. The pickles were sour and looked just like French "cornichons" but were much milder—I actually ate all of them. Delicious!
The afternoon session ended at the first coffee break, to give everyone a chance to disperse, drop off their belongings, change clothes, and reconvene for the conference dinner, which we were to reach by means of a 3-hour boat ride! David's feet hurt, so we arranged for a taxi to take us directly from our hotel to the embarkation site, but the taxi was so late we were in danger of missing the boat (as it were), so we set off at the quick march and reached the Aula just in time to join the group as it was guided on foot through the streets to the quaiside.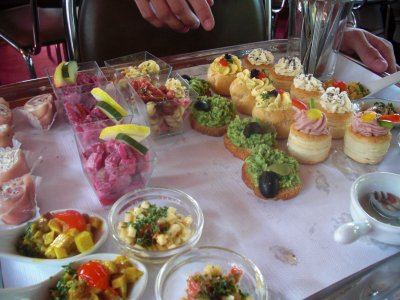 There, we boarded a pair of boats whose gleaming cabins were generously furnished with tables and chairs (the open fantails were frequented mainly by the smokers) and, in keeping with previous practice at this meeting, were immediately served "kirs royales" flutes filled with one part cassis liqueur and four parts champagne. To accompany the kirs, trays of beautiful and varied hors d'oeuvres were passed several times. The cruise proceeded at walking pace along the river, and a U-bend afforded the opportunity to get this shot of the second boat, following a few hundred yards behind us.
For about the first 2/3 of the cruise, the river was lined on one or both sides by beautful homes whose lawns stretched down to the water's edge. Some were huge palaces; other more modest dwellings on what must be extremely valuable land (presumably inherited). We passed one house being demolished, probably to make way for a new one, and one hapless burned-out A-frame. For the last 1/3, both sides were pasture land, mainly for dairy cattle, but I saw a few beef cattle, one enclosure of domestic geese, and some cornfields. Waterfowl were plentiful; we saw a many wild Canada geese and a number of great gray herons.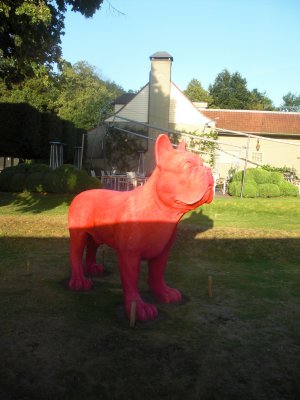 Long before we reached it, we were able to see this red bulldog (about the size of a draft horse) across the intervening fields, and those with serious telephoto capabatilities were capturing images of it. (Too bad that, among more than 200 registrants, including 70 doctoral students and representing 35 countries, not one was from the University of Georgia!) We soon learned, however, that it decorated the lawn of our destination, the Auberge du Pêcheur (The Fisherman's Inn). As you can see, it was still broad daylight at 8:30 p.m.
On the lawn, which descended in a series of terraces from the building to the waterside, cocktail tables had been set up, and champagne and hors d'oeuvres were once again passed. I had a tiny, hot, one-bite ham and onion quiche and a strange (but delicious) cube of firmly gelled pina collada, in a hollow in which nestled several tiny shrimp. During the cocktails, I took the opportunity to get this photo of the dining room before we all went inside. Along the courth wall (behind me as I took the photo) were two long tables bearing all the many "prizes" the organizers and participants had contributed to the raffle for the benefit of the Svedmark Fund (which provides scholarship money for students who could not otherwise attend the meeting.
On each table was a beautiful, engraved paper menu bearing the logos of the restaurant and FourtIMCo. It listed the first course as "toast cannibal of langoutines with lime jelly, Granny Smith sorbet, and cucumber"; rather than the raw beef I had had for lunch, it featured raw langoustine tails (Nephrops norvegicus, aka Dublin Bay prawns, aka langoustines). The toast was topped with a very thin slice of raw ham, in turn topped by the raw langoustines. The green object at the left is the sorbet, the "sphaghetti" at the right is the cucumber (salted and pressed), and the black material was finely minced dried black olives.
The second course was rare roasted lamb tenderloin with polenta and asparagus with zests of lemon. it was also accompanied by a sort of ragout of finely chopped mushrooms and half a dozen delicious braised leaves that I couldn't identify. The waitress consulted the chef and told us it was "sea lavender" ("lamsoren," i.e., lambs' ears in Dutch). I'll have to look that up when I next have internet access.
Dessert was listed as "Lukewarm froth of white chocolate with raspberry and vanilla salt. " Sure enough, I found the lukewarm chocolate froth covering the raspberries, and I could taste the vanilla salt (I tend to like slightly salty desserts, and this one was perfect). What I couldn't identify was the lightly gelled panna cotta-like substance in the bottom of the glass, under the raspberries. David thought he could taste peanut in it, whereas I thought it was just more white chocolate.
With dessert came coffee and mignardises (Belgian chocolates and fruit pastes moulded into fruit shapes and covered with granulated sugar. Around the foot of my dessert glass, you can see my raffle tickets. The graduate student assigned to organize the raffle did a brilliant job, especially as MC of the drawing! He kept us all stitches and the drawings moving right along—important because it always seems to take forever. The first person whose number is drawn gets first pick of the prizes, then the second, and so on. The very first winner took the bottle of balsamic vinegar from Modena that David had his eye on, but of the 20 tickets I bought, two came up early enough in the drawing that I got both prizes I wanted—a coffee-table book of views of Bruges in 3D (red and green glasses included) and an 840-gram can of genuine cassoulet in the style of Castelnaudry! Near the end, when only very "minor" prizes remained, the table was thrown open to those who had not yet won anything, so virtually everyone took something home, even if it was only a logo-imprinted pencil. I couldn't see in the confusion who chose my cookbook or the jar of tupelo honey we contributed.
Last of all came the traditional exchange of limericks, led, as usual, by Pat Boaden and Olav Giere, who were in excellent form. I made no contribution this year. On the stroke of midnight our buses arrived for the return trip, and we were finally in bed by about 1:30 a.m.