Wednesday, 14 July 2010: deluge in Bruges
Written 16 July 2010
On Wednesday, the whole conference was suspended for a day in favor of an excursion to Bruges! The organizers issued tram tickets that would take us from a tram stop near the Aula to the Ghent Sint-Peters train station, where we were all to rendez-vous at 9:45 a.m. In normal times, we should have been able to catch the tram just outside our hotel, but because of the roadwork in the middle of town and the preparations for the festival, the trams can't run through that section, so we had to hike about a third of the distance just to catch the tram.
Two whole train cars had been reserved for us, so we all piled aboard for the half-hour ride to Bruges. Along the way, near the train stations at both end, were very large bicycle parking lots for commuters, all packed on a weekday (I wonder whether people who work in Bruges but live in Ghent, or vice versa, keep a bicycle at both ends, for the local legs of their commutes.) In between the towns, I spotted lots of corn and potatoes, many dairy (and a few beef) cattle, some grain (barley?, plus a little of a second kind), some horses, a few cabbages, and some multicolored lettuces. In this area also, the agricultural land was broken up into small areas of mixed uses. We passed through one lowland wooded area—mostly oak with some larch and a little birch/cottonwood/poplar.
Once in Bruges, we again followed a guide from the local community from the train station into the town, past lovely parks and canals. In a small tree-shaded square, we we found the headquarters of the city's large fleet of horse-drawn caleches; eight or ten of them were lined up along the curbs awaiting passengers, and others were continually coming and going. The drivers wore characteristic, flat "boater" straw hats, which I later saw for sale in shop windows. When we were here in 1983, I remember that most of the horses wore decorative lace ear protectors (Bruges is famous for its hand-made lace), but I saw none of those this time (has the city changed something? perhaps gotten rid of the flies that might have bothered the horses' ears?). I also though that the horses looked younger and sprier than those one often sees pulling carriages in cities—they held their heads up, stepped high, and proceeded at a brisk trot. The square was decorated on a "horse" theme, featuring drinking troughs with bronze horse heads over them and a semiabstract scupture of a horse-drawn caleche.
But we weren't there for carriage rides. This square is also home to the "Half Moon" brewery, where tours had been arranged for the whole group. Our rather large group had to be broken into three different tours, so we joined the first one.
First, each of us was issued one of these bright-pink chits, good for a beer sample later in the tour. The first stop of the tour was a visit to the the present-day fermentation tanks (surprisingly small, I thought, for the size of the operation), each labeled in blue with the variety of beer seething within it. To one side, a young brewer was examining samples under a microscope, presumably checking on the health and activities of the requisite yeast. The guide explained that brewers in Bruges all use cultured yeasts, saying that the "geuze" and "kriek" beers brewed with wild yeasts can only be produced in the Ghent area. The important factor seems to be proximity to a particular river valley from which the right yeasts come—they are absent from Bruges.
After that came a visit to the company's private museum, which displays a large variety of antique brewing equipment. The rafters are strung with these dried hop plants. One large room is full of various old-fashioned machines for bottling and corking, as well as several hand-operated pumps for transferring beer from one tank (or barrel) to another or from barrels to bottles. Our guide also showed us jars of malted and roasted barley, ranging from very pale for producing blond beers to almost black for the darker, richer brews, as well as jars as other flavorings, like coriander.
In other rooms we saw (and photographed small portions of) the brewery's huge collection of beer glasses—every self-respecting brew has its own specially designed glass (tall and narrow for pils, broad and round for darker brews, hour-glass shaped for yet others), and the brewer insists that it be served only in that glass (and that nothing else be, not even water)—and beer cans (including "original Coors" and American Budweiser). Bars and restaurants must have huge inventories of glassware.
Still other rooms contained water-softening equipment (and huge sacks of the salt used in the process). Along the tour route we saw huge cast-iron tanks produced in Tournai, which we'll visit later on this trip, and heard explanations of how ordinary, double, and triple beers are produced. Basically, twice and three times the usual amount of malt is used, with the result that the wort contains twice or three times the amount of sugar and of all the other substances and flavors extracted from the malt. The increased amount of sugar lets the yeast run the alcohol content up much higher (up to 6% for "normal" beer, 7.5-9% for double, and 12% for triple), to the point where the strongest beers are actually barley wines. The other materials extracted from the malt is not used up, like the sugar, in the fermentation process, with the result that the product is described as "beer you can chew" or "a meal in a glass" or "eating and drinking all in one"!
At the top of the building are the old, now disused, oasts—the malting ovens. Originally, barley was malted on site. The barley was moistened and sprouted, then spread on the mesh floors of the oasts. On the lower level was a firebox, above that was the mesh floor that roasted the malt at comparatively high temperature, producing dark malts, and above at, at lower temperatures was the mesh floor producing paler malts. Now, all the brewery's malts come from industrial malting plants, and all the beer it produces is bottled elsewhere, in specialized plants.
From the brewery's rooftop, the guide pointed out local landmarks, including the modern, red brick concert hall built when Bruges was declared the European cultural center (in 2002, I think) and the tower of the cathedral, unfortunately covered with scaffolding. We, and many of our colleagues, lamented that the restoration crews seem to know in advance where we're going and to travel ahead of us, covering the attractions with scaffolding!
David and I had vaguely planned to look for a lunch of mussels (in 1983, the day in Bruges was entirely unstructured), but we soon learned that lunch was included with the brewer tour, so our three groups were reassembled in the brewery's vast dining room (the brewery runs a good-sized restaurant and beer haul; in the photo of David at the entrance, above, you can see the blackboard displaying the menu of the day), where our pink chits were exchanged for glasses of Brugse Zot, the brewery's "mainstream," blond, single beer (billed as having won more awards than any other in the city). Water and soft drinks were also available on request. Once everyone finished the tour, we were directed to the cold buffet.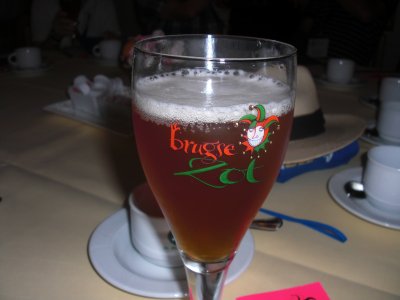 I took the liberty of jumping the gun a little and getting photos of the food before the buffet was opened, while many of the platters were still covered (fortunately with clear plastic).
The buffet included salads of tomatoes, cucumbers, and carrots (shown below) as well as potato salad. On another table were platters of tuna salad, boiled ham surrounded by devilled eggs (shown below), sliced pressed chicken also surrounded by devilled eggs, raw ham with melon.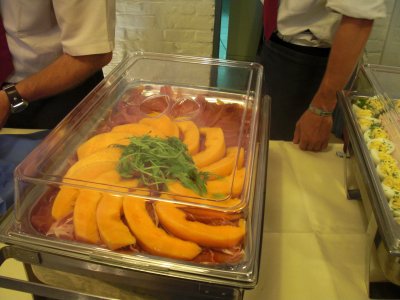 Best of all, in my humble opinion, was a rich cold pâté accompanied by a sweet fruit relish (I'm not sure of everything in it, but at least berries of some kind and onions), delicious bread-and-butter pickles (I love bread-and-butter pickles), and tiny pickled onions.
So everybody got lots to eat, even the vegetarians, who went for the veggie salads and the eggs; those who avoid meat, who added the tuna salad; and the muslims, who could eat the tuna and the chicken.
After lunch, we scattered to explore Bruges on our own and to return to Ghent in our own time (before leaving for Ghent, we had been issued return tickets good on any of the half-hourly trains back).
David and I started with the cathedral, to see the famous Michaelangelo madonna (the only one of his works ever to leave Italy during his lifetime, and one of few outside Italy today). It is gorgeous. You can't get very close to it, but I cleverly brought my binoculars. The hands of the mother and child alone are worth the trip.
While there, we saw this poster for a free concert, to take place in an hour's time, by the students of the Hills Road Sixth-form College of Cambridge, UK. The students were assembling and arranging their chairs and instruments, so we planned to come back for at least part of that. We were told (by some British colleagues) that many of the best students, those who definitely intend to go on universities, once they finish (or draw near the end of) their secondary education, go to special "sixth-form colleges" for "finishing," i.e., intensive preparation for university exams and entrance. Either Hills Road must be a huge establishment, with an enormous student population from which to draw so many amazingly good (and versatile) musicians, or it's a magnet school for music students.
Next on the agenda was a visit to the other church, just a block away (past the crowd drawn by an organ-grinder), where we saw these spectacular items in the church treasury.
Unfortunately, while we were in the second church, the rain started. I put on my raincoat and David raised his umbrella, and we scurried back the cathedral, where we were just in the time for the concert, which was amazingly good. The students were 17-18 years old—about half of them will graduate and go on to university next year; the rest have one more year to go. They started with some classical choral works, under one conductor, then moved to chairs, picked up instruments, and transformed themselves from a choir into an orchestra! The concert-mistress and the first-chair cello, facing each other across the conductor, were identical twin girls! At the end of almost every piece, the conductor joined the ensemble and another person stood up to conduct. Several other faculty members seemed to be scattered through the group, singing or playing as the situation called for. The meiobenthologist sitting next to me had played violin as a youth and remembered struggling desperately with one of the works on the program. He was greatly impressed with the amazing job done by the soloist, as were we. Outside, the rain poured down, so in the end, we staid for the whole concert.
When we ventured outside, the rain was coming down as hard as ever, so it was clear that more sightseeing was going to be a problem. I put my pocket recorder in my purse, my purse over my shoulder, and my raincoat on over the purse. I then couldn't zip up the coat, so I got a very wet streak down the front of my top, but the purse, camera, recorder, etc. stayed dry, and the broad brim of my Tilley hat keep any water from going down my collar of the coat. David's umbrella kept his shirt and straw hat dry, but from about midthigh downwards, we and ours shoes got drenched. I especially wanted to revisit the large square where we had lunch in 1983, so we walked that far, stood under an arcade, and watched for a while. Then it was beginning to get late, so we walked back to the train station to catch our ride back to Ghent. I didn't like to take the camera out in the rain or to try to buy postcards (my hands were dripping wet, and it was hard to get at my money, zipped up inside my purse inside my coat, which was also drenched and dripping, so we got no more photos or any postcards of Bruges. I'll watch for them in other places, but so far I haven't found any in Ghent.
The "half-hour" trip back to Ghent took over an hour, and we wondered why our train had to keep slowing down and even stopping between towns, but we learned later that torrential rains had completely stopped train traffic around Brussels for a couple of hours, and the whole system was delayed for miles around. By the time we got back to Ghent, the rain had subsided, but we didn't feel like taking the tram and then hiking to our hotel in squelchy shoes, so we shared a taxi back to the hotel with a couple of colleagues we ran into at the station—door to door and barely more expensive than the tram.
Written 18 July 2010
For supper we went to Restaurant Sarabande, a little Moraccan place whose menu we had read earlier. David ordered the "couscous royale," with brochettes of grilled chicken and lamb and merguez sausages, I chose the "couscous scampi brochette," which came with a skewer of not scampi but large shrimp. and we shared pieces back and forth. The dinner differed in several ways from the typical French couscous dinner. Rather than paving the table with dishes of couscous, meats, sauces, etc., they brought each of us a single plate with everything piled on it. And rather than a gallon tureen of clear broth full of vegetables (typically different ones than appear on the plate), they brought a bowl with barely a quart of sauce, thicker, yellower, and more opaque and usual and containing only a few stray bits of vegetable. No harissa was served as such, but some had clearly been stirred into the sauce. Very fine, fluffy couscous. Most surprising of all, we got only a few tiny slices of bell pepper and about half a cubic inch each of turnip—almost all the vegetables consisted of carrots, chickpeas, and, of all things, large thick (and surprisingly good) squares of cabbage!
After dinner, we took a stroll over the "Friday Market" square, which neither of us had seen yet and whose centerpiece is this monumental statue of "Jacob Van Artevelde," if I'm correctly reading the gothic lettering on the pedestal. Like all the others, it was encumbered with a temporary stage and numerous temporary food stalls, but near one corner we could hear someone's amplified voice. As we got closer, we realized he was teaching Israeli folk-dancing! And when the music started, we realized it was one we used to dance ("Hana'ava Babanot"; can it really be 35 years ago?)! David flatly refused to join in; I couldn't remember the steps anyway.