Sunday, 1 June 2008, The cathedral
(Written 5 June 2008)
Sunday morning, David felt crummy, so he stayed in the hotel room, and I spent the morning on my own—finding a pharmacy open on Sunday (for David), visiting the tourism office to get an idea of what the town offered, walking down to the Canal de l'Aisne à la Marne to visit the spot where our hotel-barge tied up to welcome us at the beginning of our week's barge tour in 1988. To my delight, among the items at the tourism office was a brochure for a vinyard tour much like the one we tried and failed to schedule in Épernay, but this one left from Reims!
I had lunch in the hotel's restaurant, because they offered cold langoustines with mayo, which I love but which it drives David nuts to watch me eat. In his absence, I felt free to take the time to crack every little claw and pick the meat out of every little knuckle. Delicious.
Our hotel was near several useful landmarks. Two of my favorites were "l'ange doré" (the gilden angel) in the square just two doors away, and this lovely "dandelion" fountain, around the corner and two blocks down. Around another corner and two blocks beyond that was a beautiful antique Venetian carousel with a real calliope. The stores were closed on Sunday, but we prospected around for one where David could buy a suitcase the next day—the ATF airport-security people have no time to waste, so although the shell of his two-year-old suitcase is still in perfect shape, the closures are beaten to a pulp, and he didn't trust it to make the transatlantic flight without bursting open.
David felt better in the afternoon, so we hiked up to tour the cathedral, with handy audioguides provided by the tourism office. I think my favorite feature was the window about wine-growing and champagne-making. We had just visited many of the villages listed on it. The giant clock isn't as giant or as complicated as the one in Strasbourg, but it's a great one nonetheless. Two little processions of figurines are triggered every time it strikes the hour. Over the years, the cathedral's stone carvings, both indoor and outdoor, have suffered considerable damage, from weather, warfare, political upheavals, etc., so they're being restored. In the process, the originals are removed from the building (their places taken by modern copies) and placed in the adjacent Musée du Tau (so named because it's housed in the old episcopal palace, which is T-shaped). We didn't visit the museum this time; we saw it in 1988, and there was too much else to do in Reims. In the cathedral are some excellent explanations and illustrations of the restoration process. The originals are too fragile for molds to be taken, so they are computer-scanned in three dimensions, then computer-assisted machinery roughs out each carving, which is then finished by hand by a professional sculptor.
The light inside the cathedral was too poor for much photography, but outside, I got this shot of a smiling angel, although it's not the famous smiling angel, which was behind scaffolding when we were there. In the photo, you can see a giant picture of her (him? Whatever) hung on the scaffolding.
(Written 6 June 2008)
After turning in cathedral our audioguides, we couldn't immediately do the historic city tour with audioguide, because the tourism office's computers were down and couldn't be fixed until Monday. Instead we walked around a while and then took the little-white-train tour, which covered some of the same stuff. This statue of Louis XV (le bien aimé) dressed as a roman emperor adorns the Place Royale (the last Place Royale ever built in France, not especially large but very attractive and harmoniously proportioned). The statue is later than the place, a replacement for the one pulled down during the revolution, but the two allegorical figures on the sides are the originals by Pigalle.
The train tour also took us by the Hotel de Ville (town hall), past the ruins of the old roman forum (about half a storey below street level, recently excavated and opened as a sort of park), and around the Carnegie Library (finest example in Reims of Art Deco), but the ride was a little too fast and bumpy for photography. The train ride began and ended on the esplanade in front of the cathedral, right in front of a shop where, in 5 minutes, for 20 euros, you could have an elaborate gilded champagne label bearing your very own name printed up and slapped onto a bottle of brand-X champagne. We didn't buy one.
On the walk back from the train ride we encountered a garden with this small memorial, perhaps 2 meters high. The garden is in the courtyard of the building taken over by the Germans during WWII to serve as local Gestapo headquarters, and the memorial is to the residents of Reims who were tortured there for information and/or deported to Germany (not just Jews but also local officials and others suspected of opposing the Germans). The garden walls are lined with plaques dedicated to particular individuals.
Back at the hotel before dinner, I called up and reserved space on the next afternoon's vinyard tour. It was offered in English, French, Italian, and Russian; we opted for French.
Our dinner reservations were at Château les Crayères, a very high-end hotel in the part of town where many prestigeous champagne houses had their headquarters (Piper-Heidsieck, Pommery, Ruinart, etc.). Rather than appearing as a series of imposing facades lined up along a broad avenue, like those in Épernay, they were more widely spaced, each tended to have its own walled and gated compound with lawns and gardens inside, as did Château les Crayères. (A crayère is a conical underground chalk quarry, with a small opening at the top and widening as it goes down. Many old crayères are now in use as champagne cellars—we visited one when we toured Ruinart in 1988.) The restaurant was just about at the limit of the distance we were willing to walk from the hotel, but we tackled it anyway, only to discover that my computer-generated map misplaced it by a good 3/4 km and that it was rather farther than expected, so we were 15 minutes late, but the place wasn't crowded.
The table was set with both unsalted and demi-sel butter, on separate little marble slabs (one under a silver dome and the other under glass), and as usual, we were offered a choice of several house-made breads. I chose "pain brioché," which turned out to be so crisp and buttery that it didn't need butter (and I tend to think everything needs butter).
Amuse-bouche, both: A soft-boiled egg stirred together in its shell with cream and herbs, topped by a thin house-made cracker in turn topped with melted chaource cheese. A cromesqui filled with liquid champagne sauce, balanced on top of the detached neck of a champagne bottle adorned with a ribbon bearing the name of the restaurant. A champagne sorbet embedded in a tomato mousse with almost sugary-sweet tomato dice in the bottom and a few chive flowers scattered on top. Finally, a little rectangular flammenküche, hacked into six pieces at the table with a small cleaver (you can just see it at the top left in the photo). The crust of the flammenkuche was a little hard, but otherwise, all were excellent.
First course, both: Barely cooked cube of turbot topped with one sauce (herbs) and surrounded by another (foamy and buttery) and resting on a bed of "black" tomatoes (actually very dark green tomatoes that stay that color even when ripe). In the bottom were "couteaux," long skinny molluscs.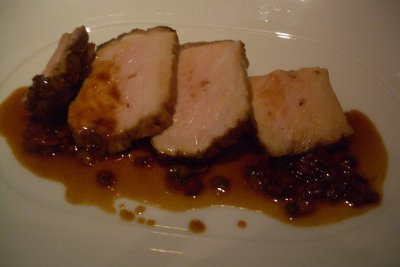 Second course, both: The recommended special—a roast, for two people, of special farm-raised (as opposed to industrially produced) pork, with a rich reduction sauce. The waitress first brought over a rolling service table bearing two silver plate warmers, each with its own tea light inside. Then came the roast of pork, still on its rotisserie skewer, for our inspection and two large dinner plates, which were placed on the warmers. Then she placed the roast on a board, removed its skewer, and sliced it, dividing the slices between the two plates. As she placed the plates before us, another server arrived with the side dishes. One was a special regional tart, usually brioche dough filled with pastry cream but "rethought" by the chef into a brioche-wrapped bacon-and-onion tart. Each of us got one, served in its own skillet. The other side was a salad consisting of a whole sucrine heart (looking like a romaine heart, only smaller) draped with bacon slices (both crisp and soft) and thin slices of pickle and resting in a pool o f fairly sharp thousand-island dressing with chopped herbs in it. The pork and tart were very rich, so the crip and vinegary salad was a very good counterpoint.
We passed up the cheeses—too much after such a substantial main course.
Dessert, David: Strawberry variations. A strip-shaped cookie topped with rhubarb marmelade and strawberries, garnished with pistachio-sprinkled meringue comets. On the side, a wide glass filled with strawberries in strawberry-rhubarb soup topped with strawberry foam.
Dessert, me: Raspberry variations: A thin, delicate disk of fromage-blanc cheesecake, streaked with pink, surrounded by raspberry juice, topped with raspberry-lemon ice cream, raspberries, and raspberry tuiles (rolled into thin sticks). On the side, a Belgian waffle (soft rather than crisp) of which every other depression was filled with a raspberry and the others with raspberry jam. It was topped at the table with carefully placed dollops of strongly vanilla-flavored whipped cream. The fromage-blanc thing made my dessert the clear best dish of the meal—after David tasted it, I practically had to fight him off with a fork.
With the desserts, we received a little round silver tray with a few chocolates on it, but once the desserts were cleared away, they brought over the mignardise trolley. Personally, I found most of the items on it a little big to be called mignardises—besides the usual chocolates, marshmallows, meringue kisses, caramels, minimacaroons, etc., it included a full-size raspberry tart with full-size wedges cut out of it, tall conical glasses of raspberry juice topped with cream, various cookies and bars as big as saucers, and a tureen of cold red-fruit soup. A diner at a neighboring table asked for a little of that, and they ladeled him out a good pint.
David selected one chocolate-covered raspberry truffle on a stick, and we fended off the rest of the mignardises by promising to eat some of the chocolates already on the table, but just to make sure we didn't go hungry, they left us another little dish full of cellophane-wrapped home-made caramels.
It was a very good dinner, but not one of the most memorable. In retrospect, we don't feel we gave the chef full scope to show what he could do. A more "prepared" dish would have been a better test than a simple, superb piece of roasted pork.
I joked as we walked out to the lobby to meet our taxi that we should watch out lest they try to slip more chocolates into our pockets as we left. Instead, we were intercepted by the maitre d', who presented us with a gift-wrapped, 4x8-inch "little something at parting." "Oh, no," I laughed, "more chocolates!" "No, no, madame, better than that, our home-made pain d'épices. But if you would rather have chocolates . . . ." Pain d'épices is, literally translated, spice bread and is usually translated gingerbread, but this one was more of a honey cake, thickly studded with sliced almonds. (We split it for breakfast the next morning.)
As we got into the taxi, I was still protesting that, thank you very, very much, but no, I really didn't want more chocolates, either in lieu of or in addition to the pain d'épices!
previous entry List of Entries next entry