Sunday, 18 May, 2008, Champagne breakfast
(Written 18 May 2008)
As usual, if it's not one thing, it's another. We went downstairs this morning, put our key down on a table for two, and stepped away to fill our plates at the hotel's buffet breakfast, came back and started eating, then realized our key was gone. We hadn't been more than 15 feet away from it at any time, but the smallish room was full of people, all coming and going to the buffet and the door. We hastily double-checked all our pockets, the floor, etc. before David dashed off to the room to make sure it wasn't being looted as we spoke, while I explained the situation to the waitress, who dispatched someone from reception to meet David upstairs with a passkey. The room was intact, so with some trepidation we left it alone while we finished our breakfast, then arranged with reception to change rooms—meaning we had to pack everything up again, even though we were staying another night, and put it in storage in the lobby before going out, because our new room wouldn't be ready until noon. As it turned out, the key was returned to reception later, by someone who said he was also a guest and claimed to have picked it up by accident thinking it was his, but we still had our suspicions that it might have been copied in the interval, so we moved to the new room anyway. Yeesh! The breakfast was actually pretty good—the usual croissants, pain au chocolat, three kinds of bread including baguettes, salted and unsalted butter, yogurt, cheese, ham, stewed apples, whole fresh apples and oranges, three kinds of fruit juice, three kinds of cereal, fill-em-yourself crepes, potato frittata, and machine-dispensed but perfectly good coffee, tea, and hot chocolate.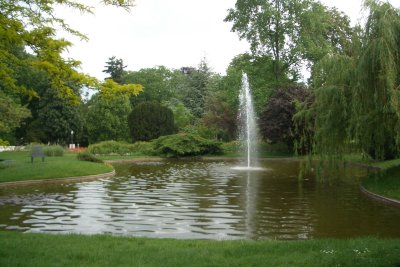 After all that packing and storing, we set off for the tourism office, which was conveniently right next to two things we wanted to see: the gardens behind the town hall, a small jewel of landscape architecture designed by the (famous, we are told) Bühler brothers, and the Avenue de Champagne, where many of the largest champagne producers have their premises. The office didn't open 'til 11 a.m., so we spent the time studying the WWI memorial in front of the town hall (as usual, the WWII casualties were added afterward, as wings to either side of this monument, out of the picture on both sides; the whole WWII list equaled perhaps two columns of the list you can see here), touring the garden, then sitting on a bench overlooking one of the decorative ponds and watching a pair of toddlers chase the ducks. We found that the ducks are well acquainted with visitors, especially tourists. If you aim a camera at them, they immediately waddle over to see if you've got any food on you.
The tourism office, once it opened, gave us scheduling info on all the stuff we wanted to do. A particularly good discovery was the possibility of a three-hour minibus tour (2-8 people) of a champagne estate, conducted by the winemaker. It's already booked up for the times we'll be here, but we've consulted our schedule and plan to book it for the afternoon of 27 May, when we'll be staying in relatively nearby Châlons-en-Champagne.
Next, we walked the length of the Avenue de Champagne, which started out broad and stately, lined by magnificent buildings housing Moët et Chandon, Perrier-Jouet, Pol Roger, and other familiar names. Each apparently started out in one large mansion, then expanded into neighboring ones, so you walk by three or four buildings, on both sides, housing one, then three or four more housing another. About halfway along its length, the broad stately avenue dissolves into a welter of construction, in which the sidewalks and roadway have been completely torn up, and cars must detour around. Beyond the construction zone, the avenue resumes as an old, shabby street with lumpy and much-patched pavement, broken sidewalks, and the stumps of old linden trees. It's lined with large and elaborate but sadly time-worn mansions. At the far end, it's anchored by two more large, well-kept wineries: Mercier and De Castellane. Presumably, within a few years, the zone of construction will have worked its way east to the end, and the whole avenue will be broad and stately, from M&C to De Castellane, the stumps will have been replaced with the young trees already lining the western end, and all the mansions will have been manicured and painted and probably taken over by one or another champagne house.
(Written 19 May 2008)
This being France, the champagne houses all close for two hours at lunch time (and start their last tours at 11:30 a.m.), so we set off strolling along the avenue, in search of some lunch, but by the time we got all the way to the winery we wanted to tour, De Castellane at the far end, we hadn't found any. It was Sunday, and the few eateries in the neighborhood were closed. So we walked all the way back, but along a parallel road, nearer the river. Back toward the center of things, we came accross "La Coquille" (The Seashell)—another lucky find. David had a cold plate of raw salmon, smoked salmon, and shrimp. I had my beloved "bulots mayonnaise"— 14 fat 2-inch whelks, boiled, chilled, and served with a delicious mustardy house-made mayo. This time, all were in fact whelks; none of the shells contained an unfortunate boiled hermit crab, as has happened in the past. I finished up with café liègeois (a coffee ice cream sundae). Great!
When we came out, it was raining steadily, so we donned the raingear we had wisely brought along and set off back to De Castellane, where we waited the last few minutes until 2 p.m. under a shed sheltering a large antique wooden wine press in the courtyard.
The tour was a pretty good one, though not as elaborate or spectacular as the one at Mercier, where you board a little underground, rubber-tired train to be whisked from place to place in their miles of underground galleries. Not being quite over the jet lag yet, I missed the bottom step going down one flight of stairs and sprawled on the floor, but no harm done.
De Castellane has a mere 6 km of galleries (purpose-dug over a 25-year period), so we just walked through a selection of them. Turns out De Castellane doesn't grow any of its own grapes. Instead, they buy from a whole range of villages in all three Champagne growing regions (one each planted in Pinot Noir, Pinot Meunier, and Chardonnay grapes). The grapes are pressed at their point of origin and the fresh juice transferred to Épernay in tank trucks, where juice from each point of origin goes through first fermentation in its own individual stainless-steel tank (of which they have some 200, in a range of sizes culminating in "gi-normous") . After that, the small in-house group of tasters and wine-makers get out their little silver cups and get to work. They figure out how much of each grape variety and individual point of origin should be blended to make that year's basic De Castellane mix. In good years, they set aside some of a special blend for "vintage" champagne, containing only wine from a single year, but most of what they produce includes doses of wine saved from previous years, which they use to adjust the flavor to match what they regard as the right De Castellane taste (light and not very toasty, according to David; they poured everyone a glass at the end of the tour). Each year, of course, they set aside some from each tank for use in future such adjustment, they bottle the basic mix in a wide range of sizes, and they treat some of it specially to produce a couple of premium varieties.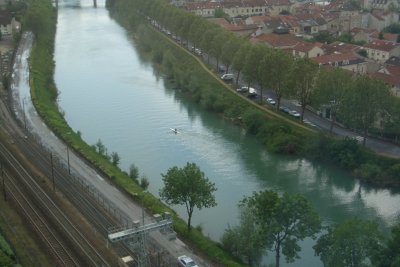 In addition to the tour, De Castellane has the usual small museum of champagne making, barrel making, etc., and, for some reason, printing—I got a good photo of an original lin-o-type machine. Their unique feature, though, is their ornate tower. I climbed it while David rested his feet and read more of the displays in the museum. It was 10 stories, but the top one had no windows, just a locked door onto the roof. At each landing was a mini-museum, with photos of vinyards, or portraits of previous proprietors of the winery, or displays of historical De Castellane bottles, or framed champagne posters. At the top, you get a panoramic view of Épernay, the Marne (with rowers), and the valley, but only through locked windows with raindrops on them. In the lower left corner of this photo showing a rotary on the outskirts of Épernay, you can see part of the roof of the main De Castellane building, where the staff have set up a table and chairs next to a built-in brick barbecue grill; just out of view on the same roof is a large bronze firepit. Must be a nice place to work.
Dinner was at Les Berceaux, just a block and a half from our hotel. For once we weren't the only clients there, even when we arrived at 8 p.m. Les Berceaux is part of a hotel, so several people staying there were dining, most of them English speakers.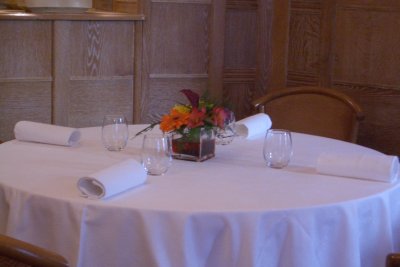 We were struck as soon as we entered the dining room by the elegant simplicity of the table settings. No silver, no wine glasses, not even service plates. Just flowers in a rich palate of reds and oranges (even the water was tinted), snow white napkins rolled into open cylinders, and water glasses that looked exactly like the red-wine glasses but without stems. It makes as much sense as any table setting, really, because the waiters usually snatch away the service plate soon after you sit down, they bring special silverware for each course, and they often change out the wine glasses on the table, depending on what wine(s) you order.
Amuse bouche, both: two little glass tumblers each, one filled with brandade de morue (traditionally a purée of reconstituted dried salt cod mixed with potatoes, but this one was mostly coarsely chopped cod) topped with a tasty purée of cauliflower and the other with, from the top down, half a boiled quail's egg, a chunk of smoked salmon, a delicious dollop of "caillé de brebis" (fresh sheep's milk curds) flavored with chives, and half a cherry tomato.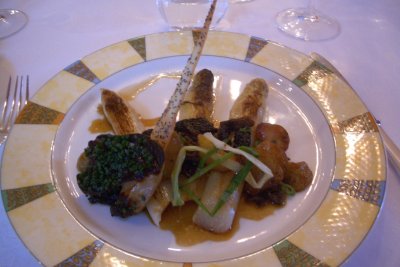 First course, David: Three fat spears of hot roasted white asparagus covered with a sauté of wild mushrooms (including many morels, which are in season just now), shreds of braised leek, and a slice of sautéd foie gras coated with green herbs. The pointy object is a decorative pastry crisp sprinkled with poppy seeds.
First course, me: "Mousseline de grenouilles," which translates "frog mousse" and looked like a large, upside-down muffin made of ivory-colored mousse, napped and surrounded by a lemony butter sauce. When I cut into it, though, I found that the rather thin shell of warm mouse hid a center made of boneless chunks of frog leg in a greenish herb sauce. And, wow, was it good! So far consensus leader for best dish of the trip.
Second course, David: Crisp "bouchon" (i.e., wine cork) of rouget barbet (a Mediterranean fish) with chorizo, vegetables, and a sauce of mild piquillo peppers. It turned out to be two crisp phyllo cylinders filled with moist, tender fish.
Second course, me: Slow-cooked wild-caught turbot (outstandingly moist and tender, surface-crisped just before serving) with braised baby leeks (delicious, but I wish French chefs would give a thought to how difficult it is to eat whole leeks armed only with a fish knife!), and a glass coffee cup filled, from the bottom up, with spinach, tomato concassée; tiny diced mushrooms, and warm mousse of pink champagne. Excellent.
Third course, David: Roast pigeon with a cylinder of potato (topped with a purple chive blossom), mushroom risotto (topped with foam), a phyllo-wrapped pâté of the giblets, and a rich reduction sauce. David elected to skip the cheese course, and I skipped the meat course, so they serve my cheese while he at his pigeon. I chose a blue cheese (mostly for David in exchange for a bit of his pigeon), chabichou, a very ripe chaource, and St. Nectaire, which the waiter particularly recommended.
Predessert, both: A miniature, intensely chocolate crême brulée topped with cracked cocoa beans.
Dessert, David: A peanut-flavored "parfait glacée," which was a cocoa-dusted log of sweet peanut ice cream served on a strip of cake in a pool of custard sauce.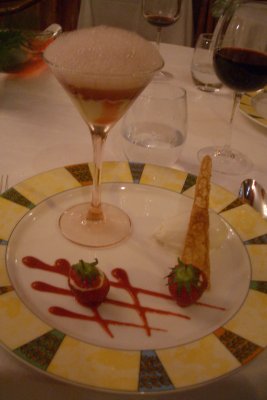 Dessert, me: Strawberry parfait, consisting of cardamom-flavored strawberries layered with a sweet cheese cream in a martini glass and topped with foam, accompanied by two fresh strawberries individually stuffed with cream and a quenelle of outstanding "petit suisse" ice cream (behind the tall, pointed tuile cookie). Petit suisse is a dessert cheese, sort of like cream cheese but much softer and very tangy. The ice cream was terrific!
previous entry List of Entries next entry