Saturday, 17 May 2008, Airport to Épernay
(Written 17 May 2008)
In preparation for my departure yesterday, I called City Taxi (of Tallahassee) to arrange for a cab to meet me at the house at 3 p.m., for the trip to the airport. As usual, at 3:10 p.m., I called them to ask where the taxi was. The dispatcher promised to track it down and get it there in a jiffy, so after two more phone calls from the driver, asking for repetitions of portions of the directions I'd already given, he showed up and we set off for the airport about 3:30 p.m. Because this is standard procedure for all taxicabs in Tallahassee, I had built about 45 minutes of extra time into the schedule, so I still got to the airport early. And because we and Delta Airlines both know Tallahassee summer weather of old, my connection in Atlanta easily absorbed the 45-minute delay flying out of Tallahassee.
Otherwise, the trip went like clockwork. Better, even, because the flight out of Atlanta was with Air France crew and equipment (meaning we had, even in coach, cup holders usable even when the tray tables were folded away, foot rests at every seat, and individual video screens that offered TV series, movies, video games, news programs, and nature programs; the half-dozen movies were almost "on demand"; you never had to wait more than about 20 minutes for a new showing of the film of your choice, or you could join the current showing in progress) and French catered (why they persist in including Kozy Shack chocolate pudding in the dinner menu that includes individual baguettes and free wine in individual bottles is a mystery to me; the cheese tortellini were actually quite good).
I got to Paris a few minutes before David, prepared to spend an interminable length of time getting through passport control, claiming luggage, getting through customs, and locating the Europcar rental desk in Hall 2D, where we had agreed to meet. But it all went so smoothly, and I found the rental desk so easily, and it was so conveniently located to a cluster of shops, that by the time David showed up, I had rented the car, trekked back upstairs to verify that his flight was on time, bought him a couple packages of his favorite effervescent vitamin supplement (which you can't get in the states), acquired a 1.5-liter bottle of water to keep in the car, and hit an ATM for a supply of euros. The bookstore didn't have the Gault-Millau restaurant guide, and the post office was closed on Saturdays, or I would have finished most of our shopping for the trip!
Once David heaved into sight, we just rolled our baggage out to the parking lot and set off for Épernay, where we are now comfortably ensconced in the Ibis Hotel Centre Ville (Ibis is two steps down from Mercure in the hierarchy of Accor hotels). A tad spartan, but no-smoking room and a nice shower.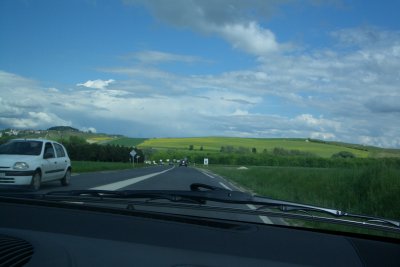 The drive from the airport was through some forest and rolling hills of mixed agriculture: barley (I think), wheat, oil-seed rape (the bright yellow blooms just fading), broad beans. We realized on the way that it had been quite a while since breakfast and was going to be quite a while until dinner, so we decided to stop for a bite to eat, but it was already almost 2 p.m. We pulled into the parking lot of one promising place at 30 seconds after 2 p.m. to find it locked and dark; lunch was over. Our second try (in the little town of St. Jean les Deux Jumeaux) was open, and folks were sitting in the bar, but again, lunch was over. Down the street, though, David spotted a boulangerie (i.e., a bread, as opposed to pastry, bakery). Aha, they usually close for two hours at lunch and reopen at 2 p.m.! It was a lucky choice, a truly splendid bakery. They were out of the sandwiches listed on the wall but they still had a wide choice of savory as well as sweet breads (little quiches in several flavors, individual pizzas, fist-sized buns with green olives baked into them, flavored and filled breads in varieties like "tex-mex" and "north African" and "basil and sundried tomato." We split both a pâté en croute (a couple of good-sized pork-ham-and-parsley meatballs wrapped in pastry and baked) and a feuilleté au jambon (puff pastry stuffed with boiled ham, bechamel sauce, and cheese. For dessert, we split a "pear and chocolate-chip bearpaw," which was a lot like a "delice au chocolat," that is, two layers of puff pastry sandwiched with custard cream and chocolate bits, sliced into strips, and baked. But this version was cut into large wedges, scored to resemble a stylized paw, and included (stuck in there with the custard and chocolate, before baking) thin slices of fresh pear. The proprietress heated the savory pastries for us, and we picnicked in the car. Yum!
Épernay is not a very big town, but it's a major source of champagne—Moët et Chandon, Mercier, and De Castellane are all based here, as are innumerable smaller producers, all lined up face to face and side by side down Avenue de Champagne above the chalk river bluffs that parallel the river Marne, into which all their miles (yes, literally miles) of cellar tunnels are cut. Some of the caves and tunnels are disused chalk quarries, but others were dug for the purpose.
(Written 18 May 2008)
After checking into the hotel, we walked around for a while in the center of town. In the Place des Arcades, right outside the hotel door, an open clothing and accessory market was in progress, and a block away, in another place, a lovely carousel was operating, to the delight of children of all ages (apparently the last vestige of a little fair of some sort that was just ending). The carousel included not just the usual horses, but a fire engine, a hot-air balloon, a team of horses pulling a wagon, and this wonderful submarine!
The town is densely stocked with high-end shops, so the shop windows are gorgeous: mouthwatering displays of chocolates (including chocolates wrapped to resemble life-size champagne corks, in both gold and pink); wedding cakes already cut into slim wedges and rewrapped in wedge-shaped boxes, all banded with ribbon back into the shape of a cake; bakeries displaying heaps of extravagantly swirled (and flavored) crisp meringues the size of your head and colorful pastries of all kinds; a "traiteur" displaying platters of all manner of cold and reheatable food to be taken out, like meat and seafood terrines sold by the slice, a giant plate of fat white asparagus, these "sausages" of cold salmon wrapped around fish mouse and glazed with jelly, and that popular French classic, soft poached eggs wrapped in smoked salmon, sprinkled with herbs and encased in sparkling clear aspic. Wow.
Dinner was at Les Cépages (which means "the vinestocks"). We got there about five minutes late for our 8 p.m. reservation, and were the first clients to arrive. After brief consultation of the choices, we chose the "menu at 50 euros," which offered two choices for every course, and ordered one of everything.
Amuse-bouche, both: A small glass of thin, cold, brownish soup of tomato and bell pepper, garnished with infinitessimally diced raw onion. Gaspacho-like, very tasty.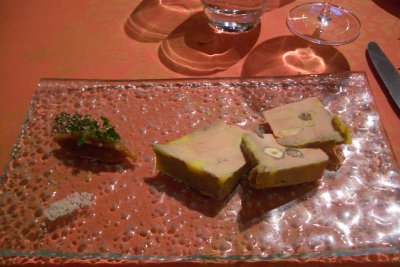 Starter, David: Nougat of goie gras with honey and ratafia (a fierce champagne-based brandy), studded with hazelnuts and accompanied by fig jam, special toast, and little heaps of coarse salt and cracked pepper. Excellent.
Starter, me: Six lightly poached "white pearl oysters" on a bed of tender, braised shredded vegetables (leeks, carrots, etc.), smothered in a lemon-butter sauce. Delicious.
Main course, David: Fricassée of mature chicken (a drumstick and piece of the breast) on a thick bed of sautéed oyster mushrooms, covered with a creamy sauce and surrounded by tiny cooked vegetables (thumbnail-sized turnips, like-sized buttons of cut zucchini, baby carrots). Very good.
Main course, me: "Pot au feu" of seafood, consisting of half a lobster tail, a portion of delicious and delicate white fish, and a sesame-crusted wedge of barely-cooked salmon, all smothered in lemon-butter sauce and accompanied by cooked baby vegetables (a roasted beet, a whole leek, a tiny bulb of fennel, and peeled quarters of artichoke). Excellent!
Cheese course, David: Tomme de Savoie, Langres, and a "pavé" of something cured with Calvados.
Cheese course, me: St. Maur, Chaource, crottin de Chavignol, Pouligny St. Pierre. All quite young.
Dessert, David: "Tarte Fine" of apples, a thin, round, individual, freshly baked, open-face puff-pastry apple tart with a scoop of vanilla ice cream on top.
Dessert, me: Billed simply as "roasted pear," but in fact a tender roasted pear steeped in a delicious caramelized red fruit (strawberry/raspberry?) syrup strongly flavored with star anise. Outstanding! We're going to have to try this at home. Both desserts were garnished with crisp, tender, delicious almond tuile cookies. Yum.
Mignardises: Chocolate-covered truffles, golden fruit paste cubes.
No other clients ever arrived (on a Saturday night!). Several passers by stopped to read the menu, but nobody came in. About 9:30 p.m., as we were eating our cheese, the sole waiter gave up and cleared all the other tables, carefully counting the silverware as he put it away (I caught him surreptitiously counting ours, still on the table, to complete the tally.) When we left, the (rather cheaper) bistro next door was hopping, and the couscous place around the corner was at least half full. Too bad, 'cause Les Cépages was really very good.
previous entry List of Entries next entry