Tuesday, 19 June 2007, With Anuj, Elise, and Alex
Written 19 June 2007
Our friends Anuj Srivastava, his wife Elise Bollier (a native of this area of France), and their 8-month-old son Alex are spending seven months in Lille during Anuj's sabbatical from Florida State University. They've been here about a month so far. Anuj met us at the hotel a little after 9:30 a.m. and led us back to their apartment, about a 15-minute walk. They live in a second-floor apartment on a quiet side street (rue Mourmant) near the center of town. After seeing the apartment, having a drink, playing with Alex, and letting CJ e-mail her mom, we all set off for the market. Alex traveled in the "Alex-mobile," an elaborate, light-weight, big-wheeled, collapsible, convertible stroller/carriage affair with storage pouches everywhere, a sun hood (with moon roof), its own rain fly, etc. It was by no means the most elaborate such stroller we saw. In the ca. 2.5-block trip, we counted more than 20 strollers—at one point, a traffic jam of five of them were trying to get past each other at a narrow spot on the sidewalk. In the course of the day, we spotted at least two sets of twins. Babies were everywhere! Times have certainly changed since Dan Simberloff's sabbatical in the 80's, when people would stop Mary in the street as she walked little Tander because they hadn't seen a baby in years and were desperate to play with one. Concerned about France's negative population growth, the government is now essentially paying people to have babies.
Written 20 June 2007
The market was great. It was based around the permanent, indoor covered market but spilled out into the adjoining square and side streets. It featured a higher precentage of clothing and accessories than most, but was selling quite a lot of food as well. Anuj and Elise had actually already shopped for our lunch, and they are sternly forbidden to buy fruits, vegetables, or eggs, because Elise's father keeps chickens and is a power gardener, so their produce needs are already supplied (with lunch, we sampled his salad greens, fresh currants, strawberries, and red and white cherries). So Anuj bought some olives and a few other things, but we spent most of our time just sightseeing.
Back at the apartment, they regaled us with baguettes, cold ham, lettuce, a tomato and mozzarella salad, quiche Lorraine, "flamiche aux poireaux" (a sort of cheese tart that's a local specialty, this one filled with leeks), couscous tabouleh, and "ficelles de Picardie" (crêpes rolled around smoked salmon and cream). For dessert, a warm clafouti of cherries and mirabelles, ice cream, and home-grown fruit. Wow.
Unfortunately, because it was Tuesday, all the museums were closed, so we took a long walk, back through that huge and beautiful town square, into the courtyard of the old stock exchange (which now houses an antiquarian book market under its interior arcades), whose walls are lined with plaques and busts celebrating famous natives of the town: Blaise Pascal, Louis Pasteur, and many others), through the tiny streets of the old town, over the canal into the precincts of the enormous Vauban citadel (where we were disppointed to find that, since Elise's last visit, the military, which still maintains an active base there, has stopped allowing visitors to go inside and walk the ramparts; the star-shaped ramparts are 2200 m long—it's the largest and most complete historic citadel in France), through the little zoo (my favorites were the baby mongooses), and back through town to the central square.
There, we met Elise's parents and her aunt, who had driven into town to see us (we've met the Bolliers before, during their visits to Tallahassee), for a pleasant drink and chat at a sidewalk café. We then strolled the block and a half to our hotel to freshen up before meeting everyone back in the square for dinner at Le Flore, a favorite restaurant of theirs.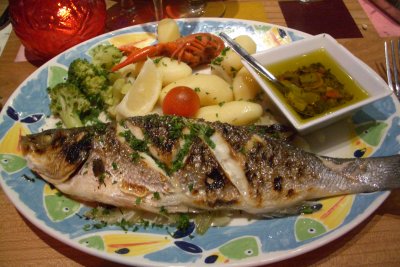 I started with tuna tartare, and both Anuj and Carolyn tried the mixed-vegetable soup, which turned out to be a thick, semi-purée accompanied by croutons and grated cheese. Carolyn then went on to a steak and fries. Anuj had "carbonnade flammande," a beer-based beef pot roast—about a pound of solid meat, succulent and tender. All the Bolliers had the cold "nordic plate," which included smoked salmon, smoked herring, rollmop herring, and another smoked fish, salad, and a sour-cream-chive sauce. I had kidneys in mustard sauce again, but they were rather more well-done than I prefer them. David got the prize—he ordered bar again, but this time it took the form of a whole, roasted fish on a bed of braised fennel (If I'd known, I'd have ordered it myself!). Although he dislikes few things more than fish bones, he did quite a creditable job of eating the top half; then I helped him extract the backbone so that he could get at the rest.
For dessert I had the "Exotic crumble," which turned out to be coconut and passionfruit ice creams topped with "crumble topping" (mostly sweetened graham-cracker crumbs). David ordered the "melted marshmallow dessert" and got a large dish of ragged chunks of house-made marshmallow, accompanied by a wide dish of chocolate fondu into which to dip them!
We parted outside the restaurant, under a light rain, we to return to our hotel, and the others to walk back to the apartment. We'll see Anuj in July, when he's in Tallahassee for a couple of weeks.
previous entry List of Entries next entry