Monday, 18 June 2007, Off to Lille
Written 18 June 2007

We were the only ones at breakfast this morning, and we saw no sign that we weren't the only guests in the hotel! I ordered chocolate with breakfast and was delighted to find that it was the old-fashioned, unsweetened kind. I added about half as much sugar as hot chocolate usually contains, and it was delicious!

The drive from Compiègne to Lille is the longest stage of the trip, so we set off right after breakfast. We passed many small Commonwealth and French military cemeteries. The Americans and Canadians brought their war graves together into a few large cemeteries, but the British and French maintain many more, smaller ones scattered across the countryside, located near where the fallen soldiers died. On the way, we came to and crossed Vimy ridge (which we'll return to tour on Wednesday, en route to Arras). South of Roye, in the middle of nowhere, between beet, corn, oil-seed rape, and potato fields, the road was lined on both sides for at least a kilometer by large cherry trees, laden with ripe cherries. No one was picking them, not even flocks of birds. Among many fields of ordinary white-flowered potato (almost all in full bloom just now), we twice passed fields of potatoes with bright lavender blooms—I wonder if these are the purple potatoes we've encountered in several restaurants this trip—they certainly know how to produce the right pigment. We also passed a few small apple orchards and one solitary field of onions.

Again, in the small towns we passed through, we saw many shuttered restaurants with for-sale signs in the windows. South of Arras, though, we found "Coté Jardin," in Boiry-Becquerel, which had posted the plat du jour on a sandwich sign outside and was surrounded by parked cars, and had a lovely lunch there. CJ and I both ordered magret de canard (she with fries, and I with excellent gratin Dauphinois, i.e., sliced potatoes baked with cream and cheese). David had the "mixed brochette"—a skewer bearing a sausage, a large chicken wing, a slab of bacon, and some lamb, all grilled and laid over a pool of green peppercorn sauce—and the gratin. Unfortunately, both plates of duck came liberally sprinkled with chopped pistachios, but when I apologetically explained the problem, CJ's was whisked away and replaced in short order by one sprinkled with parsley instead.

Written 19 June 2007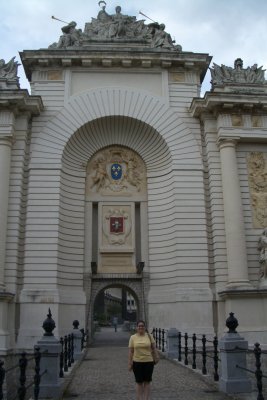 We reached Lille in time to check into the the Hôtel de la Paix and go out for a stroll around the huge Place de l'Opéra, where we were irrestibly drawn into Le Furet du Nord, which is actually listed in the Michelin green guide as the largest bookstore in France. CJ went off to look at the English-language books on an upper floor, David in search of scholastic editions of French history, and I to the "budget paperback" section. David struck out on the history books but found a new CD by Pow Wow. CJ picked out a "manga" (Japanese comic book, I think; or perhaps I should call it a "graphic novel") in French as a gift for her brother Henry, who already has that one in English and will get a kick out of comparing the two. I, on the other hand, struck pay dirt and came away with three new Patrick Cauvin's (we loved the two of his that we've read), three Nicole de Buron's (she comes highly recommended by Françoise and by friends from la Table Française), and a flyer called La Vie Commune, which has a promising cover and blurb. (For future reference, Simone de Beauvoir is filed under "d" for "de Beauvoir," but Nicole de Buron is filed under "b" for "Buron.")
In the photos, notice what a vertical city Lille is. We turned the camera sideways much more frequently here than elsewhere. The city is thickly studded with memorable towers, columns, steeples, and (in the upper left here), a city gate/triumphal arch, once part of the city wall but now preserved as a monument.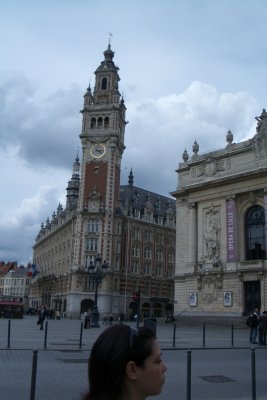 Exhausted by our labors, we then sat at a café table in the middle of the place, sipped drinks, and people-watched. Apparently, there's a baby-boom on—lots of toddlers, babies, and pregnant ladies.
Back at the hotel, a few minutes before I was going to call him, Anuj called us. We agreed to meet here at the hotel this morning after breakfast. We'll head back to their neighborhood, where it's market day, and have lunch at their place. Elise (and perhaps the whole family) will then take us on a tour of the best of Lille (alas, the Museum of Fine Arts is closed on Tuesdays). In the afternoon, Elise's parents will drive into town, and we'll all meet at their favorite restaurant for dinner.
But back to last night: Our restaurant, Le Sebastopol (a GM 15/20), was nearby, so we strolled the few blocks; the intermittent rain had cleared, and the evening was a lovely one.
We chose the menu at 55 euros. The bread choices were interesting. In addition to the usual "cereal bread" full of whole grains and seeds, they offered morel bread (dark brown and strongly mushroom flavored) and lemon bread (white bread studded with bits of lemon zest and flavored with lemon juice).
Amuse bouche: a tiny chicken-flavored custard topped with bright orange paprika sauce, a small glass of beef consommé with tiny dice of spring vegetables, a little square dish of vibrantly flavored cauliflower mousse, and a small, thin slice of olive bread.
First course: A "millefeuille" of "brandade de tourteau" layered with confit tomatoes, surrounded by bright green pea purée and topped with a couple of perfect arugula leaves. The generous portion of crab was perfectly seasoned and flavorful. Delicious, especially with the lemon bread! ("Brandade" usually refers to a mixture of flaked salt cod and potato, but the hostess assured us that this one contained no fish, only tourteau crab.)
Second course: Filet of "bar" [Dicentrarchus labrax] with a rich reduction sauce over a bed of paper-thin slices of artichoke, with a single poached cherry tomato. CJ got another plate of asparagus (white this time) and morels.
Third course: Pigeon (listed on the menu as "well brought up"), the breast roasted, the leg confit, and both served with chanterelles, baby spring vegetables, and a "wasabi jus." The jus was good, but if they hadn't mentioned it, I wouldn't have spotted the wasabi. The pink object on top of the green beans is the roasted tenderloin of the pigeon.
Cheese: David chose roquefort, "cremeux" of something (a very white, dome-shaped cheese of the region; it could have been either vache or chevre; we never caught its full name, and although we studied cheese counters and cheese platters all over the region, we never saw another one like it), and Laguiole. I had the "cremeux," some mimolette, and good old Puligny St. Pierre. CJ had camembert and mimolette. Rather than trying to cut slices of the mimolette (a dry, bright-orange, almost spherical cheese, like a small pumpkin), they had sliced off the top and hollowed it out ahead of time. The interior portions had been diced and piled back in the "pumpkin shell," so the waiter could simply spoon a few of them onto your plate. All the cheese portions at this restaurant were quite restrained.
Dessert: Coconut and passionfruit sorbets, with a tuile cookie. The mignardises were even better, especially the deep glasses filled with vanilla custard topped with a single blueberry and a golden syrup that we couldn't identify—rhubarb syrup, the waiter revealed. Note also the little spoons, cleverly bent into S-curves so that they hang neatly on the edges of the tray. They also hung neatly on the edge of the glass when you'd finished your custard.
As you can deduce from the relative sameness of these menu choices, all the chefs are trying to take advantage of the current products of the region and the season—asparagus, morels, tender spring vegetables (especially green beans, green peas, snow peas, and baby broad beans), new potatoes, squab, bar, turbot, strawberries, rhubarb.
previous entry List of Entries next entry