When life gives you lemons . . .
posted 22 February 2005
. . . throw a festival! That's what Menton has done, and over the years, it has become quite a big deal. It lasts over three weeks, and the parade is repeated two or three times each Sunday. For those who can't come to the parade, a large park is given over to "motifs géants"--parade-float sorts of things that are too big for parade floats, like life-sized windmills and other buildings. Last year's theme was Disney World, and one of the "motifs géant" was a life-sized replica of the Disney Magic Carpet ride. This year's theme was "Viva Espa&ntilda;. And the gimmick, if you haven't already figured it out from the photos, is that all this stuff is entirely clad in real citrus fruit--an no fair using stuff not grown locally, so it's basically oranges and lemons. This first photo is the billboard advertising the "motifs géants" at one end of the park. The fruit is not pierced, as I had imagined, but secured with individual elastic bands. At the end of the festival, it's sold off at discount prices.
We drove over on Sunday, February 13. Menton is on the other side of Monaco, less than 20 km away, and its city limit butts right up against the Italian border. I had read the brochures, but I was still puzzled over what the various levels of admission price covered. They seemed to be charging admission for the parade--how could that work? Well, they've found a way. For the festival, they entirely fence off the park full of "motifs géants" (you can see the orange and yellow 8-foot panels below the billboard). Because the park is in two sections, divided by a major road, they erect a huge tubular-metal staircase and bridge to join the two halves, so that traffic can continue to pass underneath unhindered. The bridge provides a convenient vantage point for semi-aerial photos of the motifs.
On Sundays, they actually fence off the entire parade route, which is a long narrow loop--up one long street, over a block, and back down the other, over a block and repeat. As a result, a large part of the down-town business district is fenced off, so businesses that aren't ordinarily closed on Sunday just close down on festival Sundaygs. We tried to buy tickets for the bleachers, but they were sold out, so we settled for standing room. The parade actually covers the entire route, so it is set up in the morning, and when it's time to start a "performance," it just starts moving and continues until each float has gone all the way around and back to its starting point.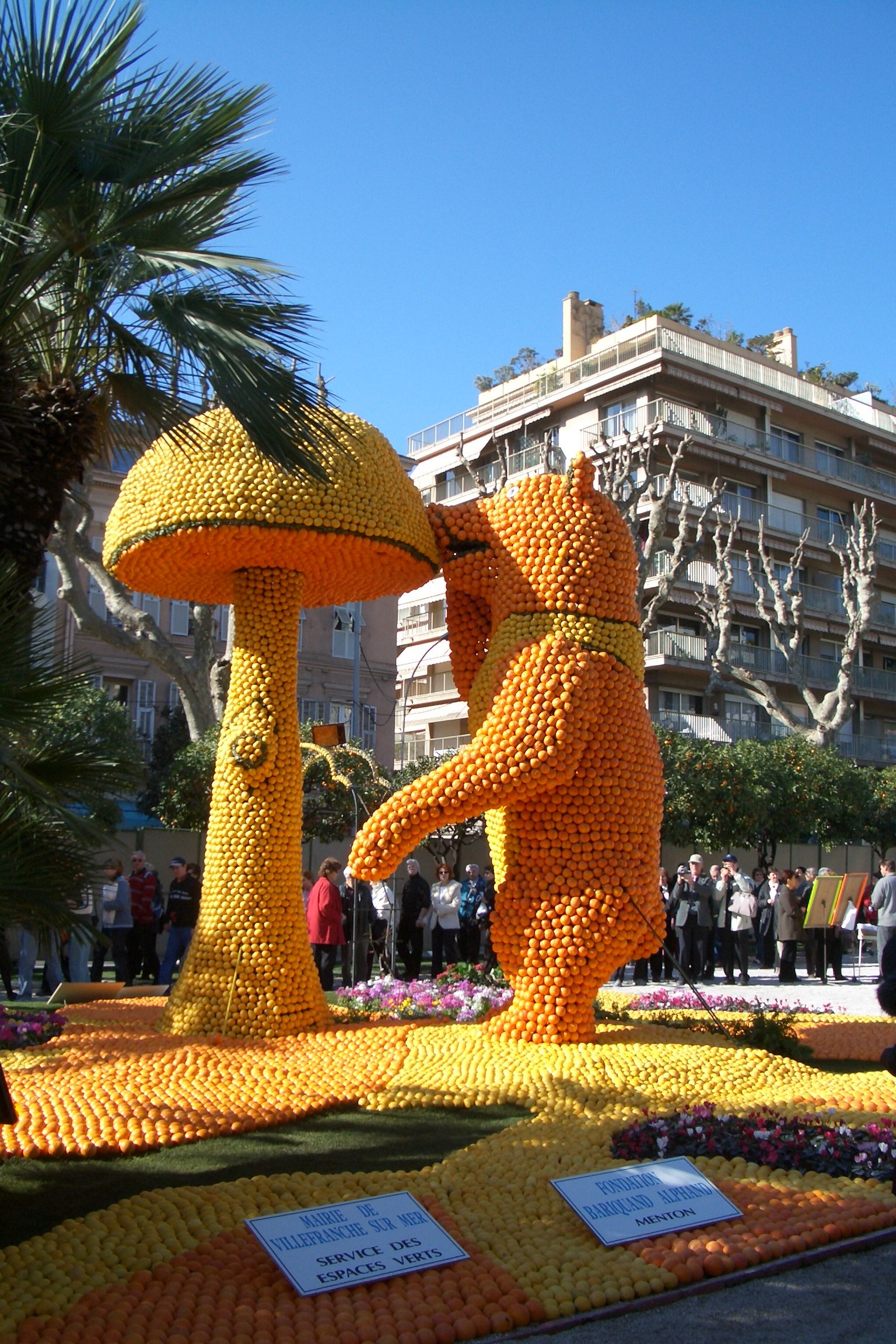 After running a long gauntlet of fruit and mimosa sellers (starting with 10-year-old boys with six oranges and a bouquet at the fringes and working up to the more professional set-ups toward the middle of things), we started with the "motifs géants." To the left is the City of Villefranche motif, viewed from the footbridge. The maniquins aboard the ship are life size. To the right are a giant bear and (I am assured) an arbutus tree (and not a huge magic mushroom). "The bear and the arbutus tree" must be some sort of Spanish folktale. There must have been eight or 10 motifs in all, including Don Quixote tilting at life-sized windmills, a section of the Alhambra, and a collection of giant-sized Spanish pottery. Most of the vendors were just selling postcards, jam, and candy (though each stand had a few curiously mishapen citrus fruits for sale; they must st them aside throughout the harvest for the purpose), but the Grand Marnier people had set up a little café, where you could get Grand Marnier crêpes, and they would let you douse your own crêpe, to taste.
Another of my favorites was this lovely urn, about 10 feet high, that was also part of the Villefranche motif.
After exhaustively examing all the motifs, we set out to find lunch by applying Thistle's 100-yard rule of European tourism. We set off up a side street and turned a corner before spotting a small sign directing us to "Le Vieux Four" (the old oven) up an alley. It was downstairs and had only six tables. The first two drinking glasses I was given were cracked, but they eventually found an intact one. Lunch was rabbit terrine, then lamb stew on pasta, then (of course) lemon meringue pie. Unpretentious and good. Actually I was surprised to see that all the restaurants were featuring lemon meringue pie and that, beyond the marmelade and citrus candy and the Grand Marnier crêpes, nothing else featured citrus flavors--no lemon-filled jelly doughnuts, no lemon chese pie, no orange or lemon sorbet, no lemon vinaigrette salads, no lemon gingerbread or pudding or cake--rather unoriginal I thought.
After lunch, we adjourned to the "corso" just in time for the parade, and it was a very good one--all the bands were of national quality. France has really embraced the festival parade, and this one had the obligatory features: a confetti cannon (though it wasn't working very well, so the young woman on our side of the float had to throw confetti by hand) and an all-male brass band in drag (in this case red and black sequined flapper dresses). And they were a darned good brass band and clearly enjoying themselves. The photo shows them in a serious moment, belting out a march, but between numbers they clowned outrageously--I think they recruit members specifically for how ugly they will look dressed as women. Other bands included that of the National Association of Bersaglieri (the Bersaglieri--it means "targets"--are a famous Italian military unit; they wear large tufts of irridescent black rooster feathers on their helmets and are known for executing precision marching patterns at the run), a terrific group of Spanish bagpipers, those famous Italian flag throwers (if you've never seen them, you can rent a movie called Under the Tuscan Sun, which features them at one point), a group of cancan dancers, a group of Polynesian hula dancers (including one pasty-pale, blue-eyed blond), a kazoo band playing all sorts of outlandish instruments (including several double-reed women's maniquin legs), and some actual carnaval dancers, wearing elaborate headdresses or backpacks decked with huge multicolored feathers and vanishingly little else--we're talking the proverbial two pasties and a tassel. Good thing it was a fairly warm day. Plus many more brass bands and citrus-covered floats. In addition to all the confetti, vendors were selling hundreds of cans of "silly string," with optional pistol grips. The Italian flag throwers had to pause between maneuvers to wipe the stuff out of their eyes.
Here are "Miss Pays Mentonnais" (Miss Menton Area, right) and her two runner-up princesses, the Spanish bagpipers, and one of the parade floats.
When the parade was over, we took a quick turn through the orchid show in the adjoining building. I had expected an orchid competition, but it was more of an exhibition put on by (who else?) orchid and cactus vendors.l The rest of the building was full of a very up-scale craft show--lots of blown glass and solid-silver jewelry. We had no time to visit the three art exhibits or hang around for the evening orchestra concert. Definitely a festival I would recommend (though I'm going to inspect all the citrus I buy for the next few weeks for rubber-band marks).
previous entry List of Entries next entry