Giving up abstinence for Lent
posted 22 February 2005 (updated 17 March 2005)

It turns out that I completely misunderstood the dynamics of Carnaval around here. I had deduced that it must be a one-day event, because as Mardi Gras (17 February this year) approached, the hype continued to build, but nothing actually happened. And the whole thing has to be over as of Mardi Gras, right; doesn't Lent begin the next day?

But, no. Easter, and therefore the whole Mardi Gras, Ash Wednesday, Lent thing, falls so early this year, that Carnaval was kicked off on Mardi Gras and will continue for two weeks during Lent!

Carnaval in Nice has become a very big deal, but the many staff members at the lab who live there tell me that is has gotten completely out of hand--it's only for rich people now. It usually takes over the whole city and apparently makes as royal pain of itself to locals, but this year all the tramway construction has confined the celebration just to the "Promenade des Anglais," the coastal strip along the Basse Corniche, where there's a wide promenade between the road and the beach. The young and beautiful rollerblade, the old and rich stroll, the buff and athletic jog--sort of like Venice Beach in California, but not as warm this time of year! This year, we are told, the "common people" have set up their own "alternative Carnaval" in one of the more inland suburbs, promised to be less flashy, more fun, and kid-friendly.
Yesterday, we drove up onto Mont Alban to check out the Château Vauban, but all was not revealed. True, you can walk all the way around it and admire the stone work, but it's locked and shuttered and not open for tours. To David's military-historian eye, it revealed three periods of active use--the original rough stone work, then some dress-stone work (including corner turrets with decorative tile roofs (which he attributed to Vauban), then some much later brick work on the far side. To our surprise, we learned as we studied the map that there's another, even larger fort up there, right on the crest of Mont Boron, but it's the low-profile, stone-earthwork-and-dry-moat sort, so you don't see it from here (though we could easily see here from it. It was also locked and barred, but a sign over the gate said that it was the property of the state, used for military training for the "Marine Française"--I don't know whether that's the Marines or the Merchant Marine.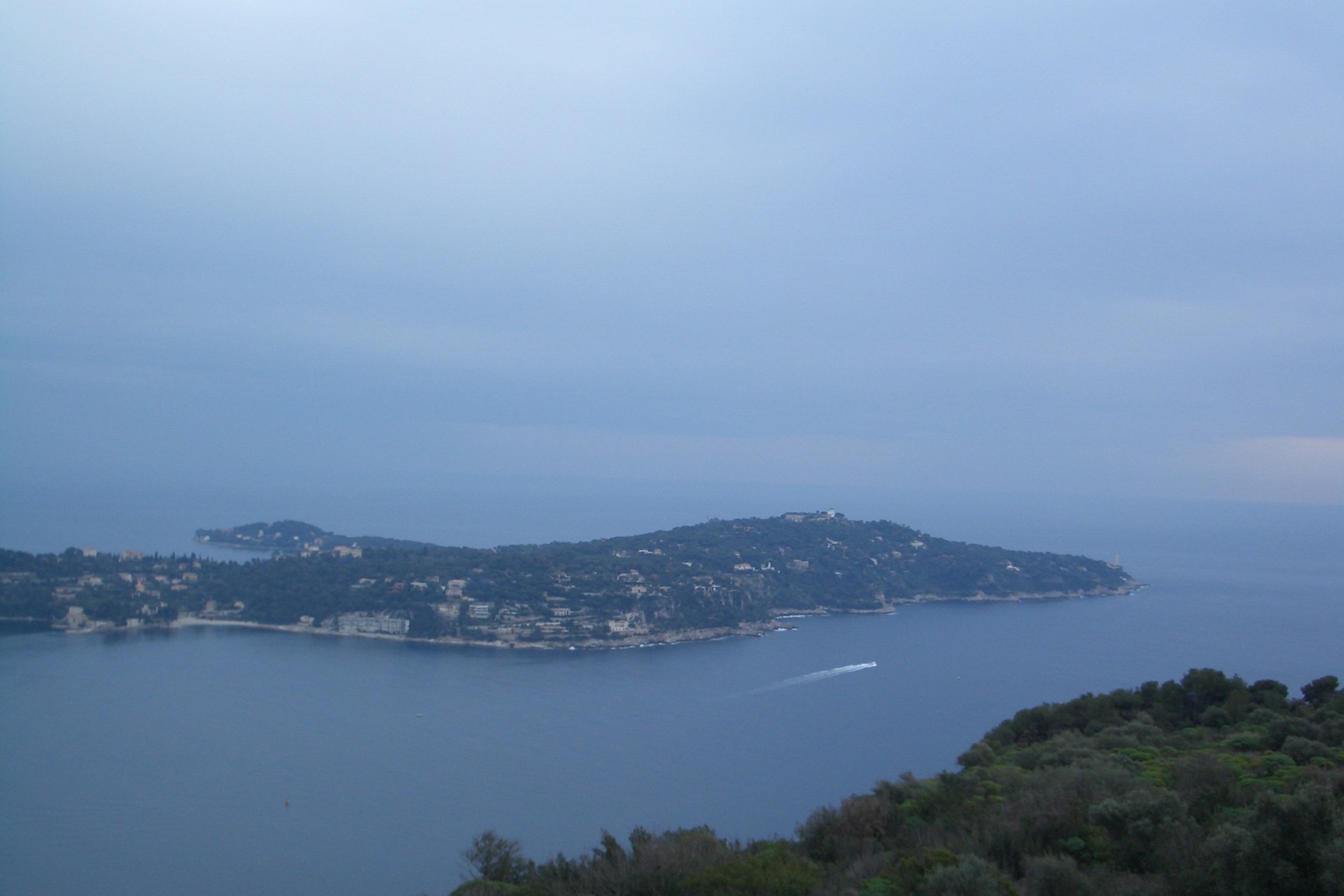 The views from top were magnificent, in all directions. Here's Cap Ferrat, seen from Mont Alban.
Both forts and some very nice little residential areas are surround by a large wooded park with easy, paved trails and many benches. The views are spectacular over both Nice and Villefranche. From below, the houses marching up the hill look like a solid mass, but from above, we were able to see that many, especially the larger ones near the top, had fairly extensive grounds and swimming pools. We walked a couple of the circuits, admiring the wildflowers and the birds and tut-tutting over all the invasive exotic plants. The vegetation up there is completely different from that down where we are and in the towns we've walked around. Lots of small things were in bloom--my favorites where an orchid, which was shooting up spikes of purplish flowers everywhere; a little thing with heart-shaped leaves and flowers like small purple jack-in-the-pulpits, mostly gone by already; and a little bright purply-pink daisy-shaped flower that reminded me of bloodroot (no leaves, just the single flower on a flexible, glabrous stem, sticking up out of the leaf litter). Besides the birds we'd already seen elsewhere, I finally got a good look at the "serin cini," Serinus serinus, a little streaky brown and yellow canary. I'm pretty sure we have them right here in our parking lot, and I think I've matched them to their song, but they're quicker to move than I am to focus. All along the trails, near their favorite benches, people had tied little green plastic mesh bags--and somtimes even little plastic dishes of seeds, to the trees to attrack birds. I also spotted several large birdhouses, alot like bluebird houses, but I don't know what nests in cavities around here.
As we walked on the Nice side, we could actually hear the music and loudspeakers from the Carnaval in Nice, which were tuning up in mid-afternoon. Today (21 February), as I write, I can hear the music from downtown Villefranche, as the run-up starts to today's Combat Naval Fleuri, Villefranche's official Carnaval event. I was really looking forward to going to that, but David and I both came down with some sort of green death last night (that's what I get for writing "we've stayed surprisingly healthy") and don't feel up to going out. Nearer the time, I may go up to the sundeck with the binoculars. Maybe I'll be able to see over the trees to the Port de la Santé, where it's scheduled to take place.
Finally, here's the neck of Cap Ferrat, where it joins the mainland, just to the left of the photo above.
previous entry List of Entries next entry