Saturday, 18 July 2015: Tallahassee to Estes Park
Written 30 July 2015
Two years ago, David's sister Janet Thistle Fox and her husband Jack Fox, who live in Houston and with whom we spend Christmas every year, invited us to spend a few days with them in a cabin at Snow Mountain Ranch, a YMCA of the Rockies camp a couple of miles south of Granby, Colorado.
We all had a great time, but Jan and Jack had been visiting Snow Mountain for 30 years, since their kids were small, and in 2013, things were suddenly very different. The pine-bark beetles had come through and denuded the area. Not just the area of the camp itself but many of the surrounding hiking trails, once densely wooded, were now naked to the sun. The wild strawberries were outdoing themselves, but that didn't really make up for the missing trees. Despite knowling full well that it was all part of the cycle of nature, Jan found it all very distressing, so this year, they decided to try the other YMCA of the Rockies, near Estes Park, on the other side of the Continental Divide and still pretty densely wooded, and they invited us along.
I may have the actual numbers wrong, but the proportions are pretty close. Jack says the Snow Mountain property is 5000 acres and has accommodation for about 1000 people. The Estes Park property, on the other hand, is 1000 acres and accommodates about 5000 people! In addition, Snow Mountain is miles from a supermarket, a restaurant, or a shop, whereas Estes Park is a thriving resort town, quite close to the YMCA property and served by shuttle buses back and forth. On the basis of advice friends with Estes Park experience, the Foxes requested, and got, a "Summit Cabin," across the highway, about a mile away, and about 900 feet higher than the main YMCA campus.
Written 19 July 2015
We left home yesterday (18 July) on the 10:40 flight to Atlanta. We arrived at Concourse E and had a long enough layover, so we had lunch at One Flew South. David had his usual frisée salad with chevre, pears, and bacon. I tried their new angus burger—not bad for two thin patties and mild cheese, and it had a good coarse-grained mustard sauce on it, but no substitute for the kobe burger it replaced on the menu. Next time, I think I'll try the meatloaf sandwich.

Our flight to Denver was smooth and easy, and luggage pick-up was prompt (those bright yellow tags we get because of David's gold-medallion status work wonders), but we had a big hooferaw over the rental car, a French's-mustard-colored Kia Soul. It was not clear whether it would be big enough for our golf clubs (wrapped in a large black multipocketed, strapped, and zippered sac we usually call "the body bag") and our luggage, and the clerk wouldn't let us upgrade without cancelling the state contract in favor of the highest walk-up rates. In the end, after several trips back and forth to parking lot to measure, in a steady rain, we made everything fit in the Kia.

I was very impressed with the size of the Denver airport's rental car operation. The shuttle bus from the airport to the lot was packed (as it proved to be again on our way home, going the other way). The Avis office (only one of perhaps a dozen brands) was fronted by a vast lobby, along one wall of which were (count 'em) 19 transaction stations! (I have no idea why not, e.g., 20). Despite the packed bus, only about six stations were active, and the wait was still short.

This trip marked the debut of our new portable Garmin GPS unit. On his visits to New England to check on his sister Martha and to settle his mother's will, he's had to drive to obscure destinations all over the area (banks, lawyers, medical clinics, etc.) and has rented GPS for his rental car. Having established that the purchase price would be offset by just two or three rentals, he ordered one. It performed like a champ, nailing our arrival time within a couple of minutes from as far away as the airport. We had a brief, partly broken-up phone conversation with Jan and Jack during the 1.5-hour drive and decided to stop for groceries short of Estes Park. We pulled into what was clearly a very new shopping mall, entirely unsignposted, which turned out to be a Walmart. We made an exception and shopped there, picking up beef and pork for a meat loaf (I had a pint of frozen premixed slurry and premeasured dry oatmeal in my luggage), a chicken to roast later, and other fresh stuff. They had wine, but it was unacceptable to David, so we asked the Garmin for help. It took us maybe two miles off the route to a wine store, where David picked out three bottles that were (a) entirely drinkable and (b) under screw caps. We hadn't brought a corkscrew and didn't know whether the cabin would have one (it does).

Those stops added almost an hour to our arrival time. We entirely lucked out at the scene of an accident, where we just caught the one-way traffic past it headed our way and at the other end passed a couple of miles of cars waiting to come back the other way—that could have been a real nuisance of a delay. As it worked out, we pulled into the Y's visitor center just in time to catch Jan and Jack coming out, having checked in and picked up the keys to the cabin. We followed them the mile or so up the hill to "Bear's Den." Jan couldn't face getting into the car again (the trip from Houston had taken them two days), so I started cooking ASAP. I was able to make the meatloaf in a muffin tin to speed baking (with about a third of it left over, which I baked in a foil boat, and baked small sweet potatoes with it. Jan hadn't gotten my message about packing vinegar and oil (and I hadn't gotten hers telling me about other things she had brought), so I improvised a salad dressing from mayo, milk, pepper, minced shallot, and thyme—it needed more acid but wasn't bad. I baked extra sweet potatoes so as to make a cinnamon, brown sugar, and pecan casserole later in the week. Glad I brought the meat thermometer, as I had no other way to judge how long to bake the meatloaf in the smaller size. So we ate late, but survived. I had picked up some bread and cheese for appetizers.

The Fox's dog Zorro was absolutely in heaven at the cabin. Jan took him out for his walk after dinner, flushed a baby rabbit, and nearly got dragged off the mountain! Earlier, Zorro apparently tried to launch himself through the windshield when a mule deer wandered across the road as we approached the cabin. The pooch is a rescue, and it is pure coincidence that he was already named Zorro (because of his facial mask), which means "Fox" in Spanish. He's deaf—his ears were so badly infected that the shelter's vet had to remove his ear canals to save his life—so he's never allowed off the leash until enclosed in a building. If he should run off after wildlife or otherwise get lost, they have no way to call him back. While we sat around in the cabin or on its deck, Zorro was tethered to a post by a long cord that allowed him to come and go through the open door, reach both his indoor and his outdoor water dish, and otherwise wander a good ways.

Imagine my surprise this morning to discover that we have unsecured WiFi, loud and clear, right here in the cabin, supplied by the YMCA. I was kicking myself for not bringing the bird guide, but I've been able to look things up on the internet. So far we've seen

a mule deer
a chipmunk
hummingbirds (broad-tailed?)
a flock of tiny, plump blue-grey flycatchers, "black-tailed gnatcatchers"? a black-headed grosbeak, feeding a young one the ripe wax currants that surround the cabin

Written 30 July 2015
Here's the placard identifying our summit cabin, called "Bear's Den." The brown object to the right of the wall is a bear-proof garbage can. It's bolted to the concrete slab, and to open it, you have to slide your flat extended fingers into the little hump-shaped opening on top to release the catch. I always worry a little that I'll encounter a spider in there, but that would be better than encountering a bear raiding the garbage! The Y campus was under a bear alert while we were there, so no outdoor feeders of any kind were allowed, especially hummingbird feeders, which will bring a savvy bear right up onto your porch to break into it for the sugar water. We never saw a bear, which suits me just fine, though we were shown evidence of their activity.
The photo to the right shows about the middle third of our view across the valley from the deck. The brown buildings beyond the first band of trees are on the main Y campus. The campus is billed as being at 8100 feet altitude, but GPS said that our cabin was at 9000 feet. The hills and mountains beyond the campus are in Rocky Mountain National Park, which shares a long oundary with the Y.
As you step out the front door onto the deck (which is maybe 10 feet above the ground) and look to the right you see this line of picture windows and comfy chairs, some plastic and some wooden Adirondack furniture.
If you then turn around and look back the other way, you see that the deck widens out to accommodate a picnic table. Beyond that is the deck of our only near neighbors, one of whom we met when he came over to borrow a corkscrew. If you turn left just short of the picnic table, you go down three steps to the driveway where we parked. Note the little pile of aspen logs thoughtfully left by the door, in case we wanted to make a fire. Jan brought the ingredients for s'mores, but we never got around to it—Estes Park boasts too many ice-cream shops.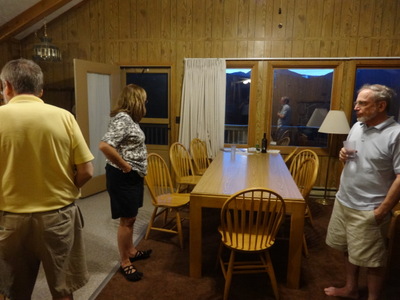 Inside we had this large dining/writing/reading/whatever table, and to my right as I took the photo, this comfy seating area around the fire place.
To my left was this kitchen area, well equipped with appliances, dish towels, pot holders, dishes, and such, but very sparsely furnished with containers in which to cook things, especially things smaller than, say, a ham. Who furnishes a dining table and seven chairs, but only one six-cup muffin tin? The Y, apparently.
List of Entries next entry