Monday, 2 March 2015: Tallahassee to Quebec City
Written 5 March 2015
We got from Tallahassee to Québec without incident, unless having two layovers of over three hours counts as "incident." Not only did the taxi arrive on time but our conversation with the driver on the way to the airport was fascinating! Usually, they try to make conversation by asking for the very information we're anxious not to impart—where are you going and how long will you be away (i.e., when and for how long shall I tell my brother-in-law the burglar that your house will be empty—I'm sure most of them don't mean the questions that way, but we still find it irritating and feel obliged to answer evasively). This time, though, some chance remark led to a conversation about what sorts of things a taxi driver does other than pick people up and drive them around town. His company is on retainer, for example, with the regional blood bank to drive blood to and from hospitals all over north Florida. They charge a flat fee according to the city. He also regaled us with tales of odd fares he's picked up, like the guy (clearly under the influence of something) who wanted to be driven from the Tallahassee Greyhound Station to the Valdosta Greyhound Station!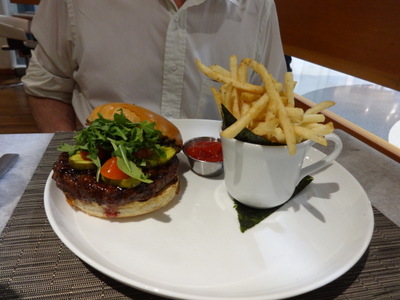 Even though our flight was a little late getting off the ground in Tallahassee, we got to Atlanta in plenty of time to head out to Concourse E for a lovely lunch at One Flew South. David ordered the kobe burger with black truffle mayo and five-spice fries. I had a spicy tuna roll and an eel roll. The sushi was very good, but David gave me a taste of his burger, and next time, I'm ordering that! It was outstanding.
Our flight to Toronto was also out of Concourse E, so we strolled down to the gate, where I settled in to read and do crossword puzzles while David David went off to an empty gate, where he ran through his talk a couple of times, addressing a blank wall in the corner.
The flight to Toronto ran smoothly and was also surprisingly short. We hadn't realized that Toronto is just about at the latitude of Boston, so the flight from Atlanta was no longer than the one David usually takes to Logan when he visits Martha!
Even after clearing customs and immigration, we had plenty of time to stroll the length of the terminal in search of dinner. We finally chose Caplanski's deli, where we had smoked meat sandwiches on light rye (drier than the ones I remember from our long-ago visit to Montreal, but delicious nonetheless) and split a side of potato latkes with sour cream and applesauce. We wanted to follow that with blintzes for dessert, but they were out, so we went next door to Starbucks, where David had a plain coffee and a chocolate coconut "holly dolly bar" and I got a caramel macchiato (excellent) and a slice of chocolate chip marble pound cake (rather dried out but still tasty).
The flight to Quebec was at least half empty. I was the only person sitting in any exit-row seat. Surprisingly, the exit-row windows (called "hublots," portholes, in the French version of the safety briefing) were spring-loaded to open themselves if you pulled the handle, rather than having to be lifted aside or thrown out the opening! I hadn't had the chance to sit in a window seat on a night flight in a long time, especially on such a clear night, and the portions flying out of Toronto and into Quebec were gorgeoous. We finally got to the hotel after 11 p.m., and after unpacking and washing my hair, I got to bed a little after midnight.
Our rooms at the Fairmont le Château Frontenac are lovely. Mine has two complete window treatments on different walls, but one of them has only a mirror behind it. The other looks out on the hotel's inner courtyard (and the service-entrance portion of it, at that). The room is equipped with a hair dryer, a very well-stocked minibar, a whole shelf of snacks (cashews, M&M's, two kinds of chips, crackers, gummy bears, chocolate-covered almonds, cookies), a large bottle of water ($8.50), a half bottle of Mouton-Cadet (price not posted), a small Keurig (with K-cups, but none of them decaf), an electric kettle (but all the teas are maple, raspberry, etc.), a corkscrew, an ice bucket with tongs, wired and wifi internet connections, and last but not least, an alarm clock in the shape of a black cube ("iHome"). When I turned out the lights, I found that it shone like a spotlight, so I turned it to the wall.