Planning Ahead
Written Thursday, 5 March 2015
Last year, we traveled so much that I made full Delta Silver Mediallion status for the first time. David made Gold Medallion (also for the first time)! So far, it's looking as though 2015 is going to be another big travel year, so I may keep Silver Medallion for next year as well (though only because Silver Medallion flyers earn 25% more milage per leg than ordinary folks; it is, after all, a loyalty program—once they've got you, they want to keep you).
So, as we are every March, we're off to the benthic meetings, held this year in Québec city.
Even before this trip, David had an invitation to speak at Winthrop University, in Rock Hill, South Carolina. His host was Julian Smith, whom we met, together with his wife, at last year's biodiversity meetings in Qingdao. I haven't prepared a full-blown separate travel blog for that trip, because, as it turned out, we mostly huddled indoors. It was cold! This year's strange standing waves in the jet stream have kept the southeast a lot colder, a lot oftener, than usual. A couple of days before we left Tallahassee (on Tuesday, 17 February) to drive to Rock Hill, a major storm passed through the southeast. Tallahassee got rain, but farther north it was that characteristic "wintry mix" of snow, sleet, and freezing rain that used to make the Christmas season such a joy in Chapel Hill during my youth. As far south as Columbia, South Carolina, the tops of the trees were still thickly coated with ice, and many large branches and smaller entire trees had broken off from the weight.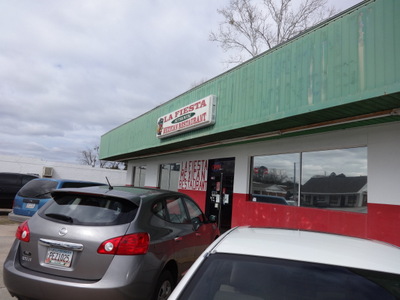 We stopped for lunch in McRae, Georgia, at La Fiesta, a little family-run Mexican place, which turned out to be great. At the right is my chile relleno with beans and rice. At the top of the same photo, you can see the edge of David's shrimp quesadilla. The cardboard box on the table contains a large Erlenmeyer flask full of live harpacticoid copepods (Amphiascoides atopus), destined for establishment of a live culture in Julian's lab.
David hadn't brought a thick enough coat, and I had packed mostly my usual skirts, throwing in one pair of long pants as an afterthought. As it turned out, I wore those pants the whole time! In Rock Hill, the trees were still ice coated, all the way to the ground, and drifts of a crunchy sleet/snow mix were everywhere on the ground, so we didn't do much in the way walking around and sightseeing.
The evening of our arrival, we all went out to Luigi and Sons for Italian food. Here, at the left, are our hosts, Julian Smith and his wife Diane Rudulf. At the left is the gigantic serving of veal Parmigiana I received after we had already had substantial starters of bruschetta and sausage-stuffed mushrooms, plus large salads. Outstanding as it was, I couldn't eat even half of it!
For the rest of the visit, David and Julian played in the lab like little kids, trying different fixatives and stains and different mounting techniques and lighting regimes under different forms of microscopy, including confocal, scanning EM, and ordinary light, all using harpacticoids from the culture David had brought. David gave his talk on Wednesday, and I mostly worked and played on the computer in a corner of the lab. One afternoon, we both attended the weekly lab session of Julian's invertebrate zoo course. Both Julian and the students had trouble dissecting ostracods, which are crustaceans but shaped like really (really) small clams and must be opened to reveal the arthropod features. David contributed the benefit of his experience with the process and promised to send Julian a length of tungsten wire from which to make finer dissection needles, and even I was able to help, recommending a variation on the Porter wedge micrometer as a means of holding the little specimens steady during dissection (being so smooth rounded, they tend to roll and skitter when you try to pry them open—imagine trying to open a cherrystone clam on a smooth surface with nothing but a large, long-handled Phillips-head screwdriver in each hand).
In the evenings, Julian and Diane cooked, and we met their two charming parrots, Mithi (short for Mithrandir), an African grey who is terrified of laundry baskets and anything that resembles them, and Prospero, a huge blue and yellow macaw (all their birds are named for wizards), as well as their dachsund (everyone's friend) and their two cat, who must not meet one another. Both parrots talk and greatly enjoy people food, although Prospero peels everything (including not just chunks of red-skinned potato from one evening's German potato salad but individual grapes and even blueberries!). Giving him lentils would be really mean.
On Saturday morning, we left Rock Hill for Atlanta. I had long wanted a Norden gateleg table from Ikea, since seeing the one in Carolyn Sinnett Greenspon's apartment. We don't have an Ikea store in Tallahassee—the nearest ones are in Tampa, Orlando, and Atlanta—and although the table is only $179, the shipping on it is $350! There's an Ikea store in Charlotte, just half an hour north of Rock Hill, but we decided the best strategy was to stop in Atlanta on the way home. We got to the Airport Motel 6 at lunch time, grabbed a sandwich, then got the motel's shuttle to the airport, where we caught the Marta to the High Museum of Art. When they threw us out at closing time, we took the Marta a few more stops north to Bisto Niko, our new favorite restaurant in Atlanta. It's part of a group of perhaps a dozen eateries—all different—mostly in the Atlanta area, and it does a fair job of imitating a French bistro (although our waiter's name was Miguel and the cashier was called Yen).
David started with tomato basil soup; I had mussels "Le Coze" (a clear nod to the late great Brasserie Le Coze in the nearby Lennox Square shopping mall). The mussels were good but not like French ones; not enough garlic, maybe? Then David had an outstanding trout almondine (I'm ordering that next time), and I had a fabulous skate's wing with browned butter and capers. Yummy! I can't image how they get them so crisp! For dessert, we split a crême brulée. I'd go back there in a minute, even though it was jammed with people and very noisy. After dinner, we reversed the process, taking the Marta back to the airport and catching the motel's shuttle from there.
Sunday morning, we had quite a good breafast at the Landmark Diner near the motel, then set out for the Ikea store by car. I had mapped the route carefully, and despite the hair-raising tangle of freeways in the middle of the city, we found it on the first try. I'm impressed with that place. We found and bought the table right away (they had it in the birch finish we wanted, even though the website had said they were out of that version and that we would have to settle for white), and it fit in the car (together with the luggage) as predicted (I had carefully researched the size of the boxes it came in). Then we went back to explore the store as tourists. I bought a bunch of nice cotton dish towels, and David found a dozen wine glasses that (a) pleased him and (b) would fit in our dishwasher. We aren't sure how durable they are, but at the price (less than a dollar apiece!), we can always buy more. We had lunch at the Ikea restaurant (I had to try the famous Swedish meatballs—they were good, but I make better ones myself), then hit the road for Tallahassee, getting home in time for supper. A successful trip altogether.
Then it was time to plan for Quebec! This time, we're prepared. David brought his serious parka, thick gloves, his long johns, and his L. L. Bean gumboots, as well as a wool scarf. My North Face jacket, with the insulated lining zipped in, is more than equal to the task, my pashmina shawl does a good job as a muffler draped over my head and then wrapped around my neck, and I packed long pants and knee socks this time. The one chink in my armor is my shoes—all I have are my little Easy Spirit flats. I didn't bother to bring my golf shoes, whose rubber cleats would have been ideal on the snowy and slushy sidewalks, because their sides are mesh! So far so good— the shoes get wet, but they dry overnight, developing a white bloom of salt in the process, which I just sponge off in the morning. Most important of all, David has learned to hold his wool scarf over his nose and mouth while we walk around outdoors; that keeps his sinuses from producing the excruciating pain he gets (since the surgery on his nose) if he breathes freezing cold air without protection.
List of Entries
next entry