Friday, 12 September 2014: Charleston, Grice Marine Lab
This morning, we went out for breakfast at Jack's Café, recommended by the manager of the Faculty House. It was a small, classic, red-plastic-tablecloth, breakfast and lunch place. David had a bacon and egg biscuit and I had two eggs over easy with sausage, grits, and toast. Pretty good decaf (brewed just for us), and cheap. Heavily decorated with pictures of cougars (C of C's mascot), and a large plaque reading "Beer: so much more than just a breakfast drink."
Next, we headed out by car for the College of Charleston's Grice Marine Lab, located at historic Fort Johnson on James Island, SSE of the city. (Fort Johnson is where the shots were fired toward Fort Sumter across the harbor, starting the Civil War.)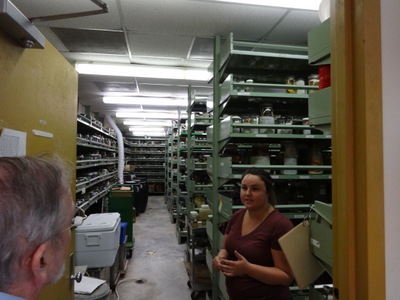 After a pleasant talk with our host, Craig Plante, in his office in the main Grice building, he went off to the main campus (referred to by the lab's denizens as "downtown") for a meeting while a staff member took us on a tour of the facility, including a teaching lab (left) and the teaching collection of specimens in alcohol (right).
Quite a number of people we know are based at C of C and/or Fort Johnson now, including Susan Morrison (a student of the late Dave White when he was at FSU) and Gavin Naylor (formerly of the FSU Biological Science faculty), who are both on the faculty there.
At the left here is another teaching lab, this one equipped with water tables.
After our tour, we reported to the conference room for lunch with the graduate students—pizza and cookies with paper-towel napkins, as is usual for these affairs. They had lots of questions for David, some about science in particular but many more about career strategies, the value of master's versus doctoral degrees (the Grice program is master's only), etc.
After lunch, a series of talks with faculty members, in a different building, one designed to foster cross-disciplinary and cross-agency collaborations by housing personnel from Grice and several other of the institutions at Fort Johnson in intermingled space. We saw, among other things, this tank of baby cobia.
Then it was time for David to prepare for his lecture, in this auditorium belonging to the SC Department of Natural Resources, across the street from the Grice building. Pretty good turnout and interesting questions. Dara (Hembree) Wilbur spotted me as she came in, and we sat together. Her Husband, Pace Wilbur got help up somewhere and missed most of the lecture, but he came to the reception afterward (held in a large "outdoor classroom"—essentially a big rectangular screened porch without a building attached). We spent a long time exchanging news about mutual friends and acquaintances. We were astonished to realize that they were grad students at FSU so early in our time there that Pace took one of David's courses the first time he taught it!
After the reception, we drove back to the Faculty House, and Craig followed us by a few minutes. We freshened up quickly and met him as he pulled up to the curb to drive us out to dinner. His wife was recovering from surgery and couldn't join us.
He took us to Five Loaves Café (which had been on my list of possibles but too far from the Faculty House to be practical), where he and David ordered off the Restaurant Week menu and I ordered from the regular.
David started with the "pickled shrimp," which came as a sort of salad with fennel, celery, carrot, kale, and horseradish vinaigrette. Craig had the grilled flatbread with red peppers, pumpkin seed pesto, artichoke, feta, basil, and arugula.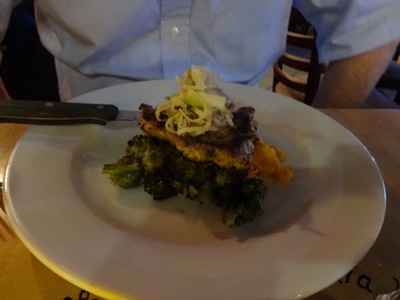 I couldn't resist the gnocchi in cream goat cheese sauce with golden raisins and balsamic reduction. I don't think the gnocchi themselves were house made, but they were excellent anyway.
For their main course, David and Craig both chose the grilled pork chop with roasted broccoli, sweet potato mash, fennel, and apple-walnut slaw, and both declared it excellent.
I had sautéed crab with artichoke hearts, red onions, asparagus, lemon-basil butter, and a little cream mixed with sun-dried tomato pappardelle (the pick ribbons running through the photo). Too many artichoke hearts for my taste—I thought they overwhelmed the dish—but once I fished out some of them and set them aside, it was great.
For dessert, both David and Craig had the sweet cornmeal cake with local peaches and caramel, shown at the right. I had a slice of the gorgeous coconut cake I had admired on the sideboard near our table. It was great, but the piece was enormous, and I couldn't finish it all.
Craig dropped us back at the Faculty House before heading home, and we packed up in preparation for our early departure in the morning.