Friday, 11 September 2014: Tallahassee to Charleston
Packed up the car, luggage and golf gear, and headed for Charleston. David's been invited to give today's lecture in the Fort Johnson Lecture Series at the College of Charleston's marine lab, about 15 minutes south of the city, at the mouth of the harbor. The harbor used to be guarded by Fort Johnson, but that facility now houses the marine lab as well as other college departments, parts of the Medical University of South Carolina, and the SC Department of Natural Resources.
Google claimed you could get to Charleston from Tallahassee in 6 hours and 8 minutes via I-10 and I-95 (or 6 hours and 39 minutes via Thomasville, Waycross, and I-95). We headed out about 8:15 a.m. and got there about 3:30 p.m. Big change from the 9 hours it took us back in the 1970s. At one point in the Panhandle, though, we got stopped for speeding. The officer said we were doing 75 in a 50 mph zone, claiming that I had missed signs lowering the speed limit, because of construction, first to 65 then to 50. I had seen many "construction ahead" signs, some orange cones on the shoulder, the usual signs warning that speeding fines were doubled in the presence of workers, but I had seen no workers and no signs lowering the speed limit—everyone else on the road was going at the same speed we were. He issued the ticket for a lesser speed differential, and I paid it, since I was actually going a little over the actual limit of 70 mph. A few miles farther along, after we left him, we came to two more zones, these with workers and the speed-reducing signs. I think work had been finished the previous day on the zone he was staking out, and he hadn't checked back along the road to notice that the signs had been taken down.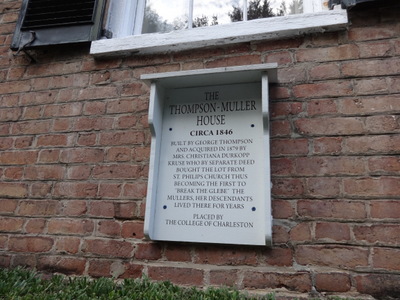 Thursday and Friday nights, we stayed at the C of C "Faculty House" on Glebe Street, which harbors the faculty club on the ground floor and rooms for college guests upstairs. We're in room 3B, at the top of the stairs, under the roof. Strangely, because of the configuration of the landings, no two of the four half-flights of stairs up to that level have the same number of steps. This plaque out front says that the building is "The Thompson-Muller House, circa 1846." As you can see in the photo at the left, it is placed, as is typical of old houses in Charleston "end on" to the street. You enter by climbing the stairs at one narrow end of the broad porch, which faces the house's "front yard," to its right in the photo, between it and the next house in line. The house's front door opens in the middle of the porch, a few steps beyond the top of the steps you can see here. Our window (one of them) is the topmost one, in the gable end.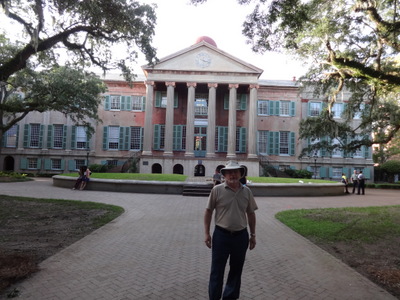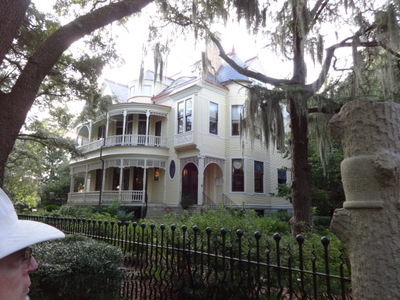 Once we rendezvoused with the house manager, got our keys, reparked the car, and got settled in, David practiced his talk, banishing me and my Kindle to the sitting room downstairs for 45 minutes or so. Then we went out for a brief stroll around the campus, which is lovely. Here, David poses in front of what seems to be the central (perhaps original) building, and at the right is a gorgeous old house a block or so away. We could see that it had a College of Charleston sign on it but never found out what it was (not, e.g., the president's house, because we came across that on Glebe Street).
Then it was time to clean up and change for dinner—the heat and humidity were fierce, so even a short stroll left us pretty sticky. The first two restaurants I had called during the afternoon—the two highest rated in town—just laughed (well, not really; they were actually very polite) when I asked for a 7 p.m. reservation that evening. The first didn't have anything between 5:30 p.m. and 9:30 p.m., and the second didn't have anything at all after 5:30 p.m.! On a Thursday! The third, the Charleston Grill, had a slot at 7:15, so we opted for that. Later, we learned that we had happened to be there during Charleston's "restaurant week," so the whole town was dining out every night!
The Charleston Grill is inside a shopping gallery inside the Belmond Hotel and is quite large, paneled in dark cherry, and welcoming beyond all reason. The first hint, of course, was when the person who took the reservation asked whether we were celebrating anything special. (I find that kind of thing a little patronizing. Do they think we eat out, even in very nice places, only when we're celebrating something?) When we presented ourselves at the appointed time, we were pretty much assured by the manager that the restaurant had been founded with us in mind, existed only to serve and please us, and had been awaiting only our arrival for fulfillment. We were escorted to a table rather far (as requested) from the live jazz combo, where our waiter, Chip, introduced himself and his cowaiter Andrei, who addressed us (and presumably everybody else) by name throughout the evening, as did the manager who came over periodically to make sure that everything was just perfect for us.
David was delighted with the list of wines by the glass, which actually included a Côte Rôti. He took a chance and ordered a red Burgundy with the first course, which he hesitates to do in American restaurants, but which he pronounced superb.
Amuse-bouche: A cube of "Middle Creek" cheese (locally made, I assume?) topped on a bed of roasted tomato sauce and topped with green olive tapenade. Sort of cheddar-like. Very good.
First courses (both shared):
Smoked (steelhead) trout two ways—cold smoked with tiny capers, tiny chives, tiny slices of red onion, and rye croutons so tiny we never found them and hot smoked with dill, salmon caviar, tiny potato cubes, and a coarse-mustard-horseradish sauce. Both outstanding.
Smoked quail legs (four of them), with "Alabama white sauce," which was thin and reddish, and outstanding sweet fresh creamed corn. Very good.
Main courses (both shared):
Double pork chop, also medium rare, with outstanding cheese grits, baby limas, black-eyed peas, pea shoots, and roasted chanterelles. Excellent.
Pair of filets mignons with bourguignon sauce, three roasted new potatoes of different colors, three roasted baby carrots of different colors partly hidden behind the beef, and a sprinkling of chopped parsley and microplane-shredded fresh horseradish. The beef was medium rare, as ordered, and the potatoes came with their own little dish of green-peppercorn crême fraîche. Very good.
Here, at the left, is the tiny dish of cream for the potatoes. A very good idea.
Predessert:
A little square pyramid of blueberry mousse with a dab of mango curd and two fresh blueberries. You can see from the comparative scale of the blueberries now small it was. Excellent.
Dessert (shared):
Dulce de leche profiteroles with coconut sorbet and buttered macadamias—three tiny choux puffs filled with dulce de leche mousse on a drizzle of key lime cream, surrounding a ball of coconut sorbet and in turn surrounded by butter-roasted chopped macadamias in caramel sauce. Outstanding. Not really profiteroles, I guess, because they weren't filled with ice cream, but excellent cream puffs.
Mignardises:
A cupcake-like thing, a half-cylindrical chocolate airbrushed with red, a wedge of red fruit paste, a pecan praline, and a cookie with a cherry in the center.