Wednesday, 29 May 2013: Marseille to Tallahassee (sigh)
Written Monday, 17 June 2013
Here's a photo of part of my hotel room at the airport Ibis Budget, showing the sink right in the room and the shower opening directly into the room. Only the toilet was completely enclosed. In the room in NÎmes, the shower was all glass (frosted from knee height to shoulder height), without even a solid wall on the side toward the room, and the sink was so "free-standing" that the water pipes had to come down from the ceiling through a flat column, on which the sink mirror was hung.
On the right is the free sample of Special K I found on my pillow. Hadn't come across that before.
Wednesday morning, we got up early and caught the hotel's shuttle (reserved the night before) to the airport, visible less than a mile away across a wooded area and the parking lots. Not just the Pullman (which is the only place I'd seen such a thing before) but all three of the Accor hotels had airport departure boards posted in their lobbies, so that you could check to make sure your flight was on time before even leaving the hotel.
Our flight was uneventful; I watched three movies and read a lot. For once, they brought water around even oftener than I wanted it! We made our connection in Atlanta and got home on time—it does still happen occasionally.
The wrens presumably fledged successfully, but we came home to find we've been colonized again; the chimney is full of chimney swifts. You can hear the parents arrive with a flutter of wings and a thump, followed by much busy twittering by the whole family. We had them years ago, and it's entirely charming. They nest right down on top of the damper, practically in the fireplace—it's like having birds in the house, except that you can't see them. The only difficulty is that successive broods all come home to nest the following year in the ancestral chimney, and at the end of three or four years of multiplication, we could no longer hear each other's dinner conversation over the twittering. So when they migrated away that year, David went up on the roof and put screening over the chimney to keep them out. The screening blew off after a few years, but they swifts didn't come back until this year. We look forward to a couple of years' companionable twittering, until they get too numerous and must once again be screened out.
We're now back into the home routine—me retired and David trying to get the hang of retiring. He now comes out one morning a week to join me in walking nine holes of golf.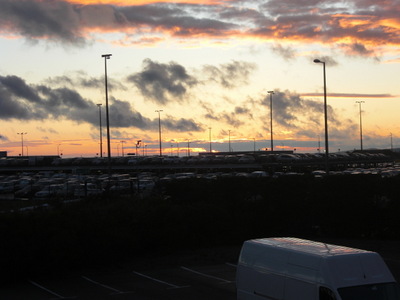 By way of farewell, I offer this view of the sunset over the Chronopost parking structure at Marseille Marignane Airport. So long till next time . . .
previous entry
List of Entries
Summary of hotels and restaurants