Tuesday, 28 May 2013: Nîmes to the Marseille airport
Written Monday, 17 June 2013
We didn't need to be at the Marseille airport until evening (to return the rental car, spend the night, and catch a flight the next morning), so on Tuesday morning, we ad time to go visit the Nîmes Musée des Beaux Arts, which was actually open! Admission was even free.
On the left, David poses before its tall front door. Across the top, engraved in the stone, is the proud proclamation that it covers sculpture, architecture, and painting. In smaller engraved letters, in a column down the left-hand side (between the two hanging garlands) is a list of the more prominent painters included in the permanent collection, and immediately above the door, surrounded by stone garlands, is a stone reproduction of the two sides of the famous bronze coin with the crocodile on the back.
On the right is the modern mosaic floor in its foyer. It includes an olive-sprig motif as well as geometric designs, others of which you can see around the doorway in the photo of the façade.
A pleasant collection. We especially liked one room full of paintings by (mainly lesser known) impressionists (and pre- and postimpressionists). My favorites from other rooms included a very realistic facial close-up of a long-haired, long-horned black-and white cow bellowing at the artist (Jan Asselijn of Amsterdam, 1615–1652). Another was an allegorical painting of the "Combat between Chastity and Love." Chastity is portrayed as a tall, dignified, white-robed woman who has confiscated cupid's bow and arrows and is holding them away from him while he, in the person of a chubby, petulent toddler, tugs angrily at her sleeve (by Louis-Jean-Françolis Lagrenée, Paris, 1724–1805).
Another painting depicted François I visiting the Maison Carée, down on one knee to study an inscription. (I wonder if it was the same trip to the area during which he viewed the rhinoceros on its way to Italy.)
In a glass case in the center of another room was a collection of about two dozen wonderfully detailed miniature bronzes of farm animals, a portion of a larger collection donated to the museum in the 19th century. I wouldn't mind having those in my living room!
The centerpiece of the collection, located in what I would have called the building's central rotunda if it had been round, was this magnificent Roman mosaic floor, from the second half of the 2nd century A.D., portraying the Marriage of Admetus. Admetus was king of Pherae and is shown asking Pelias, king of Iolcus, for the hand of his daughter, Alcestis (a story popularized in a play by Euripides).
On the left is an image of the central scene, and on the right is a wider view (from an upstairs balcony) of the whole thing. As a panel embedded in the mosaic says, it was discovered on 17 December 1883 in Nîmes and was restored by F. Mora.
We scratched our heads over the little metal "house" surrounded by white stuff that rested on the mosaic, until we finally found the label identifying it. It is a separate work of art, dating from 1989, by Wolfgang Laib (born in 1950 in Germany), called "House of Rice"—the "house" is wood covered with sheet metal and the stuff surrounding it is, yes, rice. I have no idea what the artist was driving at, and reading the long explanation on the label left me none the wiser.
When we finally left the museum, near lunch time, to set off for the airport, I suggested we go via St. Martin, where we had had those good brik à l'oeuf salads at l'Oasis Bleu, and get a good couscous lunch—who knew what sort of dinner we could get at the airport Ibis Budget? We accordingly set off, in the rain, parked just where we had before, and presented ourselves at the restaurant, only to find it full! Rats! I'd had my tastebuds all set for couscous, but we wound up having to go next door to the much more upscale Ô Fil de l'Eau.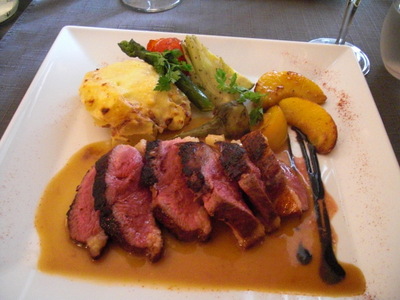 Main course, David: Tomato pie—a sort of hot quiche heavily paved with fresh tomatoes, sprinkled with herbs, and baked. Salad on the side. He declared it excellent.
Main course, me: Breast of duck with peaches. As you can see in the photo, the duck was beautifully grilled medium rare, sliced, and laid over an only faintly sweet peach sauce. On the side were a square of excellent gratin Dauphinois (scalloped potatoes), a braised baby artichoke, a wedge of grilled fennel, a roasted cherry tomato, an asparagus spear, and grilled peach slices. Delicious (but it wasn't couscous!).
Dessert, David: Two "faisselles" of fromage blanc with "coulis de fruits rouge" (red fruit purée). Fromage blanc, whether served sweet as a dessert or with salt and fresh herbs as a cheese course, has become a favorite of David's, but this was his first chance at it this trip.
Dessert, me: A selection of ice creams and sorbets—mango, strawberry, caramel, and vanilla. Underneath them, streaks of mango and raspberry sauces and a sprinkle of crushed pistachios. All house-made and all excellent.
I'm afraid I don't have any photos from the afternoon, which we spent driving back to the Marseille airport. Once again, the GPS wasn't aware of the Ibis Budget, but I knew is was in a cluster of Accor hotels, so we had it take us to the airport Sofitel, which turned out to have been changed into a Pullman—Accor is busily shuffling the names of many of the levels in its hierarchy—and, sure enough, it was right next to the Ibis Budget. We've been pretty impressed with the level of security in Ibis Budget parking areas (in Nîmes, we had to use a hotel-issued code to get through three different locked doors and gates to get to our car and again to get the car out), and this was no exception. At the locked gate, we had to identify ourselves and convince reception we had a reservation to get into the parking lot. Thereafter, we used the codes to the doorlocks of our hotel rooms to get in and out.
Once we'd checked in and dropped off our bags, we drove to rental car return and had the little talk about the scrape on the driver's-side door, which went pretty well. From there, we strolled up to the airport bus shelter to catch the hotel shuttle back to the Accor compound. David then took a nap while I walked over to the Ibis and the Pullman to scout for dinner. The Ibis had a "Courtpaille Grill," a sort of steakhouse/fern bar that you tend to find in highway rest areas, and the Pullman had a restaurant called "D.llce" (pronounced, apparently, "délice," meaning delicacy; I had to ask).
Interestingly, I was able to walk right up and read the menus, because the gates at the Ibis and Pullman were standing open. They, being more upscale, had more staff and could afford to have somebody watching the video security cameras, whereas the Ibis Budget often had only one staff member on duty for the whole hotel. (Actually, the Pullman also posted its menu outside the gate, saying to me that the restaurant actually had pretentions to attracting diners who weren't staying at the hotels.)
We chose to dine at D.llce. They provided an elaborate buffet, but we ordered from the traditional table-service menu.
Amuse-bouche: Oil-cured olives and a dish of salty munches—nuts, pumpkin seeds, parched corn, etc.
First course, David: Eryngii mushrooms cooked two ways: grilled and toasted crisp like crackers, both topped with braised diced vegetables. Eryngii are Pleurotus eryngii, a kind of oyster mushroom that is almost all stem and almost no cap. Somebody must have figured out how to cultivate them, as they've become very popular lately (though I still haven't seen them show up in Publix).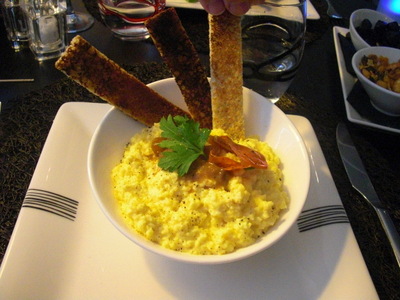 First course, me: Scrambled eggs with urchin roe and "poutargue" (French for "bottarga," which is apparently the Italian word), accompanied by "mouillettes," toast strips for dipping. I shoved the poutargue aside, but the urchin roe was delicious with the eggs, which were excellent in their own right. And the French know how to scramble eggs. I can't recall they last time I ordered a scrambled egg in an American restaurant that wasn't overcooked to the point of petrifaction.
Main course, me (and maybe David, too): Veal steak with whole caramelized cippolini onions. On the side, a grilled skewer of mushrooms and cubes of polenta. I don't seem to have a photo of David's main course, so he presumably had the same thing I did, but I don't really remember.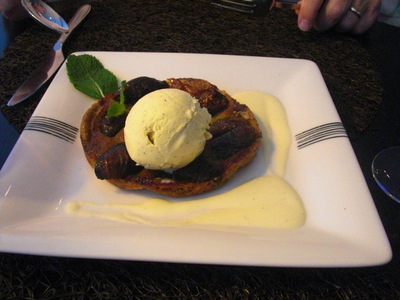 Dessert, shared: a warm dried-fig-and-almond-paste tart with vanilla custard sauce and vanilla ice cream. Very good, although the figs got pretty chewy in the baking process. I'll have to try that at home with fresh figs.
The drizzle continued, so we didn't take a very long stroll on the way back to the Ibis Budget after dinner.