Monday, 13 May 2013: Aix by Little (Not Very) White Train; Cézanne's studio
Written Sunday, 19 May 2013
Here's what breakfast looks like at the hotel Concorde in Aix-en-Provence. Each person get hot drink of choice (we went for chocolate or tea, because they had no decaf coffee), a good minibaguette, a large croissant (also good), a so-so packaged madeleine, and (unless you speak up in time to prevent it) a plain yogurt and a glass of orange juice.
On the sideboard are plates and cutlery, a basket of whole fresh fruit, and a plate of slices of soft yellow cheese.
On the tables are single-serve packs of butter, several kinds of jam, and Nutella. Not bad at all.
Then, as usual, off to the Office de Tourisme, which is in the "21st-century quarter," west of the Rotonde and discreetly screened off from it by a dense planting of trees and shrubbery, among other modern glass-and-steel buildings.
As usual, they could direct us to the stop for the little white train (actually, as you can see, more of a little gray train whose engine was shaped more like a bus), tell us how to get to the Cézanne sites outside of town, and sign us up for another terrific walking tour (the old town and the Quartier Mazarin, at 9 a.m. the next day).
We were just in time for the little train, so we did that first. It was equipped with the same eight-language system as the open bus in Marseille, but in this case, the driver played the most popular track—English—over the loudspeakers and gave headsets only to those who wanted to listen in some other language. I was therefore listening to French and English simultaneously, but the acoustics for both were good, so I coped.

First, we headed up the Cours Mirabeau, from the Rotonde to the statue of René, then looped back and forth through the rest of the city. On the Cours Mirabeau are the two fountains of warm water, the slightly warm one on the left and the really warm one on the right.

As usual, the tour was a good one, in the sense that it oriented you and gave you a good idea of the geographic layout of the stuff you wanted to revisit later, but as usual, the recorded text was necessarily brief, and the opportunities for photography extremely limited—the train moved too fast, and part of it always seemed to be in the way, between you and the object to be photographed.

I did manage to get this shot (below) of a couple of lovely trompe l'oeuil windows on a hotel, and we went back later for the other two shots in this group of three—another of the 60-some public fountains in the town and a street-corner saint. The town is full of these saints (the plurality portraying the virgin Mary). Apparently, during the plague years, in town in this region, the priest would come stand in the middle of a large intersection to say mass, so that people could attend by leaning out their windows rather than by gathering in a crowd and spreading contagion. Stone or plaster saints were mounted at second-story level in niches like this, again so that people could lean out their windows to pray to them, without leaving home.
We found lunch at the Belle Epoque brasserie n the Cours Mirabeau. David had a "shepherd's salad with dried fruits," goat cheeses grilled on toast, lettuce and tomatoes, lardons, prunes, walnuts, and dried apricots.
I chose a "Salade niçoise," lettuce and tomatoes with potatoes, cold green beans, hard-cooked egg, diced red bell pepper, tuna, anchovies, and olives.
Both were underseasoned, but with a little salt, pepper, oil, and vinegar, they were great.
For our convenience in adding them, the restaurant (and several others we visited) provided these handy pump-spray "dosers." The oil bottle squirted about 1/3 tsp of olive oil in a stream, and the vinegar bottle sprayed about the same amount of excellent balsamic vinegar. The salt came in an ordinary shaker.
On several streets around town, especially in the Quartier Mazarin, we came across trails of these bronze "follow in the footsteps of Cézanne" markers set in the sidewalk, but we didn't actually follow them.
We did want to learn something about the man, though, and maybe why his art was so influential, so we consulted the Office de Tourisme on the subject. From the three possible sites to visit, all out of town a ways, we chose Cézanne's studio (the other two choices being his family home and and an area called the "terrain des peintres," where he and his buddies painted a lot).
Following the instructions from the OT, we crossed the street and caught the No. 5 bus. That bus stop was hopping; being right on the Rotonde, it serves a lot of lines, so a steady stream of buses stopped there, literally one every few seconds. Ours ran several times an hour, so we didn't have long to wait. The OT had told us it was a euro a head, each way, so we had exact change ready and everything.
From the "Cézanne stop, we walked the short distance to the studio, which Cézanne had built specially on a wooded hillside above the town. We suspect it was less wooded at the time, because descriptions talk of the great views, whereas it's now entirely enclosed in dense vegetation. He included south windows (for abundant light) as well as the usual north windows (for even light), and he both had a giant mechanical easel built to accommodate his large-format paintings and had a tall slot cut in the wall (closed, when not in use, by an iron shutter) so that he could slide them edgewise out into the garden to verify his color choices in natural sunlight.
Written Tuesday, 21 May 2013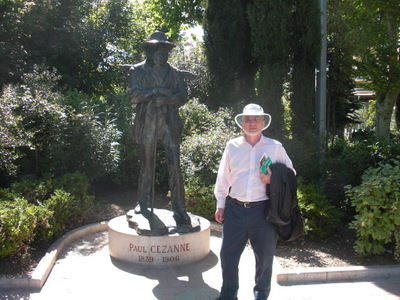 Alas no photography was allowed in the studio, but it was full of original "artifacts" of the artist. His coat, hat, and painting smock were still hanging by the door, and on the shelves were many of the objects made famous by their appearances in his paintings—a little broken statue of a cherub, a green-glazed olive jar, a ginger jar, a wine bottle. The original apples and sprouted onions are gone, but the present management keeps the place stocked with fresh ones. (Because I couldn't take a photo of the real one in the studio, I got this shot of a replica of the green-glazed olive jar in the gift shop.) At the right, David poses with the statue of Cézanne outside the door.

The displays included a long slide show of Cézanne paintings, featuring many that included objects on display in the same room. Others portrayed the nearby quarry, source of the beautiful golden stone most of Aix is built of. Explanations pointed out that that series of paintings featured the three color elements characteristic of Cézanne—golden-red, sky blue, and vegetation green.

In a map case were several drawers of other memorabilia, letters, etc. One described a friend of Cézanne's as a "félibre," a word I didn't know, so I asked the enthusiastic young docent (who was constantly offering to answer any questions we had) what it meant. She didn't know either, butr somebody dug up a Petit Robert dictionary, which revealed that it meant "poet in the Provençal language."

I still don't understand what they mean by saying that Cézanne revolutionized perspective with this several paintings of a distant mountain, but I can finally see the seeds of abstraction and cubism sneaking in. Cézanne was apparently the first to dare (apparently at least partly as a response to the advent of photography) to portray an apple not as the best trompe l'oeuil rendering he could manage but as something that revealed his feelings about the apple. The idea caught on, and later, he would get very irritated with young artists who came to him saying "I want to be able to paint apples the way you do." He told them that wasn't the point; "You need to go away and paint apples the way you do!"

On the way out to the studio, the bus took us right by our hotel, so I was hoping we could get off there on the way back, but no—the town's ring road is one-way, so the bus had to go around the other side on the way back, so we had to walk back from the Rotonde after all.

Dinner that night was at La Rotonde, so named because it's right on the Rotonde. I'd tried to look at their menu on line, but the page was perpetually "under construction," so I checked some reviews of the place on line. They definitely made the place sound iffy, but as it turns out we need not have worried.
Like 2/3 of the other restaurants in the region, they served us tapenade and toasts as an amuse-bouche, but the toasts were so hard you could break your teeth.
First course, David: Asparagus with vinaigrette, parma ham, an an egg, which he said were all terrific and a great combination. As a bonus, mostly hidden behind the egg, he was given a scoop of sweet ice cream, which we could not not identify the flavor of. When we asked the waiter, he was delighted that we couldn't and made us guess. The answer turned out to be "bacon," a new flavor the chef was experimenting with.
First course, me: Cold foie gras and toast, served with a nice little salad and a delicious fresh chutney of tropical fruit (mango, pineapple) with a little cayenne and a lot of fresh (or maybe candied) ginger. Yummy.
Second course, David: Risotto with preserved lemon and red piquillo peppers, topped with three grilled "gambas" (king prawns) and strips of fresh lemon peel. He said it was delicious, with little "flavor bombs" of lemon in the risotto, but it needed more shrimp. Second course, me: Tajine of daurade (gilthead seabream) with vegetables (fennel, tomatoes, olives, and peppers) and lemon, again topped with strips of lemon peel. Excellent, but it could have used a little couscous to soak up the juice with.
Dessert, David: Corsican "tomme" cheese (perhaps sheep's milk?) with fig jam. Dry toward the rind, creamier in the center. Excellent and a copious serving (so he gave me some).

Dessert, me: "Croquant" (crispy thing) of chocolate and orange mousse. More chocolate than orange and more creamy than crispy, but delicious nonetheless. Intriguingly shaped chocolate garnish with "fingers," but it was dotted with gold leaf, so I gave it to David, whose teeth are less touchy about edible metal than mine.
On the way home afterward, we passed this wonderful modern astronomical clock, mounted above a clock shop's door. Now that I look more closely, I see that it's all labeled in English, so either some English-speaking watchmaker has set up shop in Aix or he didn't make the clock himself.