Sunday, 12 May 2013: Marseille to Aix-en-Provence
Written Thursday, 16 May 2013
Time to head out for Aix-en-Provence, hyphenated like that to distinguish it from all the other Aixes in France. It turns out (according to our Aix tour guide) that "Aix" is a corruption of an "aquae sextiae," Sextius's baths (named for Gaius Sextius Calvinus, who founded the town in 122 B.C.) because of its numerous springs warm and cold. Places named Aix always have springs, so yes, "Aix" is the equivalent (as well as the translation) of "Springfield" and is a very common place name.
We didn't have far to drive, so we got up, breakfasted, and packed in leisurely fashion, then consulted the desk about where to park when we return with a rental car. The cab fare to the airport was, as we'd already discovered coming the other direction, outrageous, especially on holidays (as when we arrived) and Sundays (as when we left)—75 euros! That airport is a long way out.
Anyway, we rented our seven-passenger wagon (not the largest on the lot as it happened), loaded up, hiked across the parking lot to Hall 1 of the airport (where we'd had lunch when we first arrived) to buy bottled water and the requisit Michelin maps, and set off for Aix. Unfortunately, we got nowhere, not even out of the parking space, because we couldn't figure out how to work the car!
We had to have one of the clerks come check us out on it. The "key" is a flat black rectangle the size of a credit card but thicker. It has buttons on it to lock and unlock the doors and the trunk (i.e. the wayback, as it's a hatchback), but to start the car, you insert the card into a slot in the console between the front seats, then press the "start/stop" button on the dashboard. Instructions immediately appear in two places on the dashboard, one set saying in English that we could now safely remove our SD card and the other set in Italian that we couldn't read. We couldn't find the emergency/parking brake because the car doesn't have one, or at least one you can set and release; it's all automatic. Turns out that the instructions about removing our card (and a whole lot of buttons and switches on the dashboard) are irrelevant because they apply only to the GPS, which we didn't rent. After two tries, the clerk was able to get the other instructions into either French or English (except for the ones about the running estimate of duel consumption, which we can parse okay in Italian). Whenever you stop, e.g., at a stop sign or light, the engine shuts off. When you depress the clutch to put it in gear to go (it's a manual), it starts up again. To make it shut off and stay off, you press the start/stop button again. The speedometer is digital (no dial, just a numerical readout); the gas gauge is a vertical column that gets shorter with gas (actually diesel) consumption. It's altogether strange.
The trip to Aix was so short that, by the time we cleared the tangle of roads involved in exiting the airport, we were already on a freeway heading there, and it was time to make the transition from road signs and the large-scale Michelin map to my little Google map showing the one-ways. Fortunately, it worked fine, and we found Our hotel easily, on the first try. We missed the turn into their private parking garage, but we found our way around the block (a euphemism for turning or bearing right at every opportunity—about eight times—to take another pass at it. It was pretty scary, actually. You pull in through an archway in the hotel building and immediately find yourself in a space one car long, with a blank wall on the right, the entrance to reception on the left, and a steep ramp straight down into a black hole directly in front. I went in to enquire, and the clerk came out to accompany David down into the underground parking cave and to help park the car as close to the wall as she wanted. Because our rooms were in the building to our left, we unloaded the luggage before the parking process.
Once the car was parked (we didn't move it until time to leave Aix), and we had hefted our bags up the three steps to reception, and we were checked in, we took the elevator up as far as it would go (third French 3rd floor, American 4th), and then carried our luggage up the last flight to our rooms. This was the one hotel that warned in its reservation materials that the toilet was down the hall. I took that to mean that a shared toilet was down the hall, but we could cope with that at the rates we were paying. As it happens, though, every room has its own private toilet across the hall. In fact, David and I each had complete private bathrooms across the hall from our rooms, and "across the hall" was not very far—I was only two inches short of being able to touch the facing doors with my elbows. Both doors had to be locked and unlocked with keys, from both sides, so we spent a lot of time fiddling with keys.
And we were no sooner settled in Aix than David realized he had left his miniature flashlight and travel clock in his room in Marseille. The hotel in Marseille didn't answer their phone, but fortunately, our hotel in Aix, like (mirabile dictu) all our hotels on this trip, had free wifi, so I e-mailed Accor Central, and they replied a day later that they would contact the Marseille hotel and have the items held, since we would be back in a week or so.
It was lunch time and past, so we made an immediate bee-line for the nearest pedestrian street and found Brasserie du Carrefour just a block from the hotel. David ordered a salad with "chevre chaud," i.e., hot goat cheese. In addition to the four slices of goat cheese grilled on slices of bread, it featured lots of "lardons" (those lovely fat "bacon bits" so popular in France), a bowl of green olive tapenade, and breadsticks.
I had the Assiette Gourmande, with foie gras, magret de canard, crisp toast, cold roasted cherry tomatoes, and fried mozzarella (which, like earlier exemplars, was pretty tough and dried out). Rather than the usual "duck ham," this "magret de canard," was fresh slices of duck breast sautéed like steak. Yummy!
While waiting for our salads, we pondered what to do first. David wanted to see Cézannes, so I looked up the museum that was supposed to have them and found that it was just around the block, so as soon as lunch was over, we went there. It's called the "Muisée Granet," and a large part of the permanent collection was the work of Granet—agreeable, sort of pre-impressionist art. In addition, they had a couple of Reubenses, including one head of a young boy that we really liked, and a magnificent self-portrait by Rembrandt. I also loved a huge Ingres of Thetis imploring Jupiter. At home, we're listening to the audiobook of the Iliad, and many such scenes from it were featured in works in the museum. Unfortunately, a large part of the permanent collection was closed (three guesses why and when it would reopen), and all the Cézanne we got to see was five small barely known works. One (The Kiss of the Muse) was very interesting, in that it was displayed right next to the same scene painted by someone else (they must have shared hiring the models), and the two paintings were amazingly different. As it happens, we learned later from a tour guide, Aix (even though it is the artist's home town) has only eight Cézannes, and even the three we missed seeing are not such a much. He was rejected by his local contemporaries and the town wound up the poorer for it. Unfortunately, no photography was allowed, but you can probably Google up images of the individual paintings if you like. Start by Googling the museum.
Right next to the museum was the Church of Saint Jean de Malte (St. John of Malta; I think the museum occupies its former rectory or some such). Photography was allowed there.
Now, some orientation. Aix consists of two parts. The original part, surrounded by ramparts, now forms the old town, a very large part of which is reserved for pedestrians. In the mid-17th century, Michel Mazarin was named archbishop of Aix, and he wasn't happy with the size or aesthetic of the city, so he got permission (partly through the influence of his brother, the famous Cardinal Mazarin, principal advisor at the time to Louis XIV) to knock down the southern rampart, build another further out, and develop the land in between (which was, of course, purchased by the city from his church). The new area, the Quartier Mazarin, became very popular with the wealthy elements of the population (especially after Louis, Cardinal Mazarin, and the entire court—ca. 300 people—came to visit for a couple of months and the whole population went Paris-mad) and was built up in ostentatious urban mansions arranged along rectilinear streets.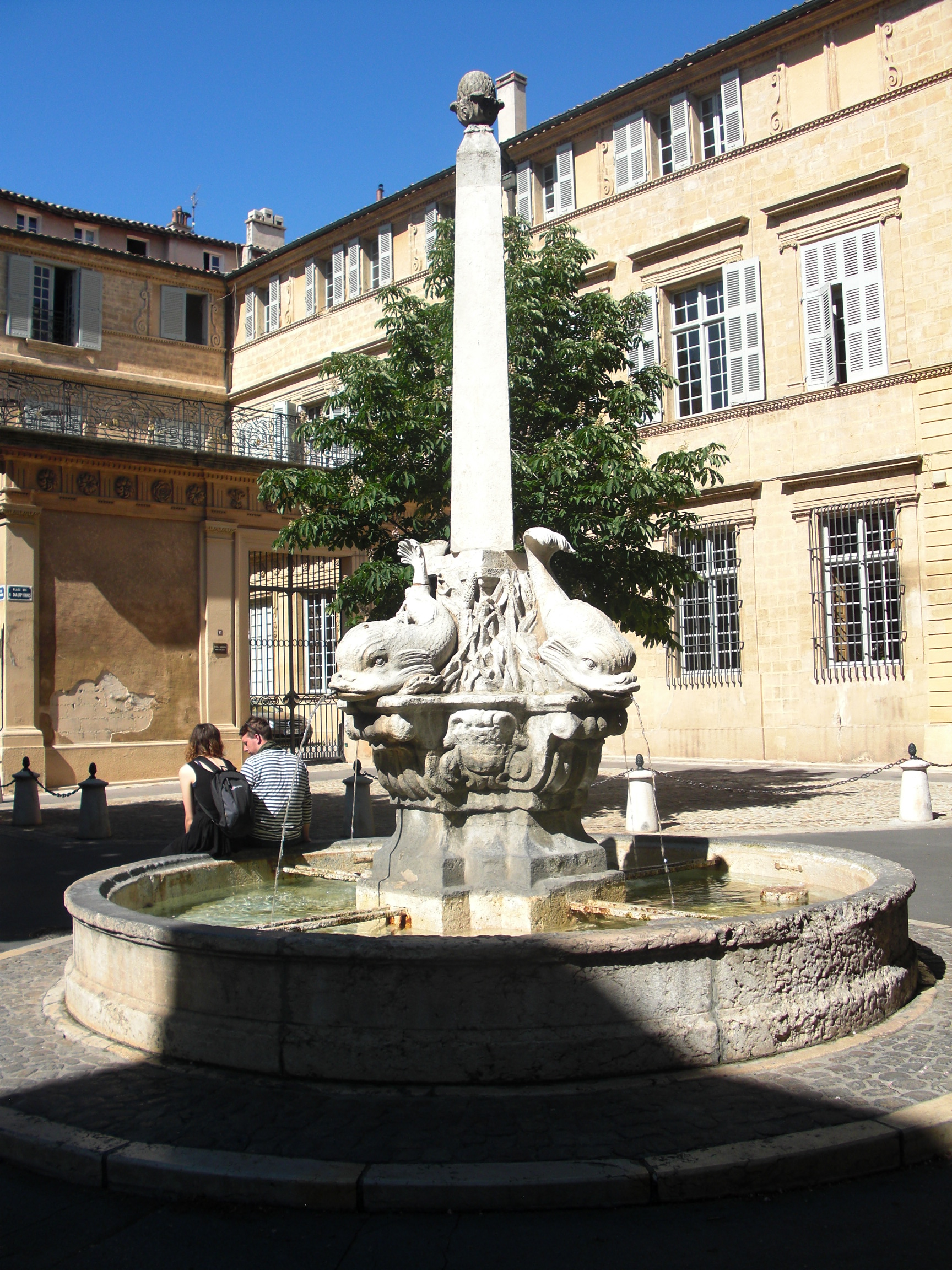 The east-west main axis of the Quartier Mazarin is rue Cardinal (named for the brother of course). You can sight straight down it to the door of Saint Jean de Malte. At its midpoint is the Place des Quatre Dauphins, in the center of which is a fountain featuring four baroque dolphins, no two of which are just alike, ensuring (as our guide would assure us) that you will walk all the way around to see all four. This fountain apparently broke with tradition by being in the middle of the intersection rather than in a niche on a street corner—its function was decorative rather than just that of a water source.
A few doors away is a middle school that used to be a high-school, the Lyc&eacutae;e Mignet. There, at the age of 12 or 13, the son of a local named Cézanne and the son of the engineer brought in to dam the local river (to provide Aix's reliable water supply and drive its many fountains; he did it using the first curved, convex-upstream dam of the industrial age, a major innovation), named Zola, met when the Zolas moved to town. Nobody at school would talk to young Émile Zola—they mocked his funny Parisian accent—but young Paul Cézanne befriended him. The next day, in thanks, Zola brought him a basket of apples; the apple became the symbol of their friendship and, according to some, the reason Cézanne painted so many apples and baskets of them during his career. Forty years earlier, the one of local mayor, one Eugène Delacroix had also become a painter. These people just came out of the woodwork in this region.
The northern boundary of the Quartier Mazarin is the Cours Mirabeau, a broad straight avenue built on the foundations of the demolished rampart, and north of that is the old town. The Cours Mirabeau is bounded at its western end by the Rotonde (officially, the Place du Général DeGaulle a huge traffic rotary built around the largest fountain in town. Its eastern end is marked by a statue of Le Bon Roi René, our old friend René d'Anjou (holding in his hand a bunch of the muscat grapes he introduced to Aix from his estates in Sicily). I'm sure I've written extensively about René before, though I can't find the passage right now. Anyway, his family, the Counts of Anjou, at some point married into the Catalan family of the Counts of Aix, with the result that René inherited both. When the King of France took his land in Anjou, he moved south to his holdings in Aix. As a gift for his second wife on their wedding night, he commissioned a variant on a kind of small almond confection and presented them to her, supposedly saying, "Di calin soun" (meaning, "these are little adorable things"; sort of "sweets to the sweet"), whence the modern name "callisons du Bon Roi René" for little bite-size candies made of ground almonds. Aix used to be a major center of almond production, but after a couple of really hard winters (within living memory, I think) that killed the almond trees, they are being replaced with olives and wine grapes.
Part-way up the Cour Mirabeau are a couple of small fountains fed by warm springs. They're covered with ferns and mosses, and we're told that, in winter, they steam and sometimes have flowers growing on them when it's freezing elsewhere in the city.
Now, of course, even the newer, outer ramparts have been demolished and replaced with a ring road, and our hotel (Le Concorde) is on the south side of that road, just outside the Quartier Mazarin.
Our restaurant for the night was strange. Apparently, it's one four about four scattered around the region. When we originally looked it up as a possibility for the trip, it was rated pretty well and billed as "Le Passage," a common name for restaurants located on small side streets or dead ends. When I e-mailed to reserve, it called itself "O Zen Le Passage." The reply explained, rather cryptically, actually, that it was now two restaurants in one and wouldn't I like to sign up for their "fusion buffet." No, I countered, we'd prefer the traditional table-service restaurant (not adding that my husband would never forgive me if I signed him up for a "fusion buffet" in France). When we arrived, we were confronted by the largest buffet I've ever seen (well, I've never been to Las Vegas), and seated right next to it. When I remonstrated, they immediately apologized, took us up two floors by elevator, and reseated us, next to a railing, over which we could see, two floors below, parts of the buffet tables.
On the left, above, you can see about 2/3 of the table nearest the entrance, densely paved with dishes of cold food, including platters of sushi, a whole poached salmon, and much else. On the right, is my view of about 2/3 of the table farthest from the entrance, laden with hot foods. I could count 11 kinds of fried food (egg rolls, spring rolls, wontons, nems, shrimp, etc., plus what looked like a huge heap of French fries), at least three kinds of rice, glazed skewers of meat, and several of what looked like curries. Between those two tables, directly below us and therefore out of sight, was the large round table bearing tiers of desserts. Wow. David shuddered at the mere sight.
At the far end, beyond the hot buffet table, was a huge (10-foot?) black Buddha, presumably ensuring the zen-ness of the premises.
But back to what we actually ate. We chose the "Prestige Menu," with two main courses.
The amuse-bouche was a smear of cauliflower purée topped with a shrimp; paper-thin slices of zucchini, asparagus, radish, and carrot; a couple of tiny cylinders of red bell pepper; and some bits of citrus flesh. It was all good, but the cauliflower purée is so far the front runner for best dish of the trip. It must have been cooked in something a little acidic (white wine? citrus?) and seasoned very carefully. The result was really, really good!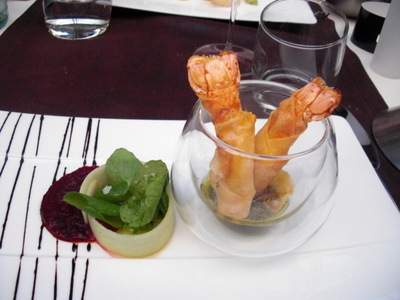 First course, David: Scallops, roasted and served with polenta fritters (on sticks), little splodges of avocado and bitter orange purée, bits of blood orange flesh, and little jellied citrus-flavored polka dots. That's it—trend of the year—jellied polka dots.

First course, me: Langoustine tails wrapped in phyllo dough and deep fried, served with a Thai pesto (lots of cilantro), young watercress leaves, and a delicious beet vinaigrette (beets are another up-and-coming trend; watch for them in upcoming entries).
Second course, David: Fresh cod poached in coconut milk and served over crushed potatoes flavored with pink grapefruit, accompanied by "lemon caviare" (finely minced preserved lemon). We think the green streaks were a purée of mostly spinach but maybe some cilantro, too. The whole thing was delicious, but the cod itself was outstanding—succulent and just cooked through.

Second course, me: Thinly sliced veal with "tonnato" sauce (a sort of olive-oil mayo bound with canned tuna rather than egg yolk; the pale beige splodges), thin slices of Parmesan, caper berries, and a few leaves of arugula. The veal was served on a slice of toast spread with tender caramelized onion and surrounded by a variety of tiny spodges—red pepper jelly, very tangy citrus syrup, meat glaze, etc. All very good, but the veal would have been tenderer if cooked a little longer.
Third course, David: Roasted monkfish tail, with a mousseline of split peas and veal jus. David had been looking for a chance to order monkfish, but this one was not to his taste at all. It was barely tepid, he said, and undercooked, so that the meat was tough and clung to the bones. HE left most of it.
Third course, me: Veal sweetbreads with currant wine, grilled celery stalk, parsley, and algae. A few whole currants scattered around the plate. Very good, considering that it was sautéed from the raw state rather than properly parboiled. What are these young whippersnapper cooks coming to, anyway?
Before the dessert, we were served a palate-cleanser that looked like (and was billed as) whipped cream with raspberries but turned out to include also a sharp lemon syrup and lemon caramel in the bottom. In addition, the hollow of each raspberry was individually filled with the lemon syrup. Excellent.
Written Saturday, 18 May 2013
Dessert, David: A "chocolate tube" filled with caramel and whipped cream flavored with tonka. The decoration on top is a jagged piece of sesame brittle.
Dessert, me: A "millefeuille" of white chocolate and acidulated raspberries. The pastry layers, laid on their sides and sandwiched with white chocolate filling, were more the texture of very crisply browned pie crust than the usual puff pastry, and the whole thing was delicious, once I took time to scrape off every last scrap of the gold leaf the chef had used to decorate a couple of the raspberries (after once again filling each one with tangy lemon syrup); getting that gold on your fillings is awful! The dessert was also decorated with a couple of shards of white sheet chocolate (with a flowered design on it in color) and a jagged piece of fused sugar. As you can see, the lighting gradually declined—most of the light came from skylights overhead, which darkened with the waning sunlight.
The mignardises were a pair of neat cubes of marshmallow dipped in chocolate and then in grated coconut and served on sticks.
I might be tempted to try the buffet someday, provided David was at sea or visiting his mother or some such at the time.