Tuesday, 11 December 2012: Sydney, downtown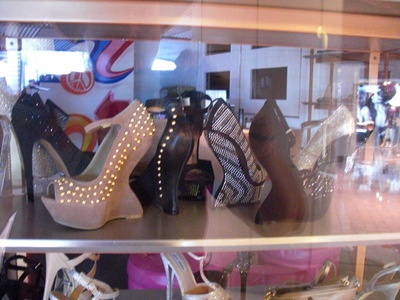 On Tuesday, David and Buz decided to hang around home—David still didn't feel like embarking on any major expeditions—but I took the commuter train downtown with Kathy, and while she worked, I hiked up and down Pitt Street, window shopping, exploring, reading menus, etc. I eventually got as far as the harbor, opera house, and botanical garden before heading back to Kathy's office to meet the guys for lunch.
I saw and photographed a whole heck of lot of attractive and interesting stuff, especially in the food courts (there's one in virtually every large building on Pitt Street) and in a large, very high-end grocery store, but I present here only a few of the more striking. For example, at the left is a poster I saw in the window of a Pizza Hut: a pizza with a hot-dog stuffed crust (note the squiggles of mustard and ketchup around in the edge, in contrast to the cheese and pepperoni filling in the center. If that phenomenon has hit Tallahassee, I have somehow missed it entirely. At the right is the window of a shoe shop. Yes, those are shoes.
In the supermarket, two end-caps were devoted to products for American expats (or, I suppose, for Australians trying to cook out of American cookbooks). I was unsurprised by most of the collection. These are items I've sought in vain in Europe, trying to cook American food for friends or can understand Americans' missing: Tabasco sauces, Jiffy corn muffin mix (or any cornmeal product), barbecue sauces, chipotle and tomatilla salsas, candy corn, guacamole, Liquid Smoke (hickory flavor; hickory is a distinctly American tree and American taste), Crisco, Karo syrups, Aunt Jemima pancake mix, Mrs. Butterworth's pancake syrup (real maple is easier to find abroad), poptarts, marshmallow cream, cake mixes, M&Ms, whoopie pies, Jif peanut butter. But Victoria brand original vodka sauce (presumably for pasta)? I had never thought of that as typically American or as something Americans were pine for, but it definitely figured largely in the displays.
The brits also got a couple of dedicated end-caps, both heavily loaded with Harrod's products, almost exclusively tea.
The rest of the store was also great: pastries to rival France (even little miniature croquembouches made of four tiny cream puffs), breads, viennoiseries (the French collective term for croissants, danishes, and their relatives), confectionary (like dipped strawberries and stuffed figs), glacé fruit (both whole and diced), seafood, fresh sausages, meats, mariated butterflied chickens in several flavors, a huge deli (salads, charcuterie, and many flavors of timbales—little upside-down-muffin shaped molded appetizers), fresh produce (all the usual stuff plus fresh figs, tropical fruit, and okra, labeled "okra beans"), pies and tarts both large and msall, both sweet and savory, house-made ice creams.
At one large intersection (Pitt and King Streets maybe?) was a huge decorated Christmas tree.
Down at the harbor, a huge cruise ship was in port, so large it was hard to keep it out of photos of the harbor bridge and the opera house. The botanical garden is only a block or two from the opera house, with nothing but open space in between, but it's a good hundred feet higher in elevation; a sheer cliff drops from the garden to street level on that side.
In a park that formed a sort of buffer between the city streets and the entrance to the botanical garden proper, I came across these two rainbow lorikeets sharing a piece of discarded bread. They're about the size of cockatiels.
Nearby was this noisy miner (yes, that's the actual name of the bird, the "noisy miner"), hoping to get a bite, but the lorikeets were a little larger than he was and wouldn't let him in. Noisy miners are the most common bird in Buz and Kathy's suburb and are much despised by bird lovers because they chase all the other passerines away. Fortunately, the parrots aren't afraid of them, so lorikeets and cockatoos (mostly sulfur-crested) still come around.
On a lawn in the same park was a short of architectural graveyard—an area strewn picturesquely with pieces of the stone carvings from a nearby building that had been torn down—a girls' school, I think. Under a tree there, I spotted a single glossy ibis, probing the lawn for tasty tidbits.
I didn't really have time to see much of the botanical garden itself, but even in this park, many of the trees were labeled. I was particularly struck by a huge tree with bark rather like a magnolias but labeled "Norfolk Island hibicus." I located a flowering branch, and sure enough, its pink flowers were entirely hibiscus-like.
On the way back to Kathy's building, I passed a tiny triangular park, essentially the traffic island where three streets came together, where a plaque at a foot of an enormous and stately plane tree (Platanus sp.) stated that it had been planted by Queen Elizabeth II in February of 1954.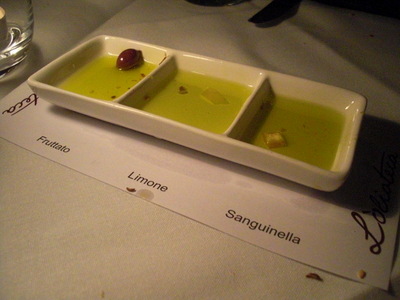 For lunch, we went to Pendolino's, an excellent Italian restaurant located in a shopping gallery/arcade (decorated in dark wood and brass) called The Strand. The lighting there was very dim, so my photos aren't very sharp, but they give you an idea of the food.
While we studied the menu, we were brought bread and this trio of olive oils for dipping, one (as the label indicates) "fruity" (meaning particularly olive flavored), one infused with lemon, and one infused with blood orange (hence the bits of lemon and orange peel floating in them, in case the dish should get moved off its paper label. "L'Olioteca," the "wine library," is the name of the restaurant's olive-oil shop, where you can acquire these flavors and many others.
I'm afraid I didn't take good enough notes, and as of this writing, I don't really remember who ordered what—we shared tastes all around. Anyway, here are the four dishes we were served.
To the right of the olive oils, pappardelle with ragu of beef, marjoram, and bone marrow. The menu emphasized that all the pastas were freshly made in house, and all the meats came from named suppliers.
To the left here, ravioli of cheese and spinach dressed with browned butter and sage.
To the right, pumpkin lasagne with ricotta, pistachios, and amaretto. As the waitress predicted, turned out to be the best of the lot. It was out of this world.
To the left, slow-cooked lamb with grilled white polenta (the large rectangle), Tuscan black cabbage (perhaps what we would call lacinato kale?), and roasted baby carrots.. Yum.
To the right, the big bowl of salad we were given to share.
Finally, here are David's beloved "flat white" and a rather blurry shot of David and Kathy, in which David looks more cheerful that he had in days.
Back at the ranch in Oatley, Tristan and his wife Sally came over for dinner.
On the left, Kathy and Sally in the kitchen
On the right, half of dinner: chicken marbella (even better reheated) and one of two salads. At the other end of the table were buttered green beans with pine nuts and an excellent salad of watermelon, feta, and fresh mint. Buz made a delicious velvety moist yellow cake.