Sunday, 2 December 2012: Auckland to Wellington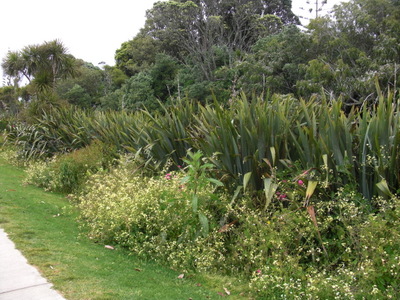 Sunday afternoon, we had to fly to Wellington, but in the morning we all drove over the the harbor bridge to see a little of the eastern shore (at Long Bay-Okura Marine Reserve). From its parking lot, I finally got a chance to photograph New Zealand flax, shown here both left and right. As you can see in the photos below, the sea on this side was much calmer than that on the west coast. We could stroll along the very edge and even turn our backs to the sea, risking no more than damp shoes.
We walked northward along the beach, then turned inland a few yards and walked back through a beautiful park, separated from the beach only by a low stone wall, with huge specimen trees and with great playground equipment. In particular, it featured a whole assortment of large wooden musical instruments, all percussion, with attached mallets. Each was in the shape of a stylized animal, and we did the full circuit and played all of them.
These two photos show the nearby cliffs as viewed looking north (left) and south (right). From the park, we drove up to the top of the ones to the south for the view and the brief nature walk. We also checked out the descriptions of a few houses for sale on the crest (six bedrooms, indoor pool, commanding view over the cliffs); we couldn't even conceive of what they might ask for such a property! Millions, at least.
On the cliff walk, we even came across an old WWII-vintage concrete blockhouse (New Zealand was very nervous about being invaded, as well they might have been).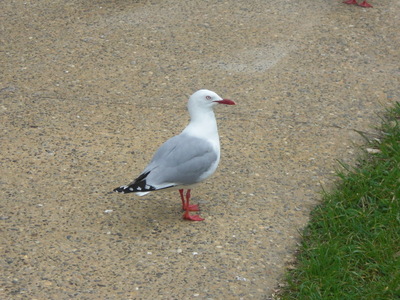 Here's the view back down to the beach and park from the cliffs. Note how flat and calm the sea was, desite the ever-present high wind.
Down in the park I also got this shot of a bed-billed gull (Chroicocephalus scopulinus), one of the two common local species.
At this point, our time was up, so Angie and the kids headed home while Kay drove us to the airport, where, as we checked in for the 1-hour flight to Wellington, we were once again blind-sided by Air New Zealand's baggage policies. I had planned to carry on two pieces, so as to check only one (being used to Delta's "one carry-on item and one small personal item like a briefcase"; my two carry-ons together are smaller than the average roll-aboard), but no—on domestic ANZ flights, one is limited to one checked bag of no more than 23 kg and exactly one carry-on item of less than 7 kg! Drat! Clearly we had to pay the $35 to check one of them, but my rolling computer case (at this point containing my computer, folding computer stand, power cord, medications, and handbag) on which I maintain a death grip at all times and never, never entrust to baggage handlers, weight 11.3 kg. We therefore had to do some creative repacking there on the airport floor—I emptied the water bottle clipped to the case (which I would have to do to get through security anyway), transferred my computer, stand, and a couple of heavy items from my purse to David's backpack (his one carry-on, so nearly empty I don't know why he bothers to carry it), managing to get each piece under 7 kg, then checked the small duffle (David was not best pleased with either the extra weight in his pack or the fee). We got through security okay, only to find that, at New Zealand airports, all the good food is outside security and that our only choice airside was the snackbar of last resort. Therefore, crummy bacon-and-egg butties and a cookie for lunch.
We were somewhat cheered up, though, to encounter four very copacetic British colleagues, old friends from previous deep-sea and meiofauna meetings, at the gate. The flight was otherwise uneventful.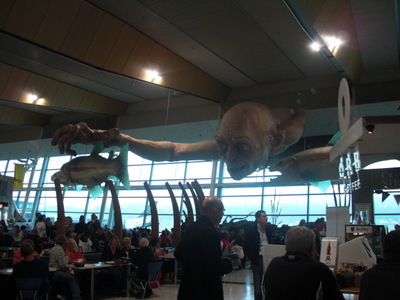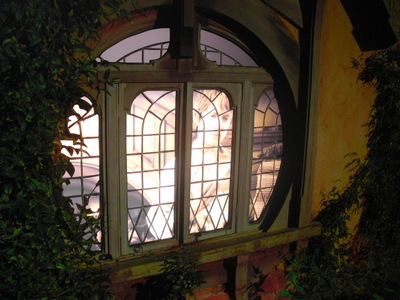 We had encountered the Hobbit theme already, of course, but Wellington was positively Tolkein-mad. The photo at the left was taken in the food court just inside the main terminal entrance and portrays a giant Gollum diving underwater to reach for an 8-foot rainbow trout. Note the series of suspended bubbles trailing from his mouth.
In the baggage-claim area, the "infields" of the carousels were decorated as hobbit burrows viewed from outside. You could look in the windows to see illuminated scenes involving the characters from the book. Here, Bilbo peruses a letter.
After the taxi ride to the hotel, as it was late in the day, I immediately began my usual restaurant research, which was harder than necessary because wi-fi was not free at the hotel and I refused to pay the fee they wanted. In addition, the hotel lobby was not equipped with the usual rack of brochures advertising local restaurants, tourist attractions, and point of interest. When I asked about that at the desk, they told me they had brochures for tourist attractions and points of interest only—no restaurantsm‐and that they kept the assortment in the back, behind reception, because otherwise the guests messed it up!
David decided to skip the ice-breaker opening reception, and in addition didn't feel like eating seafood, Asian, or spicy food, which rather narrowed the choices. So we set off for one of the two places listed under "French," which was only two blocks away, and what a felicitous choice it was!
It was called "Hippopotamus" and was decidedly French (although it bore no resemblance to the chain of Hippopotamus Grills so popular in Paris). It occupied the top floor of the Museum Hotel, a luxury establishment directly across the street from the Te Papa, New Zealand's national museum (and also the venue for the Deep-Sea Meetings). In fact, as I learned later, the hotel, all four solid-masonry floors of it, half the size of a city block, was actually moved across the street to make way for construction of the museum. The menu was definitely French, as was our waiter, so we tended immediately to lapse into speaking French—it seemed only natural!
The amuse-bouche was a neat cube of very tender braised meat (beef cheek, I think) in a rich reduction sauce.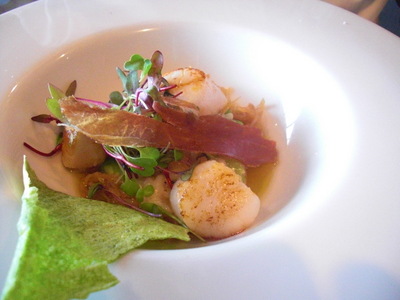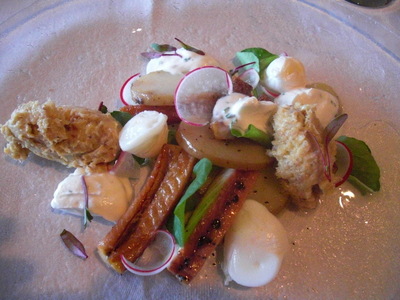 First course, David: Seared sea scallops on a white chocolate risotto with sprouts and a Parma ham crisp. The green object is a "pea tuile"—a crisp cracker/cookie made with puréed green peas.
First course, me: Warm salad of potatoes cooked in duck fat with smoked eel, poached quail eggs, crisp radish slices, and a dressing of buffalo yoghurt and young chives. The eel was delicious but much firmer and more brittle than either the bbq eel one gets on sushi or the wonderfully moist and tender smoked eel I once had at the Beehive in Canterbury, in the UK. The two brown quenelles were a spreadable pâté made from the less regular pieces of the eel.
Main course, David: Rare grilled breast of duck with pickled baby beets, salted-caramel ganache, red-wine reduction sauce, and sherries prunes. Hard to go wrong there.
Main course, me: Cardona Merino rack of lamb stuffed with lamb sweetbreads, with baby turnips, a sort of mousse of minted cucumber (which, oddly, I didn't care for—I like cucumbers and I like mint, and I've even enjoyed them together on occasion, but this combination didn't work). Cube of gratin dauphinois (uncharacteristically dry but still very good) on the side. Excellent.
On the side, we ordered potatoes dauphine, little hot potato puffs consisting of a mixture of mashed potato and cream-puff dough deep fried. They were good but heavier than some and very rich.
For dessert, we split the assortment of four small desserts: an apricot maccaroon tasting, for once, strongly of apricots; a little ice-creamy thing in the foreground, which we ate before remembering to take the photo; a square of creamy cheesecake-like stuff topped with raspberries (the best of the lot); and a chocolate brownie sort of thing.
On this occasion, and off and on for more than half the time we were in Wellington, a neatly printed sign on the hotel's large glass lobby doors asked patrons please to use the parking-lot entrance instead because of high winds. Apparently, the doors had more than once been whipped out of people's hands and shattered by the gale howling down Cable St.