Friday, 30 November 2012: Auckland: Whatipu, Villa Maria Winery, and the Auckland waterfront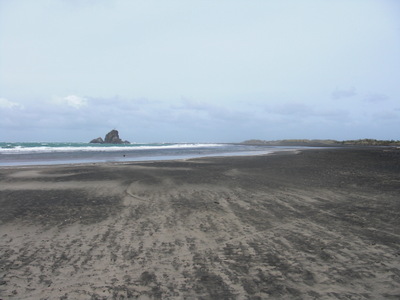 Friday morning, after dropping the kids at school, Kay drove us to the beach at Whapitu (pronounced "fottypoo"; "wh" is pronounced "f" in Maori names), on the west coast, one of the locations famous for its black iron sands. It was a very windy day (I think all days in New Zealand are windy). The sea was very rough and the brochure at the entrance of the walk to the beach (called "Your guide to staying alive at Whatipu") warned not to go into the water, venture too close to it, or even turn your back on it and emphasized always being on the lookout for very large rogue waves. As a result, and because the tide was at almost its highest point, we couldn't walk on the moist firm sand near the surf, and in that wind, the fine sand was very soft and loose—extremely difficult to walk on, especially in my shoes, where are not really suited to serious hiking. Kay scrambled up a steep dune to take pictures of the view, but David gave up halfway, and I made it only a few steps farther. With every step, I sank over my ankles in the sand, filling my shoes, and then slid down farther than the step had carried me up.
The volcanic terrain was spectacular (the tall rock surrounded by water is surmounted by a small lighthouse), though, and on the beach I spotted a pair of paradise shelducks ( Tadorna variagata ) with one duckling.
On the drive back to the house, I spotted a cluster of black-and-white shorebirds, probably oystercatchers of some kind, but I didn't get a photo.
Back at the house, Kay smoked a mullet for our lunch, which I learned to my surprise is the very same mullet we get in north Florida (Mugil cephalus! They are caught locally and are very common in the markets here. His smoker box, which is apparently of a kind very common in New Zealand, works almost exactly like the method I use for trout. It's a double-decker metal box with a tight-fitting lid. The upper chamber is entirely enclosed and includes a removable wire rack, but the lower one is open-bottomed and has ventilation slits in the sides. He scaled and fileted the mullet (he has a special board for the purpose with a toothed clamp at one end to hold the tail of the fish in place), placed each filet skin-side-down on piece of parchment paper, and sprinkled on a little rum. Then he placed them on the wire rack, scattered chips of manuka wood (locally favored for smoking fish) in the bottom of the upper box, added the rack with the filets on it, and put on added the lid. To provide a heat source, he placed a disposable foil pot-pie pan in the driveway, poured in unmethylated spirits, lit them, and placed the whole box over the pie pan. Twelve minutes later (the filets where quite thin; next time, he says he'll use only 10 minutes), he removed the box, brought the rack with the filets inside, and we ate them still warm from the smoker.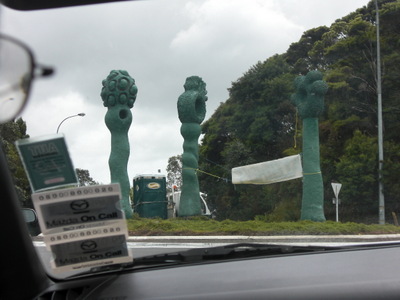 On our way back from Arataki (and numerous other times during our visit), we passed through this rotary near Titirangi. Each of the monumental green sculptures is supposed to represent a particular fungus or slime mold, including the famous one that eats nematodes.
Next up after lunch was the nearby Villa Maria Winery, one of the largest in New Zealand. It has a second winery on the south island, at Marlborough, as well as vinyards in all the wine-growing areas of both islands so as to be able to grow all the grape varieties they use. They therefore don't purchase grapes from anyone else. They produce a full range of wines, but most of them are not available in Tallahassee. I think it's their Sauvignon Blanc that David sometimes drinks at home.
The winery is built in a volcanic crater (one of several in the area; Auckland is liberally pocked with them), so you enter through a gate perched on the rim and drive down into the bottom to the winery buildings. The grounds are beautifully landscaped, and in the ornamental pond out front, I spotted a little shag (Phalacrocorax melanoleucos), a small black and white cormorant. We were just in time for the 3 p.m. tour, but the tour was delayed, waiting for a tour group arriving by (late) bus. The group turned out to be from a province in the northeast of China, and they did not speak English, so the tour guide had to pause every few phrases for their interpreter to repeat his explanations in Chinese.
The photo on the left shows the initial stemmer-crusher (viewed from an upstairs window during the tour). A video played during the tour showed a truckload of grapes being backup up to it and dumped in, to be stemmed and lightly crushed by a large screw that pressed them through a pipe into the building and into one of the large fermentation tanks there. The winery includes a very large number and variety of tanks of different sizes, because the Villa Maria philosophy is to keep every vintage and variety separate until final blending. The photo on the right shows just one wall of their large trophy room, displaying some of the many awards the wine has won. They bill themselves as the most awarded winery in New Zealand.
During the tour, the guide mentioned that, for barrel aging, they order their oak barrels from France (of course), fully assembled, at $1500 each. After using them five or six times, they sell them off at $100 each. Kay's ears pricked right up at that! Just what he needed for their new pool deck!
They were also advertising prominently that the next day would be their annual clearance sale, featuring wines from $7/bottle (the cheapest we saw in their shop was $15), and massive preparations were underway. For example, while we waited for the tour, we watched the unloading and alignment of a whole 18-wheeler load of shopping carts. They were expecting a lot of people, and the guide warned us to arrive early for the best deals.
We met Angie and the kids back at the house and set off for dinner downtown, at a restaurant called Mecca (although it was not middle-eastern themed). The Sydney waterfront has recently been reborn as a hotbed of shops, hotels, and restaurants. Our restaurant was in the Viaduct section.
We started by sharing a couple of orders of this tender toasted foccacia with hummus, olives, and a purée based on red bell pepper. Yummy.
David then had housemade papardelle pasta topped with boneless oxtail, mushrooms, and bacon long stewed in a rich red-wine sauce and garnished with shaved Parmesan. Very rich and succuclent.
Angie ordered hapuka (Polyprion oxygeneios, a large "grouper" but not an epinephilid) baked with vegetables and got this amazing golden pastry dome.
The photo on the right shows what it looked like inside. The slab of fish was on the bottom, covered by a thick layer of assorted tender vegetables, which had steamed in the juice of the fish as the whole thing baked. Delicious!
Kay chose the crispy braised pork belly on a bed of kumara (white sweet potato) purée with stewed apples. The skin really was crispy, for once, rather than leathery.
I had housemade fettucine with local scallops, prawns, and arugula (called "rocket" in New Zealand) in a saffron cream sauce. Scrumptious! The New Zealanders wisely leave the orange roe attached to the scallops when they clean and then serve them—double your pleasure, double your yield!
I do not include a photo of the children's meal, which consisted of fish sticks in the shapes of dinosaurs and fries with lots of ketchup. I'm sure your imagination will suffice.
After dinner, it was still quite light out, so we took a walk along the Viaduct waterfront and over a small drawbridge to the Wynyard waterfront, also lined with shops and restauarants. We had to wait for the bridge to come back down after letting two boats pass. Along the way we saw several art installations, including structures built of old shipping containers, some walls of which were video screens showing clips from the bicultural opening ceremonies of some large bridge (probably the Auckland harbor bridge), and a couple of innovative forms of outdoor seating, including a set of wooden lounge chairs large enough to seat three or four eight-foot tall people abreast. They were mounted on rails (old trolley rails, I think) so that they could be slid from side to side, but much to Luke and Leah's disappointment, strategically placed bolts in the rails prevented them from all being pushed togther to form a "lounge sofa." Another spectacular sight was a sailing yacht with such a deep keel that it had to be mounted on a cradle 20 or 30 feet in the air, promoting the role of Steinlager (a local beer) in sponsoring it in the Americas Cup race. At the far end of our walk was the Live Seafood Restaurant, where the hostess at the door assured Luke and Leah that they (and I) were welcome to come in to look into the seething display tanks. If we hadn't already just had dinner, we could have selected our own spiny lobster (probably Jasus sp., including some 2- or 3-kg whoppers), paddle crabs (I'll have to look those up; they're little beige crabs with prominent paddle-shaped swimming legs, like those of our blue crabs, and about the same size), or paua (abalone, each six or eight inches in diameter).