Sunday, 17 June 2012: World War II
Written 2 July 2012
CJ's late grandfather commanded an LST on D-Day, and one of our purposes in coming to Normandy was to show CJ where it happened.
The north coast of the Normandy peninsula runs more or less east-west for purposes of the invasion it was divided into segments, called, from east to west, Sword Beach (beginning at the town of Ouistreham), Juno Beach, Gold Beach, Omaha Beach, Pointe du Hoc, and Utah Beach (ending somewhere toward Cherbourg). The first three were invaded by the British and Canadians and the others by the Americans. The British were critically short of landing craft, so although he was in the American navy, CJ's grandfather spent D-Day ferrying tanks ashore in the British sector, at Gold Beach (which is roughly centered on Arromanches.
We therefore planned to drive most of that section of the coast, stopping for closer looks at relevant sections, but we decided to start with a visit to the Mémorial de Caen, a huge WWII museum on the northern outskirts of the city. I don't think it was open yet when we visited Caen in 2000, and on our 2005 day trip there with CJ's parents, the bus tour allowed for only an hour—definitely not long enough. This time we showed up at opening time, spent the whole morning, had lunch in the museum's snack bar before putting in another couple of hours, and probably saw about 1/3 of the place.
Suspended from the ceiling in the museum's vast lobby is this Hawker Typhoon, a British single-seater fighter-bomber. It was supposed to replace the Hawker Hurricane, but apparently it had technical problems and never did so entirely.
This American jeep is also parked in the lobby.
The glass pyramids below the airplane are skylights down into exhibits on the level below. We never made it that far through the museum, but we got to watch several of the videos from the lobby while waiting for the movie to begin.
We had seen the movie before, in 2005, but it definitely bears repeated viewing. It's almost wordless (just a few shouts and other words that need no translation), so it's suitable for all viewers. It shows, in period footage, the events of 6 June 1944, on a split screen—things happening in England and the channel on one side and simultaneous events in the German fortifications of Normandy on the other. It's not very long—only about 15 minutes, I think—but you come out feeling as though it lasted an hour.
From the lobby, you then spiral down this long ramp, reading about the history that led up to the war. On the large translucent sphere in the center of the spiral are projected, at intervals, slide shows and film loops.
I was particularly taken with these photos of preparations for war. The famous equestrian statue of Henri IV on the Île de la Cité (the island in the Seine where Notre Dame is located) was apparently packed tight inside a pyramid of sandbags, to protect it from damage if Paris was bombed.
To save time, we just repaired to the museum's snack bar for a so-so lunch, ordered from this menu of cold (left) and hot (right) sandwiches. I had the "Grilladin," basically a burger on ciabatta with Comté cheese and what was billed as béarnaise sauce (but wasn't really).
At the right are David's and CJ's desserts: a raspberry-strawberry tart and a pear tart with chocolate bits. I had a much less photogenic chocolate eclair.
After a couple more hours in the museum, we felt we'd used up our time if we wanted to see the beaches, so we set out for Arromanches and drove west along the coast road, past houses with roofs of tile. slate, or thatch. The whole area is heavily dotted with memorials and historical markers, but the profusion of small private museums we remember from 2000 has definitely thinned. A combination of factors—the passing of the 60th anniversary in 2004, the steadily diminishing number of living veterans, and the opening of the big museum in Caen—have probably combined to reduce their number.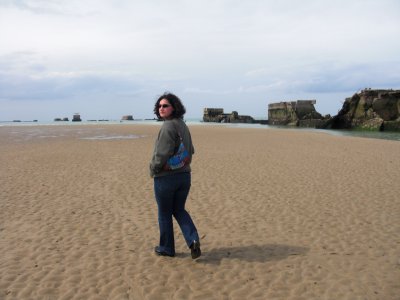 After passing by Sword and Juno beaches, we reached Gold, where we stopped to explore a little farther. The tide was far out, so CJ and I were able to walk out almost to the nearest ruins of the artificial harbor the allies built off the beaches. Nothing that massive would have been in place yet on D-Day itself.
The beach is still a living beach, of course. We saw many shells, several different ripple regimes, some sort of egg cases, burrows, fecal casts, a couple of dead crabs, and at least four kinds of algae. Strangely, very few seagulls and no little sandpipery birds at all, despite all the burrows indicating edible things below the sand surface.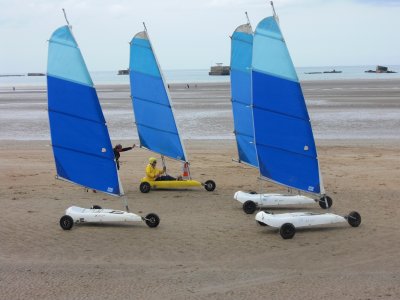 The beach was also in recreational use. I don't know whether it ever gets warm enough for people to swim (besides the Germans and Norwegians, of couse, who have lower standards of warmth), but whenever we've visited Normandy beaches at low tide, we've seen these "chars à voile," sail carts.
Surely proficient sail carters sometimes go out and cruise around for fun, but all the ones we've ever seen have been classes of students learning how. At the right, an instructor is towing his string of carts home behind a beat-up old car. We also saw, on each beach, three or four guys with tractors who seem to wait around to tow boats to and from the water across the sandflats.
At the top of the beach, where the old dunes begin, was this old German blockhouse (left, viewed from the bacj) placed so as to prevent invaders from moving inland through breaks in the dunes. The dunes were rather low along Gold, but at Omaha they were much steeper, and in the end the landing parties had to fight their way up the sides because the gaps were blocked.
At the right is a more distant view of some blockhouses built into the rocks overlooking the beach. Big guns pointed out through the rectangular slots.
Back in Caen, we had very few choices for dinner. Almost everything was closed on Sunday, so we had reserved at La Maison d'Italie, a good old traditional red-tomato-sauce Italian place. Unfortunately, I managed to leave my camera in the hotel room, and David's was out of charge, so I have no photos. CJ took them, but we haven't yet gotten our act together to exchange pictures.
David ordered veal cutlet with pasta on the side, which was rather large and quite good, especially with lemon squeezed over the top. CJ had fettucini with classic Bolognese sauce, and I had pasta with seafood in a tomato sauce. I almost ordered it with linguini, but on impulse changed it to gnocci. After all, this was was in the guide (albeit as an also-ran), so maybe they knew how to make good gnocchi. Alas, no. They can't really buy their gnocci in shrink-wrapped blocks from Publix, but they give a very good imitation of it—pretty heavy, gummy, and chewy. But the seafood was good.