Wednesday, 13 June 2012: Walking tour and art museum
Written 16 June 2012
The hotel's breakfast was pretty good. A couple of kinds of cereal in individual boxes, croissants, baguette chunks, three kinds of sliced bread (and a toaster for it), eggs and a simmering water bath, butter, cheese (an excellent Langres), jam, honey, yogurt, applesauce, fruit juices, boiled ham, and fruit salad. Coffee was from a "Nespresso" machine. You stuck a little hard, flat foil-wrapped disk of the flavor you wanted (from a choice of eight) into a slot in the front, put your cup under the spout, and pressed one of three buttons to indicated whether you wanted a small, medium, or large volume of superheated water forced through it. The spent foil wrapper never emerged (they the machine, which the desk clerk periodically emptied). I got excellent results making a small-volume decaf espresso in the bottom of my cup and then filling it up with about three volumes of hot milk from an adjacent carafe.
On the sideboard was a large, flat, electric griddle, next to an empty bowl and a slotted spoon. Maybe one had the option to turn it on and scramble eggs?
And, strangely, the buffet included a plate of perfectly authentic-looking American-style pancakes, chilled, and a small bottle of real maple syrup. People (apparently French people) were taking them, putting syrup on them, and eating them that way, cold! CJ even ate one (cold!) spread with strawberry yogurt. I suggested she could heat it by giving it a few minutes on each side on the flat lid of the egg-boiler, but she said it was fine as it was. To each her own . . .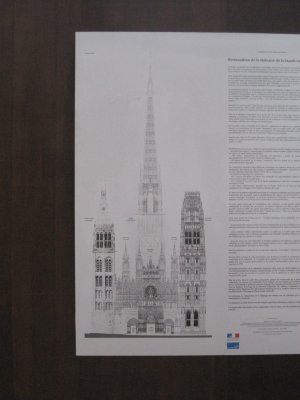 Once breakfasted, we set off for the tourist office, acquired our audioguides, and commenced self-guiding. The audio told us all about Monet and his obsession with painting views of the cathedral (because his chosen vantage point was in a lingerie shop, he did all his painting at one window, in a corner, screened off from the rest of the shop with one of those folding dividers), then took us through the cathedral again, clarifying many points that had puzzled us the day before.
David got this shot of a schematic that shows the real proportions of the towers and the cast iron spire, and sure enough, his photo (taken later in the day from the other side of the Grand Pont) of the south side shows the difference in their heights.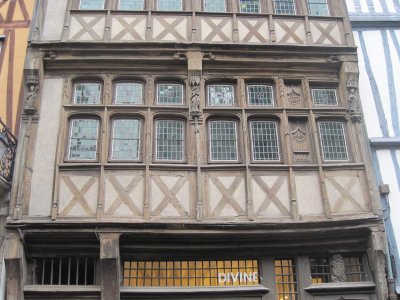 The tour took us by many old half-timbered houses; these two were among the most picturesque, although by no means the most bent or crooked!
The upper floors projected out over the street as a way of increasing indoor surface area within the confines of the crowded streets. That feature is also useful for dating the houses, because at some point (I wish I had noted the date), the king outlawed the process in new construction, so all overhanging houses had to date from before that law.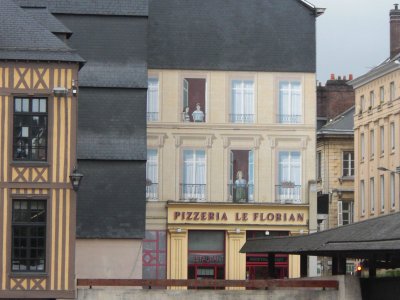 We also noted in passing many more modern points of interest, like this trompe l'oeil painting on the side of a building (I think the pizzeria is real) and this wonderful box of miniature carpentry tools made of chocolate, available for father's day. Full-size ones were available in the same shop.
Note the shiny metalic cast the chocolatier has managed to give the electric drills!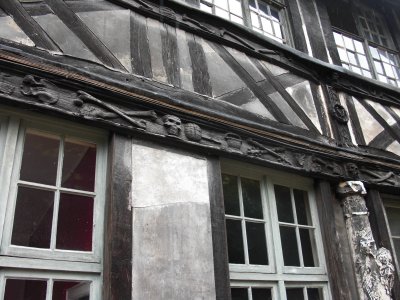 We weren't able to visit the church of St. Maclou, because it was fenced off and entirely shrouded in scaffolding and fabric, but we saw its nearby "aître," the largest and most complete plague cemetery and charnel house in France, if not Europe. The word "aître" is fsrom the same root as "atrium"; it meant the open space around the church, which was generally used as a cemetery (or, more narrowly, the area around a church—marked off with a perimeter of crosses— that enjoyed the same "sanctuary" privileges as the interior of the church. Anyway, the practice was to bury the dead for about five years, then, as old bones were encountered when the land was reused for later burials, to remove to bones and put them in an ossuary for permanent storage. During the plague(s), the bodies came too thick and fast for individual burial and were simply piled in communal trenches, doused with quicklime (which hurried the decomposition process), and covered over. A quadrangle of half-timbered "charnel houses" was constructed around the site of the trenches. The upper floors served as the ossuaries and the lower floors for other funerary-related purposes.
Today, what you see is a smallish, grassy, tree-shaded quadrangle enclosed by these buildings. Note the macabre theme of the wood carvings—skulls, cross bones (rather more realistic than usual), grave-digging tools. The life-size figures on the vertical posts (e.g., lower right corner of right-hand photo) are too weathered to be recognizable, but we're told they portrayed the "dance of death." Through a small window in the wall, installed for the purpose, you can view the corpse of a mummified cat, bricked up inside the wall—some sort of construction ritual.
The church of St. Ouen, next door to the modern-day city hall, with its equestrian statue of Napoleon (recognizable at a distance by its very large head), is still in use as a church, but the majority of its vast interior was given over to a sparsely distributed and intriguing modern-art installation. I liked this circle of buckets, entitled "on guard," and this Escheresque "board on board" (in the distance beyond it, you can see two of the elements of "demonstr'," parallel pairs of tires, each pierced by a four-inch round hole on top, standing on what look like large puddles of milk).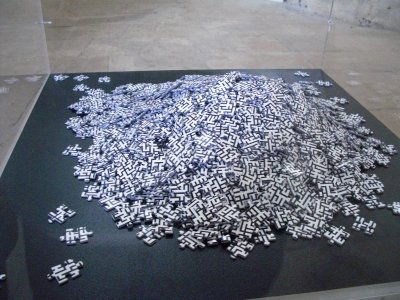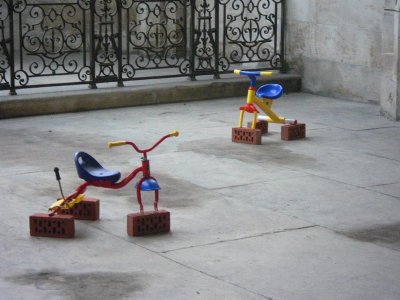 Also included were hollow spheres made of band-saw blades and entitled "becareful" and an image on the wall (made of black electrical tape) of a tangle of crowd barriers converging in the distance to a single continuous line, entitled "limit." But my favorites were this wonderful, plexiglas-enclosed heap of jig-saw-puzzle pieces (I'd love to work on that puzzle!) and these brick-wheeled tricycles (a biting commentary on child-rearing if ever I saw one).
The souvenir and gift shops along the way were all featuring t-shirts, postcards, and placemats with Normandy cartoons, like "To each his Riviera" (showing polar bears and penguins making their way to Normandy), Brittany and Normandy fighting over the claim to Mont St. Michel, the four seasons in Normany (all pouring rain), Normandy nudists (clad in slickers), a camper for use in Normandy (with mud flaps, cow catcher, fog lights, inflatable life boat, etc.), "I [HEART] NormandY," and my favorite, the Norman hamburger (an apple, split horizontally and filled with, from the bottom up, cream, a layer of tripe, a thick wedge of Camembert, and a layer of "terguele," i.e., Norman rice pudding).
Halfway through the tour we were conveniently back near the Place de la Cathédral (and tourist office), where we'd had lunch the day before, so we actually went back to the same place, partly because CJ wanted to order the onion soup. The waiter recognized us and sat us at the same table.
This time, David ordered the salade Savoyarde, described as being topped with potatoes, lardons, and "mild cheese." As you can see, it arrived, once again buried under a lava flow of melted mild cheese. Delicious.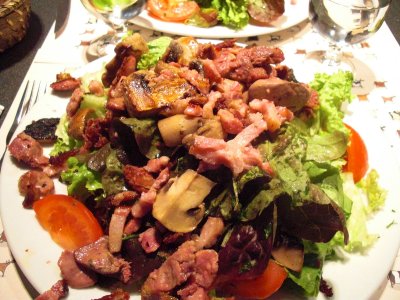 CJ's soup was great. It came preloaded with cheese and round crotons, and more of both were supplied for addition at the table.
I had a salad heaped with lardons, sautéed mushrooms, and sautéed chicken liver and gizzards (the gizzards were confit and therefore very tender). Not quite a "salade basse-cour" because it didn't include an egg, but outstanding nonetheless. The mushrooms, in particular, were excellent—firm, meaty, and flavorful.
Then back to the tour. The western loop included, besides this handsome monument to Monet, the site where Jeanne d'Arc was burned (we also saw the plaque down by the river saying that "near here" her ashes were thrown into the Seine) and the beautiful modern church that has been built there. It's on the site of an earlier church, destroyed by bombing, and incorporates the older church's stained glass windows, which had been removed and stored for the duration. Again, I couldn't find a place to stand from which I could photograph the whole building; a low portion on one side swoops upward to the main mass of the building, which forms an asymmetical and irregular cone, reminiscent of British oast houses. The roof comes down low on one side, but the other side has a very tall, zig-zag wall into which the stained glass has been set.
We actually finished all 18 stations of the self-guided tour, revisiting the Palais de Justice (site of the Jewish monument we never got to see) and the Gros Horloge, as well as a magnificent building, built as a private house but now housing a hotel, with elaborate carved-stone decoration.
At that point, David's feet hurt, so he went back to the hotel while CJ and I hiked up to the Musée des Beaux Arts, which was billed as having the best collection of impressionists outside Paris. Mostly, it didn't live up to its billing. They did have some impressionists, but only three small rooms' worth, perhaps 25 or 30 in all, and the spaces in which they were hung were so small that you couldn't stand far enough from each one to see it properly.
I did find a few pleasant pieces, though, including this great cathedral-shaped steam shovel, made of vertical sheets of something thick, black, and spongy (neoprene wet-suit material?), cut to shape, painted and stuck together (it was unlabeled). I also liked this "Centaure et Bacchante" by Arthur-Jacques Le-Duc (1848-1918); they seemed to be having such a good time. (I later saw a life-sized version of it, with the tambourine broken off, outside the Mémorial de Caen). A few nice still lives (flowers, fruit, mushrooms, herring) but nothing to give me the serious gimmes. An inkwell in the shape of a small crab. One of those circular paintings that only assumes the correct proportions if viewed as reflected in a shiny cylinder standing in the center. And a portrait of a gray horse, in the Whistlejacket pose but fully saddled and bridled, by Théodore Géricault (1791-1824), described as "once said to be Tamerlan, Napoleon's horse." It was smaller than Whistlejacket, definitely not life size; I'll have to look up the dates to see which was painted first.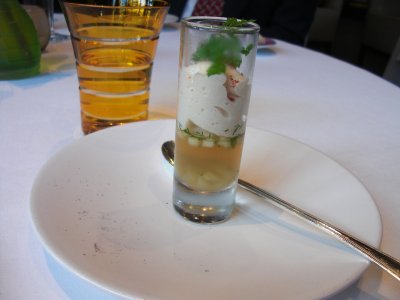 We had dinner at Restaurant Gill, which David and I remembered very fondly from our 2000 trip. We ordered the menu for the whole table, so we all ate the same things.
The first amuse bouche (with the champagne) was a cube of melon jelly with a tiny crisp bit of ham and a bite of smooth textured brandade of dried salt cod.
The second amuse bouche (after the champagne) was a glass of langoustine jelly topped with langoustine foam and seasoned with dill and dotted with tiny cubes of diced raw apple.
Throughout the meal, whenever one of us ran short, we were offered the choice between miniature white baguettes or scone-shaped multigrain bread.
First course: Foie gras of duck with its own special toast and a small quenelle of purée of green beans. The streak of red wine reduction was tasty as well as decorative.
Second course: Lobster with crispy vegetables; outstanding! The cooked lobster was in a creamy sauce and accompanied by a tomato chip (the red object, dehydrated until thin and crisp as a potato chip and incredibly full of flavor), a fresh tomato slice from a tomato that was streaked green on green when ripe, a cooked baby carrot, a lightly cooked slice of yellow summer squash, a slice of cooked icicle radish, and the mauve-and-white striped object, which I think must have been a very thin rolled slice from a (mauve-and-white-striped) raw beet, marinated in something. It (and all the other stuff) was delicious!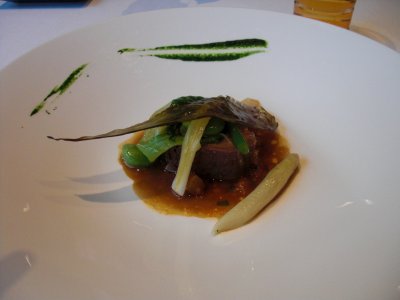 Third course: Fish—St. Pierre (Zeus faber) I think (because the menu was chef's choice, I don't have a menu of the courses to work from)—poached and presented in a gingery broth with bits of olive and tomato and spicy radish sprouts.
Fourth course: Veal "osso bucco style," by which they didn't mean braised (the slice of veal was still rosy in the center) but instead that it was seasoned and garnished like osso bucco, with diced tomato and diced braised calf's foot in a tomato broth. It was topped with and accompanied by braised baby leeks, whole green peas, and a cooked icicle radish, and a long, narrow, gossamer-thin dried slice of eggplant (mine softened and bent a little while I focused the camera). The eggplant resembled nothing so much as a large dragon-fly wing but tasted intensely of eggplant.
Fifth course: Cheeses from the cheese trolley. David (left) chose Roquefort, Brie, and St. Nectaire.
I (right) had old favorite Pouilgny St. Pierre, Époisse, and (the rectangular bar) Salers.
CJ chose Brie, Camembert, Livarot, and Pouligny St. Pierre.
With the cheeses came delicious raisin-nut bread, which the waiter remembered, without being reminded, not to serve to CJ.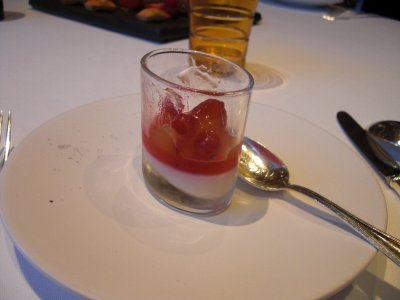 Predessert (not an official course): Panna cotta topped with raspberries and strawberries in a lemon-verbena jelly. Yum!
It was accompanied by this platter of mignardises, not one of which (the waiter warned us) CJ could eat. The little rectangular cakes were full of almond flour, the crusts of the lemon tarts had chopped nuts in them, the tuile cookies were laced with almonds, and even the strawberries and raspberries were resting on little disks of almond brittle. Sorry, CJ, they were really good . . .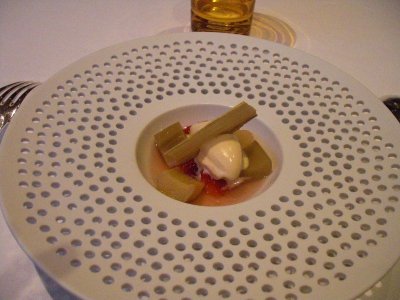 First official dessert: A warm, freshly made millefeuille of bourbon vanilla custard. The pastry was so flaky and tender that (with some care) you could cut it up without squishing the custard out the sides. Delicious!
Second official dessert: Rhubarb stewed with a few strawberries and accompanied by a rhubarb ice cream.
And finally, for good measure, for each of us a single salt-water caramel, cleverly formulated not to stick to teeth. A lovely meal.