Monday, 11 June 2012: The Louvre and the Marais
Written 11 June 2012
Breakfast at the hotel again. We'd agreed to meet at 8:30 a.m., but when it got to be 8:45 a.m., I went up to look for David, who hadn't appeared. Seems he'd forgotten to set his travel alarm forward an hour when we arrived in France, so he thought it was still 7:45 a.m.
The breakfast buffet is shown here, in its entirety. No meat, but a bowl of raw eggs and a simmering water bath to cook them in. Two cereals in cylindrical dispensers (the one full of cornflakes manages to grind the flakes as it dispenses them). Instant cocoa, thermos pitcher of coffee. Minipastries and baguette chunks, salted and unsalted butter, assorted jams and honey, yogurt, and three cheeses (Kiri, a mild white cheese spread; slices of "tomme noir," tangy and sprinkled with tiny holes; and baby Bonbels). Best of all, instant Sanka and a thermos pitcher of hot milk! That combination makes the best decaf café au lait.
Having consulted my handy list of which museums were closed on Mondays and which on Tuesdays, we walked to the École Militaire subway stop and set off for the Louvre. CJ hadn't been there since her bat mitzvah trip, more than 12 years ago, and even after many trips, we still haven't seen large chunks of it (that place is big).
Written 12 June 2012
We started by tagging up with the obligatory big three. Here they are: Vicky, Venus, and Mona.
Amazingly, I managed to make at least two of the shots look as though we were alone with the art, whereas in fact, we had to worm our way through solid throngs, which pushed, shoved, and popped illegal flash bulbs left and right. Photography is allowed in the Louvre, but rather than just enjoying the privilege, a large minority of visitors use flash, which is both forbidden and unnecessary with digital cameras! Signs everywhere warned of pickpockets, who can apparently make a living posing as tourists and moving in those tight-packed situations.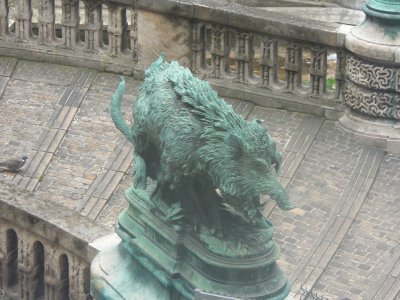 You can get close enough to Vicky and Venus to touch them (although you're not allowed to, and you'd have to be darned tall to reach Vicky's hem anyway), but what you see of Mona is as close as anyone is allowed to come.
Once we'd been there and done that, we spent some time in the Italian statuary (a favorite of CJ's). At the left here is Canova's Psyche revived by Cupid's kiss. We also admired the famous flying Mercury that has become the symbol of teleflorists everywhere, a bust of Richelieu that had wound up there because the artist was Italian, and innumerable other beautiful works that I have no room for here. I especially liked a busy, tightly tangled piece about two feet high portraying a horseman defending himselve against four footsoldiers. He seemed to be doing okay—he'd hauled one of them up onto the saddlebow to stab him, and his horse was biting another.
This area was still pretty popular, but one could move around more freely, keeping only a moderately attentive watch for pickpockets.
In one of the interior courtyards, viewed from a second-story window, I spotted this slightly larger-than-life-size wild boar, one of a set of ferocious game animals decorating a monumental staircase.
At this point, David wanted to look at Flemish painting, so we undertook an epic trek, from the ground floor of the Denon wing to the top floor of the Richelieu wing—not easy, as not all staircases, escalators, or elevators serve all floors and because areas closed for renovation or repair (in preparation for the busy season, starting in July) had to be circumvented.
On the way, we paused to look at some Italian painting, including this wonder Canaletto (left, one of a pair hung together) and the original of a painting of which we had seen Morisot's copy the day before (in her youth, she was registered as an official copyist at the Louvre). Also along the way, we came to this beautiful still life, which we would be delighted to have in our dining room.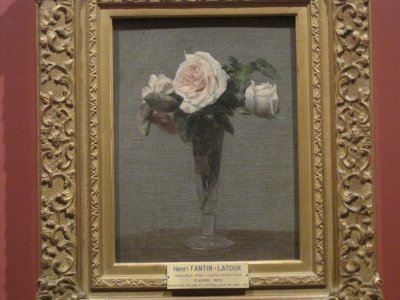 By this time, we were in much more sparsely populated territory. After making our way quickly through a temporary installation of modern art mostly made of neon, as well as a temporary installation of more French painting, we were astonished to find ourselves in a room full of assorted impressionists. What were they doing here?! A sign explained that they were part of a collection donated on the condition that it be kept and displayed together, so these few paintings couldn't be transferred to the newly opened Musée d'Orsay along with all the other impressionists. I loved this winter scene near Honfleur by Monet, and David and I both coveted this little bouquet of roses by Henri Fantin-Latour. The group also included one or two works each by Renoir, Sisely, and Cézanne.
We never did make it to the main Flemish painting, because we kept getting sidetracked by interesting rooms full of other stuff. Finally, we just declared a victory and headed for the food court.
CJ and I had been looking forward to getting lunch at the couscous stand in the rather chaotic food court in the Carrousel du Louvre (the underground shopping mall that connects the basement of the Louvre with the Palais-Royale metro stop), so we were a little dismayed to see that the place had come under new, uniform management. All was well, however, as the management had chosen the theme "Restaurants of the world." At one called "Salam," we found just what we were looking for. Like all the others, it offered a choice of three formulaic menus. I got the No. 1: couscous with one meat, "small plate" with choice of three vegetable salads (out of six), choice of pastry, and drink. CJ got No. 2: the same, but without the pastry. For David (who was holding a table for us) I got No. 3: couscous with merguez (skinny lamb sausages), choice of pastry, and drink.
Here's my tray: couscous with braised lamb shank (you can see the stripped bone behind the pastry and water glass), carrots, turnips, zucchini, chick peas, golden raisins, and on the side, harissa hot sauce; small plate with cooked carrot salad, cooked eggplant salad, and chick pea salad, all of which I shared with David; and deep-fried honey-soaked, sesame sprinkled pastry. I swapped David a chunk of lamb for a merguez and part of my pastry for a bite of his baklava. CJ chose spicy chicken chunks to go with her couscous. Rather a large lunch, but it worked out well, as supper turned out to be light.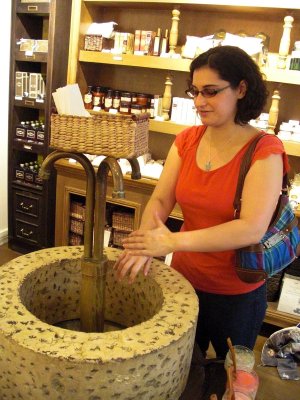 At this point, we sent David back to the hotel to rest his feet, and CJ andI set off for the Marais, the traditional Jewish quarter. That left us just one metro ticket between us, and surprisingly, we found nowhere to buy more either in the Palais-Royale station or the St. Paul station, where we emerged. We therefore planned our window-shopping for Judaica and all sorts of wonderful ethic food to drift us back toward the Hôtel-de-Ville stop, where surely we could buy tickets. The nice lady from the dead-sea soap boutique gave us tiny sample bars of soap and invited us in to try some of their perfumed "scrubs." Here, CJ washes her hands at the round sink provided for the purpose with lavender-apple stuff scooped from one of the open sample jars you can see down by her knee.
Then, as we strolled along Bourg Tibourg street (where we once had lunch with the Paris Budmans; see my 2005 travel diary), we came a tea shop of the Marriage Frères brand—they're the biggest French tea company. CJ is a tea afficianado, so we stopped in, and she sniffed just about every sample jar they displayed (my photo shows about half of them) before selecting two 100-gram bags (much lighter in the suitcase than glass jars of liquid hand scrub).
After taking photos of the Hôtel de Ville (Paris city hall), we acquired our tickets and headed back to the hotel.
Written 13 June 2012
Our restaurant for the evening, Il Vino, is owned and run by Enrico Bernardo, who worked his way up from Master of Port (wine, I assume) Italy in 1995 through Best Sommelier of Lombardy (1996), Italy (1996-97), Europe (2002, and the World (2004), at which point he was still only 27 years old.
The restaurant reverses the usual process of composing a meal. The menu lists only the wines—a dozen or so "à la carte" and two set menus, one including four from Italy and one including five "blind" choices. Once you've chosen your wine(s), you are served the food that best matches them. For example, people who ordered the Merseault à la carte got lobster; some other choice came with a steak. We ordered the four-wine menu from Italy (with the "tasting menu without wine" for me).
So first of all, with the usual glasses of champagne while we studied the menu, we got small squares of home-made foccacia and paper-thin slices of raw ham.
Then, the real amuse-bouche was cold steamed "encornets" (small squid) in a salad with short-grained rice with dark hulls (black? red?), a few shelled beans, a couple of marjoram leaves, and a puréof squash blossoms with almonds. Red flag! Sorry, mademoiselle is allergic to nuts (since we hadn't ordered anything yet, we hadn't had a chance to mention that). CJ's was promptly snatched away and shortly replaced by one in which "a thread of extra-virgin olive oil" had been substituted for the purée.
First course: With the Vermentino de Sardegna—Tyrsos—Contini 2010 from Sardinia, we were served thinly sliced raw "daurade royale" (i.e., gilthead seabream) topped with spiral-cut raw purple carrots and accompanied by a single raw oyster on a bed of minced celery salad and topped with thin wedges of apple and carrot. Both delicious.
David and CJ agreed that the food and wine were perfectly matched and that the wine really brought out the flavor of the fish and oyster. Of course, each time a wine was served, the waiter went into a lengthy disquisition on its characteristics, why it went with this food, and what to look/listen/taste for in it.
Second course: With the Erice—Altavilla della Corte—Grillo—Firriato 2011 from Sicily, we got two slow-cooked and then browned diamonds of "seiche" (cuttlefish) on a bed of individually peeled baby broad beans and thin slices of raw ham. The dark object is a very mild, sweet red chili pepper.
CJ and David agreed that although the wine and food went together very, very well, they lacked the magical synergism of the first pairing.
Main course: With the Chianti Colli Senesi—Castello Di Farnatella 2007 from Tuscany, we had pork tenderloin with a poached radish, roasted potato, and individually peeled green peas on a bed of green pea purée and pork juices, plus the small uncooked wedge of radish at the to right. The green pea purée was probably the best single item in the entire meal—it was a definite wow!
Once again, CJ and David agreed that the chef and/or sommelier really knew their stuff.
Dessert: The dessert wine was an Aleatico di Puglia—Tenute Rubino 2009 from Puglia, in the heel of the Italian boot. It was accompanied by a coffee and chocolate panna cotta topped by a thin chocolate cookie rolled into a cylinder and filled with coffee foam. Vanilla ice cream on the side. I'll have to try coffee panna cotta at home!
The wine was sweet enought that I could tell it was sweet. To my taste, it was of course the best. The mignardises were chocolate-covered hazelnuts and miniature almond cakes (off limits to CJ of course) and squares of red fruit paste.
We enjoyed a pleasant stroll back to the hotel along the esplanade of the Invalides, admiring the building's illuminated gilded dome. I pointed out the gates into the Cour d'Honeur, reminding CJ that that's where, in The Mad Adventures of Rabbi Jacob, the mounted Republican Guard, the groom's motorcade, and the father of the bride's car chase all converge, before the helicopter descends into the courtyard to carry away the newly elected middle-eastern president and the red-headed bride. Great movie.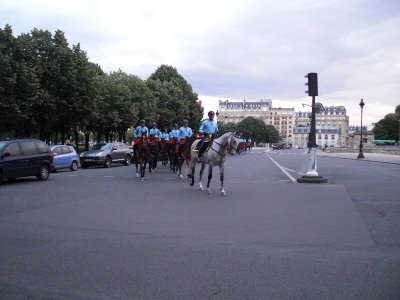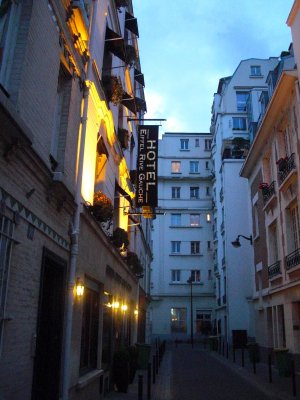 No sooner had we turned the corner before the gate and started around the building toward our hotel than a troop of horsemen issued from the gate and turned toward us! It wasn't the Republican Guard but instead a troop of mounted police (30 or 40 of them, male and female, all young, trainees perhaps?) led by an officer on a lovely dappled gray. The horses definitely knew their business—an ambulance zoomed by, lights flashing and sirens screaming, and not a one of them so much as flinched. They passed much closer to us than the photo shows, but at that point, while they moved sideways across our field of vision, so close to the camera, I couldn't get a focused shot in the low light.
Finally, when we reached the Rue du Gros Caillou, I got this nice twilight shot of our hotel.