Friday, 8 June 2012: More science, good food, and camaradery
Written 8 and 9 June 2012
Breakfast at the hotel again today. We opted for the "continental" version, much cheaper than the "full English."
The Dolphin (shown here at the left) is actually a Mercure hotel, so we knew more or less what to expect on the continental buffet: baguettes, pains au chocolat, pains aux raisins, croissants, minibagels, yogurt, cold cuts, cheeses, fruit salad, butter, Nutella, jams and honey, fruit juices, cold cereals. The baguettes and croissants were distinctly British, but a run through the conveyer-belt toaster crisped them up. The jams were great, made by a local specialty preserver. We were offered, one morning or another, raspberry, pear and blackberry, plum with walnuts, rhubarb and ginger, and Seville orange marmalade.
The full English breakfast included all of the above plus a steam table spread with bacon, sausage, grilled tomatoes, hash-brown cakes, mushrooms, scrambled eggs, fried eggs, and baked beans. Poached eggs were available on request.
The Dolphin is a historic landmark. At the right is a closer view of the black plaque visible to the right of the central archway (the red one just says "closed to traffic"). In the lobby is a framed list of all its proprietors for the last three hundred years.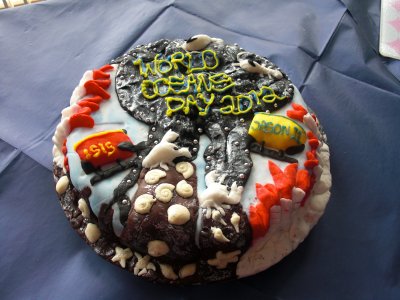 Arriving at the NOC, we found the Caribbean Princess moored at the nearby cruise-ship pier. No idea what she was doing so far from the Caribbean. We apparently just missed a rare conjunction of the Queen Mary, the Queen Elizabeth, and the Queen Victoria, all in Southampton simultaneously, in honor of the jubilee.
On the refreshment tables outside the meeting room we found two elaborately decorated cakes. The one shown here was labeled "World Oceans Day 2012" (8 June was, in fact, World Oceans Day 2012) and portrayed unmanned research submersibles Isis and Jason and many deep-sea hydrothermal vent creatures (made of white chocolate).
The other cake was decorated with a ship on top (specifically the James Cook) connected by a cable to a submersible on the side of the lower level. Around the bottom were many sea creatures as well as hydrothermal-vent chimneys.
I also got this shot of a few left-overs from the previous day's afternoon break. They are commercially available lemon-filled bars hand-customized to resemble microscope slides bearing male and female gametes, complete with specimen labels.
The morning was filled with more talks and with examination of more posters during the break. We learned that speakers had come from as far away as Norway, the U.S., Alaska, and Hawaii. Of 130 people invited, 125 either came or had irreconcilable conflicts.
For lunch, again many, many finger sandwiches—I had a triangle filled with coronation chicken (i.e., chicken salad flavored with curry powder and chutney, invented for the queen's inauguration in 1952) and an oval filled with tuna salad and cucumber)—bruschetta of two flavors (well constructed, so as to hold together when bitten into, and delicious), marinated chicken tenders grilled on skewers, hot coconut-breaded shrimp, and whole fruit.
Dessert was once again chocolate cupcakes and those excellent éclairs (which were so good that even David ate two of them).
After lunch came a special presentation ceremony. All of NOC was invited, so it was standing-room only. Many people had brought presents for Paul—bottles of port, albums of photos, a photo op with Paul and about 30 f his former students were able to attend. Old friends "roasted" Paul, narating his rather unconventional path to scientific research and showed embarrassing historical photos of him. Other speakers thanked the organizers and, especially, Paul's wife Mandi.
Among those irreconcilably conflicted was one of Paul's longest-standing collaborators, Craig Young (whom, as it turns out, we've known even longer; he did a postdoc at Florida State way back when). Because he couldn't come, he sent a video "roast," speaking from the Oregon coast.
At the afternoon coffee break, the two decorated cakes were cut. The blue one with the ship on top was just cake (chocolate and vanilla marbled), but the other one—Wow! It was what the Brits call a "Christmas cake"—a rich, dark, raisin-currant-and-citron-filled, brandy-soaked wonder. It was fabulous. I consulted the colleague who made it and learned that I already have the basic recipe. It was the one in Delia Smith's cookbook (already reposing on my shelf at home) to which she said she added "a little extra fruit, a little more liquid, and lots of alcohol over a period of a few months." I'll be on that promptly when we get home!
The rest of the afternoon was filled with the last few scientific talks. One author vividly illustrated deep-sea pressures by pointing out that one's big toenail is pretty close to a square centimeter and that the pressure at one of his sites is the equivalent of a large cow standing on that toenail. At his deepest site, he said he thought is might be about the equivalent to three rhinoceroses or an elephant on the same toe!)
After the last talk, we all adjourned to a nearby bar, Cargo, on Oxford St. for a few pints of bitter as participants gradually said their goodby's and drifted away, according to their scheduled travel times. We had a crack-of-dawn flight, so we left after just a couple of hours.
I had thought we could just step across the street to a well-thought-of and conveniently located Thai restaurant, but it turned out to be booked solid with a single large party. So we strolled along a few doors and hit on a Turkish restaurant called Kara, which turned out to be great and surprisingly inexpensive.
It featured this large, handsome copper-clad charcoal grill right in the dining room, where the chef was burning real-wood charcoal (in big chunks) and grilling things to order. (Unfortunately, when they turned on that big hood, it sounded as though an airplane were continually passing over the restaurant.) The big square basket behind him was full of sheets of soft lavash bread, which he warmed as needed by throwing it on the grill, right on top of whatever else was cooking there. The basket had to be refilled partway through the evening.
We started with a shared order of excellent humus, served with a sheet of the lavash, warmed, buttered, and chopped into managable pieces, and a little bowl of marinated olives. To follow, we ordered "lamb casserole" (billed as stewed with peppers, tomatoes, and onions) and grilled marinated lamb chops.
When the casserole had almost finished simmering and the chops were almost grilled, the waitress came and paved our table with dishes—small plates of mild parsleyed raw onions speckled with spices, fierce chili sauce (mostly hidden behind the carafe), salad greens topped with shredded red cabbage and diced tomato and cucumber, and yogurt mixed with dill and other herbs. We each got a timbale of a sort of "rice-a-roni"—rice cooked with riso pasta previously browned in butter. In addition, the four chops came with a yellow banana pepper and a tomato (grilled on their own separate skewer) and a heap of additional shredded red cabbage. We shared it all around, and it was all excellent.
We knew it must be authentic, because a party of four came in after us who proceeded to speak Turkish among themselves and with the restaurant staff through their whole dinner.
But the most curious incident came when I saw David's eyes suddenly widen. He was facing the front window, so I swiveled around to see what had caught his attention in time to watch about 80 people (mostly men) bicycle by—in the nude! And it was blustery and cold out there! It didn't look comfortable (they didn't even sit on towels or anything). Some were wearing minimal clothing, but most wore backpacks and nothing else or just nothing at all. Many were extensively tattooed. We asked the folks running the restaurant what might be the occasion, but they were as clueless as we were!