Sunday, 3 June 2012: The Lion King
Written 4 June 2012
Still, we got our second-favorite seating configuration (window and aisle in a row of just two, though not in an exit row), and best of all the flight was on time, and even a little early. That was important because of the close timing of the day. We had been warned of very long waits at Heathrow passport control, and I worried about getting to our matinée by curtain time, but I needn't have been. We deplaned about 11:10 a.m., zipped through passport control so fast that David barely had time to finish filling out his landing card, then strolled through the customs nothing-to-declare area even faster, got a cab right away whose driver knew our hotel's street right off the top of his head (35 minutes door to door) and who pointed out to us en route that those two cars that overtook us being escorted by motorcycle cops with flashing light were probably full of royals, checked in and left our luggage, walked to the nearby Queensway subway stop, bought "oyster card" passes, travelled seven stops with one change to Covent Garden, walked to the Lyceum Theatre, presented ourselves at the will-call window for our tickets, and still had time left over to grab a bite before the 2:30 show.
We tried a couple of very British-looking pubs, only to find them not just packed but overflowing onto the street, where people were standing around drinking their pints on the sidewalk because there was literally no place to stand inside, so we settled instead at a French place called the Boulevard Brasserie, on Bow Street, where David got a very nice "croque monsieur" on seed-filled bread and I had French Provençal brown fish soup. I expected it to be from a jar (one of the quite good brands widely available in France), but it seemed to be home made, thinner than the commercial stuff and tasting strongly of shellfish, which it doesn't usually. The croutons and rouille also seemed home made, and the grated cheese, though a little scanty, was also good. The restaurant gave a good impression, from the street, of being a hole in the wall, and our table was in that little front section by the bar, but people who arrived after those tables filled were shown to another room in the back, and we could see that additional larger dining rooms were located both up- and downstairs. A satisfactory late lunch altogether.
Written 5 June 2012
Central London was, as predicted, a zoo. Large illuminated signs warned motorists not even to think of driving there. Streets were hung with strings and chains of Union Jacks. Cars also fluttered with British flags, flying from their aerials or clipped to their side windows, like the ones Americans use to advertise their football teams. I even saw cars with little fabric Union Jack covers on their outside rear-view mirrors and people walking around wearing union-jack deelie-bobbers. As we approached our theatre for the afternoon (the Lyceum), we could see that the area beyond it, all the way to the Thames, was a sea of heads—the Diamond Jubilee Regata was due to occur simultaneously with our play, and the banks of the river were lined not just three people deep but three blocks deep!
Our matinée was The Lion King, and as we had heard, the puppets were spectacular (no photos allowed, of course). During the opening "gathering of the animals for the presentation of Simba" scene, a life-size rhinoceros arrived down our aisle and a life-size elephant down the other. The puppets were all "worn" by the puppeteers, in the new style in which the puppeteer is not actually concealed but is either incorporated as part of the puppet's body or tries to fade into the background (for example, the giraffes were operated by guys on both hand and foot stilts with long necks mounted on their heads, but the man operating and providing the voice for Timon was painted entirely green and streaky so as to pass for a patch of grass behind the puppet). The singing was also spectacular, particularly the woman who sang the opening song and who reappeared on stage periodically as a sort of fairy godmother to move the action along. All the singers were miked, even all the individual chorus members. Two large collections of drums, all decorated in African motifs, were set up in midlevel boxes flanking the stage, and (in addition to the pit orchestra), a percussionist sat at each one, playing both "ordinary" drums with sticks and many hand drums of different pitches and timbres. The only "non-African" touch was the bird that served as chaperone to the young Simba, whose puppeteer was dressed as a Lambeth pearly king. My favorite costume was that of Scar. His lion mask was, like all the others, perched on top of his head, but it was mounted on a sort of gooseneck so that, when he thrust himself forward to bully or confront someone, it leaped forward and dropped down in front of his face in threatening fashion. When he straighted up again, it retracted (sometimes with help from some device he touched behind his back), to settle itself back on top of his head, though the hyena costumes and the nonspeaking leopard character were also amazingly designed.
After the performance, we walked (in the rain) back to the Covent Garden tube stop and found that, because all the matinées in the area and the regatta all broke up at about the same time, the station was mobbed. We had to wait for several trains before we managed to get on one, crammed in cheek to cheek with other tired and dripping people, to make our way back to the hotel. As David remarked, if they think they can run an Olympics with this urban transport system, they're nuts. Even if they import platoons of the famous white-gloved Japanese subway pushers, they won't be able to get significantly more bodies into the cars than they do now.
We had planned to walk to Malabar, our restaurant for the evening, but the rain continued, so we took a taxi. The hotel called it for us, so it wasn't a "real" London cab but one of the many freelancers. We gave him the exact street address, but he couldn't find it on his GPS because I couldn't give him the postal code! We were able to direct him, but we still wound up a little late. Not a problem that, because we were still the first people there—I'd deliberately made an early reservation because I new we'd be jetlagged and exhausted, having been up for about 36 hours by then.
We kept it simple by ordering the "menu for two," served as three courses.
First course, both: Tandoori chicken (leg and breast), chicken tikka, and keema kabobs (tubular meatballs), all on a sizzling bed of grilled onions and bell peppers. Peshawari naan.
On the side, through the whole meal, we had spicy-sweet mango chutney and spicy green chile and mint chutney.
By the time our food came, the restaurant was filling up, and by the time we left, it was doing quite a business, both in table service and in take-out orders.
Second course, both: Lamb curry (outstanding), mixed vegetable curry, and moong dahl. All served with excellent, buttery basmati rice studded with whole cumin and cardamom seeds.
The mixed vegetables included green beans, potatoes, carrots, thick slices of cabbage, and eggplant.
The moong dahl was cooked almost to a purée but was none the less tasty for that.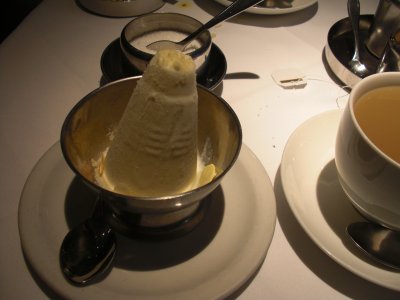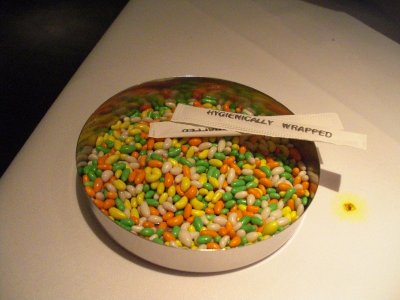 Third course: Strongly cardamom-flavored kulfi with decaf for David and peppermint tea for me. On the side, a little dish of multicolored sugar-coated fennel seeds, with two "hygiencally wrapped" toothpicks.
The taxi the restaurant called for us for the return trip was a little more clueful and knew the street our hotel was on. The turn onto it from Bayswater Road is easily recognizable by the large illuminated sign saying "thistle.com"—the Thistle Hotel, Bayswater Road, happens to be located right there.