Sunday, 27 May 2012: Complications and Celebrations
Written Sunday, 27 May 2012
Yes, as usual, if it's not one thing, it's another. I had planned to take my good old laptop (on which I type this very text and on which every one of my travel-diary entries has been composed) on one more European trip, then to treat myself to a new one as a retirement present (I retire at the end of November 2012). It was purchased—my very first laptop— in the fall of 2004, in preparation for David's European sabbatical. It enabled me to telecommute successfully for six months, and it has served me well ever since, despite being dropped on its head a couple of times. The case is held together with Scotch tape on both front corners, and the cover has never been quite flat since a suitcase fell on it in the trunk of the car a few years ago, but it still runs like a top, and I only this year replaced its original 2004 battery, which would no longer take more than about an hour's charge.
Then, last week, when I opened it, the left-hand hinge gave a loud crack, tossed its decorative plastic cover across the room, and broke. The guys in the computing office at work did their best, replacing one of the screws with a lightly longer one and even, as a last resort, trying Gorilla Glue, but that hinge is just shot. The computer still runs just fine, but the plastic hinge cover is held on with masking tape, and I have to open and close the lid with great circumspection to protect the wires that connect the body of the computer to the screen and are now (other than the masking tape) the only thing holding the two parts together on that side.
Time to move the schedule up. With the aid of the computer guys, I picked out the features I wanted in my new laptop, and on Tuesday, less than two weeks before departure, I ordered it on line—good chance it would arrive in time for the trip, and the computer guys said they could set it up for me, install all my usual software, etc., in a day.
Alas, on Friday evening, before the long Memorial Day weekend, I got a message from the computer company saying they'd received my payment but not my order; please try again. I did so, promptly, but then I realized that chances were very slim it would get here before we left—a business day to process the order, 3–7 business days for the customizations, then transit time—nope, we'll be in England by then. So now I have to call UPS on Tuesday to ask just what I have to do to ensure that Erin, the grad student minding our house, will be able to pick up the package (after UPS leaves a notice saying they tried to deliver it) to prevent it from being shipped back to the computer company. Drat. In the meantime, I'll have to nurse my poor crippled old laptop through one more European campaign (after doing a thorough predeparture back-up, of course).
That same Friday, my pocket memo-recorder, which goes with me everywhere, started playing up. The "hold/lock" function stopped working—that's always the first to go, and it means that the little rusties have crept inside and that soon the whole recorder will freeze up, terminally. I know I shouldn't put it in my pocket when my clothes are damp, especially when they're salty and damp, but I usually wind up doing so from time to time anyway. Fortunately, that problem is much easier to solve. I hied myself to Radio Shack on the way to the grocery store on Saturday and acquired a shiny new one. They're much cheaper these days than they used to be. Now the old one's all debriefed and the new one in service.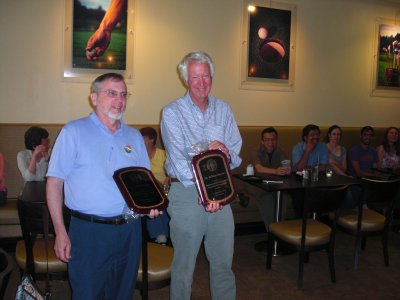 But other than all that, travel preparations proceed apace. This month has been thickly studded with parties. David's department's end-of-academic-year party was largely given over to celebrating the retirements of David and one of his colleagues. Local musician (and old friend) Velma Frye dropped by, in her Pirate Party get-up and sang nautical songs to the tune of her antique mini-accordeon, and both retirees were presented with handsome commemorative plaques. In addition, one of David's former doctoral students who has remained a good friend came over from Baton Rouge, so he played golf with us the morning after. We gave a party for the biological-oceanography group featuring one of David's favorite menus—Julia Child's butterflied leg of lamb cooked on the grill and gratin dauphinois (French style scalloped potatoes). For dessert, Marengo Cavour (the only dessert our friend Rachel Sinnett has ever declared to be "better than ice cream!").
Last night, a German visitor to David's lab threw a party, supposedly a propros of her own departure but secretly a venue at which David's students, grad and undergrad, could present him with a scrapbook featuring photos of almost all his former students and a hand-made stuffed animal—a desmoscolid nematode (picture the Michelin man, somewhat elongated, without arms and legs, and pink). Each segment was made by a different lab member and personalized with inscriptions and illustrations. One bore autographs of most of the people in attendance at the department's party two weeks earlier. The scrapbook was actually still at the bindery, but we were able to view all the photos in it on the big-screen TV, where David identified all the people the students hadn't been able to, even with my help, and regaled us with stories about where and when the photos had been taken. He was delighted, and very touched by the students' thoughtfulness. They've been working on it for months, but he never had an inkling.