Monday, 15 June 2009, Castles in the rain
Written 17 June 2009
Lovely breakfast at the Hôtel des Remparts: The server asks your preference in hot drink, then automatically brings you orange juice, a length of baguette, a croissant, three single-serve packs each of unsalted butter and assorted jam, and a single-serve pack each of plain yogurt and applesauce. I fend off the juice, yogurt, and applesauce and thoroughly enjoy the rest (I ask for a salt-shaker to remedy the unsalted butter). The coasters for the coffee and hot-chocolate pots are four-inch-square soft plastic replicas of "LU Petit-Beurre Nantes" cookies (beloved of all French school children). Everywhere we've been, but especially in this hotel, we've encountered what we take to be wine-buyers, American men (and a few women) who don't seem to be on vacation, speak English among themselves but passable French to the waitstaff, and talk shop at breakfast.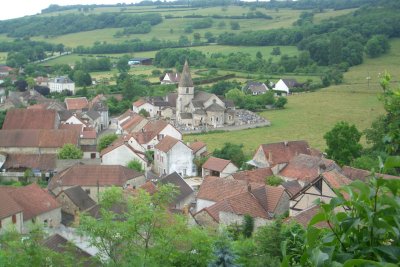 Monday, it rained—we were warned that it would, all day, but then would be sunny for the rest of the week. So rather than trying to stroll around, visit the tourist office, etc., we set off by car to see the country-side and tour some castles. First, we headed for the Château de Rochepot, passing through Volnay on the way. Rochepot was (re)built in the 15th century by Philippe Pot, a high official in the court of one of the Grand Ducs de Bourgogne, and a generation or two later wound up belonging to our old friend le Connetable Anne de Montmorency (builder and proprietor of the Château de Chantilly, near Paris, which we visited with CJ and her mom a few years ago), whose mother was a Pot. Le Connetable Anne is one of my historical favorites, like René d'Anjou (he's a great figure in his own right, though not a patch on René); it helps to have a few of these guys as reference points to help keep track of timelines, etc., when reading history. I, in particular, have gotta like a man who cut a swath through history, head held high, despite (or maybe because of?) being named "Anne." There hasn't been another since—his descendents, although proud of the connection, usually stash "Anne" down the list a ways, as a second or third middle name. Anyway, the duke gave Pot the site, near the village where he was born, of an older, ruined castle, and Pot rebuilt it in the 15th century, in the latest style (copying, as was de rigeur in those times, the colored tile roof of the Hospices de Beaune). Come the revolution, it was sold as a stone quarry and largely taken apart as the stones were sold off for use elsewhere. A later owner restored it to its 15th-century glory, but omitted (so as to let the sun shine in) to rebuild the original "donjon" (grim fortified tower) that closed off the fourth side of the courtyard. From the terrace on that fourth side, David took this lovely shot of the village below, its church surrounded by the local graveyard.
From the "chemin de ronde" (the high walkway around the walls for sentries) I got these close-up shots of the glazed roof tiles. The saddle-shaped ridge tiles with the little crosses on top are glazed pottery as well. We also had a very good guided tour of the interior, but for security reasons, no photographs are permitted. I learned, though, that lances came in two sorts—those with long-pointed, double-edged, swordlike blades, for slashing and injuring horses, and those with variously (and ornately) curled hooks and barbs, for snagging chain-mail and pulling knights off their horses (their armor was so heavy that they often could not get back on their feet unassisted, let alone back on their horses). I also learned that the 15th-century cross-bow, considered the most powerful and deadly weapon of its time, could kill a man wearing chain mail at 100 meters (but being slow to reload could shoot only3-4 bolts per minute, whereas a longbow could shoot 15-18 arrows per minute). The tour included, as usual, the chapel (nice gothic vaulted ceiling but now largely stripped bare of its furniture and ornamentation), the "salle de garde" (where the weapons were displayed and explained), and several other furnished rooms. (We had visited three furnished bedrooms in the round tower, on our own, before the guided tour began.)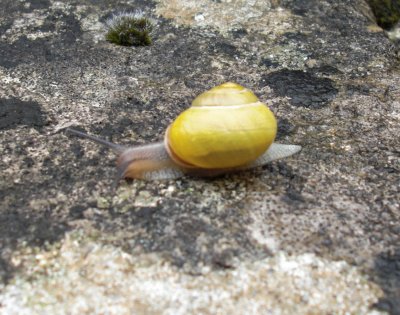 The guide pointed out, over the doorways, dragon (or sometimes just "beast") heads, formally called "engoulants" (swallowers) but locally called "guelards" (face makers?) that are intended to ward off sickness and told us to watch for them when we toured the Hôtel Dieux in Beaune.
The kitchens were great, dating from the 19th rather than the 15th century. Huge central range with a firebox at one end for wood and another at the other end for coal. Two large reservoirs for hot water, built right into the stove. Two large ovens, and a vast flattop cooking area. Open hearth for roasting. Many large, beautiful copper pots, including a diamond-shaped one with a lift-out rack for poaching whole turbot. Even an hour-glass shaped coffeemaker, made of glass and looking like a piece of lab equipment, invited by some famous French scientist (Lavoissier, I think; I'll have to look it up)—the first percolator (or, as the guide described it, "une cafetière hydropneumatique"). Alas, no photos, but I was able to buy a postcard.
Walking back down to the parking lot, I was able to get these photos of the rich flora that colonizes the stone caps that pretect stone walls from infiltration by rain water around here, as well as this young escargot, on the hoof, as it were.
Written 18 June 2009
We found lunch at Le Relais du Château, in the village at the bottom of the château's hill. David had his usual "salade du vigneron": poached egg, lardons, croutons. I had a salad with Crottin de Chavignol goat cheese on toast, then a "fromage blanc à la faisselle" (that is, fresh curds gently drained in a special perforated mold rather than stirred and smooth—the curd is gently ladeled into the molds just after being "set" with rennet, not at the later stage, after being cut up and heated to form the lumps we associate with cottage cheese) with a dollop of acacia honey. On the way out, we admired a beautiful display of flower photography in the hallway.
Next on the schedule was Chateauneuf-en-Auxois. Part of our route there paralleled the Canal de Bourgogne, which apparently sees very little commercial traffic anymore. We saw few boats, and most of those were pleasure craft. The road tended slightly downhill at this point, so every mile or so, we would find that the canal was out of sight above our heads, until a lock lowered it to road level again! Châteauneuf is perched, together with its village, high on a hill. The village is proud to be officially designated "un des plus beau villages de France" (one of the most beautiful villages in France). No multicolored painted metal signs here—wineries are marked by discrete brass plaques or nothing. The town is working at becoming an artists' colony, and already it houses many painters, sculptors, and craftspeople. The view is beautiful—we could see all the way to the Reservoir Panthier—but the castle, being a national historical monument, is closed on Mondays. Drat.
So we just strolled around the village and admired the scenery. On the left is the entryway to the castle. On the right, just a house we passed in the village.
That left us time to visit a third château. Commarin is still privately owned and lived in—it's been in the same family since it was built. That family has always taken good care of its villagers. For example, right from the start, the castle's ice houses were stocked every winter with ice broken daily from the moat, and on Fridays, the ice belonged to the villagers. In an age when ice stored from the previous winter was the only refrigeration possible, that was a great luxury. The careful account books of household expenses, kept by the countess, record frequent monetory gifts for special occasions (in those days, the servants in castles worked for room and board only, but at Commarin, they were given small sums of money for, e.g., births, weddings, and funerals). No one went hungry, and the sick and elderly were cared for. As a result, come the revolution in 1789, when the count was arrested (for being a noble), the men of the village went in a body and broke him out of jail by force, while the women stayed home and defended the castle against looting and damage by revolutionaries (who went around defacing religious and aristocratic symbols). It's therefore one of the few châteaux in France to suffer little damage from the revolution.
Written 19 June 2009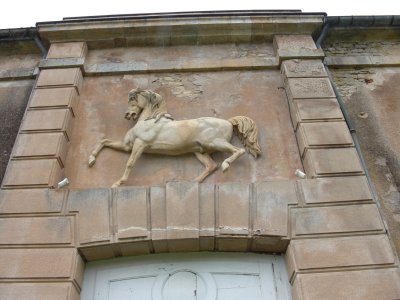 Again, photos indoors were forbidden, except in the stable block. The count who built them had visited Chantilly (seat of the Connetable Anne de Montmorency, who was convinced he would be reincarnated as a horse and had therefore designed and built supremely comfortable stables—we've visited them, and they're magnificent) and was impressed, so he came home and built his on the same lines, but on a much more modest scale, for only 15 horses. The beautiful haute-relief of a horse, perhaps half life size, is over the door.
This photo shows the portion of the castle open for tours (the wing mostly out of sight to the right is the private section, where the family still lives). The moat (behind the camera) is full of carp, and the gift shop offers 1-euro bags of bread, in case you want to feed them. Inside, we saw a suite of rooms (including the bedroom of Talleyrand's mother, who lived at Commarin before her marriage) that had been shut up for years (generations?) after the death of a particularly beloved wife and mother. The maids cleaned regularly but never opened the shutters. As a result, the tapestries there are particularly vivid, having been protected for so long from fading influences. Among the themes in the tapestries were several different versions of the family crest and symbols, the most modern of which (still several hundred years old) featured an odd sort of exploding globe shooting fire in all directions, intended to represent the dissemination of knowledge. The current countess paints china and has adopted the stylized flames from that motif as a favorite pattern. We saw a complete set during the tour, and additional pieces are for sale in the giftshop.
From Commarin, we wended our way, back along the canal, to Beaune in anticipation of dinner.
Dinner was at Le Benaton (a benaton is a rectangular wicker basket used during wine harvesting), just outside the ramparts south of town. We would have walked the distance, but because the rain continued, we took the car and again miraculously found a parking space within two doors of the place—I continue to be astonished at how easy parking is around here!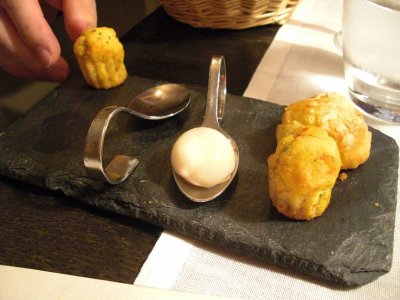 The first thing that struck me about the place was that it seemed derivative—the table runner dropped through slots on each end of our table (like the one Chapeau Rouge in Dijon). The first amuse bouch included (in addition to warm cheese gougères, little savory ham-and-olive cakes, and—not shown in the photo—tiny crisp "ice-cream cones" of avocado mousse) a "marble" of cold Parmesan emulsion—a Parmesan-flavored liquid enclosed in a thin transparent membrane, like those at Le Charlemagne. But, as soon became clear, the chef borrowed only the best features and then improved on them (and at good prices—the entire menu described below was just 58 euros a head, plus David's wine and a 5-euro supplement for my first course).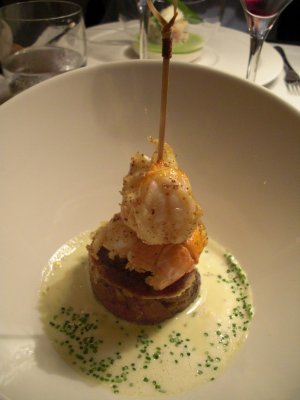 The second amuse-bouche was a cold soup of green tomatoes, honey, and mustard, with tiny croutons, and a little timbale of tartare of tuna. The tuna was topped with a sprig of what I would call chickweed; the waiter said is was "mouron des oiseaux" (bird mouron, whatever mouron is; gotta look that one up). [Note added later: Yes, "mouron des oiseaux" is Stellaria media, chickweed. "Mouron" just seems to be a plant name; the common mouron is the scarlet pimpernel, Anagallis arvensis.]
First course, David: Cold cream of fresh pea soup with brown butter, lobster, and "lightly iodized" cream, topped with a highly decorative (and delicious David tells me) cooked pod of peas.
First course, me: A cylinder of warm roasted calf's head (entirely deboned, of course, for the squeamish), surmounted by two huge langoustine tails sautéed with mustard bran (specified as coming from the nearby Moutarderie Fallot), surrounded by an emulsion of "gribiche" sauce (a sort of mild vinaigrette traditionally served with calf's head) with crumbled hard-cooked egg and infinitessimally sliced baby chives. Delicious!
Second course, both: A rolled cylinder of meltingly tender braised shoulder of lamb, topped with a grilled (rare) double chop of lamb, in turn topped with a rosemary-scented foam. Surrounding the whole thing, in a pool of lamb reduction sauce was "spaghetti de poivrons rouges"—spaghetti made of red bell peppers. The menu made clear that the spaghetti was made of, not just dressed with, the peppers, so I had expected long shreds or slices, but these were perfect cylinders of an absolutely delicious coarse purée of peppers, piped in two full circles around the meat. They held together well enough to be picked up on a fork or spoon but dissolved into tenderness in the mouth. We were intrigued! Flour? No, the color would be whitened. Cornstarch? No, enough cornstarch to hold it together that well, on a warm dish, would seriously dilute the taste. Gelatin? It would melt on a warm plate. We settled on agar, and a query to the waiter confirmed it. They add just enough agar to hold it together without its feeling "gelled" in the mouth. Ingeneous and delicious. This dish is right up there with the rabbit at Le Charlemagne as a contender for best meat course of the trip. The accompanying dish was a semiliquid mousse of potatoes and Parmesan cheese—also scrumptious.

Written 19 June 2009

Cheese course, David: Citeaux, Camembert, Roquefort, Fourme d'Ambert.

Cheese course, me: Comté, Valençay, Citeaux. Both came with a spoonful of very stiff fig preserves.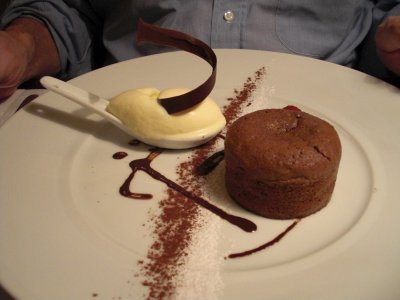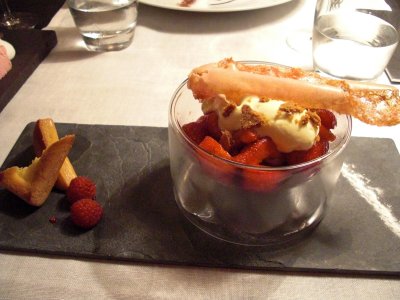 Dessert, David: A warm chocolate cake with a liquid black-currant center and a scoop of currant-sprout ice cream. I thought the ice cream had an interesting herbal flavor. David said it tasted like weeds.
Dessert, me: Gariguette strawberries macerated in balsamic vinegar with mascarpone ice cream and crumbled citrus shortbread. This was great! The pink object on top, I initially took for a crisp meringue, but it had a strange though pleasant protein-ish taste, and I wonder whether it might not also have contained agar. I also begin to suspect agar in the construction of all the membrane-bound "magic balls" and "bonbons." A frozen (or just chilled in some cases) ball of filling could be dipped in warm agar and should form itself a thin transparent agar coating.
Mignardises: The caramels and the almond brittle were good. I didn't try the meringues, marshmallows, macaroons, or chocolates.