Sunday, 14 June 2009, Gilly-les-Cîteaux to Beaune
Written 17 June 2009
Breatfast at l'Orée des Vignes was served in a pretty, sunny room all furnished in green and yellow. The buffet (similar to that at the Ibis, but with the addition of a chafing dish of bacon and sunny-side-up eggs) was attractively arranged on several tables, and a server brought you your choice of hot drink. I was particularly struck by two spare, modern, wooden picture frames that hung on the wall over the buffet, out of which grew real spider plants and English ivy!
After breakfast, we set off to drive, more seriously, the "Route des Grands Crus," which we had crossed and recrossed on our way south from Dijon. To begin, we drove most of the way back to Dijon (a matter of 20 minutes), then left the main highway (the D974— I call it the "main highway," although it's two-lane blacktop; if you seriously want to cover ground, you go further east to the superhighway, a real freeway) for the tiny roads connecting the villages it by-passed. We started at Chenôve, then worked our way south, through Marsannat-la-Côte, Couchey, Fixin, Brochon (passing Fromagerie Gaugry again), Gevrey-Chambertin, Chambolle-Musigny, Vosne-Romanée, and Chaux. At one point the route stopped paralleling the highway and made a long loop west, up through a ravine (left) onto the hilltops, along the tops of spectacular cliffs, and back down again through another ravine—the long series of hillsides is divided by many of these wooded ravines. As we climbed, we passed through the Hautes-Côtes zones, interspersed with fields of the famous black currants (they won't be ripe for another couple of weeks, but they were already turning dark-colored on the bushes), but when we reached the summit (right), which is a widish plateau rather than a ridge, the vines disappeared completely, to be replaced by grain and colza. Apparently the soil on the plateau isnt' right for vines.
Written 16 June 2009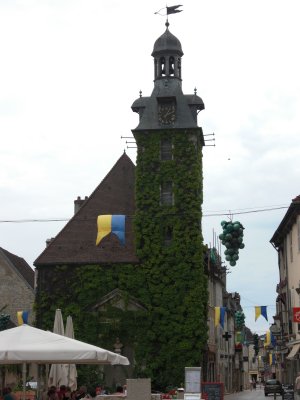 We arranged to be back in Nuits-St.-Georges at lunchtime— it seemed to be big enough to offer good possibilities and was reputed to be an attractive town. Its reputation is well deserved. We strolled around its central pedestrian area, reading menus and admiring the giant clusters of grapes (glass? plastic?) hanging over the centers of the little streets, and its many fountains. Along the center of one pedestrian street ran a series of small, intimate fountains, all different, of which this was the largest. In a smaller one that consisted of a series of little cascades at ground level, perhaps 10 feet long in all, two small children were having a blast putting little leaf boats in at the top and watching them float down to beach themselves at the bottom.
In front of the town hall, was a planting depicting symbols of the town, including this topiary turtle. In the background, you can see one of the "degustation et vente" (tasting and sales) signs that abound in this region. In the smaller towns, every second or third door (and in some of the smallest, every door) bears such a sign, naming the winemaker and specifying the product—the most common is "tasting and sales," but other variations are "wine sold in bottles," "wine sold in barrels," "wine sold in bulk" (i.e., bring your own container), and "wine sold retail" (or "wholesale")—others, like this one, point around a corner or give the distance. The picturesquity quotient is very high, and if you wanted to (and had a designated driver), you could taste your way from house to house all the way to Macon.
For lunch, we chose the Caveau St. Uguzon. I ordered a "salade de chevre chaud," which is usually topped by slices of toast with hot grilled goat cheese on top, but for this one, the cook wrapped slices of goat cheese in a very thin (factory-made, I think) crêpe and baked the whole thing, until it was shatteringly crisp and the cheese was melted, and laid it across the top of a salad of lettuce, diced tomato, and croutons. Delicious! David had a similar salad but topped with croutons, lardons, and two poached eggs—the yolks had escaped from the whites in the poaching process, but they tasted just fine. I finished up with another excellent coffee sundae.
After lunch, we took the scenic route to Beaune (only about half an hour south of Nuits-St.-Georges, by the highway), and in the process happened to pass right by our restaurant for that night, Le Charlemagne, in Pernand-Vergelesses, so we had a chance to scope out the route we would have to drive later. We actually had turn-by-turn directions back from the restaurant to our hotel, but I didn't have a detailed map that covered all of the route, and street names are really hard to spot around here (later, poring over those directions and a complete local map, I still couldn't make sense of them). Beaune is a very small, walled town, and no two of its streets meet at right angles; in fact, most intersections are of only three streets. Everything is one-way, and I didn't have a map that showed all the one-ways. So although the directions claimed we could drive straight into town from the north and make about five turns to reach our hotel, we gave up and did it the obvious way— we got onto the circular, one-way-counterclockwise ring road that circles the ramparts, turned in at the nearest radius north of our hotel (which is one-way inward), then took our second left onto the one-way-south street our hotel is on. To get out again, we continue half a block south and turn left on a one-way-outward street back to the ring road. Piece of cake.
By the time we arrived at l'Hôtel des Remparts, it was raining. Surprisingly, we were able to park on the street right by the hotel (not just this once, but repeatedly over the next few days—parking is not nearly as hard as I would have expected in such a twisty little town). Because it was Sunday, the parking was even free. The young man from reception carried my suitcase to our room, which was just as well. To get there from reception, we went outdoors and across a little interior courtyard (where you can have breakfast, if you want), inside again, up three steps, along a little hallway with a short downward ramp at the end, outside into a smaller interior court (this one roofed with glass), up one floor on a straight stone stairway, back inside, along a hallway, down one step, three steps forward, and up another floor on a carpeted, wooden, spiral stairway. Our room is right at the top—no. 27, "Monthelie." It's by far the largest hotel room we've ever had in France. It has its down fireplace (blocked up) with a marble mantle, two windows, a closet, a wardrobe, three chairs, two beds, two tables, a stool, a bathroom with a shower, and room leftover to swing a cat. It even has several unused electrical outlets! Very nice indeed.
Because of the weather, we decided not to start touring immediately. Instead, we unpacked and settled in (we'll be here six nights). David luxuriated in a nap, and I sat by an open window, working on this blog and listening to a merle singing in the rain.
That evening, refreshed, we set out to retrace our steps to Le Charlemagne (named for the local wine-growing area around it, not directly for the legendary French king). The young chef is married to a Japanese woman and is aggressively innovative (they also have a sushi bar in town). People thought he was crazy when he tore down an old stone building and built his present modern, rectangular, wood-and-glass structure with a wooden deck. It's lovely but completely out of keeping with the rest of the local architecture. We started off oddly by parking behind the building, then realizing the entrance was in the front (we were probably in the staff parking lot). We started around but were arrested by the kitchen door which was standing open, offering a view of the cooks at work. A waitress spotted us there and said we needn't walk around— she just led us through the kitchens and into the dining room by the back way. At the door from the service area into the dining area, you walk over what appears to be a glass floor, about 5 feet square, under which dozens of goldfish are swimming through water lit from below. A second look reveals that the goldfish are not real—their tail movements are exaggerated and inconsistent with their speed through the "water" (as well as being pretty much all in synch). They are, in fact, CGI, projected on the floor through an opening in the ceiling, like a screensaver. The cool thing, though, is that they panic and flee (fairly realistically) from your footfall, wherever you step. It took a little longer to figure out that that's done by motion detectors, also from above—they flee the shadow of your foot before it touches the floor (so it's not pressure sensors in the floor), and if you remain still for 30 sec or so, the fish return and swim right over you, so it's not detection of an interruption of the light beam. Fun, but distracting.
Before anything else happened, the waiter brought us a large bowl of sesame seed—a mixture of black, white, and brown—in which two very tasty rice-and-cheese crisps stood edgewise, a little metal box (the size of a sardine can) with a sliding lid that contained green-tea flavored (and colored) salt, and a tall slim bottle of oil and balsamic vinegar to pour into our bread plates.
First amuse-bouche: Tiny hollowed-out tomato wedges topped by diced raw St. Pierre (fish); bites of marinated raw salmon wrapped in cucumber, slices of crêpe rolled with a sardine filling (it could have been tuna; David didn't object to it); half-moons of grilled "boudin blanc" (moist, tender white sausage); and one little savory cake filled with tomato, mozzarella, and basil.
Second amuse-bouche: A tall glass of cold watermelon emulsion topped with a feta cheese emulsion. The rim of the glass had been dipped in what turned out to be toasted pain d'épices crumbs. The idea was to stir the soup and cream together with the bamboo straw and then to drink the mixture through the straw. It was really very good.
Notice, however, several other features in this photograph. The table is wood-grain formica with a metal rim, like a dinette set. The placemat is a plastic faux-woven grass mat that I swear I've seen sold on a roll as shelf paper. The service plate is the rectangular rock the tall glass rests on. At each place is a stone the size and color of a large potato into which are cut two grooves and a little round hole. We arrived to find the grooves holding our knives and forks, and a waiter soon arrived to stand a tall bamboo skewer of bread in each little round hole. Finally, each of the low round water glasses has a large dent in the side, for easy gripping, and as the tables were initially set, those glasses lay on their sides.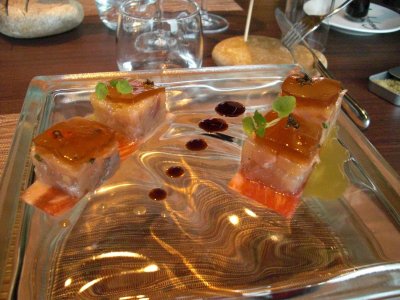 First course: Tartare of daurade (Sparus aurata, a fish) on top of "lomo" (an Iberian pork preparation similar to mild ham) and topped with lemon-and-szechuan-pepper jelly and what I think was a lemon-balm sprout (all the sprouts in the meal were the same except with the rabbit). It was sided with a lemon sauce and dots of balsamic vinegar syrup and served on, yes, a glass construction brick.

Second course: A heap of deboned grilled frogs' legs tossed with white miso and piled on top of a meltingly tender round of of cooked eggplant with a soy emulsion on top. Delicious and served, strangely, on an ordinary round china plate. The long narrow object is a sheet of phyllo (or something similar) rolled around herbs and fried until crisp.
Third course: A real knockout—it was all delicious up to this point, but this course was the best! "Quasi-stuffed rabbit," i.e. then sheets of rabbit meat (body wall, I think) stuffed with more rabbit (the loin, I think) and one green leaf (shiso?) and roasted. It was unbelievably moist and tender, just a little pink in the center—how do they do that?! The coiled objects are long flat carrot slices confit with honey, and the greenery is delicious pea shoots. The round orange object is not, as it appears, a large raw egg yolk but a "magic ball" of carrot-ginger-garlic purée, resting on a bed of grainy mustard sauce. It turned out to be held together by a thin, transparent, edible membrane (a thin rice noodle, perhaps) and was also absolutely delicious.
Cheese course: Pretty traditional—it must be difficult to serve Japanese-influenced cheese. David chose Comté, Brillat-Savarin, a blue, Cîteaux, and a few dried apricots. I chose Puligny-St.-Pierre (once again very dry), a dry Basque brebis, Brillat-Savarin, and—what the heck—Époisse, with a few fresh grapes. Surprisingly, I really liked the Époisse, even the rind (which, as you can see, takes the form of fragments mixed in with the almost liquuid cheese). It was strong but not ammoniac or barnyard flavored. The bread is studded with hazelnuts. The grapes taste a little "winier" than the ones I get at Publix (though they're not wine grapes), and each one has exactly one seed.
Predessert: The predessert was a sweet soup of red fruits topped with lemon emulsion, again to be stirred and sipped through a straw.
Dessert, David: Again, served on a slab of rock, a warm chocolate cake with a caramel center, a long narrow chocolate tuile cookie, and a ball of vanilla ice milk.
Dessert, me: A delicious (and surprisingly compatible) mixture of sliced fresh strawberries, peeled and seeded diced tomato, slivers of cold cooked red bell pepper, and a few slices of black olives, topped with a log of vanilla frozen yogurt. As far as I could tell, the mixture in the bamboo scoop and that in the stone bowl were the same, but I was given a special bamboo spatula with which to scrape the contents of the scoop into the bowl. Whatever.
The mignardises were an assortment of cubes of different shades of brown—marshmallows, chocolates, brownies, etc. The only really interesting ones were bite-sized "magic balls" of liquid passionfruit purée (we were warned to eat them in one bite, lest they splatter when bitten into) and large, very thin and lacy caramel lollypops thickly embedded with that digestive seed mixture served at the end of Indian meals, heavy on the fennel seed. Very tasty.